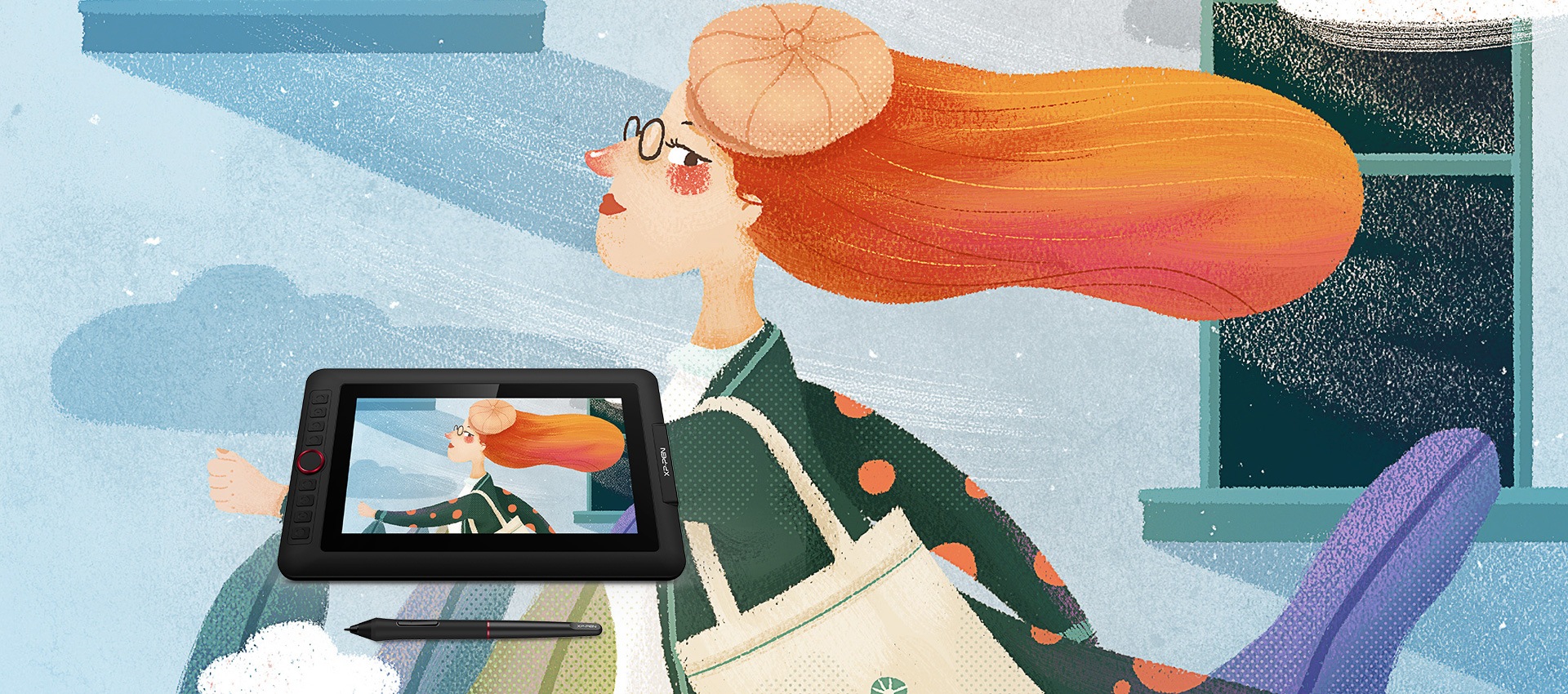 Artist Display 12 Pro
Creative Power is on Your Side.
A perfect display that suits the beginner.
Features a super-portable screen with an 11.6-inch display area and a convenient 3-in-1 cable design. There's no need to use any adapter and it quickly connects to your computer. Start sketching, doodling, and drawing directly on Artist 12 Pro and begin your creative journey.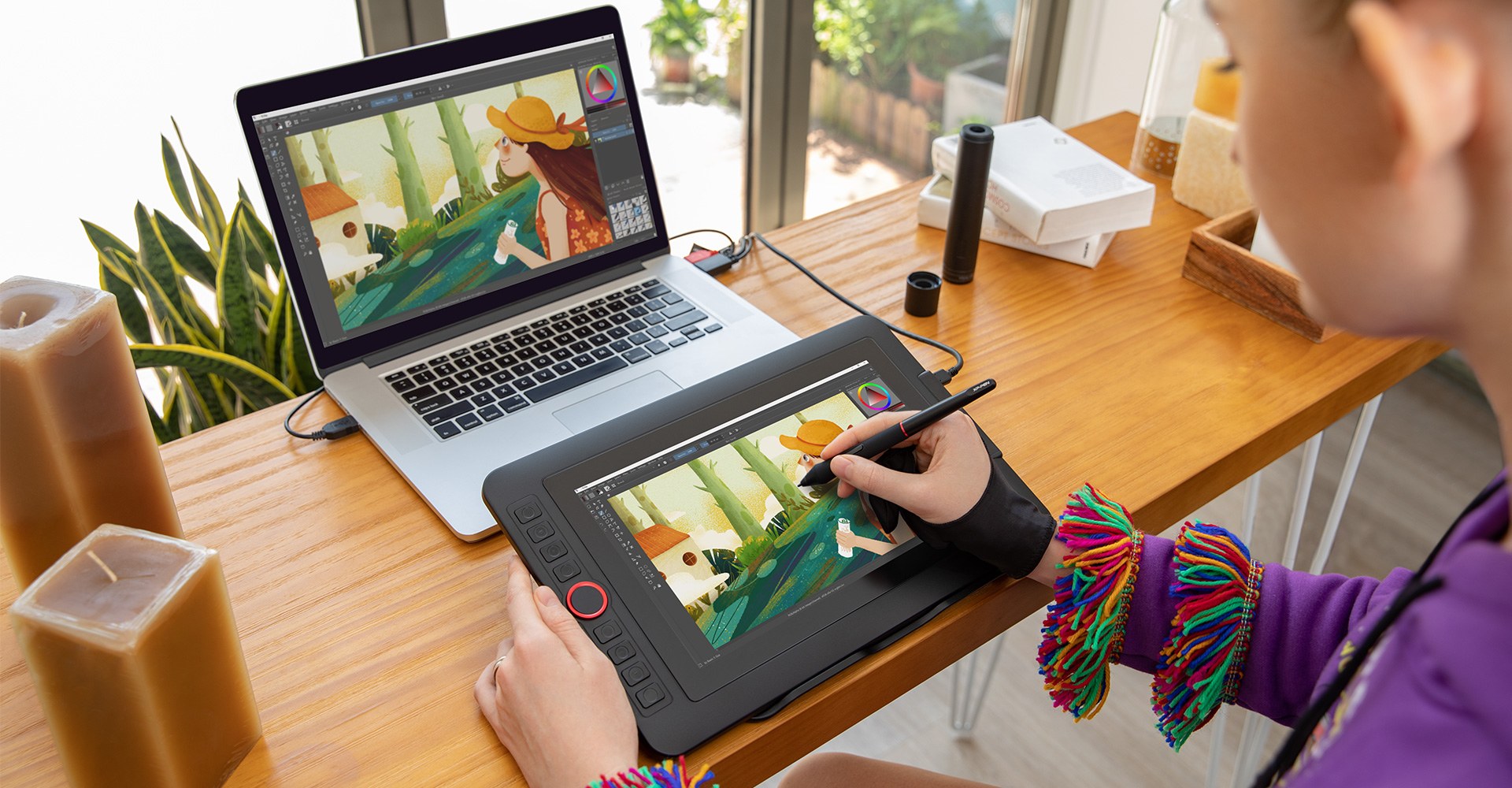 Smooth and sleek.
The Artist 12 Pro includes a sleek Red Dial interface to make your workflow as smooth as possible. The dial fits comfortably in your hand and can be programmed for more customization options. Compared to the Artist 12's slim touch bar, it's easier to control accurately and with more freedom with the 12 Pro's dial wheel, letting you capture and express your ideas faster and more easily.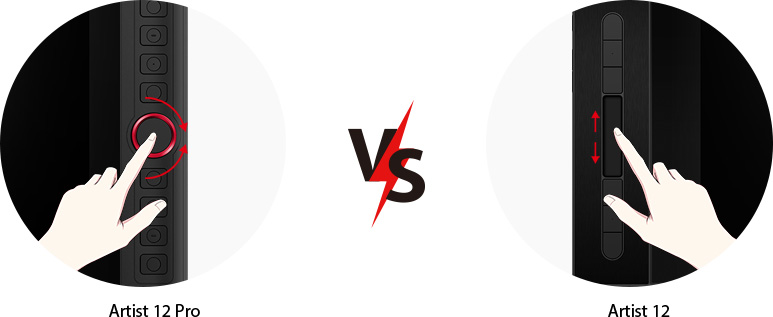 Dial Wheel
Slim Touch Bar
Natural Tilt Support.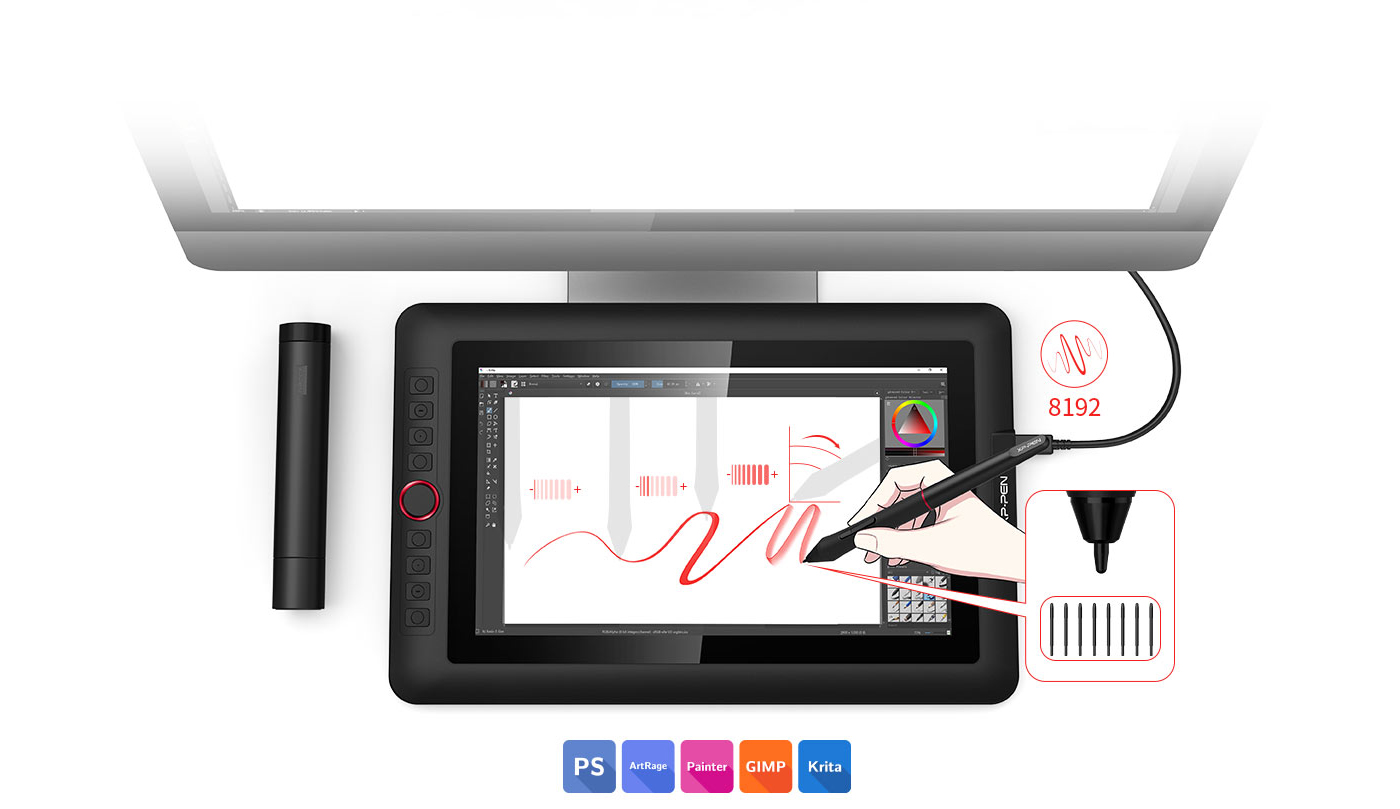 finer pen nibs
Tilt
The XP-Pen Artist 12 Pro supports up to 60 degrees of tilt function, so now you don't need to adjust the brush direction in the software over and over again. Simply tilt to add shading to your creation and enjoy smoother and more natural transitions between lines and strokes.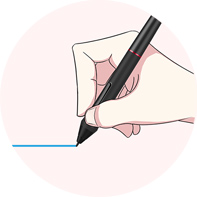 Virtually No Lag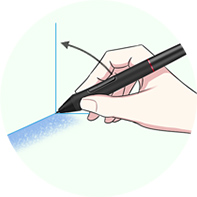 Sensitively Tilt for Shading
Easy on the eyes. Real to your imagination.
Adopting fully-laminated technology, the Artist 12 Pro seamlessly combines the glass and screen to create a distraction-free working environment. With virtually no parallax, your cursor appears exactly where you want it, offering a real paper-like feel while drawing on this 11.6 inch fully-laminated IPS Display with a 178-degree viewing angle and 1920*1080 high resolution.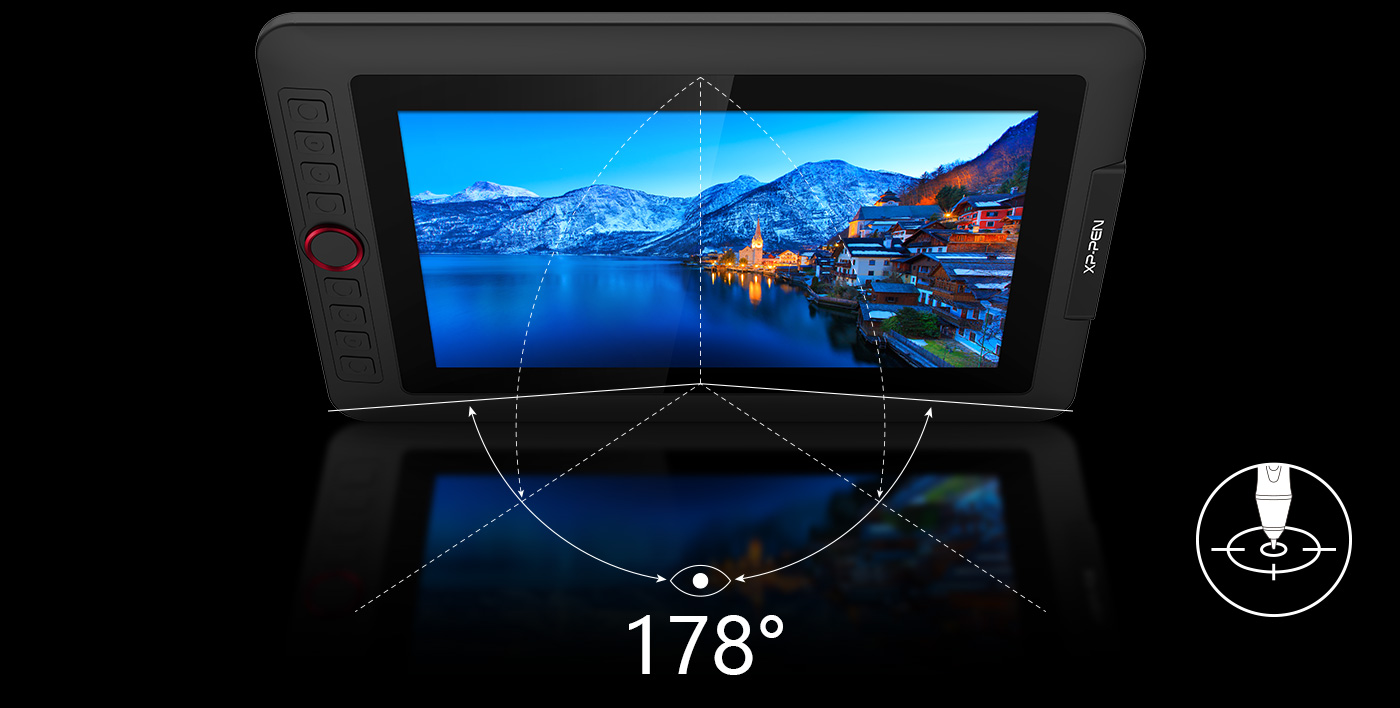 Brings more customization options as you like.
Compared to the Artist 12, the Artist 12 Pro features 8 fully customizable shortcut keys and puts more customization options at your fingertips!
Artist 12 Pro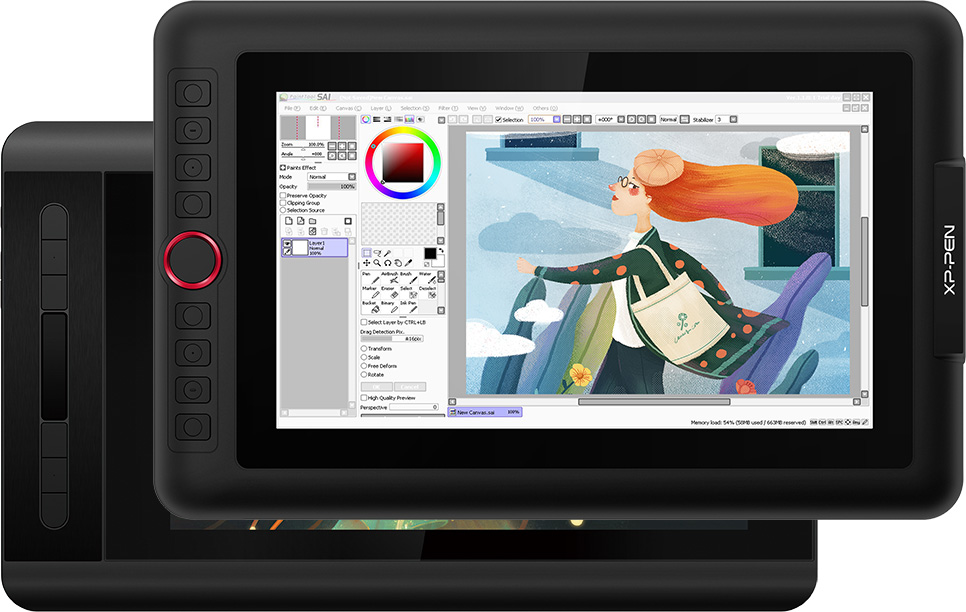 Artist 12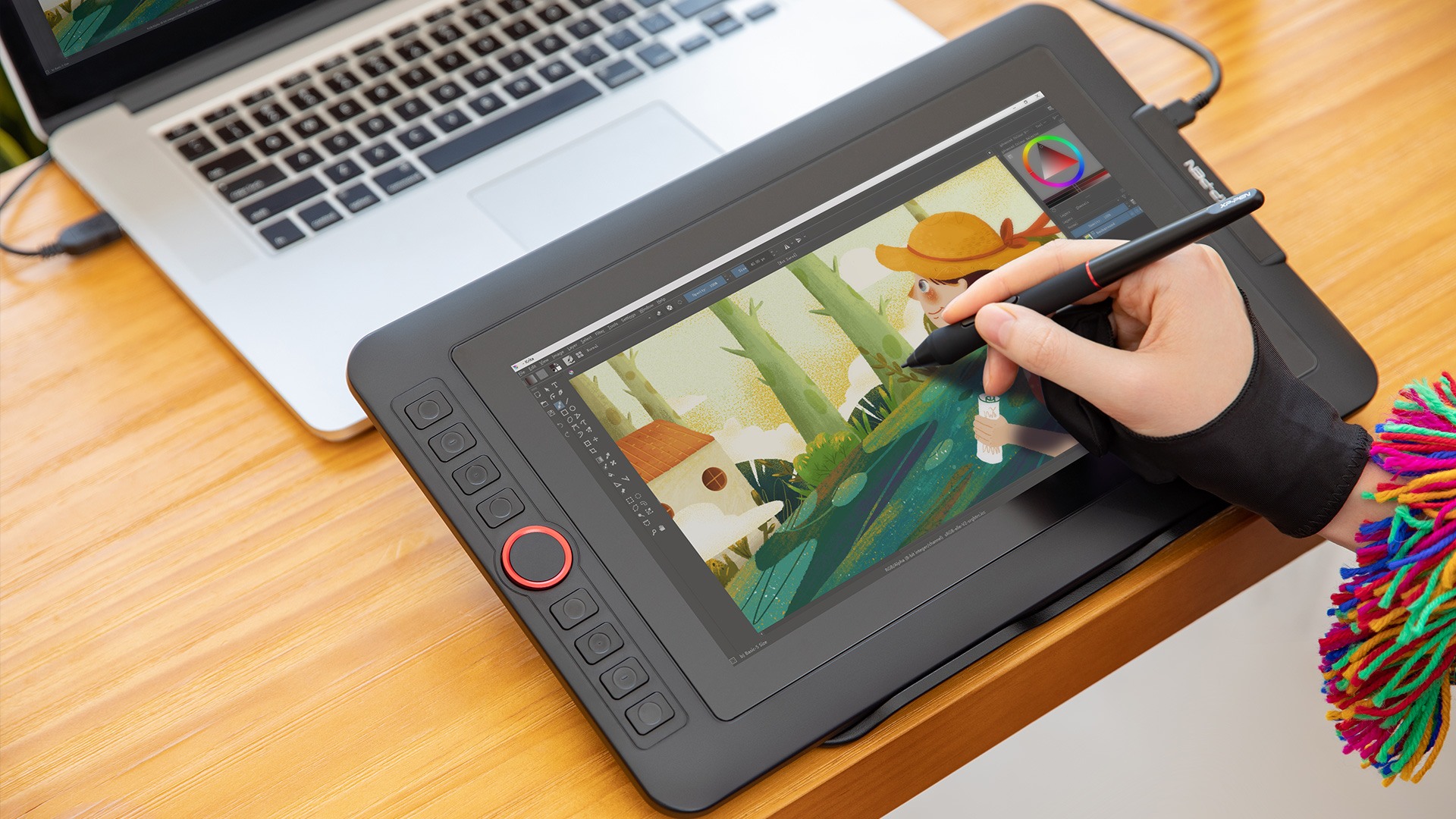 Fast, fluid performance.
With up to 8,192 levels of pressure sensitivity, it provides you with increased accuracy and enhanced performance to create the finest sketches and lines, even down to the nuance of different hairs.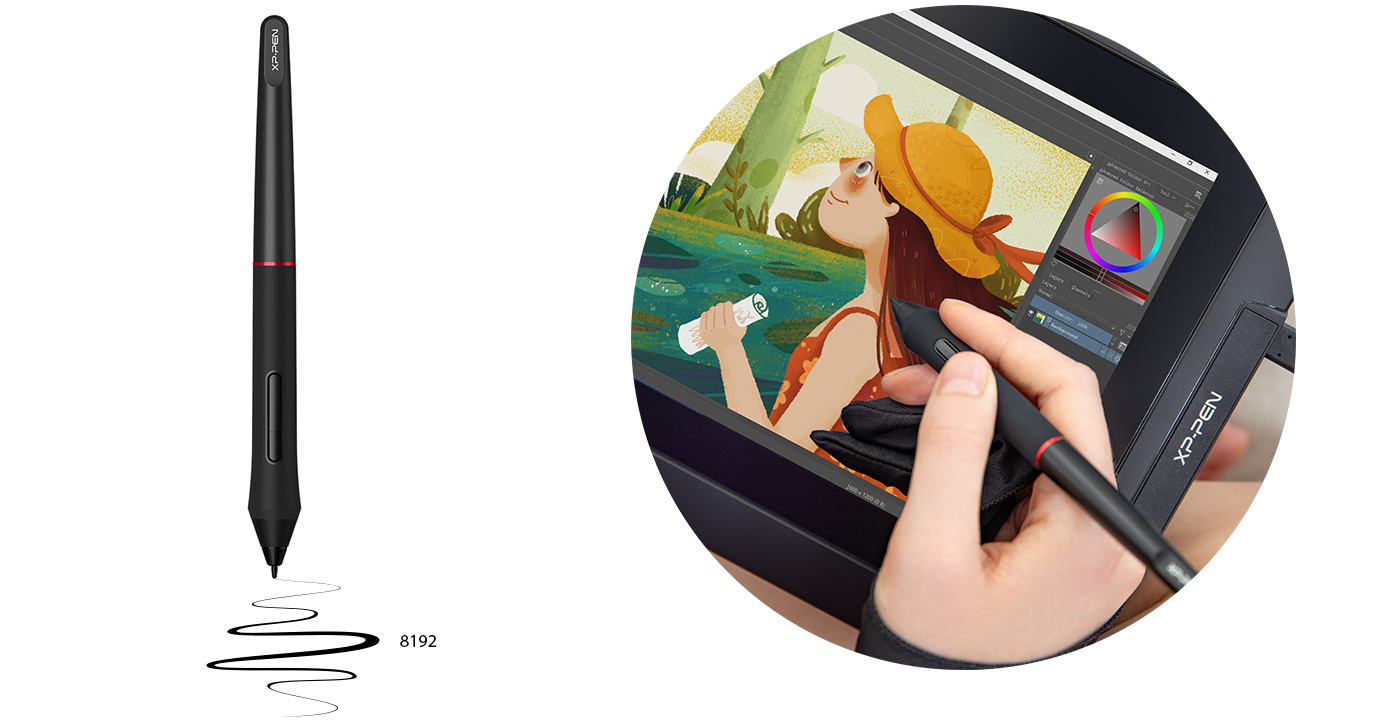 Ideal for your web conferencing or distance learning.
Simultaneous digital inking with an XP-Pen graphics tablet compatible with Microsoft Office apps like Word, PowerPoint, OneNote and more. Visually present your handwritten notes and signatures precisely – ideal for your web conferencing or online teaching needs.

Engage, inspire, and immerse students and attendees like never before.
Teachers and speakers can create and explain interactive content visually by writing, editing, and annotating directly in files and sharing their screen in real time while streaming, broadcasting, or web conferencing. This flexibility allows the flow of creative ideas and the problem-solving process to be presented intuitively and efficiently.
Get started →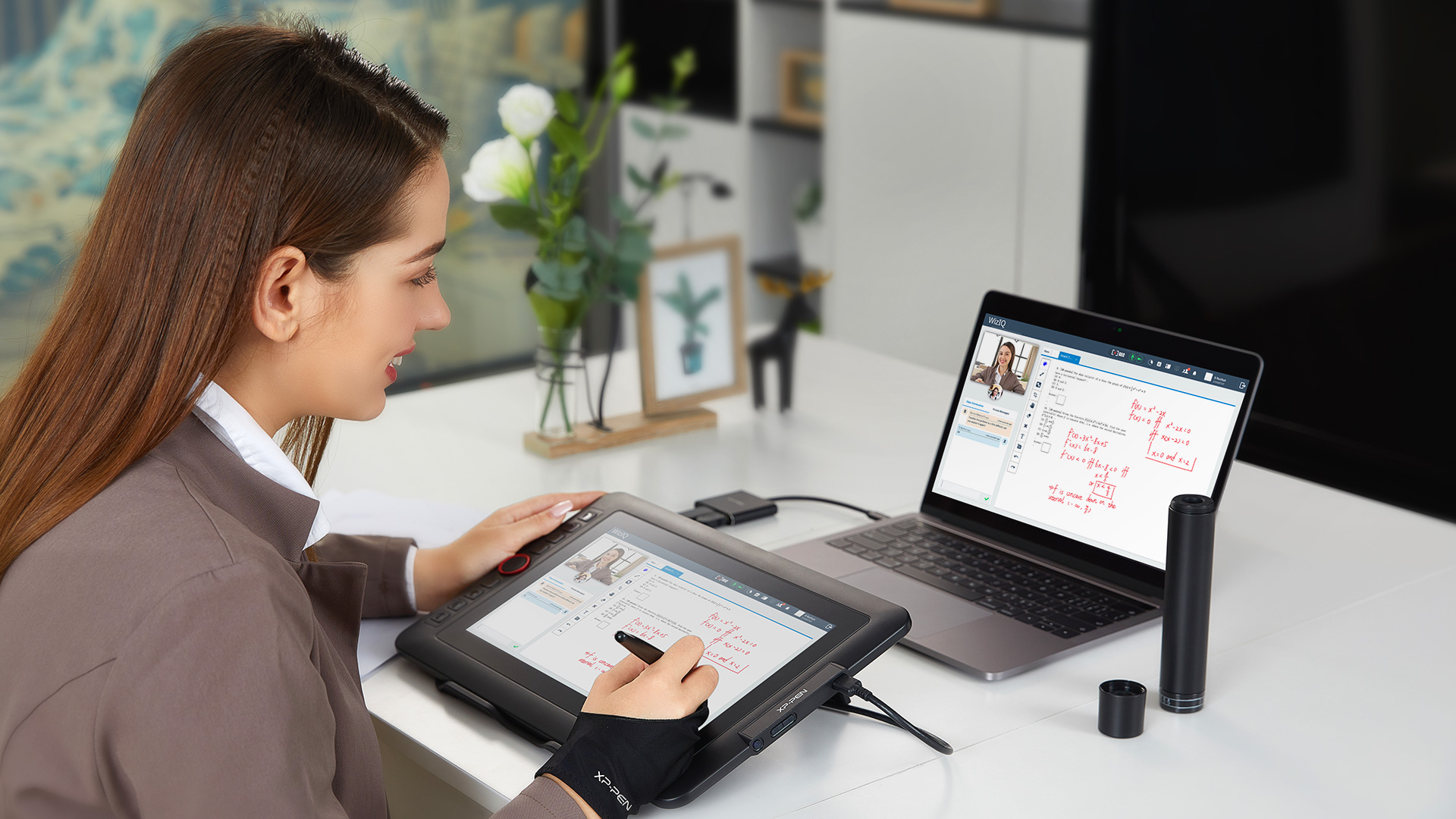 Accessories to complete your creation.
Included with the Artist 12 Pro, the portable stand is built to prevent shaking or sliding as well as relieve eye fatigue and hand stiffness. The multi-function pen holder keeps your pen and pen nibs safe, and doubles as a pen stand or pen holder.

The stand included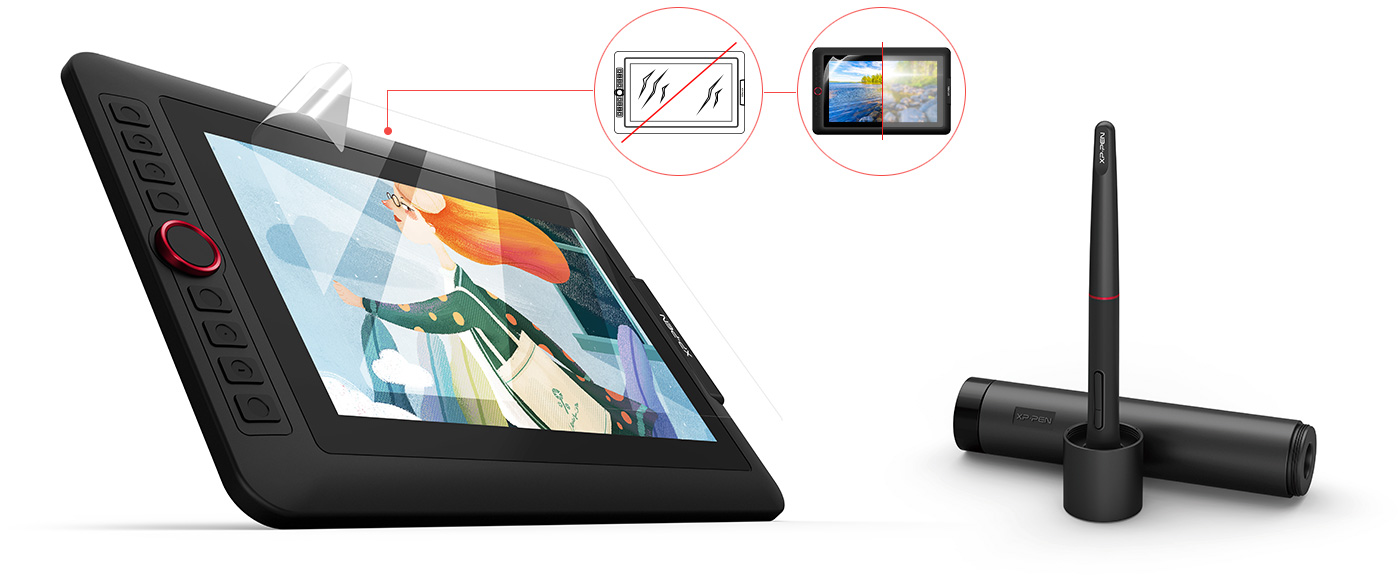 Scratch Resistance
Anti-glare
High Transparency
Versatility and Compatibility.
Supports Windows® 10/8/7(32/64bit), Linux (Detailed versions), Mac OS X® 10.10 and higher. Compatible with popular digital art software such as Adobe® Photoshop®, Illustrator®, SAI®, CDR®, GIMP®, Krita®, Medibang®, Fire Alpaca®, Blender® 3D and more. The XP-Pen Artist 12 Pro also works with web conferencing, online learning or broadcasting software including XSplit, Zoom, Twitch, Microsoft Teams, ezTalks Webinar, Idroo, Scribblar, Udemy, Ding Talk, and more.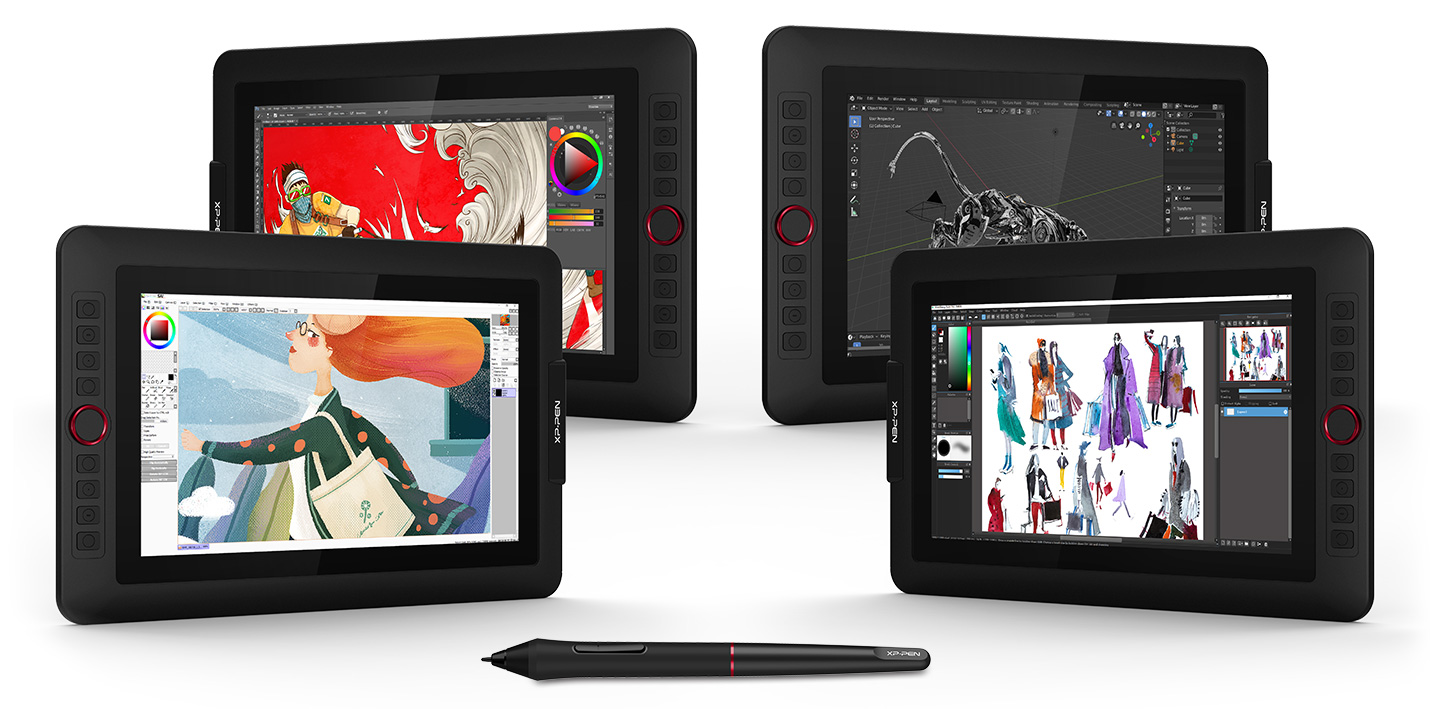 We young, we love!
Artist 12 Pro LINE FRIENDS Edition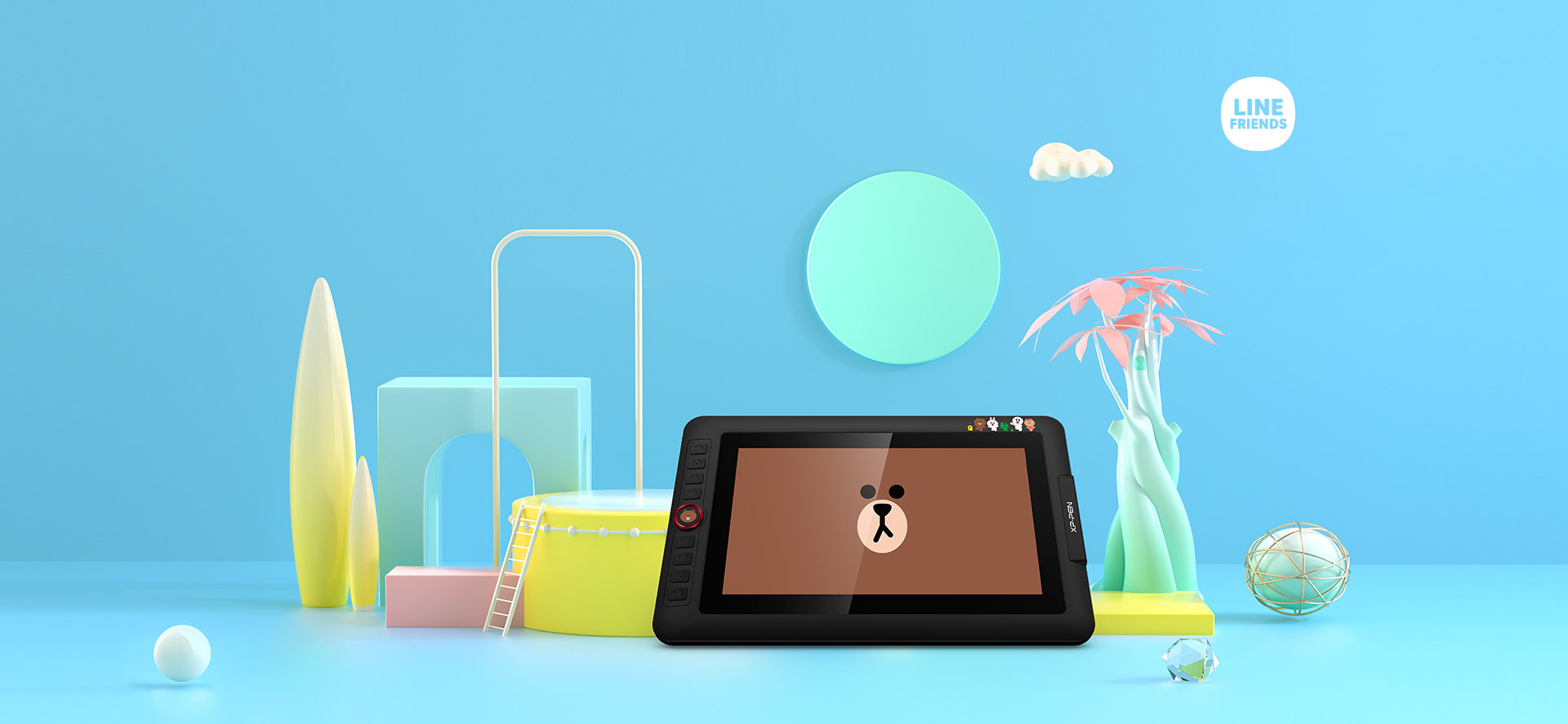 Specification:
Technology:
Electromagnetic
Dimension:
351.52mm(L)*225.38mm(W)*12.9mm(H)
Display Area:
256.32mm(H) x 144.18mm(V)
Display Resolution:
1920x1080 pixels
Color Gamut:
72% NTSC
Shortcut Keys:
8
Roller wheel:
1
Response Time:
14ms
Pixel Pitch:
0.1335*0.1335mm
Color Displays:
16.7M
Contrast Ratio:
1000:1
Viewing Angle:
178°
Pressure Levels:
8,192
Tilt:
60 Degrees
Report Rate:
≧200
Resolution:
5080 LPI
Accuracy:
±0.01inch(center)
Reading Height:
10mm
Supply Voltage:
DC 5V
USB Interface:
USB
Current consumption:
2A
Power Consumption:
10W
Compatibility:
Windows® 10/8/7 (32/64bit),

Linux (Detailed versions)

, Mac OS X® 10.10 and higher
Package Included:
1x 11.6 Inch Display
1x Portable Stand
1 x Battery-free Stylus
8 x Replacement Pen Nibs
1 x Pen Holder
1 x Quick Guide
1x 3-in-1 USB Cable
1 x Cleaning cloth
1x USB Extension Cord
1 x Black Drawing Glove
1 x Power Adapter

Getting started with your
XP-Pen Artist display
Learn more >

All Artist displays come
with one free creative software
Learn more >
Linux OS
Version
Package Format
Supported Software
Arch
Arch Linux2019.12.01(64-bit)
.deb, .sh
GIMP, Krita
Centos
Centos7.0(64-bit)
.rpm, .sh
GIMP
Centos8(64-bit)
.rpm, .sh
GIMP, Krita
Debian
debian-9.5.0-amd64-netinst(64-bit)
.deb, .sh
GIMP, Krita
elementary OS
elementary OS 5.0(64-bit)
.deb, .sh
GIMP, Krita
ezgo Linux
ezgo14(64-bit)
.deb, .sh
GIMP, Krita
Fedora
Fedora32(64-bit)
.rpm, .sh
GIMP, Krita
Mageia
Mageia-7.1(64-bit)
.rpm, .sh
GIMP, Krita
Manjaro
manjaro-xfce-20.1.2-201019(64-bit)
.deb, .sh
GIMP
Mint
linuxmint-18.2-cinnamon-64bit
.deb, .sh
GIMP, Krita
OpenSUSE
openSUSE-Tumbleweed(64-bit)
.rpm, .sh
GIMP, Krita
Pop!_OS
pop-os_19.10(64-bit)
.deb, .sh
GIMP, Krita
Red Hat
Red Hat7(64-bit)
.rpm, .sh
GIMP
Ubuntu
Ubuntu14.04(64-bit)
.deb, .sh
GIMP, Krita
Ubuntu16.04(64-bit)
.deb, .sh
GIMP, Krita
Ubuntu17.04(64-bit)
.deb, .sh
GIMP, Krita
Ubuntu18.04(64-bit)
.deb, .sh
GIMP, Krita
Ubuntu19.04(64-bit)
.deb, .sh
GIMP, Krita
Ubuntu20.04(64-bit)
.deb, .sh
GIMP, Krita
Function
Krita 4.3.0
Gimp 2.10.20
Inkscape 0.92
Pen Pressure Sensitivity
Tilt
Mouse Function
Eraser Button
(Stylus:PH01, P06)
Switch between Pen
and Eraser Modes
*If you have any further queries, please do not hesitate to contact us at service@xp-pen.com.