The long-awaited "Avengers: Endgame" is smashing box-office records left and right, have you got a ticket to take a look?
For celebration of the ten years journey for Advengers series movies, XP-Pen are hosting a fanart challenge with the theme of Super Hero.
We believe that there must be a scene has touched you?
So who is your super hero? Captain America? Iron Man? Thor? Or the Black Widow?
It is best to draw a character in the Marvel movie, but it is not limited to this. He/She can also be anyone who has touched you ever. We believe heroes are made by the path they choose, not only the powers they are graced with.


If you are a winner, you must contact us within 7 days after the date of the announcement. Not doing so will result in your disqualification as a winner and the election of a new one.

AWith the theme of "Superhero", the artwork should be faithful and respectful to the original character.
B You must upload your work to xp-pen.com before June16th. For that, you have to register here
C There are no requirements for either height or width of the artwork, just make sure the file is within 5MB max. Once your work is approved (24h approx.) your entry will be shown on the contest's page.
DAny drawing style is accepted, and It can be presented in either digital or traditional art (preferably scanned).
EThe artwork must be original. Copied pictures are not allowed. Any sensitive content is not allowed.
FThe resolution of participant's submission should be 300 DPI or more (Landscape structure will be preferred).

Q: Is there any limit on the region?
A: Please forgive us can not ship to the Africa, Middle East and South America etc.
Q: I have a friend in US(Or other places that XP-Pen can ship to) can receive the prize and send it to me, can I participate the contest?
A: If you are certain someone can sign the parcel definitely and sent it to you, then it is acceptable.
Q: Can I submit multiple works?
A: The top limits are 2 entries, but you could modify your artworks before June 16th.
Q: Can I post my artwork to social media, such as instagram, facebook, twitter?
A: For sure, we encourage you to share the artwork to spread the art to more people. By Saying "this is my entry for XP-Pen superhero fanart challenge", and please tag #XPPencontest #Superhero #Marverlfanart
Q: Is there any age restriction?
A: No, welcome to join the art challenge whatever how old you are.
Q: How will the entries be judged?
A: 1)Interpretation and the clarity of the theme
2)Creativity, completeness, and ORIGINALITY
3)Quality of artistic composition and overall design
Haven't found the information you need yet? Feel free to email to
hs@xp-pen.com
*Entrant grant XP-Pen to share (with credit) the submitted artwork in social media and any other promotional activities it chooses.
*If any entrant used other person's art piece element in the submission, please proof you have got the approval from the artist.
*If there is any work submitted is suspected of plagiarism or copyright infringement or unapproved usage from the original artist, they will be disqualified from the contest instantly.
*Only the winners will be asked for high quality files of their work. By winning the contest, your design will belong to both you and XP-Pen. We promises not to use your work for commercial purposes; only for advertisement, unless any other agreement is reached with the winner.
For example: If XP-Pen wished to add these designs in business cards, in our websites, brochures, posts, picture books and leaflets for advertising and promotion purpose; in the packaging of our products, on print media and digital media product package for public display; also on printed materials at exhibition booths or retail outlets etc.
If there was a wish to directly use the designs for commercial purposes (making sellable products derived from them), XP-Pen will reach a deal with the winner to set up percentages, royalties and other clauses that would have to be accepted by both sides in order to make it happen.
*The established 72hs for the announcement of the winners will allow people to know them and check if they don't comply with any stated rules in the contest bases. If we find out and confirm that any of the winners did not follow any of these bases, the status of "winner" will be removed from them.
*Prior to submitting artwork, all the participants are responsible for carefully reading and understanding the terms and conditions and fully agreed before taking part in the contest.
Dear Xfans,
The #Superhero art contest has came to an end, but the creativity never.
Thank you for your enthusiastic participation and support in the drawing contest so far. Picking the winners was no easy task, as there were so many amazing submissions. We hope you enjoy all the works like we did.
The results of the winners are now announced as follows: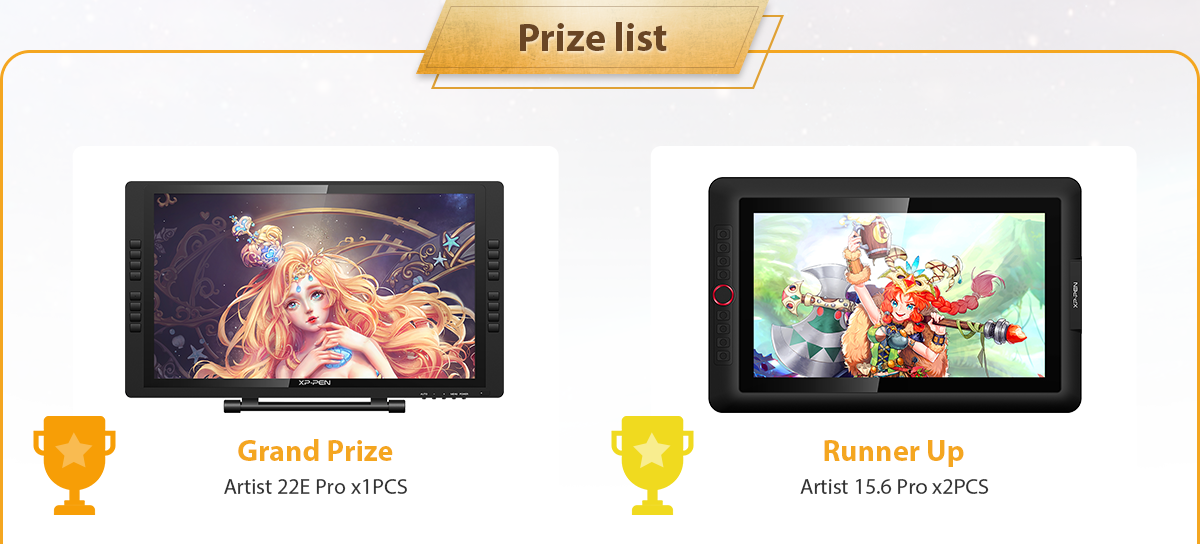 Cheers!
Note that if XP-Pen find out and confirm that any of the winners did not follow any stated rules in the contest bases, the "winner" status will be removed instantly. We will contact the lucky winners by e-mail after 72hs of the announcement. If you are the winner, please check your email, spam folder or write to hs@xp-pen.com to ask for the awards directly within 7days.Not doing so will result in your disqualification as a winner and the election of a new one.
Thank you again and see you next time!