XPPen Unveils Chip Stylus Digital Strategy with World's First 16K Pressure Levels Technology
Oct 25,2023 AM 11:57
— Empowering CG to a New Era of Performance
SHENZHEN [October 16, 2023] - To meet professional artists' pursuit for more ultimate creative experiences from digital drawing devices, XPPen, the globally renowned digital drawing technology brand, is actively and comprehensively deploying chip stylus digital technology through its INNOLab laboratory to drive innovation in pen display products. Benefiting from the industry's rapid technological advancements, XPPen has gained deep insights into technology and market trends over the past two years, successively launching the X3 and X3 Pro chip stylus. This May, it took the lead in achieving the industry-first 16,384 pressure levels technology in its high-end Pro series, breaking the industry benchmark. The upcoming release of the X3 Pro Roller Stylus by the end of this year will once again refresh the innovative digital drawing experience and fully usher in a new era of performance for CG creativity.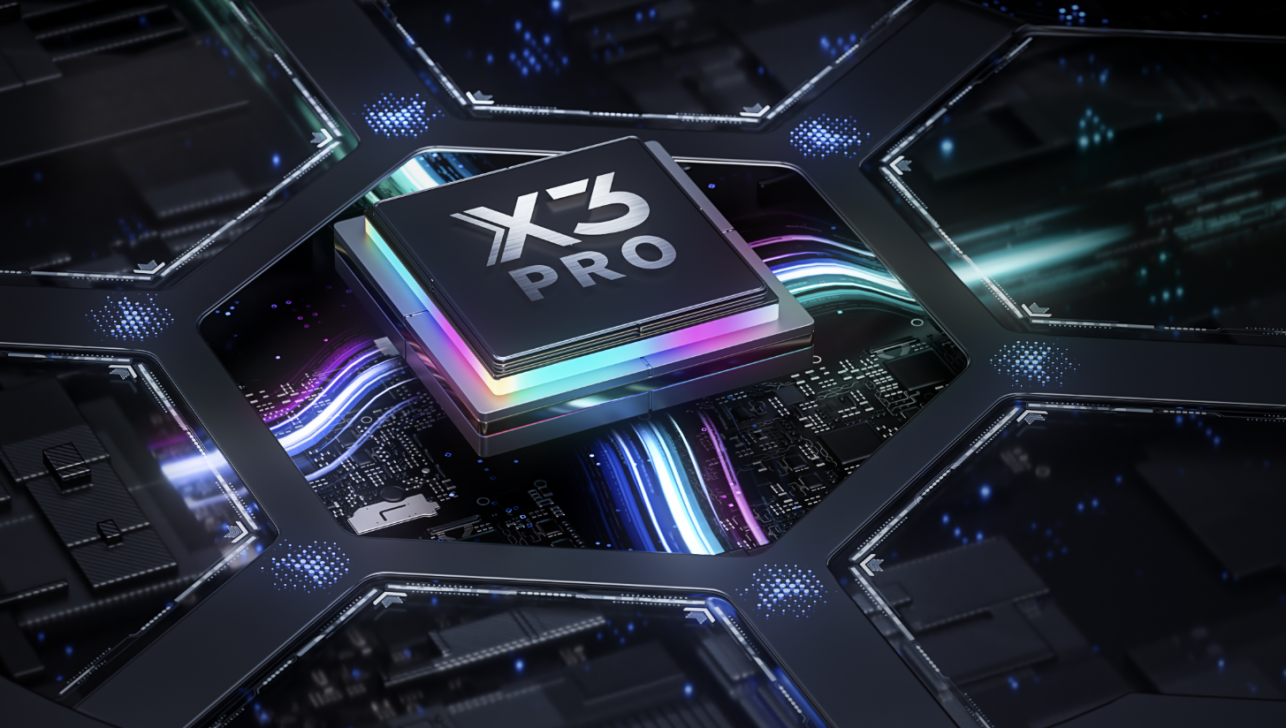 XPPen's Chip Stylus Digital Strategy to Empower CG Creativity and Open a New Era of Performance
XPPen's Chip Stylus Digital Strategy
XPPen's chip stylus digital strategy pursues smarter connectivity, faster computing power, and more stable consistency in performance. This strategic layout is reflected in the future multifunctional pen ID compatibility and chip stylus deployment in non-flagship products. The upcoming release of the X3 Pro Roller Stylus at the end of 2023 will implement this commitment. It will not only enable smart identification and compatibility with multiple pen IDs, but also meet the demand for multifunctional and multi-tasking digital signal processing, greatly improving creative productivity. This is an important part of building XPPen's chip stylus digital strategy's technological advantages. Secondly, upholding the R&D concept of "technology for all", XPPen will also launch an new upgrade of digital stylus equipped on the non-flagship Artist series, allowing more users to enjoy the creative experience brought by chip stylus technologies.
The World-First 16K Pressure Levels in Chip Stylus is Born for CG
As one of the most important technical parameters of digital drawing devices, pressure level determines the delicacy and smoothness of strokes during the creative process. The technical recognition of users' subtle stylus pressure and pressure sensing determine the final elegant presentation of strokes. In May 2023, XPPen globally pioneered 16,384 pressure levels technology based on the chip stylus technical framework. Unlike traditional analog stylus which rely solely on software upgrades to achieve 16,384 pressure levels, the X3 Pro chip stylus breaks through the technical bottlenecks of data transmission and accuracy in traditional technologies by incorporating a digital computing chip into the digital stylus, eventually achieving the industry-first 16,384 ultra-sensitive pressure levels technology and response for more stable and anti-interference data transmission.
The XPPen's 16,384 pressure levels curve settings based on chip stylus better suits the pressure sensing recognition of human engineering "muscle memory". Extremely gentle pressure can achieve delicate and smooth strokes from the moment the stylus touches the tablet, similar to the experience of traditional pen and paper. It manifests as a more gentle crawling slope in the pressure curve and better delicacy in strokes. And it exhibits sensitivity and delicacy in the common pressure range while breaking through industry bottlenecks in the high-pressure range. Lighter strokes have higher delicacy in pressure performance when the pen first touches down.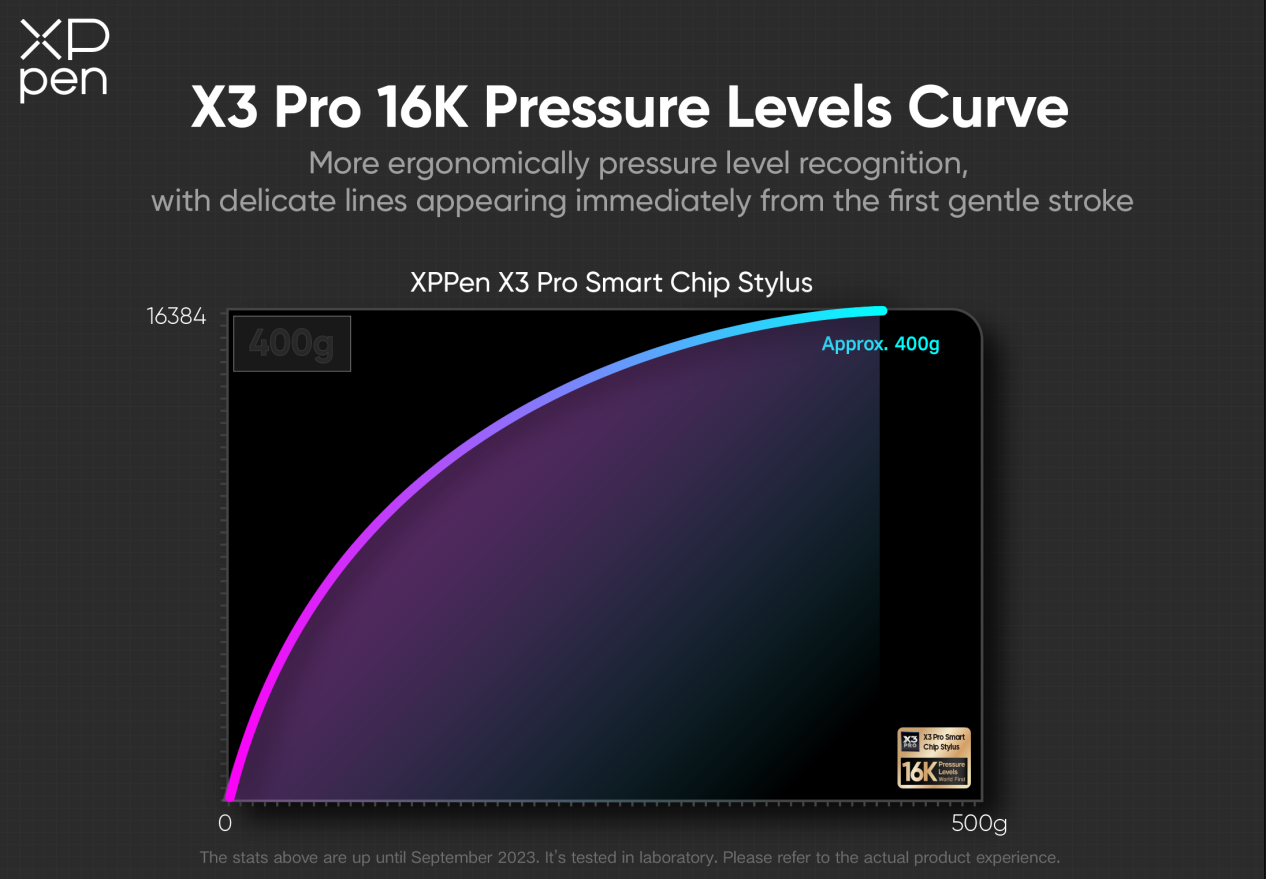 The XPPen's 16K Pressure Levels Curve Setting Based on Chip Stylus Brings a "Most Ergonomic Pressure Curve" that Better Conforms to Human Grasp Force in line with Ergonomics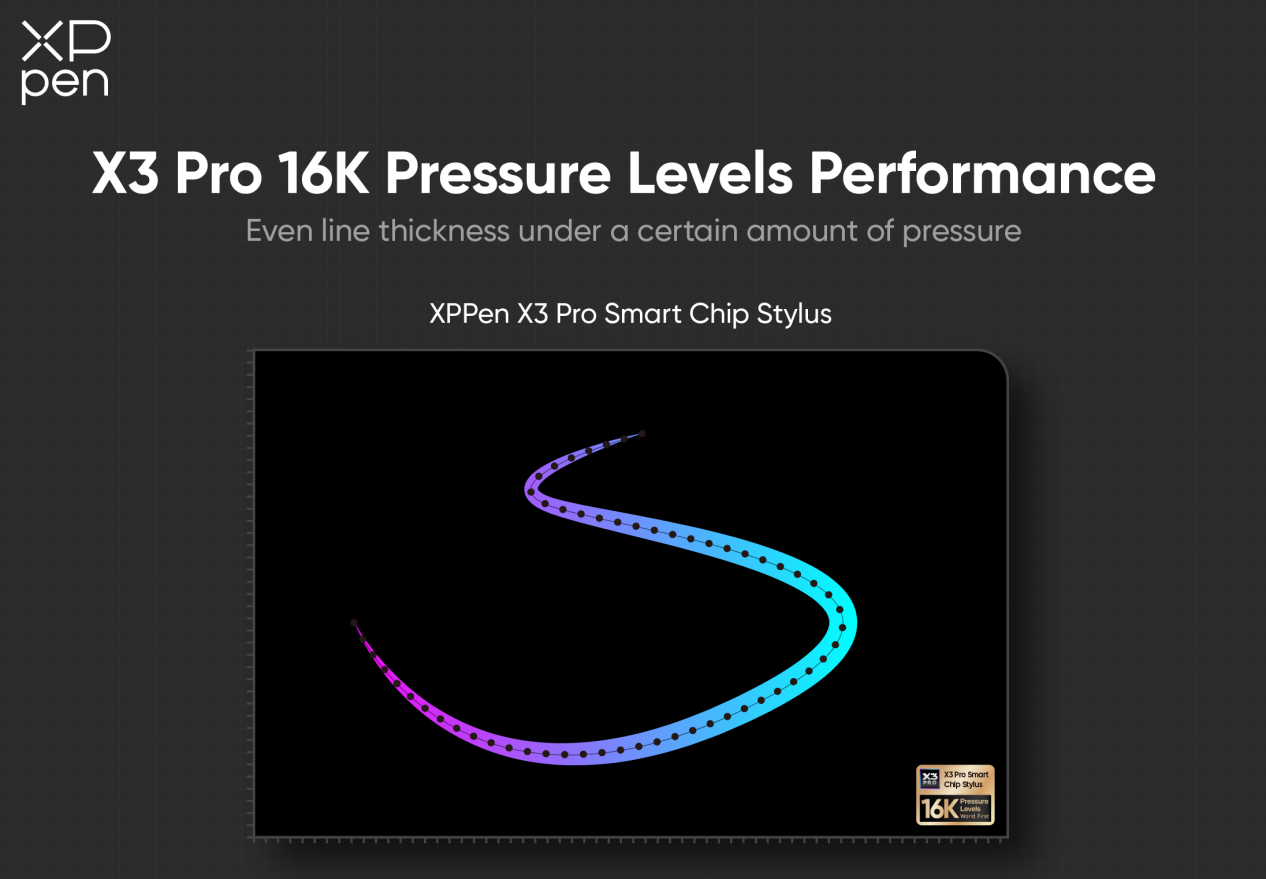 Ultra-Sensitive Line Performance Enabled by 16K Pressure Levels of the XPPen's Chip Stylus
Pushing Beyond 16K Pressure Levels to Explore the Boundaries of the Ultimate Creative Experience
"XPPen's digital chip stylus technology goes beyond achieving 16,384 pressure levels. Stability across the overall system performance of the stylus and intelligent needs drive INNOLab to continuously innovate," said XPPen R&D Director Ryan. "We understand professional CG creators have higher pursuits of stability, speed and accuracy when putting down the stylus, as well as more ultimate pursuits of delicacy and smoothness in drawing. This poses stricter technical requirements on data transmission speed, transmission capacity, interference resistance and more subtle pressure control, which requires us to think about how to break through the technical limitations of traditional analog signal transmission for further optimization and implementation. After a series of R&D testing, INNOLab decided to adopt digital computing chip technology to achieve more accurate and stable digital signal transmission to meet the needs of the ultimate drawing creative crowd."
Enhancing Signal Transmission Stability and Interference Resistance: A Solution for Optimal Performance
Built on the technical framework of the chip stylus, the digital stylus achieves comprehensive performance improvements, enabling more stable signal transmission, stronger interference resistance and accurate identification and transmission of every bit of pressure data during multi-task data processing. To allow users to experience more ultimate delicacy, smoothness and responsiveness when drawing, XPPen utilizes the X3 Pro chip stylus' advantages in high data throughput and fast computing power to achieve a 1.5 times increase in data transmission through algorithm optimization and a 100% increase in pressure sensing computing power. This makes the drawing experience more responsive and smooth, pen tip control more stable and precise, achieving "exquisite control down to the finest detail". At the same time, the chip stylus achieves superior improvements in multifunctional stylus compatibility and consistency in performance. The X3 Pro chip can also effectively identify different types of stylus through encoding, adaptable to over 200 stylus models to meet consistent experience across multiple stylus and provide richer creative effects.
Thinking Big While Paying Attention to Details, XPPen is Committed to Being a Practitioner and Innovator of Future Technology
For the industry, achieving 16,384 pressure levels technology with the X3 Pro chip stylus is an excellent solution that can move towards more terminal devices and diversified scenarios in the future. For users, whether professional art creators or beginner art enthusiasts, there is a consistent pursuit for finer digital drawing experiences. The XPPen's solution of 16,384 pressure levels based on chip stylus is a milestone in technological exploration and is believed to be a trend in exploring digital drawing technologies. Upholding the R&D concept of "technology for all", XPPen hopes to impart and popularize more advanced digital drawing technologies to more users, and continuously invest greater enthusiasm and pursuit in the ultimate creative experience for users.
END
About XPPen
Originated from 2005, XPPen is now one of the top brands under HANVON UGEE, integrated with digital drawing products, content and service as a globally notable digital brand of digital art innovation. Headquartered in Shenzhen, China, XPPen boasts 6 overseas subsidiaries(branches) and more than 50 agents, covering over 130 countries and regions with its products. By virtue of its progressive digital handwriting technology after more than 10 years' accumulation and innovation, XPPen believes that, innovative, trendy and leading products and ecosystem can bring more abundant visionary inspiration to the new generation artists and enthusiasts, encouraging them to courageously pursue dreams and realize their authentic self-expression.
To learn more, please visit https://www.xp-pen.com/
For further information, please contact:
GlobalPR@xp-pen.com