10 Best 3D Modeling, Animation and Design Software: Free and Paid
TIPS
XPPen
2023-08-22 15:50:55
15 min read
If you are a 2D graphic designer looking to venture into the new realm of 3D or an already established 3D designer who is searching for more fuel for his creative engines.
Whether you are looking for the right software to fuel your latest design project or picking the best engineering program for a company or class.
this list of the best 3D modeling software will definitely help you. We know that finding the right 3D software can be a struggle. That is why we decided to help you with that!
But Notice that 3D modeling software can be taxing on your system. It's a good idea to carefully examine the required specifications for running the software in question before making a final decision. Many developers provide both a minimal and recommended set of specs. The minimal set will allow you to run the software, but depending on your computer's configuration, you may not have access to all the features that you need.
What is 3D Modeling Software?
3D modeling is a mathematical method of creating designs in the virtual three dimensions (height/depth, length, and breadth) and a 3D modeling program helps one do that in an efficient and user-friendly way. 3D modeling attempts to recreate some real-world entity, or a blueprint for a future structure, or even a work of art. With 3D software, the possibilities are infinite. Nowadays, 3D modeling is used in diverse fields like medicine, architecture, entertainment, etc.
Like any trending product or service, the internet offers a vast variety of 3D modeling programs, both free and paid. Selecting the right 3D software can be a little challenging, But it based on your needs .
Part 1: The 7 Best Paid 3D Modeling Programs
1. ZBrush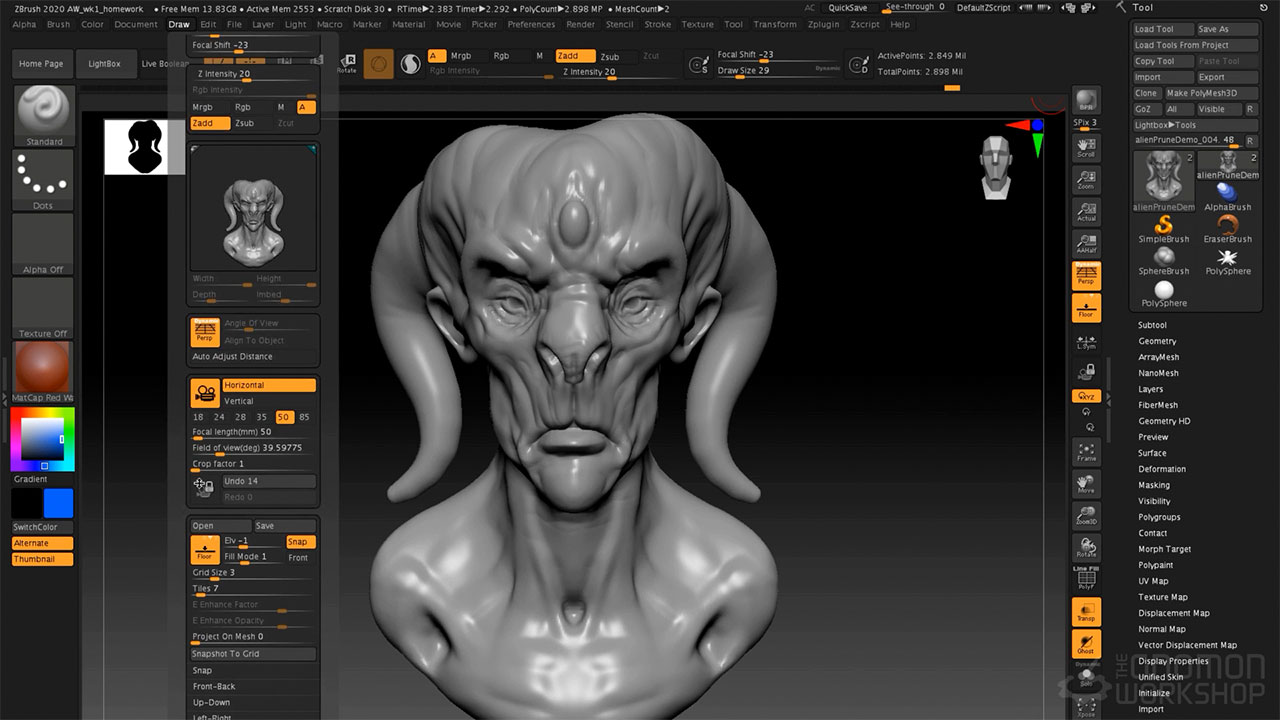 When it comes to sculpting amazing creatures, people, and places, there are no competitors that come anywhere even close to ZBrush. It's a staple in VFX on movies and television, and there are few 3D modeling programs that can match its stature in the video game designer industry. If you're into 3D printing, this is definitely your go-to option: nothing beats ZBrush for making vinyl toys or action figures. You will need training on the various tools and features to make the most of ZBrush, but know that this training is absolutely worth it.
ZBrush traditionally is used as a "sculpting" tool that lets you add more significant details after nuts-and-bolts 3D modeling. However, in recent years, several updates have come along that improve how it works and what it does. These updates include additional tools that allow creators to start building directly in the program and even apply rendering after the sculpting phase.
In addition to modeling and sculpting, users can also paint textures and create UV maps, allowing ZBrush to create 3D printed working action figures, toys, and even costumes and props to go with them. These improvements have turned ZBrush into an excellent general-purpose tool for artists who need to detail their work carefully and would prefer not to jump between expensive platforms to get it done.
While ZBrush users can manipulate millions of polygons at once to create organic structures ready for printing, the non-standard menu design and user interface are not for the faint of heart and require time and proficiency to learn thoroughly. It is also worth noting that to get the most out of this software, you will need to own or purchase a graphics tablet.
ZBrush includes ArrayMesh, NanoMesh, and ZModeler with QMesh to aid the creative process from initially creating to finally refining the artwork of your product.
The workflow is nice with my XPPen Deco 03 wireless drawing tablet but not with a mouse. It's really better to use sculpting software like Zbrush with a graphics tablet, it's more like sketching in 3d than plotting, I recommend it.
Key Features:
Stay within ZBrush for more of your workflow.
Optional 64-bit support for fully harnessing your machine's computing power and allowing for higher polygon counts and more creativity in less time.
ZModeler is a smart polygonal modeling system for simplifying the creation process by fusing polygons, deleting full blocks of geometry, connecting parts with advanced paths, and repeating actions with a single click.
Refine the shape of your model in real-time to transform the way in which you create hard surface models.
2. Autodesk 3ds Max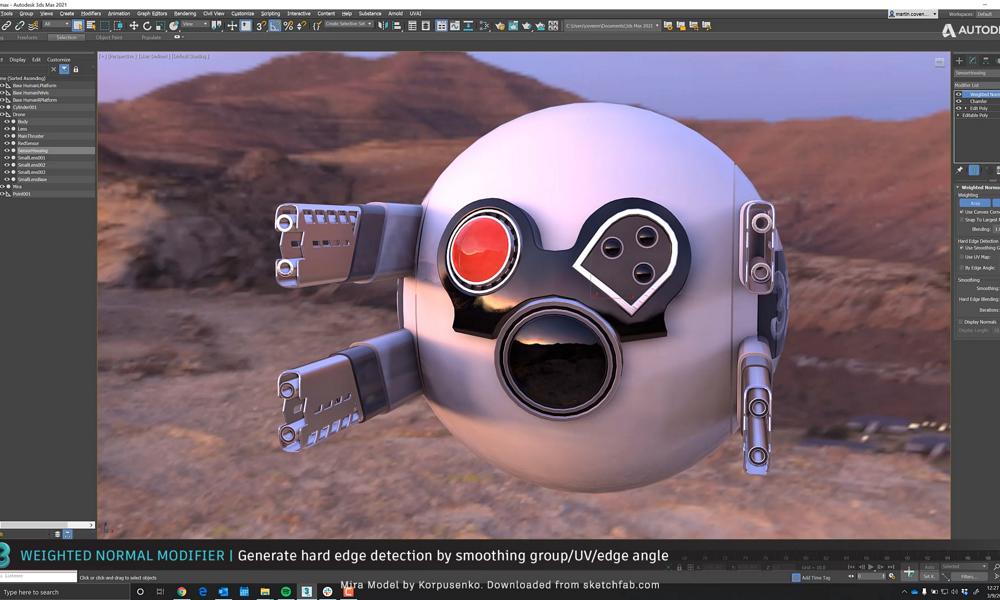 3ds Max by Autodesk is a 3D modeling, animation, simulation and rendering software used in industrial design, film, games and motion graphics. it's a powerful 3D modeling software tool for product engineers. Designers can make their creations come to life with more believable textures, human-like motion, flowing hair and fur, particle simulations and more.
For those invested in creating high-end productions that will impress the public, 3DS Max is worth a look. The software — which was used to create graphics for Assassin's Creed, among other projects — is focused on modeling, ultra-detailed animation, and rendering via Arnold, V-Ray, Iray, and other commonplace tools. Like Autodesk's other software, the latest updates are pushing further integration and compatibility with 3DS, while focusing on making the software as VR-friendly as possible for developers.
3Ds Max has been around for a long time, as far as modeling software goes. It predates almost every other current program by several years and has plenty of performance patches under its belt as a result. It's one of the most stable 3D modeling programs around (probably the most stable option on Windows, period) and has a gigantic library available that provides access to countless functions that can make the process of modelling less tedious. Many of these mods also make things easier for beginners.
3DS Max is exclusive to Windows OS and allows users to create a product or architectural visualization and is often used to produce feature films and TV shows. While Maya offers a similarly impressive array of tools for 3D modeling, 3DS is much easier for intermediate or beginning artists. In addition to offering both procedural modeling and direct manipulation techniques, it simplifies the whole process by offering access to a vast repository of modifiers. 3D modeling students can even get the toolset for free, so it's certainly worth considering.
It boasts of a vast pool of tools and is comparatively easy to learn than its counterparts. Users have the power to model any person, place, or thing they can imagine, thanks to 3DS Max's tools for shaping and defining.
Key Features:
3D modeling, shading, and texture mapping.
Works with most major renderers including V-Ray, Iray, and mental ray.
Flexible interoperability to fit into your workflow with Autodesk Revit, Inventor, Fusion 360, and Stingray, or with SketchUp, Unity, Unreal, and others.
The Achilles heel of this 3D modeling tool is that it is only available for Windows. A huge loss for Mac users, since it is one of the best tools in this list.
3. Cinema 4D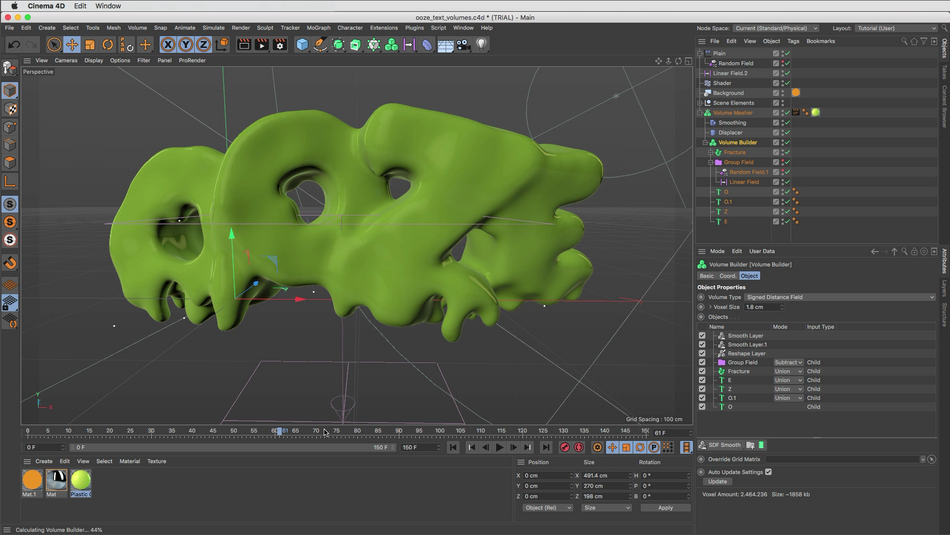 Developed by MAXON, CINEMA 4D is a 3D modeling, animation and rendering application that is available in "4 Flavors" – motion graphics artists, architects, designers and 3D animators. Thanks to its wide range of CAD tools, you will be able to create great animations and even start amazing 3D printing projects. It is the perfect program if you are willing to achieve a complex design.
It's Designed for creating perfect motion graphics, this powerful tool can compete head-to-head with the above entries and hold its own. It can crank out amazing quality that can turn heads, but it's strongest lead over competitors is a simple one: it's much (much) easier to learn. This could be a great help in making your design portfolio as gorgeous as possible—trying out a variety of 3D projects is a great way to show your range to clients.
Maxon's Cinema 4D software has a tight focus on advanced 3D modeling, which makes it ideal for conceptual product design and those times when you need to add more complex layers to artistic projects. The intuitive interface is filled with detailed tools, everything has a "help" option associated with it, and the system goes through careful quality control before updates are released, making it more dependable than some alternatives.
It's widely used in the film industry and helped to create animations in movies like Iron Man and Cloudy with a Chance of Meatballs.
Easy to use, it come with a user-friendly interface. Touted as an excellent pick for both pros and beginners alike, Cinema 4D has a wide-ranging community of users and offers an impressive array of how-to guides and tutorials. Also, users who pay for the annual Maxon Service Agreement gain free access to Cineversity, which is a training site to improve your skills with the software.
Cinema 4D's built-in tools are also impressive, offering users tools for volumetric and parametric modeling as well as a selection of reasonably priced plugins to increase the functionality. While Maxon's capabilities certainly don't come cheap, those in need of easy-to-learn software capable of 3D visualization, illustration, and motion graphics will not be disappointed.
There are 4 different versions for this software: Studio, Broadcast, Visualize and Prime. There is necessarily a version that will fit your project! There's also a basic version available for less-intensive projects, but it's good to keep in mind that even the full version doesn't branch out much beyond detailed 3D modeling. It's excellent modeling software, but its limited applications make it less useful for some creators, and the free version only permits access for 42 days.
It requires 4GB of RAM and a graphics card for smooth running and is available for Mac, Linux, and Windows operating systems.
4. Autodesk Maya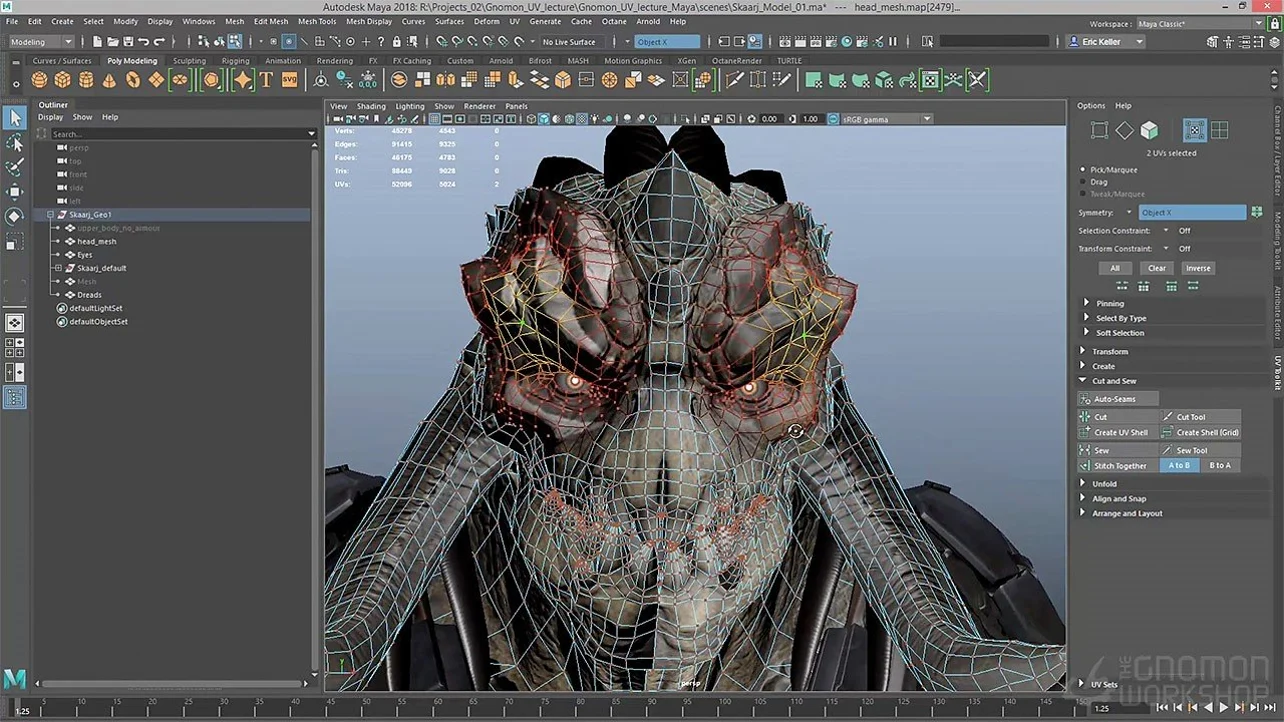 Maya 3D very similar to 3ds Max . It's used in video game development, animated films and visual effects and offers higher-end tools for characters and effects. Maya is an advanced software and will enable you to create complex designs , used in the film industry, for example.
Autodesk's Maya is widely considered one of the industry standards when it comes to 3D modeling software. The company has also done a lot of work to integrate tools from Autodesk Mudbox (previously from Skymatter), allowing for more deft polygon sculpting, and letting you reap the benefits of two types of modeling software from a single application. The amount of detail you can achieve in Maya is quite impressive, and the 3D modeling software is ideal for detailed texturing, rendering, lighting and modeling, along with those with an eye for animation (Maya was integral in the making of Kubo and the Two Strings, for example).
It has an intuitive sculpting toolset, it is possible to sculpt virtual 3D surfaces like you sculpt real 3D objects from clay or other modeling materials. It is also making symmetrical modeling much easier.
Future editions should be even better, too, given Autodesk will likely integrate more Mudbox tools. However, it should be noted that Maya is not great for those just starting as 3D artists. In addition to potentially being cost-prohibitive, the toolsets and capabilities easily exceed what the amateur or even average artist will require.
There's a good chance that many of us may never need animation software with features like fluid simulation, solid body physics, and the ability to render cloth, hair, and even particles. On the other hand, if you plan on trying to gain a position working in VFX or for a major animation studio, 3D modeling software of Maya's caliber may well be worth the investment.
When you ask any professional 3D modeller in the industry which program they use the most, Autodesk Maya is the most common answer, and for good reason. Most of the leading animation studios use it (Pixar included) due in part to the massive array of powerful tools offered within the package. The last few years have seen some especially amazing new features burst into the limelight such as truly jaw-dropping live rendering.
Maya isn't cheap, and you're going to need to learn to use it before you can create much of anything. There's a lot to learn in 3D modeling programs, and if you can devote the time to truly learn this new artform then every penny you spend on Maya will be worth it. The Autodesk Maya offers a 30 day free trial (hence in the free section).
5. AutoCAD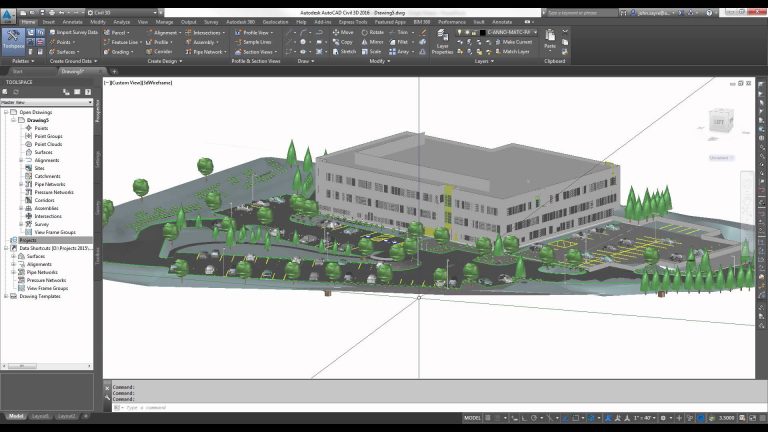 Developed by Autodesk, AutoCAD is also one of the best and most versatile and widely-used 3D modeling software you will find on the market. also it is a versatile and powerful tool for creating blueprints for buildings and architectural designs.
Graphic designers and artists won't find this software very useful, but engineers often learn it while pursuing their degree, making it a natural choice for many. This computer-aided design software is perfect for any professional, from engineers to architects. It is allowing to make drafts, edit 2D projects and 3D models for 3D printing.
AutoCAD's 2D and 3D modeling are explicitly designed for engineering, architecture, and product design. AutoCAD is a perfect program to create realistic 3D models, using solid, surface and mesh modeling tools!
AutoCAD is an Autodesk classic. AutoCAD has a plethora of online tutorials and walkthroughs, which makes it a students' favorite. With its state of the art toolset and efficient rendering algorithms, AutoCAD is the best of its kind. It works great on both Mac and Windows and guarantees a glitch-free user experience. AutoCAD skills are considered as a prerequisite for many civil engineers who are applying for construction and architecture firms.
Subscribers get AutoCAD for Mac and Windows along with many industry-specific programs, including AutoCAD Mechanical, AutoCAD MEP, AutoCAD Electrical, AutoCAD Map 3D, AutoCAD Plant 3D, AutoCAD Architecture, and AutoCAD Raster Design (which is Windows only).
Autodesk offers some of the most popular 3D design, engineering, and entertainment software and services available today. Their AutoCAD software is a powerful 3D CAD tool that enables product engineers to design every detail and work with TrustedDWG technology, collaborate across desktop, cloud, and mobile, and access the AutoCAD mobile app for working on the go.
Key Features:
Innovative 3D design for creating and communicating almost any design with 3D modeling and visualization tools.
Customize AutoCAD to increase productivity and enforce CAD standards.
Share and use data from PDF and DGN files, Navisworks, Bing Maps, and the AutoCAD mobile app.
PDF import enhancements, external file references, object selection, text to Mtext enhancements, and more.
6. Modo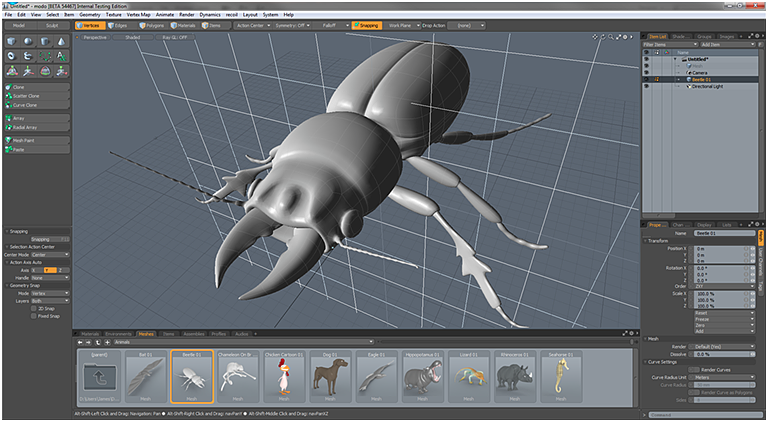 Foundry develops innovative software solutions for the design, visualization, and entertainment industries. Modo contains a 3D modeling, texturing, and rendering tool set for product engineers to explore and develop ideas quickly, easily, and creatively.
Modo is developed around the idea that speed and efficiency are paramount while creating 3D designs. Therefore, Foundry has made considerable efforts to reduce technical glitches and obstacles as much as possible.
It's very easy to learn as compared to Maya and ZBrush. Modo is excellent at creating medium level designs, but working with extensive projects becomes complicated. Also, the toolset needs a little work if it needs to reach the level of the giants in the 3D modeling software business.
Use the direct modeling tools of Modo to create 3D printing projects. Modo has integrated sculpting and retopology functionality. It is a great software if you need to design characters. Modo has a flexible node-based rigging system that will make it easy for you to create, edit, manage and reuse complex character rigs.
Key Features:
Fast direct modeling, flexible procedural modeling, award-winning MeshFusion Boolean toolset, and built-in sculpting tools.
Focus on creation rather than construction.
Advanced photorealistic and progressive renderer so you can visualize your designs as you develop them.
Modeling, sculpting, texturing, painting, and photorealistic rendering in one complete, easy-tl-use package with unlimited network rendering capabilities included.
7. Substance Designer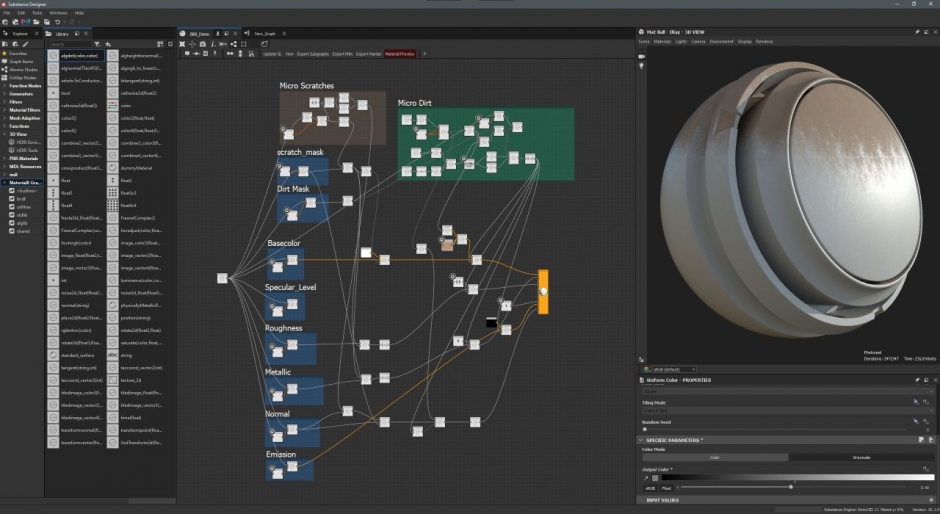 There are many steps to 3D model creation, and producing realistic textures can be very time-consuming and involved. One of the cheapest paid 3D modeling software in the list, Substance Designer focuses on creating realistic textures. All its gadgets are engineered, keeping texturing and skinning in mind.
It can generate some truly astonishing surfaces for your models, and the resulting texture maps will turn your creations into extremely detailed art that not only looks realistic but saves you a ton of time fiddling with bits and bobs.
Another strong point of Substance Designer is material authoring (creating different materials with a variety of textures, attributes, and properties; used as a base for other 3D models).
You can use this software as a precursor to the other software in this list because indeed, the capabilities as mentioned above offered by Substance Designer are beyond par. It is one of those 3D modeling programs which are easy to learn and that create outputs quickly.
If you're serious about becoming a 3D modeller, you owe it to yourself to at least give it a try. We guarantee that the results will please you, and afterwards, you won't want to use anything else for your skinning and texturing.
Part 2: The 3 best free 3D modeling software
8. Blender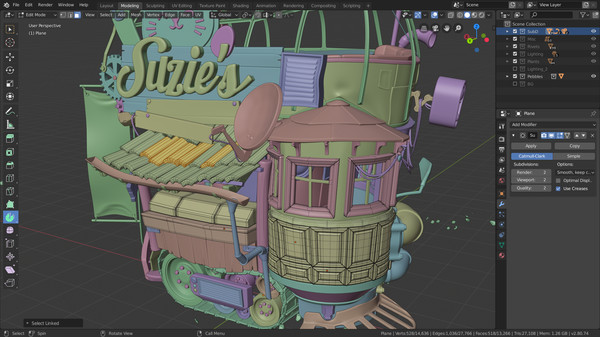 Blender is one of the best free open source 3D modeling software that can be beneficial for 3D modeling, rendering, game creation, video editing, compositing, rigging, animation, motion tracking and much more.
It embraces tools VFX professionals and animation artists that are required to complete the projects. It may include raw footage import, camera, and object tracking, area masking, custom bone shapes, and sound synchronization. It supports Onion Skinning .
It's a complete 3D creation suite that supports the entire 3D pipeline from modeling and rigging to simulation and rendering to production. Product engineers choose Blender when they are looking for a tool for visualization and quick ideation and rendering.
For those ready to step it up a notch, the software also allows you to craft full 3D games, edit videos and realistic simulations (such as fluid, smoke and hair).
All of these great tools can be used to create animated movies, visual effects but also great 3D printed models.
Blender, a free 3D modeling software for Mac, works on Windows and Linux as well. If you are looking to enter the amazing world of 3D modeling, Blender is a great choice; There are plenty of tutorials for beginners which will guide them to use the software. it has impressive toolset capabilities, and the support is strong. However, this free 3D program is a little non-conventional, and jumping from Blender to other paid 3D design programs might take a little getting used to.
Like any open source software, Blender has a large community of developers, artists, and designers who are always willing to help. The active community of users that consist of studios and hobbyists support the software. It is considered a popular and quite vigorous 3D modeling engine that holds lots of features for the serious modelers.
Key Features:
Includes Cycles, the built-in, powerful, unbiased path-tracer engine for ultra-realistic rendering.
Comprehensive array of modeling tools for creating, transforming, and editing models quickly and easily.
Advanced sculpting tools and brushes.
9. Sketchup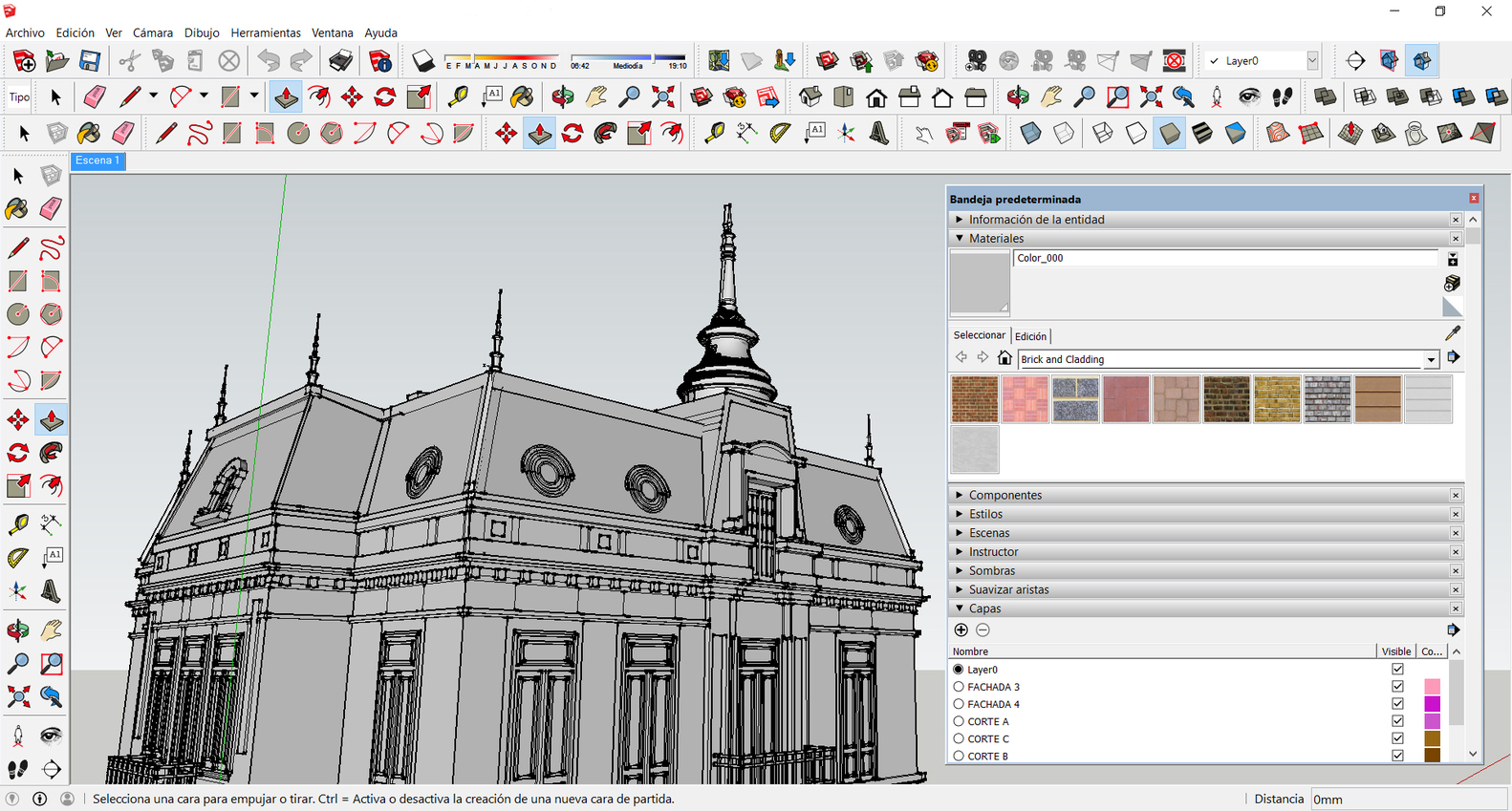 SketchUp is a spontaneous and reachable modeler which is initially developed by Google. Now Trimble owns it.Commonly it is used in fields such as building design, architecture, and engineering.It makes a 3D model of anything as it enables line drawing, push & pull surfaces and shape rotation. It provides a free library of pre-existing 3D models from which you can select and work.
You can draw, set orbits, and combine elements to create true 3D art with ease in a natural, sketch-based approach. Through Sketchup, you can draft some cool home layouts, furniture, landscapes, and isometric art without needing to create primitives and extrude for hours. This is super-handy for those looking into becoming an interior designer. You're also spared the rigor of rigging, and the annoyance of UV maps as well. This is a great tool for those more looking to make cool art.
It assists in end-to-end designing, starting from the earliest design stage to the end of construction. It can be used by architects and interior designers for different designing steps, such as initial diagramming, design development, detailing, documentation, and requests for information (RFI).
SketchUp allows users to include lighting effects, texture paintings, and animations in their design models. It also offers a wide range of symbols and predesigned models that allow designers to achieve desired outputs.
However, this simplicity also limits the reach of SketchUp. This program is primarily used for architectural modeling, interior design, home planning, and similar projects. There are several versions available, each of which is based on your goals for personal, professional, and even educational use.
Due to its ease of use and speed, the SketchUp has formed a place with professionals in the visualization field. It serves as an excellent starting point if your interest is in architectural modeling. It is an intuitive and accessible modeler.
It acts as a "3D modeling for everyone" that offers video tutorials for beginner, intermediate and expert users. The basic SketchUp version is free of cost.
But even SketchUp Free is a very powerful tool. You'll still have access to a terrific core 3D modeler, so you can design large and complex objects without limitation. It also comes with an endless array of user-generated models you can adopt, as well as 10GB of cloud storage.
What's this free 3D modeling software good for? Beginners looking to hone their 3D modeling skills on a navigatable interface without too many limitations.
If you do decide to move on to the Premium version, you can even add plugins or tools to enhance the productivity and capabilities of the software.
10. Sculptris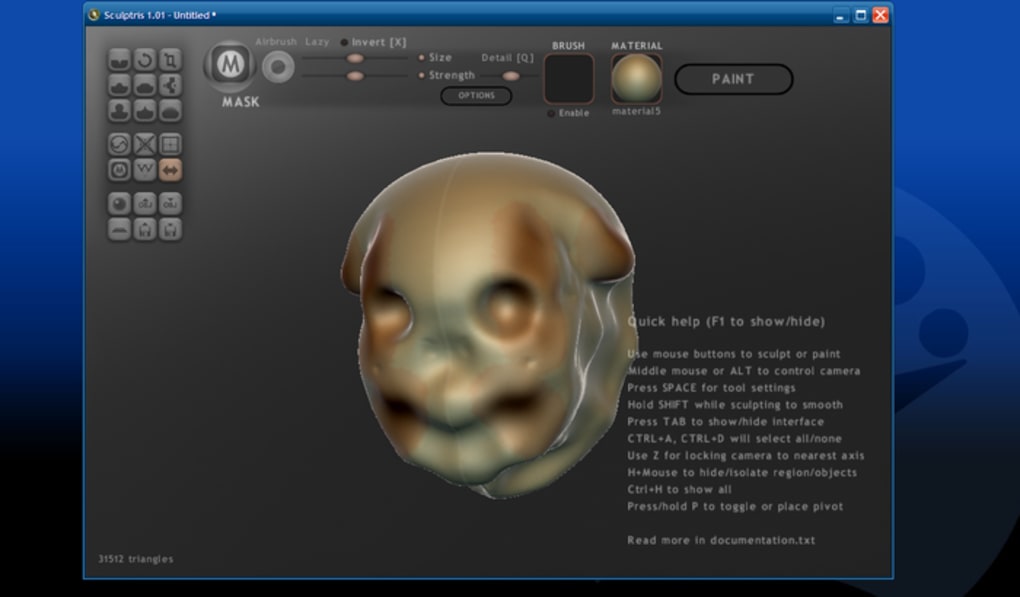 Sculptris is one of the best free 3D modeling software for beginners that are out there. Sculptris has a lot going for it: it has, for example, some of the sculpting power of Zbrush (but none of the price associated with it). It's the absolute best free 3D modeling software for sculpting; nothing else even comes close to it. Within a few short minutes, you'll be able to figure out the way the controls operate .
After learning this tool, you can start using ZBrush, the paid 3D modeling program by the same developers to create some mind-blowing sculptures and character prototypes.
This 3D modeling software free is mainly get geared toward those who are fresh to this space. It is excellent for all skill levels. The users who are new to the discipline will find this software a high starting point. The more knowledgeable CG artists will see the software a swift and effortless way to comprehend concepts.
Sculptris uses digital sculpting as the basis to create a 3D model. In other words, you will be able to create your 3D models from shaping any mesh with different brush strokes. Creating your model will be similar to shaping an object using modeling clay. and also map and paint textures after you're done shaping your sculpture.
This unique sculpting program allows users to edit any mesh with a variety of brush strokes. This software starts as a sphere, then the user can then model as they wish by stretching, digging, smoothing, etc. This makes it an ideal tool when creating animated characters or video games. It is easy to learn and use. After a few minutes of tutorial and practice, you can start designing faces and characters.
While it can produce some truly neat models, you will still need another 3D program to make the most out of it. If you are looking for a way to make insanely awesome sculpts and feel like a master 3D modeller without shelling out for Zbrush, nothing else available can compare.
The software is still available for free on the Pixologic website, but it's no longer in development, so they warn you that it may not work properly on newer operating systems. However, if you're interested in learning how to create digital sculptures, it's worth giving it a try.
Conclusion
We know that picking just the right software is a tough decision, especially when the prices are so high. But trust us, the money is worth the results. 3D modeling is an art on its own, which requires a highly creative approach from the artist. Along with this, a sound technical mind is also necessary.
Some of the 3D modeling software (mostly the free ones) in this list will help you start this incredible journey. Once you get the hang of it, you can judge on your own and choose which software is compatible with your working style, which satiates all your requirements, and most importantly, gives the best results. Happy designing!
About Us
Originated from 2005, XPPen is now one of the top brands under HANVON UGEE, integrated with digital drawing products, content and service as a globally notable digital brand of digital art innovation.
Learn more
KNOWLEDGE
ROUNDUPS
ANIMALS
TIPS
FOCUSED
PLANTS
BEGINNER
OTHERS
INTERVIEW
Join Our Newsletter Today
Stay in the loop with our latest artistic innovations and special offers