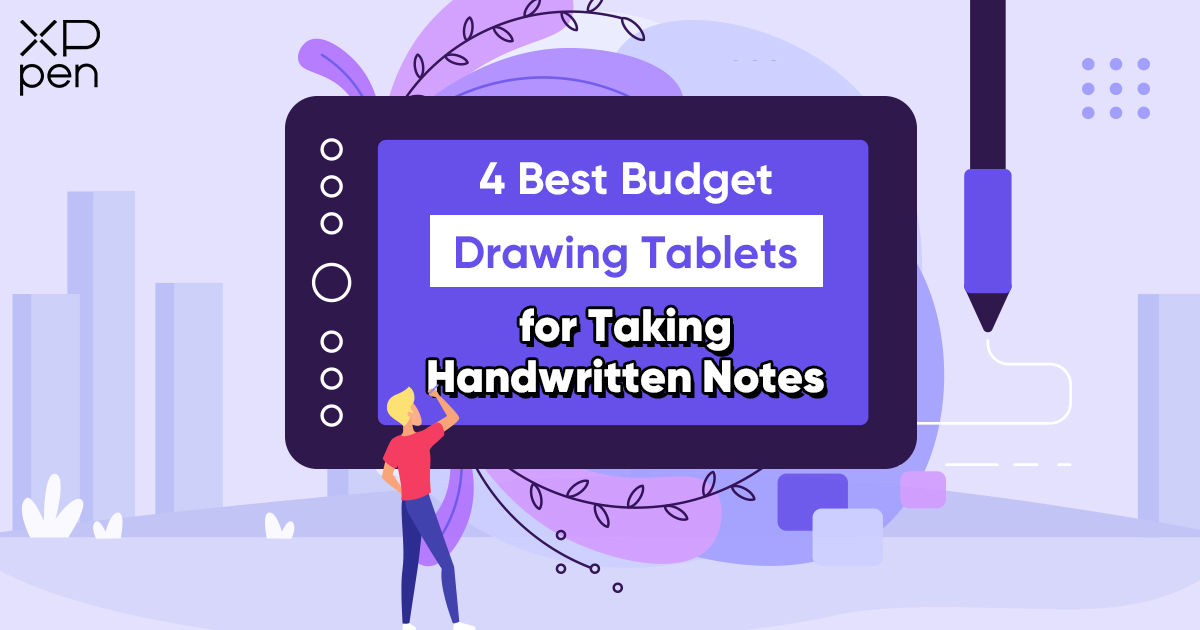 4 Best Budget Drawing Tablets for Note-Taking 2023
ROUNDUPS
XPPen
2023-09-27 14:58:47
7 min read
Effective note-taking is crucial for organization and productivity, whether you're a student, professional, or in a lecture. In today's digital age, note-taking has expanded beyond traditional pen and paper. Many now prefer using laptops and graphic tablets for this purpose.
Graphic tablets are great for digital artists, designers, students, and professionals. They provide accurate and smooth writing experiences, helping you boost productivity and improve your work quality.
When selecting the best tablet for note-taking, prioritize factors such as convenience, portability, and battery life. Choosing the right tablet will significantly enhance your note-taking efficiency and overall productivity.
4 Best Budget Tablets with Pen for Taking Notes
A digital pen tablet transforms your productivity across various tasks. You can easily write down your thoughts in OneNote and similar note-taking apps. You can also create documents in Word and effectively manage your files, among other important tasks.
This tablet is versatile and can do many things. You can use it for drawing, sketching, virtual whiteboard sessions, online classes, taking notes, and marking up PDFs and PowerPoint presentations. It's also helpful for productive Zoom meetings. Having a drawing tablet with your laptop can really improve how you work.
1. XPPen Star G430S / Star G640
The XPPen Star G430S and Star G640 tablets excel in note-taking:
Compact & Effective: These simple tablets come in two sizes: 4 x 3 inches and 6 x 4 inches. They're great for taking notes. They combine a high resolution of 5080 LPI with a pen supporting 8192 levels of pressure sensitivity.

Precise E-Writing Experience: The pen provides a high-quality e-writing experience, offering a comfortable grip. The tablet's surface strikes the right balance of drag, ensuring precise note-taking.

Ideal for Beginners: While not suitable for intricate work, these small and lightweight tablets are perfect for beginners. They are portable and convenient for on-the-go note-taking, making them an excellent choice for travelers. If you're a serious artist or designer, you might consider a larger tablet for more extensive projects.
2. XPPen Deco Fun XS / S / L
XPPen's Deco Fun tablet series offers versatility for note-taking:
Varied Sizes and Colors: You can choose from three different sizes: 4.8 x 3 inches, 6.3 x 4 inches, and 10 x 6.27 inches. Plus, there are four cool colors to pick from: Classic Black, Apple Green, Space Blue, and Carmine Red. This way, you can get the one that suits your style.

Precise and Comfortable Pen: The pen doesn't need a battery and can sense 8192 levels of pressure and 60 degrees of tilt sensitivity. This makes it feel like you're using a pen on paper. However, please note that the Deco Fun XS version doesn't support tilt.

User-Friendly: Setting it up is a breeze. Just connect it to your PC's USB port using the cable included—no need for an extra power adapter. It works with Chrome OS, Windows, macOS, Linux, and Android. Plus, it's super smooth when used with well-known note-taking apps like OneNote, Evernote, Google Keep, and Xournal++.

Customizable Pen Buttons: The tablet doesn't have buttons you can customize, but the pen comes with two buttons. You can set them up for things like scrolling or erasing when you're taking notes.
3. XPPen Deco Mini4 / Deco Mini7

XPPen's Deco Mini4 and Deco Mini7 tablets are ideal for note-taking:
Compact & Budget-Friendly: These affordable devices are available in two sizes: 4 x 3 inches and 7 x 4.37 inches. They're great if you have a small desktop space. The smaller one has 6 customizable Express keys, while the larger one has 8. You can set these keys to do things like undo, copy/paste, and other keyboard shortcuts for quicker access.

Precise and Natural Drawing: The pen boasts 8,192 pressure levels and "tilt recognition" for a natural drawing experience. It includes programmable buttons for easy access to shortcuts (please note that the Deco Mini4 version doesn't support tilt).

Multi-Device Compatibility: These tablets are versatile and work with different operating systems like Windows, Mac OS, Linux, Android, and Chrome OS. You can use them for online tutoring, distance education, Zoom meetings, and for editing documents, photos, and videos.

Wireless Option: For a clutter-free desktop, consider the Deco Mini7w wireless version. It connects via a 2.4GHz radio-frequency connection, offering added convenience and flexibility to your note-taking setup.
4. XPPen Artist 12

The XPPen Artist 12 tablet is a versatile tool for note-taking:
Vivid Display: Featuring an 11.6-inch FHD display with a 72% NTSC color gamut, it delivers excellent image quality for your notes.

Customizable Controls: These tablets have six buttons and a touch bar on the display that you can customize. This lets you set up different shortcuts to make your note-taking faster and more efficient.

Precise Pen: The pen doesn't need a battery and offers 8192 pressure levels. It even has a digital eraser. You can use it like multiple pens and brushes in different colors, and it's incredibly precise.

Versatile Note-Taking: You can use this tablet to sketch, paint, draw diagrams, annotate documents, and improve photos and videos right on the screen. This makes your note-taking tasks more interactive and dynamic.

Connectivity: Note that the XPPen Artist 12 requires a USB and HDMI port on your laptop for connectivity. It can draw power from the laptop or a power socket.

Advanced Options: If you want a screen that's fully laminated, can sense tilting, looks really clear, and shows colors accurately, you might like the XPPen Artist 12 2nd Gen or the Artist 12 Pro versions. They offer an even better note-taking experience.
Benefits of Digital Note-taking
Digital note-taking offers several organized advantages over traditional paper notes:
Environmentally Friendly: Digital note-taking reduces paper usage, making it an eco-friendly choice.

Space Efficiency: Unlike stacks of physical notebooks, digital notes in a laptop or a drawing tablet occupy no physical space, decluttering your surroundings.

Easy Retrieval: Digital notes are effortlessly searchable, streamlining studying and project work.

Centralized Storage: It's really handy to have all your subject notes in one digital place. When you use cloud storage, you can access them even if you don't have your laptop with you. This helps keep your important information safe, unlike traditional paper notepads and sticky notes, which can easily get lost or misplaced.
Benefits of Stylus-Based Note-Taking

Natural Handwriting: Using a stylus allows you to write naturally, as you would with pen and paper. This can be more comfortable and familiar for many individuals. Additionally, research suggests that writing by hand can improve information retention compared to typing. The tactile experience of using a stylus to write notes can aid in memory recall.

Annotation: Stylus-based note-taking is excellent for annotating documents, textbooks, or lecture slides. You can underline, highlight, draw arrows, and make other notations directly on the material.

Diagrams and Sketches: Stylus-based note-taking is ideal for creating diagrams, charts, sketches, and illustrations. It's particularly valuable for visual learners or when conveying complex ideas graphically.

Math and Formulas: For students and professionals in subjects like math and science, a stylus is super helpful for writing down equations, math symbols, and scientific notations with precision.

Handwriting Recognition: Some apps including OneNote, Notability, and GoodNotes have advanced handwriting recognition technology that can convert your handwritten notes into editable text. This can be a huge time-saver when you need to share or further edit your notes.
To learn more about nota-taking apps, read this article: Top 14 Best Note-Taking Apps for iPad /Mac /Windows /Android in 2023
Final Words
You may jot down your thoughts and inquiries fast by using note-taking tablets. You have more control over what you do when you use a pen.
You can move forward if any of the aforementioned tablets satisfy your requirements.
Do not give up if you are having trouble learning how to utilize a graphics tablet on your first attempt. It takes time and effort, but if you use a couple of these suggestions, you can see faster improvement.
This guide should assist you in selecting the finest tablet and pen to enrich your life and note-taking.
About Us
Originated from 2005, XPPen is now one of the top brands under HANVON UGEE, integrated with digital drawing products, content and service as a globally notable digital brand of digital art innovation.
Learn more
KNOWLEDGE
ROUNDUPS
ANIMALS
TIPS
FOCUSED
PLANTS
BEGINNER
OTHERS
INTERVIEW
Join Our Newsletter Today
Stay in the loop with our latest artistic innovations and special offers