10 Best cheap standalone portable drawing tablets without computer
ROUNDUPS
XPPen
2023-08-22 10:26:31
19 min read
Drawing is a great hobby, with a drawing tablet you can sketch, draw and edit photos with a simply natural pen experience.
Traditional drawing tablets come in many shapes and sizes; ranging from small graphics tablets suitable for novices and developing artists, through to large professional pen display monitors. One element that they all have in common however, is that most require a physical connection to a computer and monitor.
Wacom and XPPen are positioned in the first row. You can trust in these two brands. These two brands produce the best drawing tablets, the design and build quality are awesome and all of the models offer tremendous features at a comfortable price range.
You can find an affordable xppen artist series drawing pad with screen for digital art and graphic design at a decent price, assembled with the latest technology. I have a 15.4" XPPen Artist Pro 16 drawing display which increased the economy and quality of my artwork. I definitely think it's worth the investment.
One of the big pro is that you can use two screens at the same time, so you can arrange some of your painting program windows (brush tool or navigator etc.) on your main screen or even using references on the main screen while painting on your Artist Pro 16, so you have the whole work space just for your painting without sharing it with other stuff. That's quite nice.
Standalone Drawing devices, on the other hand, are self-sufficient and can function independently without the need of connecting to a PC/Laptop. Standalone tablets have everything packed into one – Hardware (Processor, RAM, ROM, etc.) and Software (operating system, the apps), making it an independent and portable device.
App-based tablet with enough resources for both entertainment and professional tasks.It is now possible to use the iPad Pro, Surface Pro, Smsung Galaxy Tab.... and so on to create artwork that is good enough for production.
Clearly, these tablets are costlier than the conventional ones, however, you will have a better drawing experience and a superior gadget overall.
some people don't want to spend a fortune on a drawing tablet and then carry their heavy laptop around.
Advantages of Standalone Drawing Tablet
Firstly, their small size means they are very portable so you can utilize them on flights, vehicles, trains and truly any place you go to.
These devices are mostly entertainment units. People use them to watch videos, listen to music, read, play games, visit websites and so on apart from just drawing.
they also come with a stylus (digital pen) that allows the user to create artwork with the art and design software available.
You can do your drawing work directly on the standalone tablet as it has the screen and the computer into it.
What to Look for When Buying a Standalone Drawing Tablet
There are so many good standalone tablets out there that it was kind of difficult to pick one tablet over the other.
Here's what to look out for when you're shopping around for a standalone tablet:
Display size / Type
10 inch is considered an ideal size for a portable tablet. If you get a bigger tablet you may have to compromise with portability. Similarly, if you go with a smaller screen you will not get enough area to work with.
The tablet screen comes in two types – LCD and AMOLED. LCD screen mainly comes with cheaper tablets, whereas the AMOLED screens come with more expensive tablets.
The AMOLED screens are considered better due to their ability to create perfect black colors which improves the overall quality of colors. AMOLED screens also consume less power, giving better battery backup.
Display Quality
As an artist, the display quality is crucial and should be the first thing you check before you pay for your drawing tablet.
While matte screen coating effectively reduces reflections, it also makes the image quality slightly more dull and hazy. Glossy monitors, on the other hand, have a more vibrant and intense picture quality but a very reflective screen.
Since neither coating is flawless, the choice mostly depends on personal preference.
Resolution
A monitor's resolution tells you how many pixels a monitor has in width x height format. 1920 x 1080 (also known as 1080p, Full HD (FHD) is the minimum you need. But you'll get sharper images with 2K QHD and even sharper with 4K.
Color Accuracy
You want to produce high-quality images. Therefore you need to choose a tablet with high color accuracy.
the two most common offered by monitors being sRGB and Adobe RGB. the Adobe RGB color space was designed to encompass real-world colors on a display for reproducing in print. sRGB was designed as a lowest-common-denominator standard for colors used by typical consumer monitors viewing the web.
Most monitors allow you to switch between the two, along with other colour modes such as B&W, which is useful as long as you lock the screen to Adobe RGB for creative work.
Screen Sensitivity
The screen sensitivity is a critical factor for any digital drawing tablet. when you apply pressure on the pen while drawing, it will render a thicker line. High pressure sensitivity will allow you to sketch, shade, and draw accurate designs.
Note that the tablets with 8192 pressure levels capture more information than those with 4096 pressure levels.
The best drawing tablets will capture every detail for you. Some models even have advanced features like tilt recognition and multi-touch capability.
Stylus Type
Some stylus is active stylus whereas others are passive stylus. The active stylus has batteries inside which needs to be charged.
The passive stylus does not need to be charged and needs no maintenance. Ideally, you want a passive pen where no charging is required – but the active stylus battery can last weeks on a single charge.
Regardless of which type you get you'll be able to draw all the same.
Just make sure the tablet you choose has a comfortable stylus that fits well in your hand. It should be easy to grip and hold so that it won't slip if you're drawing for hours on end.
Battery Life
You want long battery life so that you work from anywhere on your tablet. You don't want the battery to run out when you're not near a power source. So, look for digital devices that offer 10+ hours of battery life on a full charge.
Battery life will vary based on several factors including how you're using the tablet, the age of the battery, and even the weather outside.
Nothing perfect here but it's good to at least have an idea of the tablet's total expected battery life on a single charge.
Lightweight and Portable
A standalone tablet should be lightweight and slim so that you can take it anywhere. You don't want a bulky device weighing you down when you're on the move.
Operating System
The operating system running on these devices determines the choices of drawing applications.
These devices come with either Android, iPadOS, or Windows operating systems, all of which have great collection of drawing apps to choose from.
you can simply go to the app store and find plenty of paid as well as free drawing applications.
Capable of Running Graphics Programs
At the same time, the best standalone drawing tablets won't skimp on power and performance.
the faster and the better a processor is, the more power it consumes, which means that processor speed can directly influence battery life and dictate a tablet's price.
Look for at least 6GB of RAM. Then, you'll know that the device can handle intensive graphics programs. While you're checking the specs, look up how much storage space it offers, too!
Price
You have to consider your budget when buying a standalone tablet. So you'll be happy to hear that there's the right tablet for everyone. You can find very affordable standalone drawing tablets nowadays. Just be prepared that they will offer less advanced features as a trade-off.
Available Models
So, in view of the advantages offered by these devices, let's see what are the best tablets with stylus that you can find on the market. In addition, to make things easy for you, we have prepared with models of different price ranges, so that you can find the device that best fits your budget.
Below's a non-exhaustive list of some of the best standalone tablets for graphic designers and artists:
1. Apple iPad Pro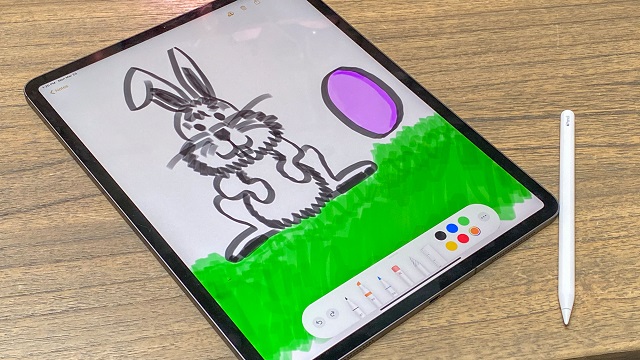 When it comes to finding a standalone drawing tablet that you can take with you on the go, one of the best options you can go for is an iPad Pro.
Available in two different sizes, 11 inches as well as 12.9 inches, 4:3 aspect ratio, it offers a large drawing space to satisfy any artistic needs.
With the iPad Pro 2022, you are getting a Liquid Retina IPS display with ProMotion technology. In other words, the display has amazing sharpness and brightness that make the colors feel pretty accurate. This device will feel extra smooth due to the technology, which increases the refresh rate up to 120Hz.
Its resolution of 2732 x 2048 pixels produces vibrant images with outstanding color accuracy. That's a good resolution for a 10.8-inch or 12.9 -inch size that makes everything looks sharp. Pixelation is not noticeable.
The M2 processor of the tablet makes Apple iPad Pro fast and powerful. You can play several high-quality games and digital art software on this tablet.
With the iPad Pro, you can get many amazing drawing apps such as Procreate that are exclusive to the iPad.
With the 2nd generation Apple Pencil (sold separately), you get a response time of 7ms, which no other pen can achieve. Other features that the Apple pen has is that it has a tilt sensitivity and an amazing pressure.
The pen also has wireless charging and also has a small button on the side with which you can change between a pen and an eraser in just one click.
Further, Bluetooth 5.0 and Thunderbolt 4 port availability ensures pairing essential artistic devices is seamless as never before. the magic keyboard can attach to the rear side of the tablet magnetically.
Overall, for any artist looking forward to buying a standalone drawing tablet with a great camera, wonderful response time, and full multitasking options, then the Apple iPad Pro is an excellent choice.
2. iPad Air 5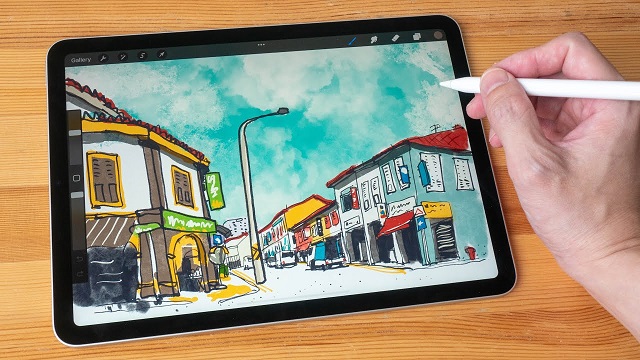 The iPad Air 5 is a great portable display tablet with hardware that comes with many of the features the iPad Pro offers. Powered by an M1 processor which same with the ipad pro 2021 version.
It's 10.9-inches in size and sports a 2360‑by‑1640 resolution at 264 PPI, meaning everything is very sharp and clear.
The fifth-generation iPad Air is just as fast as the iPad Pro and shares compatibility with Apple Pencil 2 and keyboard covers as well. That makes the iPad Air a great option at a more affordable price.
Of course there are actually exist some differences between the iPad Air and ipad Pro, for example the iPad Air 5 only have 60Hz refresh rates. it's half that of the iPad Pro's 120Hz. That variation in sensitivity means that if you draw very rapidly, you might notice a difference.
The iPad Air 5 comes in five different finishes (Space Gray, Starlight, Pink, Purple, and Blue) to choose from, while the iPad Pro 11-inch 3 settles for two. So if you're not satisfied with Silver and Space Gray (and aren't a fan of cases), then you will be limited to the iPad Air.
3. Microsoft Surface Pro 9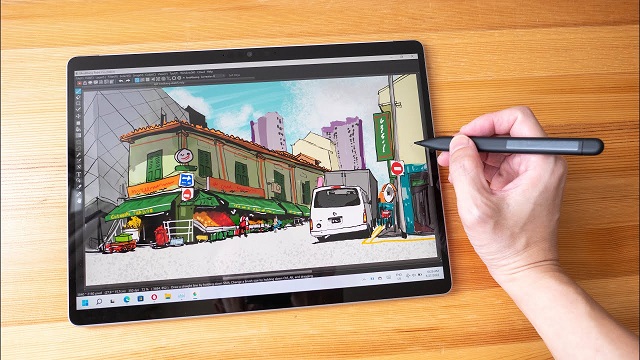 Microsoft Surface Pro 9 has a portable design with a screen of 13-inch, multi-touch function support, and it offers you a flawless experience when drawing. With this Microsoft Surface Pro 8, you can do a whole lot of things from drawing, writing, play and work without any hassles.
We love the most about Microsoft Surface Pro 9 because there are 7 different options for you to choose from when it comes to configuration, from storage ( 128GB, 256GB, 512GB, 1TB) to the processor (12th Gen Intel Core i5 or i7 processor) and even RAM (8GB/16GB/32GB).
The anodized aluminum casing is not only eye-pleasing, but it makes the 2-in-1 feel tough and sturdy. The four colors available for the Surface Pro 9 are Platinum, Graphite, Sapphire, and Forest.
The PixelSense display come with a 2880 x 1920 pixel resolution, 3:2 aspect ratio and a 120Hz refresh fate. It also sports Dolby Vision and Adaptive Color technology. it achieves 99.4% of the sRGB color gamut and 71.9% of the DCI-P3 color gamut (the closer to 100% sRGB, the better).
The Surface Pro 9's palm rejection is fantastic - Palm blocking/rejection technology basically ensures that you can rest the palm of your hand on the screen without it registering as a touch.
The stylus pen Slim Pen 2 (which needs purchased separately) of Microsoft Surface Pro has tilt and pressure sensitivity ( 4096 levels ). It also has a rubber tip that is easy to work with and grips the glass screen giving you an awesome drawing experience.
On the device itself, there are magnets on the side that will hold your Surface pen when you are done using it, or you are having a break from drawing. It has a built-in tablet stand with which you can adjust in whatever position you want.
There are other optional accessories you can get, but the one which adds most to the cool factor of the Microsoft Surface Pro is the Type Cover ( purchased separately ), a magnetic keyboard which works beautifully, has back lit keys and a big track pad, and protects the Microsoft Surface Pro's surface.
And since this is a Windows tab, there is a bunch of software you can use for drawing – 3D modeling, animation – anything that runs on the Windows 11 operating system will work on the Microsoft Surface Pro 9.
it runs full versions of all PC art programs – not abbreviated versions like on the iPad or Android tablets. As such, it allows you to work anywhere and any time, and take your work to a fully realized and fully professional final version, providing good drawing and writing experience.
Unfortunately, the Surface Pro 9 doesn't live up to the promised 16 hours of battery life. It Lasts about ten hours of usage by performing the tasks of browsing the web, watching YouTube, drawing, listening to Spotify and playing video games minus gaming.
Microsoft's Surface Pro 9 houses a powerful new processors of 12th Gen Intel Core i5 or i7, optional 5G connectivity, and more. But depending on your needs, the older model Surface Pro 8 may still be best for you.
4. Wacom MobileStudio Pro 16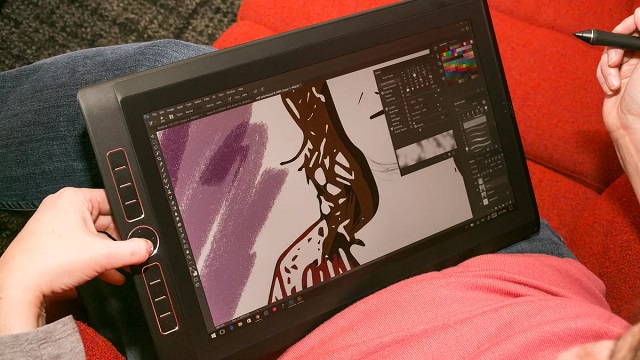 The Wacom MobileStudio Pro 16 drawing tablet accompany an entire collection of creative features, like, an amazing screen, increased power, and even a precise stylus, which makes working simultaneously which creative programs incredibly easy and efficient.
The device is powered by Intel's Core i7 processor, which is paired with 16GB RAM, 512GB SSD ROM, and NVIDIA Quadro M1000M Graphics card to deliver fast and unrivalled performance.
The 15.6 inch big display comes with a resolution of ultra HD 3840 × 2160 pixels gives extraordinary clear and detailed images. The aspect ratio is 16:9.
In addition, with up to 85% Adobe RGB color gamut coverage, be prepared for the vibrant colors available for your usage.
The tablet screen has a matte finish, which is nice to draw on. also the screen is laminated, so parallax is minimal.
The most advanced wacom Pro Pen 2 stylus that accompanies it is sensitive with respect to 8192 pen pressure levels, along with tilt recognition technology that allows for movement at various angles.
The battery-free pen doesn't need to be charged. If you think about it, you don't have to worry your pen will run out of battery while you are concentrating on your drawings.
The 8 express keys, controls, and time-saving features increase productivity even further especially for beginner drawing artists.With the Mobile Studio Pro 16, you get a full-fledged Windows OS machine, on which you can run any new professional drawing applications.
Battery life sticks out like a sore thumb, with an average work time of 3-4 hours after a full charge. This doesn't make it suitable for traveling unless you have ports to plug in.This is probably the most expensive standalone drawing tablet you will find in the market today. But if you want Wacom's technology in a standalone device, you might want to make the investment.
There are also exist a 13.3 inch version called wacom Mobile Studio Pro 13, it has almost same specs with the 15.6" version, except that the resolution is 2560 x 1440, 6 hotkeys and come with less powerful Intel IrisTM Graphics 550 integrated graphics card.
5. Samsung Galaxy Tab S8 Ultra
The Samsung Galaxy Tab S8 Ultra is a powerful multi-purpose device with a large 14.6-inch super AMOLED display and boasting a resolution of 2960 x 1848 pixels (16:10 aspect ratio).
The resolution is great enough that you can watch videos in 1440p, which you won't see in many other tabs. The AMOLED display also ensures better clarity than even the iPad Pro can provide. The colors are very vibrant, though controls are available to make them more muted if you want.
The tablet works with powerful Qualcomm Snapdragon 8 Gen 1 processor inside. The chipset is paired with 8GB, 12GB or 16GB RAM, and 16GB will certainly be useful if your workflow involves loads of apps.
Storage tops out at 512GB but the Samsung Galaxy Tab S8 Ultra tablet comes with a microSD card slot so you can use older memory cards. You can buy microSD cards cheaply on the market up to 1TB.
The S-Pen stylus is well-balanced, with great build quality and a smooth matte surface. The pen has a rubbery nib that provides just enough friction so it doesn't slip on the screen.
When you're done, it attaches magnetically, so you'll never lose it. It also charges when attached to the tablet, decreasing another worry of yours.
It supports pressure and tilt sensitivity and gets recognized at a distance of up to 1cm from the screen. The laminated display also means there is no parallax effect. With a 2.8ms latency, it is just as good as the Apple Pencil. Also, the screen has a 120Hz refresh rate, Decreases pen response time dramatically.
It has a powerful 10,090 mAh battery and supports fast charging via the included charger. That suggests you'll get a good few hours of streaming TV, drawing artworks, writing documents or editing photo/video without the battery dying.
Windows offers more powerful software, the iPads are more intuitive for artists and also offer superior software, but the Android OS has its own charms – it's affordable, easy to use, surprisingly sensitive and precise and has a wide, wide range of often totally free software.
The powerful machine is reinforced by the optional Book cover Keyboard for a great all-around tool. You can use Samsung Galaxy Tab S8 Ultra not only for drawing and painting but for taking notes , marking papers , signing documents and creating storyboards as well.
Height for both Samsung Galaxy Tab S8 Plus and S8 Ultra version tablets is quite similar but the Tab S8+ is narrower and provide less canvas space of about 12.4-inch to draw on. of course less expensive. The normal Galaxy Tab S8 Version come with the smaller 11-inch 120Hz IPS LCD Screen.
After the arrival of the Samsung Galaxy Tab S8 Series, the old model Samsung Galaxy Tab S7 & S7+ got a massive discount – making it a great option for artists looking for a top-tier drawing device without necessarily paying the top-tier pricing.
6. Huawei MediaPad Pro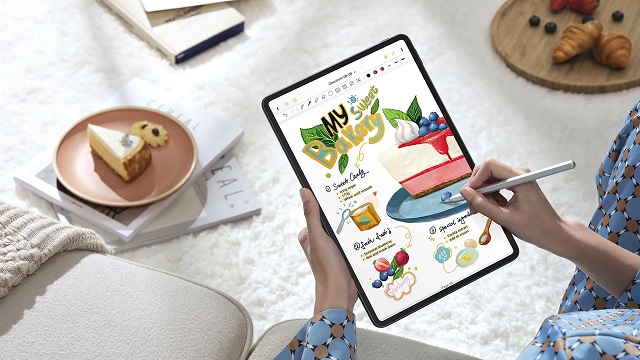 Huawei is popular for pushing design boundaries and coming with a high-end device with a cheaper price tag.The Huawei Mediapad Pro follows the same footprint.
The series is made up of the MatePad Pro 10 (10.8" IPS), MatePad 11 (10.95" IPS) and MatePad Pro 12.6 (12.6" OLED). The 12.6-inch version is the top-most version and is available in a single 8GB RAM option slapped with 128GB / 256GB / 512GB storage respectively. and with Huawei's Proprietary Nano Memory card acting as the second storage option, which can be expanded up to 256 GB.
the MatePad Pro 12.6 sports a 12.6-inch OLED display with a resolution of WQXGA (2560 x 1600 pixels) OLED panel with an aspect ratio of 16:10 and typical brightness of 400 nits. and a 5.6mm slim bezels that give it a 90% screen-to-body ratio.
The screen has a 1,000,000:1 contrast ratio, DCI-P3 color gamut, and a Delta E color accuracy rating of less than 0.5. This is also the first tablet in the world to receive a TÜV Rheinland Full Care Display 2.0 certification.
Running HarmonyOS (Very cool OS....but no Google services), HarmonyOS is still a relatively new OS and hence don't have as many features compared to iPadOS or Samsung UI. This device is powered by the HiSilicon Kirin 9000E SoC processor which is almost as fast as the Snapdragon found in the Samsung Tab.
The tablet comes with a pre-included second generation of M-Pen stylus with 4096 levels of pressure sensitivity and offers tilt-recognition support. This means you can use virtual pencils to draw thin lines and wider, shaded areas.
The stylus is more precise than the first generation, has lower 9ms latency, and also has a platinum-coated transparent nib. The Pen tracking is very accurate and fast which contributes to a great drawing experience.
A separate keyboard accessory is also available which plugs with the device using the connector pins at the bottom. The keyboard accessory has a tablet stand at the back which is very handy.
The tablet supports a quick charge and has a massive battery that lasts a long time. Overall it is a great Samsung Galaxy / iPad Pro alternative that provides equally good features at a far cheaper price.
Huawei MatePad 11 easily provides the best value for the money. It has a 120Hz adaptive LCD display, has better drawing performance than the MatePad Pros of 10.8" and 12.6" (60Hz), and it's significantly cheaper.
7. Xiaomi Mi Pad 5 Pro
The new Xiaomi tablet series comprises the vanilla Mi Pad 5 and the high-end Mi Pad 5 Pro which equally has a 5G version. MIUI 12.5 base on Android 11 OS.
In terms of the specifications, the Mi Pad 5 series is equipped with a large 11-inch IPS LCD screen with a resolution of 2560X1600 pixels, a high refresh rate of 120Hz, a PPI of up to 275, a 16:10 aspect ratio, and a contrast ratio of 1500:1.
The Mi Pad 5 Pro and the 5G version are equipped with a Qualcomm Snapdragon 870 processor while the Mi Pad 5 is equipped with Snapdragon 860 processor (7 nm). The Mi Pad 5 series is available in several memory options including a 6GB+128GB version and 6GB + 256GB version for the Mi Pad 5 and Mi Pad 5 Pro. The Mi Pad 5 Pro 5G is available in a sole 8GB RAM + 256GB storage version.
In terms of battery life, the vanilla Pad 5 packs an 8720mAh battery with 33W fast charging support and the Mi Pad 5 Pro crams an 8,600mAh battery under the hood and equally supports a 67W ultra-fast wired second charge.
The keyboard cover connects via POGO pins and features keys with 1.2mm of travel, and doubles as a protective case for the Mi Pad 5/5 Pro, while the stylus magnetically attaches to the side of the tablet's frame and charges wirelessly; offering up to eight hours of use per charge, weighing 12.2 grams and featuring a 240Hz response rate.
the stylus come with 4096 levels of pen pressure sensitivity, and the possibility of recording traces and tilt recognition. The stylus can be used for both drawing as well as writing purposes.
With that said the tablet is not specifically made for the artist but has all the features you need for drawing and sketching.
8. Lenovo Tab P12 Pro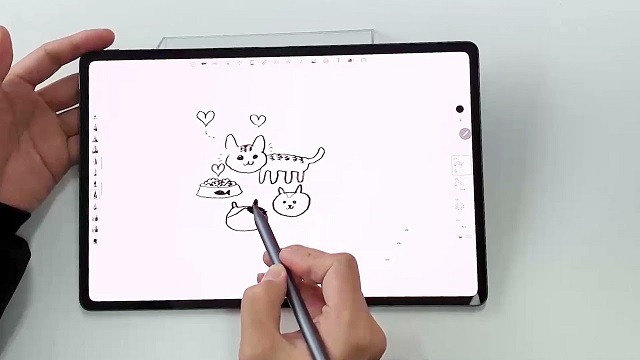 Thanks to its two-tone aluminum alloy case the Lenovo Tab P12 Pro looks and feels very premium. Its matte rear cover ensures proper camouflage for fingerprints and smudges.
The 12.6-inch AMOLED display has 2560 x 1600 resolution, 16:10 aspect ratio with brightness up to 400 nits. Pixelation is not noticeable and all visuals appear sharp.
Visual quality of the AMOLED display is excellent. Colours are vibrant, contrast is fantastic. Refresh rate of the display is 120Hz so OS animation such as zoom and scroll, apps opening will appear smooth.
The processor is the Snapdragon 870, Octa-Core (up to 3.2 GHz) with Qualcomm Adreno 650 GPU. It's a power processor capable of playing graphics intensive games without lag.
You can get the tablet either with 6GB RAM and 128GB storage or 8GB RAM with 256GB storage. Moreever, they offer a microSD card slot that can add up to 1 TB of additional memory.
The included Lenovo Precision Pen 3 can be attached magnetically to its back and be charged wirelessly at the same time and lasts for 15 hours on a single full charge. The 4-point Pogo pin connector at the bottom offers an alternative way to attach the stylus to the tablet.
The pen supports tilt and 4096 levels of pressure sensitivity which help give you superior control to create beautiful images. There's one side button with pre-configured shortcuts for taking notes, sketching, painting, screenshots, etc.
The tablet runs Android 11 Operating System, which can be upgraded to Android 12L, the latest tablet OS by Google.
9. Chuwi UBook X Pro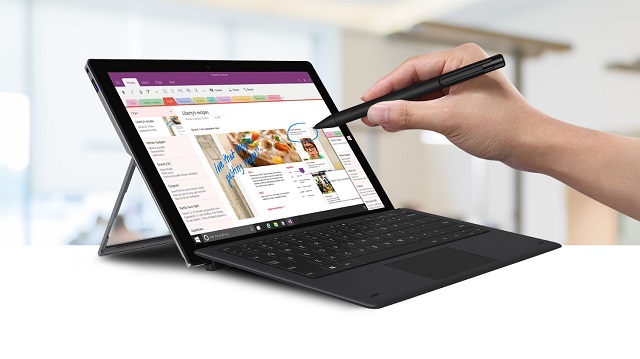 If you're looking for an affordable standalone drawing tablet , check this product out! This is literally the cheapest standalone full-software drawing tablet that exists. It comes with Windows 11 OS, so you can install any professional photo editing program.
The UBook X Pro is a rigid, well-built metal alloy tablet. It's approximately the same size as a Surface Pro, with a similar bezel around the display.
with A 13-inch, 3:2 aspect ratio, 2K (2160 x 1440 pixels) Resolution screen, Intel Core i7-7Y75 processor (includes an HD Graphics 615 GPU), 8 GB of RAM and 256 GB SSD type this tablet is a bargain.
Magnetic keyboard and UBook X's kickstand will help you find your comfortable visual angles(0-145°), help you to transform the device into a notebook.
The device also supports a dedicated Chuwi HiPen H7 stylus offering low latency and recognizing 4096 levels of pressure for a better writing and drawing experience. Unfortunately, both the stylus and the keyboard must be purchased separately for the device.
When combined with the 13″ IPS display, the HiPen H7 is very efficient for painting and creative arts. The precise input and low latency make it easy to finish a prototype design or a creative painting. The high pressure sensitivity helps in restoring the creator's idea more accurately.
Besides drawing, you can use the stylus to take notes wherever you are. Of course, you can annotate PDF slides, write down ideas while browsing documents or even capture screenshots.
If you want to get creative on the train, in the park, or a cafe, this portable drawing tablet fits the bill.
The 38Wh battery inside lands about five or six hours on a charge, especially with display brightness turned down below 50%. That's not enough for a full workday, unfortunately, and the tablet seems to take its time charging with the provided AC adapter.
Since Chuwi, the manufacturer, is still not a well-known company, there's not a lot of feedback regarding this product's quality. you must understand that purchasing an item like this involves more risk than getting a tablet from a company like Microsoft or Apple.
10. Simbans PicassoTab XL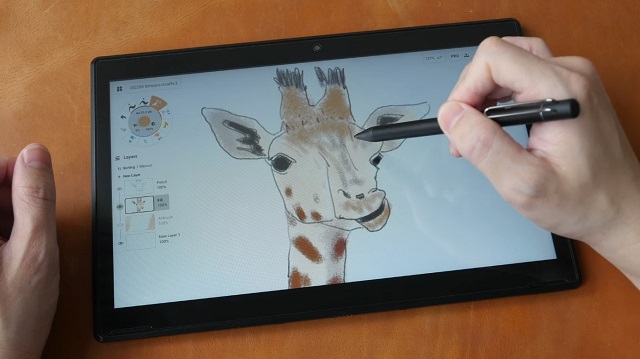 The Simbans Picassotab XL has a 11.6-inch IPS display with HD resolution of 1366 x 768 pixels. The tablet ships with Android OS.
The Picassotab is powered by a MediaTek Quad Core MTK8175 chipset paired with a 4GB RAM and 64GB internal storage. Like other Android devices, it does have the option to expand storage to 128GB with a sim card as well.
The pen included is an active Picasso Pen 2 that runs on one AAAA battery and has 1024 pressure levels, but there's no tilt sensitivity support.
It comes preloaded with Audodesk Sketchbook and Artflow apps. These are great apps for one to get started in digital art.
Since this is a compact tablet, portability should have been one of the main goals so in terms of battery life (7800mAh), the device gives around 5-8 hours under normal usage. This is pretty good for a tablet of this price and size.
you can get both Wi-Fi and Bluetooth connectivity. The device also has a USB, Mini-HDMI, and an Audio jack on the sides.
If you're looking for a standalone drawing tablet for a beginner artist who is still learning this would be an excellent option. this device would do till you can afford a better professional drawing tablet.
Conclusion
So, these are the best standalone drawing tablets that you may use for your projects. There are several drawing tablets on the market that sometimes, it becomes difficult to choose the one that best fits your needs.
One of the most important things to do before getting a tablet is to figure out what features you actually want. Not all the tablets are the same and every single one of them has their own set of features.
Standalone drawing tablets are really great device for artists and graphic designers who are always traveling. They can carry these devices anywhere and can use them at their comfort.
Whether you're a student, artist, or graphic designer, a standalone drawing tablet is a handy tool to have. So choose the model that meets your needs, and go start drawing!
In case you have any questions, simply leave a comment below. I will be more than happy to help you out.
About Us
Originated from 2005, XPPen is now one of the top brands under HANVON UGEE, integrated with digital drawing products, content and service as a globally notable digital brand of digital art innovation.
Learn more
KNOWLEDGE
ROUNDUPS
ANIMALS
TIPS
FOCUSED
PLANTS
BEGINNER
OTHERS
INTERVIEW
Join Our Newsletter Today
Stay in the loop with our latest artistic innovations and special offers