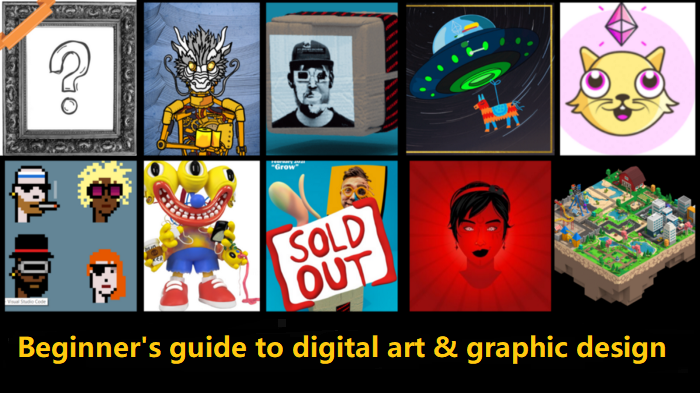 Beginner's guide to digital art & graphic design
BEGINNER
XPPen
2023-08-22 16:33:12
19 min read
Do you love digital art? more and more artists are moving to digital art for various reasons, whether it be popularity, speed, ease of use, etc.
Digital art has become increasingly popular, but there's still a lot to know about creating your own digital masterpieces.
Getting into digital painting can be a bit overwhelming at the beginning, so I have put together this simple guide to help get you started out on the right foot.
It is a guide for artists who are completely new to digital art and want to know the basics of what's required to quickly get started making art on a computer or mobile device.
I'll share the tools you'll need and I'll answer some commonly asked questions you may have about how to start digital art.
What is Digital Art?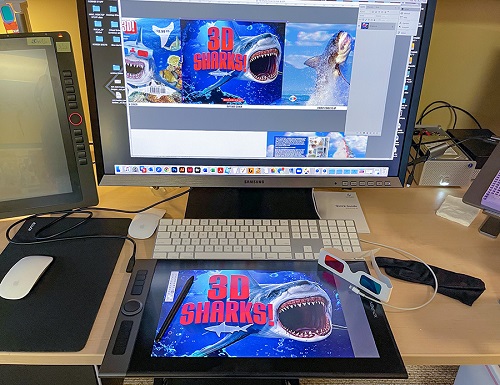 Digital art is the definition of art that is created or presented using digital technology. Harold Cohen designed the first example of "digital art" in the 1980s on a computer-engineered paint program.
It can be anything from 2D/3D computer graphics, 3D sculpting, pixel art, digital painting, digital photography, animation, illustration, video, or even algorithmically generated artwork. this a very fairly broad technical definition.
Digital art is usually generated with a computer, art program and a graphic tablet. A digital device will have the ability to make a stroke look and layer like watercolor or give the texture of drawing with charcoal.
Digital art is actually an extension of traditional art that uses a computer as a tool. It's more forgiving and possibilities for experimentation are unlimited.
Digital art requires no less skill than traditional artmaking, but it does require a different mode of thinking.
What are the different types of digital art?
There are many different techniques and programmes used to create digital art. Below is a list of 5 key types of digital art.
1. Digital Photography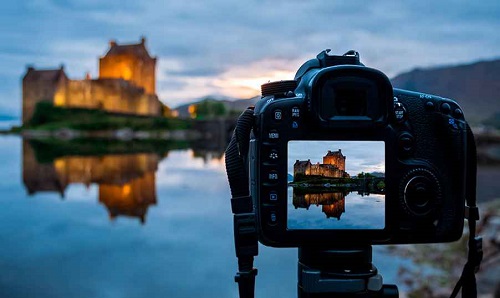 Digital Photography is created using an analogue or digital camera. The image is then digitised and imported into a digital workspace such as a computer or mobile device.
Here the image can be edited using various types of software applications and photo editing programmes, allowing artists greater freedom of manipulation than could be achieved in a dark room.
2. 3D Modelling and Sculpting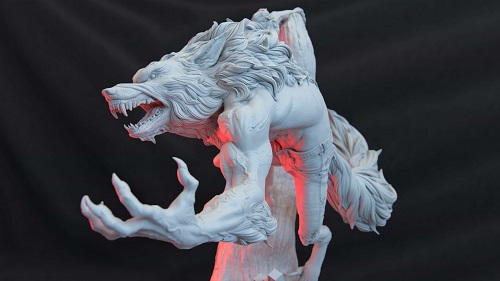 varies from photorealism to low poly artwork and is basically adding another dimension to the artwork using digital tools.
3D modeling mainly consisted of box modeling techniques to create the creatures, characters and environments in everything from film to video games.
3D sculpting is a digital equivalent to traditional clay sculpting. You start with a piece of (digital) clay that you can push, pull, smooth, grab, pinch or otherwise manipulate.
3. 2D Digital Painting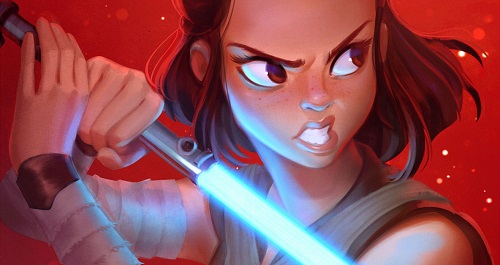 2D Digital Painting is where the artist draws directly onto the 2D digital surface, either on a tablet or computer.
Using a digital paintbrush or tool, the artist can build up different layers to create the final image.
In 3D Digital Painting, artists model and render shapes which are sculpted in virtual spaces.
4. Vector Design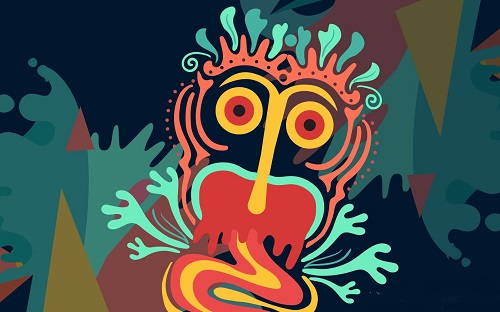 A Vector graphic design relies on mathematical equations which create an artwork made up of lines, points and curves, rather than coloured square pixels.
This means the image is not pixelated and so no matter how close you zoom in on the image the objects and the lines, curves and points will remain smooth.
5. Digital animation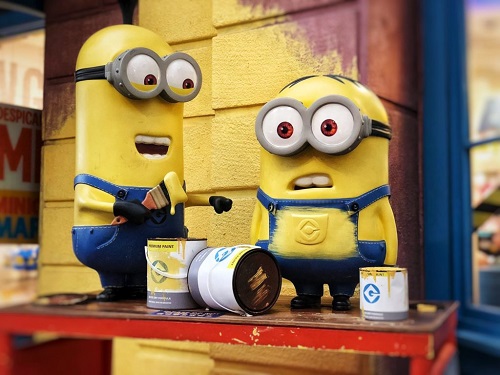 Digital animation employs computer programmes to create moving, animated pictures. It's all about introducing motion, emotion, and personality to static images.
It encompasses both 2D and 3D animation, allowing for the dazzling imagery and special effects seen in blockbusters like Transformers, Lord of the Rings, and Avatar.
6. Pixel Art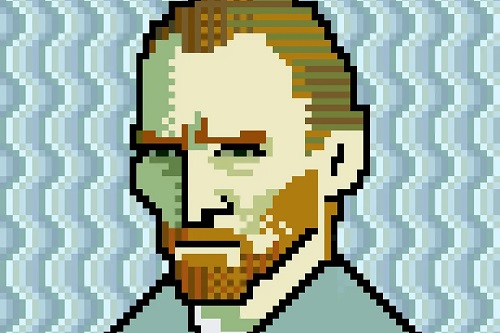 Pixel art is a form of digital art that was born from the need to communicate imagery on the limited storage space of 8 or 16-bit computers and video game consoles.
Sometimes, the process of creating pixel art is called "spriting," which comes from the word "sprite." This is a computer graphics term used to describe a two-dimensional bitmap that is integrated into a larger scene (usually a video game).
These days, it's still popular in games and as an artform in and of itself, nostalgia aside, it remains a fun and rewarding challenge to create vibrant artwork within such tight constraints.
What is the Advantages of Digital Art to traditional art?
When a traditional artist paints a piece they use watercolors, oils, acrylics, and other forms of paint on a canvas to create shapes, textures, and color.
Compared to traditional art, the most significant advantage of digital art is its convenience: digital art is easy to carry, easy to publish and share, easy to be printed in many places, and most importantly, easy to be corrected.
The basic skills used in digital painting are the same ones needed for traditional drawing and painting, but digital also has many conveniences that can make the process easier:
Digital art is less messy: no tubes of paint, no water, no cleaning!
Digital art is usually more compact: you dont need a large studio space or lots of storage for canvases and paints for digital painting, just some desk space.
Digital art is usually faster: you don't have to mix your own colors, prime your canvas, wait for paint to dry, varnish the art, clean up afterwards…. not to mention, digital tools like undo and layers can help speed up the painting process. You can create and modify at will.
Digital artworks can be sent electronically to a publishing house or a repository. It is convenient and many millions of copies identical to the original can be made easily in seconds.
Digital art can be much more portable: if portability is important to you, it's pretty easy to create artwork on something small and light like an iPad or a laptop.
It still takes time and practice to become good at digital painting, just like traditional painting and drawing.
While going digital removes some of the difficulty from things like mixing paint, to make good digital art still requires the very same fundamental art skills, like knowledge of perspective, anatomy, lighting, color theory etc.
What tools do I need to get started with digital painting?
There are a lot of different programs available for digital Art.
Different software may be specially tailored for particular drawing styles, including 3D modeling, hand sketching, painting, and graphic illustration.
Some of the more basic options are free, but if you truly want to invest in good software, then I suggest spending some money.
When researching, you should always look out for stability, drawing feel, a variety of painting tools, and any unique features that may be useful for your drawing style. Some software options are only suitable for use with specific operating systems, like Windows OS.
1. Photo Editing Programs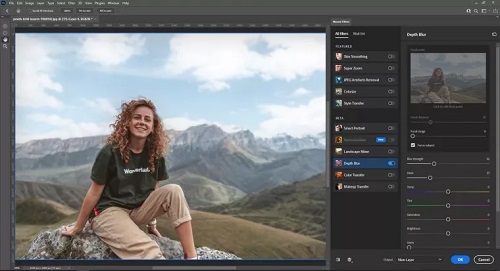 Adobe Photoshop CC: Adobe Photoshop CC is a powerful, reliable, and advanced image editor for PCs. Often considered the industry standard , has tons of brushes, textures, and resources to use –as the community is huge.
Adobe Photoshop is a product of Adobe Creative Suite Photography subscription plan. It costs about US$19.99 per month and includes the Adobe Lightroom, Lightroom Classic, Photoshop on desktop and iPad, and 1TB of cloud storage. Moreover, you get 1TB of cloud storage with this plan.
Adobe Lightroom CC: Many photographers prefer Lightroom over Adobe Photoshop because Lightroom allows them complete control over their photos. Adobe Lightroom is an image file editor, organizer, and publisher. You can import your RAW files right into Lightroom.
Corel PaintShop Pro: Corel PaintShop Pro is a high-bang-for-the-buck Photoshop substitute, requiring no monthly subscription at the price of $79.99. The app gets points for the sheer number of tools it throws at you, many of which acceptably mimic their Photoshop counterparts—that even goes for some advanced tools like content-aware move, gradients, and effect filters.
Affinity Photo: Affinity Photo is a powerful, low-cost image editing program with one-time payment of $49.99. Artists can perform image rendering, add copyright information in pictures, edit metadata and merge high dynamic range (HDR) images.
Gimp: GIMP is a free cross-platform image editor available for GNU/Linux, macOS, Windows and more operating systems. with features that rival professional photo editing tools. suitable for such tasks as photo retouching, image composition, and image authoring.
Paint.Net: Paint.NET is free image and photo editing software for computers that run Windows. It features an intuitive and innovative user interface with support for layers, unlimited undo, special effects, and a wide variety of useful and powerful tools. An active and growing online community provides friendly help, tutorials, and plugins.
PhotoFiltre Studio: PhotoFiltre is a free comprehensive photo-editing program to do simple or advanced retouches to your images and apply a wide range of filters.
PhotoScape: PhotoScape is a convenient and versatile photo editing program that enables you to fix and enhance photos. It delivers on all promised features, works smoothly, and costs nothing.
Darktable: Darktable is an open source photography workflow application and raw developer. A virtual lighttable and darkroom for photographers.
Pixlr: Pixlr is a cloud-based creative suite that allows you to edit your photos and create beautiful designs right in your browser for free.
Photopea: Photopea Online Photo Editor lets you edit photos, apply effects, filters, add text, crop or resize pictures in your browser.
Fotor: Fotor's online photo editor helps you edit photos with free online photo editing tools. Crop photos, resize images, and add effects/filters, text, and graphics in just a few clicks.
Befunky: Edit your photos. Create beautiful collages. Design stunning graphic design layouts. With BeFunky, you can do it all!
Canva: Use Canva's Free Photo Editor to edit, crop, enhance, or add effects & filters to pictures. Create stunning social media posts, cards, flyers, photo collages & more...
2. Digital Painting Programs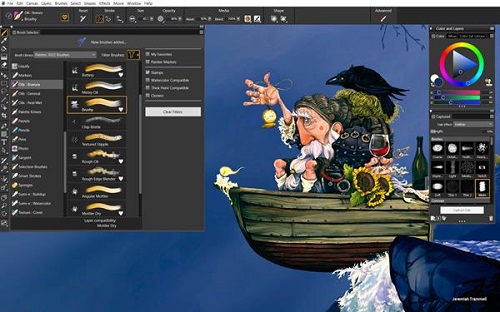 Adobe Photoshop CC: Photoshop CC has amazing tools to help you create ornate digital creations. you can create expressive drawings using natural drawing tools like pencils, pens, markers, and watercolor brushes.
Corel Painter: Corel Painter is a most realistic digital painting software for the Hobbyist and Professional Artists alike. No matter the medium from Pencils,Pens and Chalks to Watercolor and Thick Oil Paint. You will go digital for all your media choices to produce professional quality images.
Clip Studio Paint: Clip Studio Paint is the complete illustration, comic, and animation tool used by over 20 million professional and hobby artists worldwide.
Paint Tool SAI: PaintTool SAI is high quality and lightweight painting software, fully digitizer support, amazing anti-aliased paintings, provide easy and stable operation, this software make digital art more enjoyable and comfortable. helps painters create different types of illustrations such as anime and cartoons.
Artrage 6: ArtRage 6 is an excellent and easy to use paint app that does a great job of simulating the flow and texture of real oils and watercolours. Get creative on a digital canvas with smearing, blending oils, delicate watercolor, and much more!
Rebelle 5: Rebelle 5 is the award-winning, hyper-realistic painting software with phenomenal oils, acrylics, watercolors, and other wet and dry media. This means you can accurately blend and merge colours on the paper or canvas in a realistic manner.
Sketchbook: SketchBook is sketching, painting, and illustration software for all platforms and devices. With professional-grade drawing tools in a beautiful interface, Sketchbook is easy to use for anyone who wants to explore and express their ideas.
Krita: Krita is an open-source software developed for animation and developing digital paintings. It is free and can be used by both professional artists and beginners. As it is packed with features, it can be used as an alternative to much costly software such as Corel Painter and Photoshop.
Medibang Paint Pro: MediBang Paint Pro is a free lightweight digital painting and comic creation software. It comes loaded with brushes, fonts, pre-made backgrounds, and other resources. MediBang Paint is available on Windows, Mac OS X, Android and iOS. The app uses cloud saving allowing users to easily transfer their work between platforms.
FireAlpaca: FireAlpaca is the free lightweight Digital Painting Software that is available in 10 languages and compatible with both Mac and Windows. Simple tools and controls let you draw an illustration easily.
MyPaint: MyPaint is an easy-to-use painting program which works well with XPPen graphics tablets and other similar devices. It comes with a large brush collection including charcoal and ink to emulate real media, but the highly configurable brush engine allows you to experiment with your own brushes and with not-quite-natural painting.
Artweaver: Artweaver lets you paint creatively with the help of a huge range of painting tools. It tries to simulate natural brush tools eg. chalk, charcoal, pencils. You can create sketches from photos or just experiment with colors.
3. 2D Animation Programs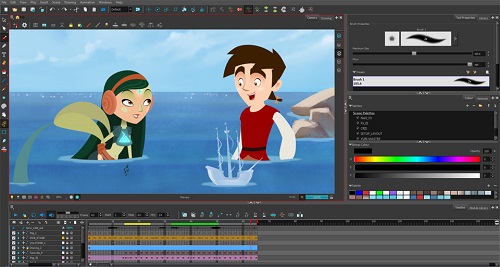 Toon Boom Harmony: Toon Boom Harmony is an incredibly robust professional-grade animation software, and can do pretty much anything in the realm of 2D. Disney movies and series like The Simpsons are made with this software.
Adobe Animate CC: Adobe Animate CC (formerly Flash Pro) is easy to use, with a system of layers and a relatively easy to understand timeline.
It's the best tool for creating animations for mobiles and the web. It's easy to use, and it produces high-quality animations.
Moho: Moho is a powerful 2D animation software that combines the most powerful animation technology with state-of-the-art professional animation tools. Rig and animate your own characters in minutes! Bring your imagination to life!
TVPaint: TVPaint is a raster-based 2D animation software, The software allows users to produce animation which looks like it was made on paper but much more quickly than if they were using traditional methods thanks to high-performance and easy-to-use tools.
OpenToonz: OpenToonz is a highly advanced open-source modeling and animation suite that is completely focused on 2D animation and enabling 2D artists to take full advantage of their drawing and animation skills.
Synfig Studio: Synfig Studio is a free and open-source vector-based 2D animation software. designed as powerful industrial-strength solution for creating film-quality animation using a vector and bitmap artwork.
Pencil 2D: Pencil2D is a free and open-source 2D animation software for Windows, macOS and Unix-like operating systems. It is used for making cartoons using traditional techniques, managing vector and bitmap drawings.
TupiTube: TupiTube is a free and open-source 2D animation software that is focused on usability for children, teenagers and amateur artists. which designed to create and export animations using different techniques such as frame by frame, cut-out animation, stop motion, etc.
DigiCel FlipBook: FlipBook is undeniably the easiest 2D animation software. But it is still powerful enough to do everything most animators will ever need. It runs on Microsoft Windows or Mac OS X.
4. 3D Modelling, Animation & Sculpting Programs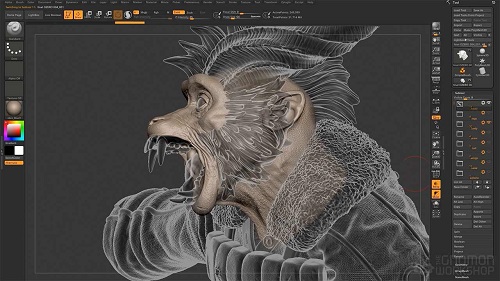 Autodesk Maya: If you are passionate about 3D and want to start modeling objects and characters, it's time to master Autodesk Maya, the most widely used 3D software.
Maya is used by 3D animators across the globe and is built for feature film production. An Award-winning 3D computer graphics program used for producing interactive 3D applications (including video games), animated films, television, and visual effects.
Autodesk 3ds Max: Autodesk 3ds Max is a professional 3D computer graphics program for making 3D animations, models, games and images.
It has powerful rendering and 3D modeling tools for creating professional-quality 3D animations and design visualizations.
Cinema 4D: Cinema 4D is a professional 3D modeling, animation, simulation and rendering software solution.
Its fast, powerful, flexible and stable toolset make 3D workflows more accessible and efficient for design, motion graphics, VFX, AR/MR/VR, game development and all types of visualization professionals.
Cinema 4D produces stunning results, whether working on your own or in a team.
Modo: Modo's powerful and flexible 3D modeling, animation, texturing and rendering toolset empowers artists to explore and develop ideas without jumping through technical hoops. It is your starting point for creative exploration.
Zbrush: Pixologic ZBrush is a digital sculpting tool that combines 3D modeling, texturing and painting. And It's an industry-standard program when it comes to digital sculpting. It has really powerful sculpting tools that make it one of the best 3d Sculpting programs available. Also, whatever one can do in other programs they can also do it in ZBrush with the exception of a few activities like 3D slicing.
Adobe Substance 3D Designer: Substance Designer is a node-based non-destructive application for creating materials. Edit complete texture sets fast with the non-linear workflow and see your changes apply simultaneously to all your outputs. Unleash the power of Substance Designer and focus on what really matters: your art.
SketchUP: SketchUp is a 3D modeling computer program for a broad range of drawing and design applications — including architectural, interior design, industrial and product design, landscape architecture, civil and mechanical engineering, theater, film and video game development.
Blender: Blender is a free and open-source 3D computer graphics software tool set used for creating animated films, visual effects, art, 3D-printed models, motion graphics, interactive 3D applications, virtual reality, and, formerly, video games.
Sculptris: Sculptris is a virtual sculpting software program, with a primary focus on the concept of modeling clay. and is a free version of ZBrush.
Users can pull, push, pinch, and twist virtual clay. It is geared toward character sculpting and "organic" models.
3D meshes (.obj) can be imported into the program for further detailing, generating normal and displacement maps.

5. Vector Drawing Programs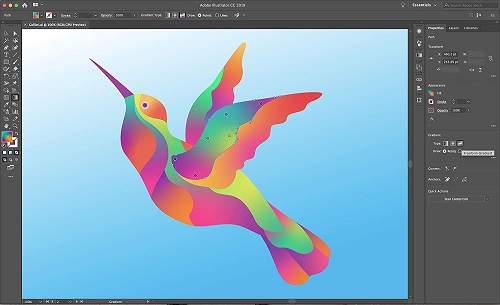 Adobe Illustrator CC: Adobe Illustrator CC is the industry standard program for vector art and illustrations, It's typically used for creating company logos, charts, illustrations, diagrams, graphs, cartoons of real images, etc. The tool helps create vector images in both digital and print form.
CorelDRAW: Corel Draw has been being a reference for graphic design software a lot of years. which offers unique tools and collaboration features for creative workflows.
great for creating logos, icons, product design, posters and anywhere you need to create graphics that can be resized without loss of quality.
Affinity Designer: Affinity Designer is a professional graphic design app with everything you need to create stunning illustrations and designs. Best in class for creating concept art, print projects, logos, icons, UI designs, mock-ups and more.
Inkscape: Inkscape is a free and open-source vector graphics editor; it can be used to create or edit vector graphics such as illustrations, diagrams, line arts, charts, logos and complex paintings.
Inkscape's primary vector graphics format is Scalable Vector Graphics (SVG), however many other formats can be imported and exported. It can also render primitive vector shapes and text.
This professional quality vector graphics software runs on Windows, Mac OS X and Linux. you can use for personal and professional purposes.
Gravit Designer: Gravit Designer is a full featured free vector design app right at your fingertip. It's web-based and available for all platforms. perfect for enthusiasts and aspiring designers.
Sketch: free vector graphics editor. A simple yet powerful web and desktop cross-platform tool for everyone.
Serif DrawPlus: Serif DrawPlus is a totally free vector graphic creation and editing tool to help you get started editing vector images. Ideal for creating graphics, logos and stunning mixed-media designs, DrawPlus is a versatile program, great for all your artistic requirements.
Vectr: Vectr is a super simple browser-based 2D vector creation tool. It's ideal for quick Origin projects because it's easy to use, free, and there is no need to download or install any software.
Whether you're working on graphics for marketing, logotypes, icons, website UI designs, brochures or vector art, Vectr's intuitive tools let you focus on what truly matters - creating beautiful graphic designs.
SVG-Edit: SVG-Edit is an SVG editor that is particularly aimed at designing SVG images for web design. This free, in-browser SVG editor works on any browser and provides a range of editing tools to select from, such as shaping tools, pathing tools, a text editor, as well as hand drawing tools.
6. Pixel Art Programs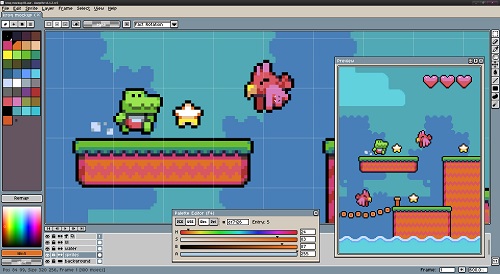 Aseprite: Great paid professional editor with many time-saving features. It runs on Windows, macOS, and Linux, and features different tools for image and animation editing such as layers, frames, tilemap support, command-line interface, Lua scripting, among others.
GraphicsGale: A free, classic pixel art software, used in many games. It's a little complex, but full of great features that help in several different ways.
It handles color palettes, layers and animation pretty well and helps you visualize pixels on a grid very nicely.
Piskel: A simple web-based free online editor for Spriting and Pixel art. ideal for Create pixel art, game sprites and animated GIFs.
Photoshop/Gimp: Powerful image editor not intended to make pixel art but you can set it up to use it. At larger sizes, images can themselves look pixelated, which can potentially create an interesting effect.
Hardware Requirements
As a creative professional, it is important to choose the best device for your specific needs.
Drawing tablets and PCs were the main tool of illustrators, digital painters, and animators for years.
That's why, for people who are into doing art digitally, having the best computer/laptop and drawing tablet for digital art is such a great advantage.
1. Powerful Computer/laptop
Although an average computer works fine enough for digital painting. Issues start to appear when you are working on a large canvas size or using heavily stylized brushes.
Very often you will find the computer freezes up or crashes the software.
It may also result in a huge slowdown of the computer where every single stroke appears a few seconds after you draw them.
Getting a good computer solves all these issues. It allows you to work more on creating new artworks than troubleshooting.
Choosing the right computer/laptop can be an uphill task with the wide variety that's currently in the market.  However, there are few things you can look at to tell if the computer/laptop is worth buying. Here are the most important ones:
A quality Screen: A good display is the first thing you should consider when shopping for a computer/laptop. the low-quality display is not only frustrating, but it will also produce low-quality work. A fairly  good display should consist of:
A high refresh rate for a snappy perceived response.
A wide color gamut for display more of the original captured colours accurately.
High resolution (FHD+ and above) for crisp images.
High brightness to be able to work with it outdoors.
Processor and RAM: For a computer/laptop to handle complex graphic design work, it will need to have a fast processor. A drawing tablet with a slow processor will lag and freeze when you install heavy graphic editing software rendering it useless.
As for RAM, it should be sufficient to run heavy graphic design software while saving some for background tasks.
Operating System: Most laptops/computers come with embedded operating systems which means that you cannot change them later. The Operating system will determine which graphic editing software you can install.
Although some of the best graphic editing software graphic editing software like Photoshop are available across most platforms, OS like Android/Chrome OS/Linux have very few professional graphic editing software on their platforms. It is therefore  important to buy a computer/laptop that runs on a more common tablet OS like Windows and Apple Mac OS.
Storage: A good computer/laptop should have enough internal storage to hold any graphic editing software. There should also be enough storage left for other apps that you might need and, of course, the graphics themselves. Some graphic formats are space-intensive and will fill up small storage fast, warranting you to delete some work or transfer it, which can be inconvenient.
SSD vs HDD: What's the difference? HDDs are traditional storage devices with spinning platters that read and write data. SSDs use newer technology that stores data on instantly accessible memory chips.
HDDs are cheaper, but SSDs are faster, quieter, smaller, consume less energy, and more durable. which makes it an ideal choice for better performance.
2. Drawing Tablets
Digital Painting is very cheap to start, but there are also more expensive professional solutions available for those who want them.
If you want to start painting digitally, the first thing you'll need is a tablet (ipad or drawing tablet). If you use a computer, you might want a pen tablet.
A mouse is great for general pointing, navigation, and clicking on things. But when it comes to making accurate cursor movements (like drawing shapes/ taking notes), it can't keep up.
The drawing tablet, on the other hand, feels as natural as writing with a pen and allows you to perform precise movements and make intricate strokes. Plus, it has the ability to detect pressure changes.
The battery-free stylus of the pen tablets work on a technology called "electromagnetic resonance (EMR)" where they get their power wirelessly from the tablet itself.
Like most digital artists in the world, the name I hear the most when it comes to digital art tablets is Wacom. Yes, Wacom products are better in every way but these are so much expensive !
If you're starting out, XPPen might be a more budget friendly way than Wacom to get into trying digital art using a drawing tablet. Because of the very reasonable price, It will allow you to try drawing without paying much.
At present most graphics tablets in the market come with a good stylus with fast and accurate pen tracking. The XPPen's new X3-smart-chip Stylus takes it a step ahead by having a low initial activation force.
The low activation force allows the tablets to detect the slightest of touches from the pen. This feature alone massively improves the user experience. the drawing experience is pretty smooth.
There are 3 main types of tablet for digital painting:
Graphic Tablets: also called screenless tablets, drawing tablets and pen tablets.
Display Tablets: also called screen tablets or pen displays.
Standalone Drawing Tablets: all-in-one, standalone tablets that don't need a separate computer, such as the iPad Pro, samsung galaxy tab, or the Microsoft Surface Pro.

1. Graphic Tablets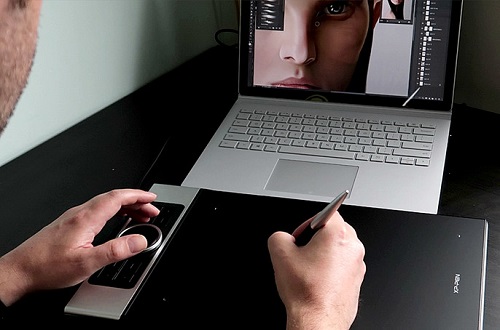 Graphic tablets are the cheapest type of tablet, and what most beginner digital artists start with - that's not to say that they are only for beginners; many professionals prefer to use a graphic tablet instead of screen tablets.
Graphic tablets are flat slates with a drawing surface on one side; some have buttons and dials along one edge, some have touch and gesture functionality on the drawing surface, some are bluetooth enabled.
They all come with a stylus which you use to draw on their surface, while looking up at your computer monitor, similar to when you use a mouse. Drawing on the tablet while looking up at your monitor takes time to get used to.
Both Wacom Intuos and XPPen Deco screenless graphics tablets seem to have pretty good reviews overall. I was initially leaning towards buying XPPen Deco because of the cheaper price and mostly good feedback.
Recommended Graphics Tablets:
XPPen Star G430S: 4x3" working area and only 2mm thick. battery-free stylus supports 8192 levels of pressure sensitivity. It's incredibly small, lightweight, easy to use and great for beginners!
XPPen Star G640S V2: 6,5 x 4" active area, 8 mm thickness, battery-free stylus offers 8192 levels of pen pressure and support Tilt Function. 6 customizable shortcuts.
compatible with Android, Chromebook, windows, Linux and Mac OS devices. Easy to Carry, you can take it anywhere you want, like at home, classroom, etc.
XPPen Deco Fun: Available in three Sizes XS/S/L (active area: 4.8 x 3"/ 6.3 x 4"/ 10 x 6.27") and four colors: Black, Blue, Green, Red. battery-free stylus supports 8192 pen pressure levels and 60° of tilt sensitivity. Compatible with Windows, Mac, Linux, Android and Chrome OS deveices. It should be the best budget pen tablet for beginners.
XPPen Deco 01 V2: This tablet has everything that you can expect from a good drawing tablet. Three colors available: Black, green and pink, Good build quality, large drawing area of 10 x 6.25", 8 shortcut buttons, a very capable stylus without battery supports ±60° of tilt recognition and 8192 levels of pen pressure sensitivity, and stable drivers.
XPPen Deco Pro: Sleek and Slim Design. Aluminum alloy body. innovative dual wheels and eight shortcut keys. wireless bluetooth connection.
Available in two sizes: Small ( 11 x 6" active area) & Medium ( 9 x 5" active area). Very large and comfortable working surface.
Using the pa1 battery-free Stylus affords much greater reliability and accuracy for any masking you have to do on your images, along with any precise touch-ups.
All in all, using this tablet for your workflow will seriously enhance your experience, making editing faster, easier, and much more accurate.
2. Display / Screen Drawing Tablets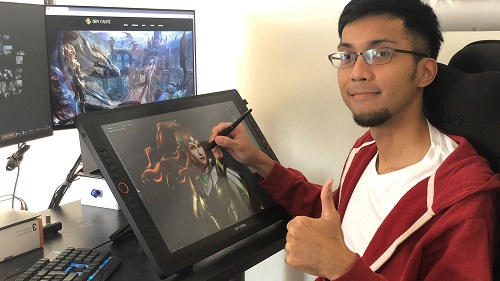 Display tablets are screens that also act as a drawing surface, so you can draw directly onto your digital canvas. It feels closer to traditional drawing and painting than using a screenless tablet does.
Drawing on a screen feels more natural than drawing on a tablet without a screen, you are able to look at your hand whilst drawing.
It's much more expensive than screenless tablets, and it is highly functional if you're on a budget. It also can act as a monitor when not used for art.
Less durable than a screenless tablet, as they have more moving and delicate parts.
Not very portable; because it must be paired with some sort of computer too.
Like most digital artists in the world, the name I hear the most when it comes to screen drawing tablets are Wacom cintiq and XPPen Artist.
Recommended Screen Tablets:
XPPen Artist 12 (2nd Generation): The XPPen Artist 12 (2nd Generation) is a well designed and well built pen display that has good drawing performance. The price is kept low at just US $250.
11.9" laminated Anti-glare screen, 1920x1080 FHD Resolution, 127% sRGB color gamut. 8 shortcut keys; available in 4 Colors: Black, Blue, Red, and Green; compatible with android, windows, Linux, Chromebook and Mac OS.
super precise X3-Smart-Chip Stylus requires as little as 3 gram-force and probably less which is about equal to simply resting the pen tip on the digitizer..
XPPen Artist 13 (2nd Generation): Build quality is good. 13.3" laminated Anti-glare screen, 1920x1080 FHD Resolution, 96% Adobe RGB color gamut, The screen colors are nice. Very vivid and true.
The tablet also comes in four colors: Black, Blue, Red, and Green. 9 customizable shortcut keys on the side provide a lot more for convenience.
The new X3-Smart-Chip Stylus is a fully upgraded drawing experience with a more subtle initial pressure sensitivity and a much shorter tip retraction.
XPPen Artist 16 (2nd Generation): The 15.4" good-sized laminated Anti-glare display features full HD resolution and has a great colour accuracy of 94% Adobe RGB, which ensures its an excellent second screen as well as a good drawing tablet.
The tablet also comes in four colors: Black, Blue, Red, and Green. Artist 16 (2nd Generation) tablet features 8 responsive shortcut keys, giving you instant access to specific functions.
The most advanced Stylus powered by the X3 smart chip, without the spring mechanism, the stylus performs better than any other existing XPPEN stylus.
XPPen Artist 22 (2nd Generation): The Artist 22 (2nd Generation) looks and feels very nice and sleek. It's wide 22-inch screen is built with an IPS panel, which provides users with vivid colors and wide 178° viewing angles. improves the color gamut up to 122% sRGB compared to previous 22" models.
Thanks to the included battery-free digital pen with 8192 pressure levels and ±60° of tilt sensor, you can work professionally and accurately.
It comes with an adjustable stand. The drawing performance is fantastic.
XPPen Artist 24 Pro: The design and build quality of the XPPen Artist 24 Pro is definitely "flagship" grade. Colours look great, the image is pin-sharp and the 23,8" size is incredible.
The main selling points are the 2560 x 1440 QHD resolution, 120% sRGB colour space and the screen with almost no parallax.
Top mounted buttons are helpful for calibrating. Plenty of 20 side buttons to configure.
The PA2 battery-free stylus is uber-comfortable in the hand. It's balanced perfectly and the pen tips are replaceable, which supports 8192 levels of pressure sensitivity and tilt response.
While this large drawing display is pricey, it does look good, has excellent build quality and performs well.
3. Standalone Drawing Tablets
Tablet computers are standalone, all in one solutions in which the tablet and computer are in one device - the iPad Pro (11" or 12.9") is the best example of this, but also includes some other devices like the Microsoft Surface Pro (12.3"or 13"), Samsung Galaxy Tab series (11", 12.4" or 14.6" ), and the Wacom Mobile Studio Pro (13.3" or 15.6").
Just like with a screen tablet, drawing on a tablet computer's screen feels similar to traditional art.
Very portable and lightweight enough to carry with you all day, but Extremely expensive and poor value for money compared to other setups.
The iPad OS has limited software compared to a Windows pc, and even a Surface Pro or Mobile Studio might not be suitable for all windows tasks, due to their limited hardware specifications, small screen size etc.
Conclsuion
As digital art continues to transcend traditional physical and artistic boundaries, art increasingly lives in shared virtual spaces, straddling the divide between the formerly exclusive gallery scene and democratic online art platforms.
Most of the things you should know to get started the right way. Obviously, not for you if you're more advanced, but if you know someone who's just beginning the journey share this article with them! Let me know if it helps!
Whichever tool you choose, the one that makes you want to use it more will always be the best.
This guide won't make you an artist but will help you become one.
About Us
Originated from 2005, XPPen is now one of the top brands under HANVON UGEE, integrated with digital drawing products, content and service as a globally notable digital brand of digital art innovation.
Learn more
KNOWLEDGE
ROUNDUPS
ANIMALS
TIPS
FOCUSED
PLANTS
BEGINNER
OTHERS
INTERVIEW
Join Our Newsletter Today
Stay in the loop with our latest artistic innovations and special offers