Drawing Tablet for painting and illustration in Corel Painter
FOCUSED
XPPen
2023-08-25 09:40:58
10 min read
Corel Painter is the market-leading digital painting software, but in order to run smoothly, it needs the right device.
Plenty of people use drawing tablet for digital painting in Corel Painter, because using a stylus is much more natural and precise than using a mouse.
You can take full advantage of the realistic brushes in Painter by using a drawing tablet. Use Brush Tracking to show Painter how you paint and then take advantage of the power of pressure, tilt, bearing and rotation control of Painter's brushes for the most impressive painting results.
You will not get the most out of this software if you are not using a drawing tablet; do not get this software unless you are using a device with a pressure sensitive pen or you also plan on buying a drawing tablet.
Is Corel Painter worth it?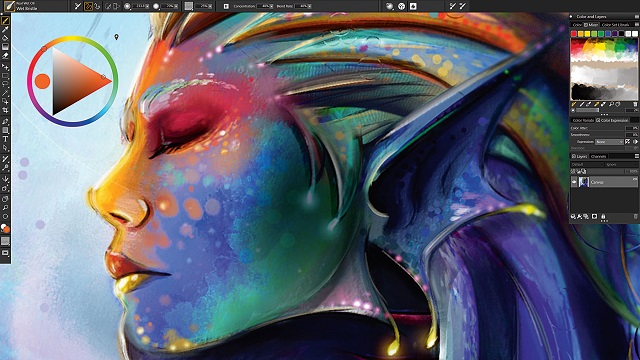 Corel Painter is one of the leading software for painting and illustration and is developed by Corel corporation . It runs on both Windows and Mac OS.
Corel also has other softwares like CorelDraw (vector design), PaintShop Pro (photo editing) etc.
Corel Painter is a raster-based digital art application created to simulate as accurately as possible the appearance and behavior of traditional media associated with drawing, painting, and printmaking. It is intended to be used in real-time by professional digital artists as a functional creative tool.
The application offers a wide range of traditional artists' materials and tools. The features are Brush Search engine, Stroke preview, Jitter brushes, Advanced Brush Controls, Brush tracking, Cloning workflow, transforming multiple layers at a time, Memory optimization, Flow Maps, Custom palettes, Customizable surface texturing etc .
There are different types of painting that it offers such as oil, watercolor and acrylic. From there you will be able to utilize their brush and color offerings. There are over 170 brushes to choose from! Beyond this it allows you to use things such as a pencil and charcoal for sketching.
Mirror and Kaleidoscope tools are amazing! Using Corel Painter's Kaleidoscope (top) and Mirror (bottom) tools, you can quickly create unique designs.
The most interesting feature in Corel Painter is the RealBristle technology which uses the angle and the pressure of the stylus pen for controlling the color and effects of the image.
With the aid of a graphics tablet or computer mouse, the user is able to reproduce the effect of physical painting and drawing media such as watercolor, oil, chalk, charcoal, and color pencil.
There are also a few non-traditional items, such as the Image Hose, pattern pens, F/X, Distortion, and Artist tools for allowing artists to apply less conventional elements to an image.
If you don't want to try tracing or drawing yourself, or you are in a studio where you need to increase productivity, Painter's Auto-Painting palette will transform your photo into a painting automatically.
You need a super computer to deal with pro-grade resolutions, and computations are heavy. This is one of the reasons why Painter cannot be defined a rock-solid software to rely on totally...
Do you want to paint on a 8000px canvas with the Real Bristle and Watercolours? Only 16GB od RAM and 2 cores? Pray...
Corel Painter vs Photoshop: which is better for digital painting and illustration?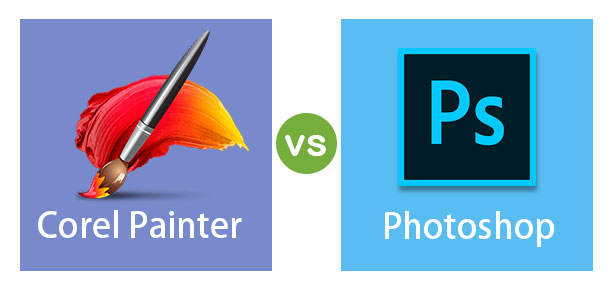 There are a few key differences between Corel Painter and Photoshop that may make one or the other a better choice for certain types of projects.
Photoshop is made by Adobe and is the industry standard for photo editing. It has a wide range of features and tools that allow users to make detailed edits to photos.
Photoshop's brush engine is very versatile, if one takes their time with it to make your own brushes (or if you get them from someone else whether free or bought) you can get pretty cool results. however photoshop doesn't exactly emulate the actual "paint" that well which is a part of what Painter does.
Corel Painter is made by Corel and is geared more towards digital painting and art. It has a more limited set of features than Photoshop, but the features it does have are specifically designed for painting.
Bristle and Watercolour models of Painter are almost "unbiased": this means that there is a physics model behind pigment/media/canvas interactions so results are "almost" real.
A lot depends on your background in art. If you have a lot of experience with traditional media like oils, acrylics, etc., you might find Corel Painter's brushes more easier to use; in my experience they emulate natural media more closely than Photoshop right out of the box, especially when you combine them with various paper/canvas textures.
Please be aware that there is no definitive answer to this question as it depends on individual preferences and needs. Both Corel Painter and Photoshop are excellent software programs with a wide range of features, so it is worth taking the time to try out both to see which suits you best.
When it comes to price, Photoshop has a clear advantage. It is available as part of Adobe's Creative Cloud subscription, which starts at $20.99/month.
Corel Painter is only available as a standalone product, which costs $610 or Subscribe for S$ 24.92 monthly.
Corel Painter Essentials is a hobbyist version of Corel's Painter line of software which cost only $ 69.00. becuase it lacks some of the more complex and capable features of the pro version.
For users who are focused on photo editing, Photoshop is the obvious choice. It has more features and is more affordable.
For users who want to create digital paintings, Corel Painter may be the better option thanks to its specialized tools and features.
Advantages of drawing tablet for digital painting in Corel Painter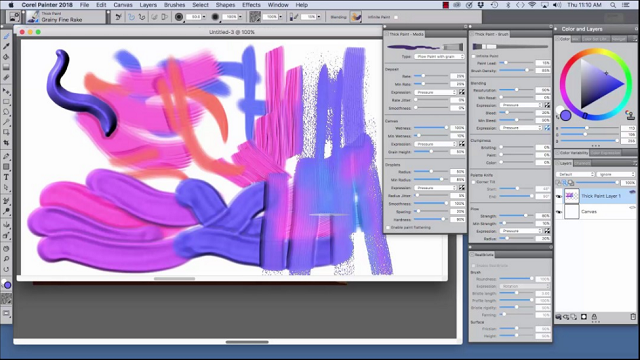 To draw & create artworks, either if you decided to use Corel Painter or any other art program, I highly recommend that you get a graphics tablet, as using one is closer to how you draw using pencils or brushes, compared to a computer mouse at least.
Graphics tablets can also be a huge productivity boost for creating artworks, and it can make drawing certain lines easier. And more importantly, it is generally more healthy & comfortable than using a mouse.
If you use a graphics tablet, Corel Painter gives you new, more realistic velocity control. As you increase the speed of your pen, less ink is applied, resulting in thinner brush strokes. If you slow down your drawing, brush strokes get thicker.
The Express keys of drawing tablet allow you to customize your settings and create hotkeys for different actions in corel painter that you perform frequently.
Corel Painter supports pressure sensitivity of graphics tablets just fine. A mouse just allows you to click and drag meaning you don't have any control over the pressure of your strokes.
When you use a pressure-sensitive stylus or pen tablet, the amount of pressure that you apply controls the opacity and width of your strokes. Depending on the variant settings, greater stylus pressure can increase the width of a brushstroke, the penetration of color, or the degree of other effects.
Similarly, for heightened realism, Corel Painter is fully responsive to the tilt of the pen on the tablet. A more vertical angle of the pen will create a thin brush stroke, while a slanted angle yields a wider stroke, perfect for shading and textures, and for enlivening a drawn outline.
Corel Painter lets you produce realistic brushstrokes that fade in and out; change size, opacity, and angle; and penetrate based on stylus input data such as velocity, direction, pressure, airbrush fingerwheel, tilt, and bearing.
You can link brush settings (such as size, opacity, and angle) to stylus input data (such as velocity, direction, pressure, airbrush fingerwheel, tilt, and bearing).
Graphics Tablet Recommended for Corel Painter
A graphics tablet is a digital drawing input device that allows an artist to use a pen or other stylus instead of the traditional mouse. Almost any pressure sensitive drawing tablet will be a massive improvement on trying to use something like Painter with a mouse.
Drawing tablets are game changers for designers and artists. There are three types of drawing tablets: graphics tablets, pen displays and tablet computers.
Wacom graphic tablets are seen as the industry standard, but when you get started with digital art, I would advise getting a low budget graphic tablet, they can do a great job.
XPPen tablets are priced very reasonably for the performance that you get. That makes them an excellent choice for beginners or occasional use.
1. Non-Screen Graphic Tablet
A screenless graphic tablet works a bit like a mouse and needs to be attached to your PC or laptop.
You can draw on the surface of the graphic tablet using a special stylus. The surface of the graphic tablet reflect your screen.
So when you put your stylus in the upper right corner of the surface, you will find your cursor in the upper right corner of your screen.
It takes some time to get used to, since you need to watch the screen and can't look at your hand while drawing.
They are relatively cheap, actually you can get a decent graphic tablet for around $50 – $100.
I'd recommend getting a graphic tablet at A5 or A4 size, this is large enough to make fluid strokes.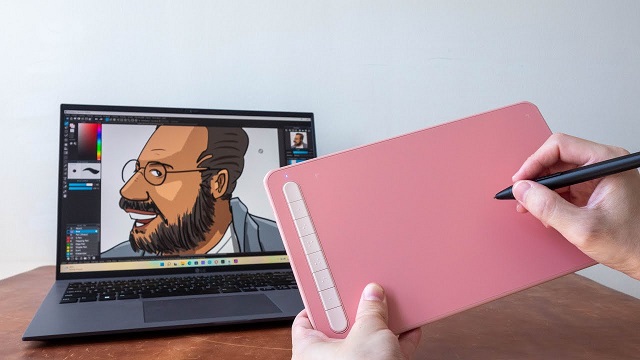 I tested Corel Painter with my XPPen Deco MW A5 sized tablet, and it worked pretty well when it comes to both the pressure & the tilt sensitivity.
XPPen Deco MW has a good size working area of 8 x 5 inches, while it's not the largest, gives you more than enough room to draw comfortably.
The tablet has a compact design and is pretty thin to carry in your backpack easily. but it's built strong enough to handle a few knocks here and there.
8 customizable shortcut keys provide convenience and helps to improve productivity.
With 8,192 levels of pressure sensitivity, 3 gram initial activation force, tilt recognition and virtually no lag. the X3 Elite Battery-free Stylus give you the tools needed to create amazing artwork wherever you go.
Thanks to a built-in battery and Bluetooth connectivity on the tablet, you'll be able to use it where and how you see fit.
This tablet is compatible with Linux, Android, Chrome OS, Mac OS and Windows when it comes to compatibility.
You can get your hands on the XPPen Deco MW in any of the following colors: Black, blue, green, or pink .
This is an epic tablet. It is literally amazing. High pen resolution, extremely smooth movement, supports multiple monitors correctly, flexible macro settings, very thin and well built, easy to carry in a laptop bag, very good pressure sensitivity.
You will love its features and functionality. I could say lots of good stuff about it. You'll love it if you get one and it works well.
The XPPen Deco LW tablet has the same technical specifications with Deco MW, but it offers a larger active area of 10 x 6 inches.
2. Graphic Display Tablet
If you want to make digital art on your computer, but don't want to use a screenless graphic tablet, then a graphic display might be an option for you.
They are more expensive than a non-screen graphic tablet, but let you draw and paint directly on a screen. Perhaps this will feel more intuitive to you.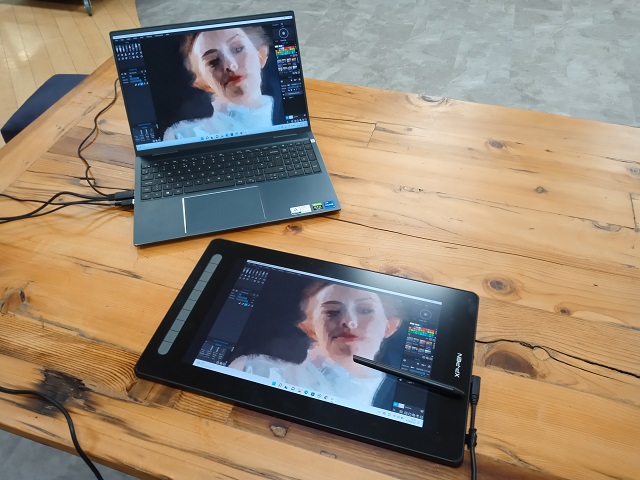 XPPen Artist 16 (2nd generation) is one of the best drawing tablets with a large drawing area, tilt recognition, accurate color display, superb stylus, and more.
This tablet has a Full HD IPS 15.4-inch screen fearures a color accuracy coverage of 94% Adobe RGB which giving you a crisp, clear view that you need as an artist.
Coming with a fully laminated and anti-glare-treated screen, this Artist 16 (2nd generation) has no parallax, and it offers even a much better colour output.
This tablet comes with an excellent classic design with the screen on the right and 10 shortcut buttons on the left side that you can easily customise.
You get the connectivity ports on the right, making it pretty convenient because the wires won't interfere when you're drawing. you can even use both power the Artist 16 (2nd gen) and display video with a single USB-C cable.
The battery-free stylus powered by X3 smart chip has 8192 pressure sensitivity levels, pen tilt support, and 3g low initial activation force making it super accurate.
It is compatible with Mac, Windows, Chrome OS, Linux and even Android devices. Artist 16 (2nd gen) allows flexible drawing, sketching, and editing as per the user's needs.
The tablet also comes in four colors: Black, blue, green, and pink. so you can select the one that best suits your style.
The Artist 16 (2nd generation) is a high-end creative tablet perfectly capable of creating your professional quality artwork on, in my opinion.
If you're doing artwork for a job that involves some digital painting, or perhaps you're a freelancer who doesn't have a gigantic budget, this tablet will be totally fine for your needs without destroying your budget.
3. All in one Tablet Computer
With an all in one tablet I mean a tablet like an iPad (iOS), Microsoft Surface Pro (windows) or Android tablet like samsung galaxy tab. which supports pen input function.
There are a number of good Android tablets available in the market but most of them do not come with a stylus, Of course you could draw with your finger, but that isn't very comfortable and won't feel very intuitive.
what's great about all in one tablets, is that you can take them anywhere. You could draw during a trainride, while enjoying a cup of coffee in a cafe or just while relaxing on your couch!
The drawback of the all in one tablet is that it is on the expensive side and the digital pen has to be bought separately.
Corel Painter is a software that can be used on a windows or Mac OS computer, so there is no direct way to use it on an iPad and Android tablets.
The best iPad drawing app alternative is Procreate. for android users, Corel has a "painter mobile" drawing app which enables you to draw on the go whenever inspiration strikes you.
There are circumstances where the near-unique nature of the Microsoft Surface Pro means that it really is the best creative device on the market for Corel Painter.
The slim design of 13" surface pro 9 (the newest model of surface pro series) tablet is really nice for the portability, It features a 2880 x 1920p, 10-point multi-touch display, which outputs at a smooth 120Hz and supports Dolby Vision HDR.
The Microsoft Surface line's Slim Pen 2 stylus supports palm rejection, tilt and up to 4096 levels of pressure sensitivity.
If you want the thinnest, lightest device you can run the full version of Corel Painter or CorelDraw or PaintShop Pro on, it's a no-brainer.
Conclusion
Using a graphics tablet is a no-brainer. I prefer XPPen tablets, stylus, because both are optimized to use the features in graphics software and the stylus is super sensitive and precise.
Anyone with the artistic skill, talent, and imagination can use the Corel Painter program to create artwork, be they an amateur, hobbyist, enthusiast, or professional.
For those who don't have the artistic skill to use graphics programs, there are all kinds of online tutorials and books. However, you learn more by doing.
What this means is that if you're really determined to learning how to use Corel Painter or any graphics program, just go into it and play around with some of the brushes and features.
Just remember to temper your expectations and don't expect to be the next Rembrandt.
About Us
Originated from 2005, XPPen is now one of the top brands under HANVON UGEE, integrated with digital drawing products, content and service as a globally notable digital brand of digital art innovation.
Learn more
KNOWLEDGE
ROUNDUPS
ANIMALS
TIPS
FOCUSED
PLANTS
BEGINNER
OTHERS
INTERVIEW
Join Our Newsletter Today
Stay in the loop with our latest artistic innovations and special offers