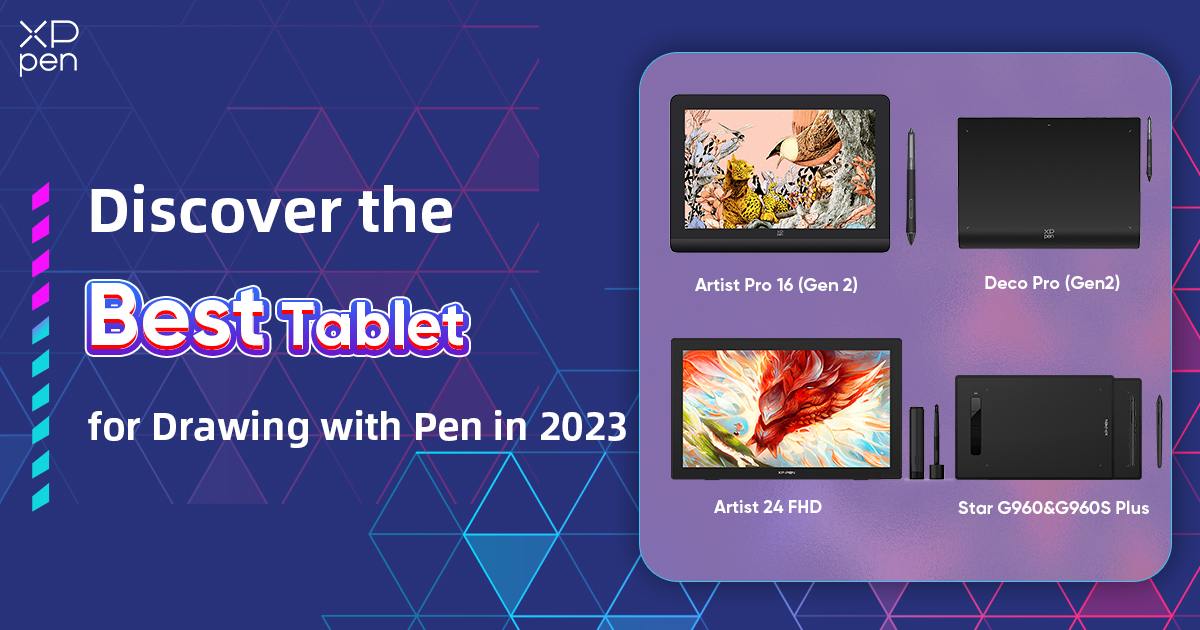 Discover the Best Tablet for Drawing with Pen in 2023
ROUNDUPS
XPPen
2023-11-22 17:25:17
8 min read
Finding the ideal digital art and design tablet with pen drawing capabilities is paramount for unleashing your creative potential in today's ever-evolving art and design scene. With , keeping up with changes and ensuring your tools meet artistic ambitions is crucial for creative growth.
Whether you're an aspiring artist or a seasoned digital creative, these devices provide a seamless . You can bring your unique artistic vision to life with each pen or brush stroke.

Irrespective of the surface you're accustomed to working on, the best drawing tablets streamline the adaptation process, making it effortlessly intuitive for artists to transition to these versatile tools.
This article will explore the world of pen displays and tablets, reviewing the best tablet for drawing with pen in 2023. Whether you're an aspiring digital artist or a seasoned pro, XPPen has a range of products that cater to all skill levels and preferences. So, let's embark on a journey to discover the best tablet for drawing with a pen.
Why Invest in a Tablet for Drawing with a Pen in 2023?
Investing in a tablet to draw with a pen in 2023 can be advantageous for multiple reasons. First, these advanced devices now boast features like high-resolution displays, extended pressure sensitivity, and tilt support to give artists all they need to create intricate digital artwork with a pen. Furthermore, their smooth transition from traditional media to digital art creates opportunities to expand creative horizons without the hassle of adapting traditional media practices into the digital sphere.
With digital artwork becoming a necessity across industries from animation and design to education and content production, having access to a drawing tablet has become even more critical for creatives looking to stay competitive and relevant in the creative field.
Modern drawing tablets provide artists with a convenient and portable workspace, making them indispensable tools for on-the-go creativity. By the end of 2023, investing in drawing tablets will be seen as a creative decision and a strategic choice to unlock new opportunities and keep abreast of digital art trends.
We will look at four options to help you choose the best tablet for drawing with pen.
Artist Pro 16 (Gen 2) - A Perfect Canvas for Your Creativity
The Artist Pro 16 Drawing Display (Gen 2) by XPPen is a versatile and powerful creative tool ready to take your digital art to the next level. With a sleek black and grey design, this drawing display comes equipped with the X3 Pro Smart Chip Stylus, featuring an initial activation force of just 3 grams and an impressive 16,384 pressure level. Its expansive work area, measuring 344.68 x 215.42 mm, is complemented by a high-resolution display with a resolution of 2560 x 1600, ensuring every stroke and detail is crystal clear.
Full lamination technology enhances the visual experience, while the 178° viewing angle, 1200:1 contrast ratio, and typical brightness of 250 cd/m2 make for vibrant and accurate visuals.

Color enthusiasts will appreciate its extensive color gamut coverage (great for professions such as tattoo design), including 99% sRGB, 97% Adobe RGB, and 99% DCI-P3, and a gamut area ratio of 159% sRGB, 118% Adobe RGB, and 117% DCI-P3. With a reading height of 10 mm and an ultra-responsive 20 ms response rate, you'll have precision at your fingertips, supported by a report rate of up to 200 RPS.
The Artist Pro 16 (Gen 2) excels with remarkable accuracy, featuring +-0.4 mm at its center and +0.8 mm on each corner. Connectivity is seamless through one full-featured USB-C port and three 3-in-1 ports; compatible with Windows 7, macOS 10.10 (or later), Android (USB3.1 DP1.2), Chrome OS 88 or later and Linux operating systems, this drawing display offers an ideal solution for artists and creators looking for high performance and feature-packed tools to help complete digital art projects.
Artist 24 (FHD) - Where Art Meets Innovation
The Artist 24 Drawing Display (FHD) by XPPen is a cutting-edge digital canvas that caters to the needs of digital artists and creators. Its ergonomic dimensions are 590mm by 361mm and 34mm in dimensions and offer plenty of room to express your artistic vision. Additionally, its vibrant 1920x1080 resolution ensures clarity and detail to bring your masterpieces to life, with 98% Adobe RGB coverage and 132% sRGB colors providing accuracy and vibrancy to each work created on this display.
The Artist 24 features five physical buttons to access essential functions quickly and comes equipped with a battery-free P05R stylus for an engaging drawing experience. Support for tilt adjustments of up to 60 degrees provides additional precision, while 8,192 levels of pressure sensitivity ensure you can make art your way!

Artist 24s are known for their remarkable contrast ratio of 3000:1, adding depth and visual impact to artwork, while their resolution of 5080 LPI provides precision. With 220 RPS maximum report rate and an optimal reading height of 10mm, drawing is responsive and intuitive. Accuracy measures between +0.5mm at center and +1.5mm on corners - an outstanding experience!
Connectivity options include USB-C, HDMI, DC-IN, and headphone ports for seamless use. A wide viewing angle of 178 degrees ensures your artwork remains clear and vibrant from various perspectives, with 16-degree to 90-degree angle adjustment to keep comfortable viewing angle settings. A typical brightness level of 250 cd/m2 ensures bright artwork illumination, while 100x 100mm VESA hole pitch offers mounting solutions.
The Artist 24 operates on DC 12V/3A power input and is compatible with various operating systems, including Windows 7 (or later), macOS X 10.10 (or later), Chrome OS 88 (or later), and Linux. Certified with FCC/CE/EAC/NOM/PSE/WEEE/RCM/KC/RoHs/BIS, the Artist 24 Drawing Display (FHD) offers a feature-rich and high-quality solution for digital artists, providing a platform that enhances your creative potential.
Deco Pro (Gen 2) - Precision and Versatility
The Deco Pro series (Gen 2) from XPPen offers a range of drawing tablets designed to cater to artists and creators of various preferences and needs. This series includes the Deco Pro MW Drawing Tablet (Gen 2), LW Drawing Tablet (Gen 2), and XLW Drawing Tablet (Gen 2) as their respective product models: MT0962B, MT1172B, and MT1592B.
These tablets come in various sizes, with the MW model measuring 283 x 227.1 x 10.66 mm, LW measuring 333 x 258.1 x 10.66 mm, and the most spacious model being 435 x 313.1 x 10.66 mm. Work areas also vary by model, offering artists either 9"x6", 11" x 7", or 15" x 9" canvasses to bring their creative visions to life.
All three models feature a stylish black and grey color scheme that exudes professionalism and sophistication. With a resolution of 5080 LPI, these tablets offer high precision for your digital artwork. At a maximum of 200 RPS, the report rate ensures that every stroke is captured accurately.
Connectivity options for these tablets are versatile, with both Bluetooth 5.0 and wired options available, providing flexibility for different usage scenarios. The impressive battery life offers more than 10 hours of uninterrupted creative work, thanks to the 3030mAh/3.7V battery.

The Deco Pro series comes with the X3 Pro Smart Chip Stylus, which boasts a remarkable 16,000 levels of pressure sensitivity and tilt recognition of up to 60°, allowing for precise and expressive artistry. The reading height of 10 mm enhances the natural feel of the drawing process.
These tablets feature a USB-C port for convenient connectivity and an output power of 5V 2A, making them compatible with various operating systems, including Windows 7 (or later), macOS 10.10, Android 10.0 or later, Chrome OS 88 or later, and iOS (though only specific applications work) or Linux (connected through cable or Bluetooth Dongle).
The Deco Pro series gives artists the freedom and flexibility to express themselves creatively according to their style and preferences, making it a reliable and flexible drawing tablet solution.
Star G960 & Plus - Perfect for Beginners and Pros
The Star G960S series from XPPen comprises a lineup of versatile drawing tablets tailored to various creative requirements. Let's delve into the specifications of each model within this series: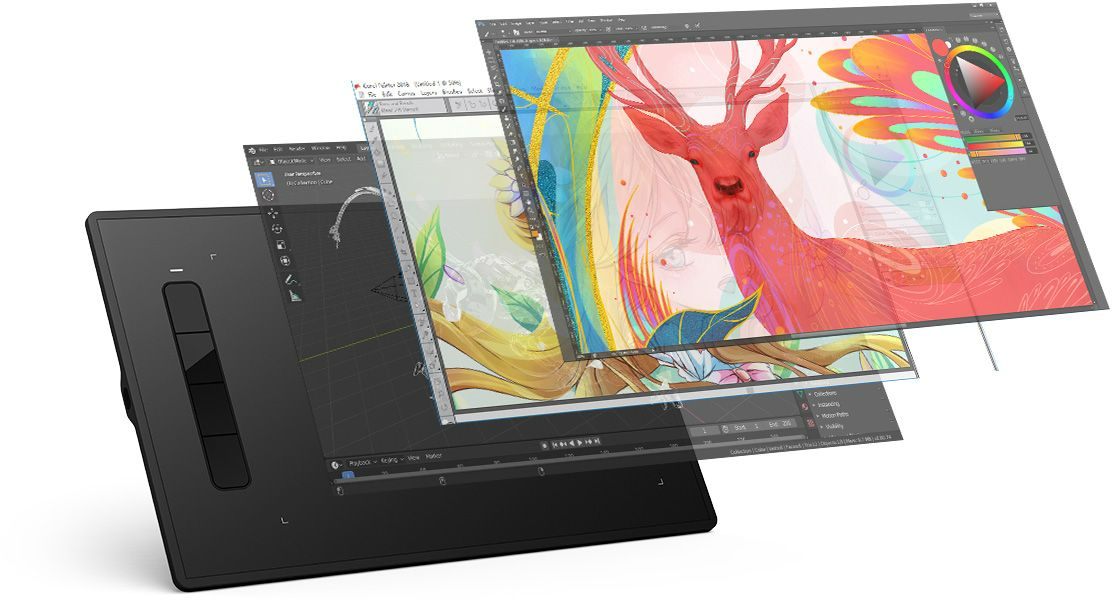 Star G960S Plus:
With dimensions of 319.5x209.5x10mm and an ample active area of 9x6 inches (228.8x152.6mm), the Star G960S Plus provides artists a spacious canvas for their digital creations. It features the PH2 Battery-free Stylus, complete with a digital eraser, and offers an impressive 8,192 levels of pressure sensitivity, enabling precise and expressive drawing.
The tilt functionality, up to 60 degrees, adds an extra dimension to your work, along with a rotation up to 270 degrees. It boasts a report rate of 220RPS (max) for responsive drawing and four shortcut keys for added convenience.
With an accuracy of ±0.4mm (center) and a comfortable reading height of 10mm, this tablet connects via USB. It is compatible with various operating systems, including Windows 7 (or later), Linux, Mac OS X 10.10 (or later), Android 6.0 (or later), and Chrome OS 88 (or later). Additionally, it fully supports macOS Monterey and Windows 11. The Star G960S Plus is certified with C-TICK, FCC, CE, EAC, NOM, WEEE, KC, and RoHs.
Star G960S:
The Star G960S shares the exact dimensions as the Plus model (319.5x209.5x10mm) but offers a slightly smaller active area of 8.35x5.33 inches (212x135mm). It features the PH3 Battery-free Stylus and offers 8,192 levels of pressure sensitivity.
While it doesn't support tilt functionality, it maintains a report rate of 130RPS (max) and four convenient shortcut keys. The accuracy is ±0.4mm (center), with a reading height of 10mm. This tablet connects via USB with an undetachable cable and is compatible with Windows 7 (or later), Linux, and Mac OS X 10.10 (or later). Like its Plus counterpart, it fully supports macOS Monterey and Windows 11. Certified with C-TICK, FCC, CE, EAC, NOM, WEEE, KC, and RoHs, the Star G960S is designed to cater to digital artists' preferences requiring a more compact drawing area without compromising on performance.
In addition to these highlighted products, XPPen offers many other options to cater to your specific needs. You can explore their entire product lineup on their official website, giving you even more choices to find the perfect tablet for drawing with a pen.
Choosing the Best Tablet with a Drawing Pen in 2023
Choosing the best tablet for drawing with pen that suits your needs involves carefully considering several factors. Firstly, think about your artistic goals and requirements. Are you a professional seeking top-tier specifications or a beginner looking for an affordable entry point? For example, some tablets are well-suited for teachers, while the specification of others is better for animators.
Consider the tablet's size and resolution, as a larger workspace and higher resolution can enhance your creativity. Pressure sensitivity and tilt support are critical for precise control, and ergonomic factors such as reading height and adjustable stands can impact your comfort during long drawing sessions. Connectivity, compatibility with your preferred operating system, and any special features like shortcut keys should also be evaluated.
Artist Pro 16 (Gen 2): This tablet is ideal for professional digital artists, illustrators, and graphic designers requiring a large, high-resolution workspace. Its extensive pressure sensitivity and tilt support cater to those who demand precision and versatility. The Artist Pro 16 (Gen 2) is also suitable for serious hobbyists who want to invest in top-tier equipment.

Artist 24 (FHD): The Artist 24 is a top choice for digital artists and professionals who seek a spacious canvas with a vivid display. Its extensive color gamut and contrast ratio make it perfect for those working on projects that require exceptional color accuracy, such as digital painting, animation, or photo editing. Artists who value quality and quantity in their workspace will appreciate this tablet.

Deco Pro Series (Gen 2): The Deco Pro series, available in different sizes, caters to a wide range of users. The Deco Pro MW, LW, and XLW models suit beginner and intermediate artists. With features like tilt recognition and various sizes, artists looking for versatility and flexibility can benefit from these tablets. They are also budget-friendly options, appealing to those who want to explore digital art without a significant financial commitment.

Star G960S Series: The Star G960S series is designed for entry-level digital artists, students, or those who need a compact and affordable drawing tablet. The G960S Plus offers more features like tilt support, making it a suitable choice for beginners exploring a more comprehensive range of creative possibilities. The G960S, on the other hand, caters to those primarily focused on sketching and basic digital art, offering a budget-friendly option for getting started.
Finally, budget plays a significant role, so find a tablet that offers the best balance between features and cost for your unique artistic journey. Consider your profession, objectives, budget, and use cases, as the best tablet for drawing with pen may not be the same for everyone.
Summary
Are you ready to elevate your digital art and design game in 2023? XP-Pen offers a wide range of pen displays and tablets, making finding the perfect tool for artists of all levels easy. Whether you're a beginner or a seasoned professional, there's an ideal tool waiting for you.
About Us
Originated from 2005, XPPen is now one of the top brands under HANVON UGEE, integrated with digital drawing products, content and service as a globally notable digital brand of digital art innovation.
Learn more
KNOWLEDGE
ROUNDUPS
ANIMALS
TIPS
FOCUSED
PLANTS
OTHERS
INTERVIEW
BEGINNER
Join Our Newsletter Today
Stay in the loop with our latest artistic innovations and special offers