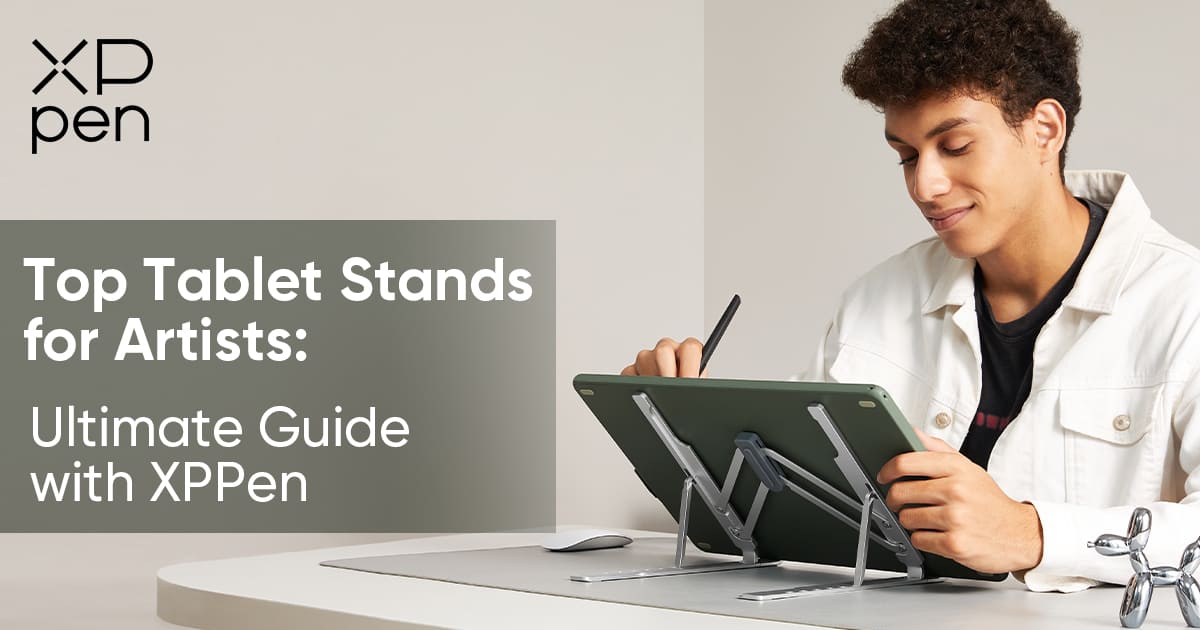 Top 6 Tablet Stands for Artists: 2023 Ultimate Guide with XPPen
FOCUSED
XPPen
2023-11-16 16:31:35
5 min read
We have seen the seamless integration of technology devices with artistic expression. Artists have become confused about finding the right tablet standing. Tablet stands are vital accessories for artists. These stands help sketch and draw.
We have arranged everything for you whether you need a drawing or tablet desk stand. Our digital artist stand can significantly improve your workspace. It can also provide comfort, flexibility, and ease.
This article will explore six tablet stands for artists. These stands have various features, including durability, suitability, and more. We have shortlisted top stands for drawing tablets. So, let's dive into the world of tablet accessories to optimize your artistic potential.
Things to Consider While Choosing a Stand for Drawing Tablet
A tablet desk stand for drawing can improve your creative experience. We have various options for drawing stands. It's essential to consider different factors to choose the perfect match for your specific requirements. Follow the below guide while selecting a stand for a drawing tablet:
Compatibility
Make sure that the stand is entirely compatible with the drawing tablet model. Not all stands are suitable. Because different tablets come in various shapes and sizes. Artist stand should be a perfect fit for the tablet.
So, before buying a stand, check the specifications provided by the manufacturer. This compatibility is crucial during any artistic journey.
Adjustability
Adjustability is one of the most crucial factors. When you buy any stand for drawing tablet, you should focus on flexible adjustments. Artists often spend more time working. Having a stand that has multiple angles and height adjustments. These features can prevent artists from discomfort.
Therefore, the perfect artist stand must have different features. These include tilt options and height settings. This stand allows artists to work in a comfortable position. Switching between landscape and portrait orientation is also the best feature.
Sturdiness and Stability
A shaky tablet stand can be a significant barrier to your workflow. Artists must look for a versatile stand with stability features. If you want to work without distractions, you need a desk stand with a non-slip base. Make sure that the material used for building the stand is robust.
Portability
Portability is another important factor for artists on the go. A lightweight stand should be your first choice if you want to hold a stand. Generally, the artist stand should be foldable, packed, and efficiently transported. Some stands with carrying cases can be ideal for artists.
Build Quality
A stand for drawing tablets can be a substantial investment. And building quality is a factor worth considering. You must opt for stands built from high-quality materials. Some artists prefer to choose stands made of aluminum and steel. Because these metals have durability and lightweight properties.
Therefore, a well-built stand must have longevity. It also contributes to the aesthetically pleasing workspace.
Top 6 Tablet Stands for Artists: 2023 Ultimate Guide with XPPen
XPPen presents various tablet stand selections. These are designed to optimize your artistic workflow. Follow the top 6 tablet stands for artists:
XPPen ACS05 Foldable Tablet Stand
The XP-Pen ACS05 Foldable Tablet Stand is a modern accessory. It is designed to meet the requirements of artists and creators. XPPen builds stands offer seamless functionality and portability.
This foldable drawing stand has a long-lasting construction. It allows you to take full advantage of our digital tablet stand. The adjustable design gives a comfortable experience to artists. It can also help artists to find their optimal working angle.
If you want to see a closer look at this foldable stand, please see this video:
Its foldable design feature makes it incredibly convenient for artists. If you want to work in a studio, you can carry it. This portable drawing tablet stand allows you to transport efficiently.
The ACS05 Foldable Tablet Stand has a sleek and modern appearance. It improves your digital work experience. And it also contributes a touch of sophistication. This tablet stand can be a reliable and stylish choice. Thus, artists can elevate their work experience with ACS05. It also offers you a new level of comfort and flexibility.
XP-Pen AC18 Multi-Angle Display Stand
The XP-Pen AC18 Multi-Angle Display Stand is a universal digital accessory. It is designed to optimize your drawing experience. The AC18 tablet stand has various innovative features. These include durability, stability, and adjustability. The stand has an incredible design to improve your workspace.
Artists can fine-tune the tilt and height of their drawing screen tablet. Because it has multi-angle adjustment capabilities. It also enables customized working positions. This type of stand has a flexibility feature. The stand also gives comfort during long drawing sessions. It offers diverse preferences for artists according to their needs.
The AC18 has a secure locking mechanism. And it keeps your tablet firmly in place while working. This stability is essential in digital art. It makes AC18 a perfect choice for artists because of its durability. Thus, this multi-angle display stand can elevate your creative process to the next level. It can also be a perfect choice for a professional artist, illustrator, or hobbyist.
XPPen AC-41 Display Stand
XPPen offers an outstanding drawing experience with the AC-41 Display stand. It is a uniquely crafted accessory. The stand also integrates functionality with elegance. Artists ensure they get durable stands and a modern touch to their workspace. Because it has a robust construction and modern design. This display stand promises a secure and stable structure for your creative journey.
For detailed features, please click this video:
The AC-41 Display stand is engineered to support various viewing angles. It allows artists to select the most comfortable position for their creative journey. This adaptability is essential for extended drawing sessions. It also ensures that artists can maintain their comfort level without compromising productivity.
Durability is another critical feature of the AC-41 Display Stand in a competitive industry. The stand is manufactured with high-quality materials, making it a secure tablet place. This robust build ensures your tablet's safety. It also offers a reliable and consistent workspace without any concerns about stability.
XP-PEN AC-42 Display Stand
XPPen AC-42 Display Stand is a versatile solution to enhance your digital art experience. This display stand for drawing tablet offers a seamless fit for an immersive art experience. Its unique construction provides stability. It also allows you to focus only on your artistic work. The stand has a smart and modern design. It can improve your workspace. And it can also add a touch of sophistication to your creative journey.
This stand has adjustable angles. And it offers a wide range of positions to suit your preferred working posture. The stand has flexibility for more extended periods without compromising comfort.
Moreover, this display stand is designed to provide a comfortable environment. It can reduce strain on your neck, shoulders, and back. AC-42 can be a versatile choice for artists. Because it is easy to set up and compatible with various types of drawing tablets. This artist stand is an essential accessory to unlock new possibilities. It can also advance your digital art experience.
XP-PEN SPE51 Display Stand for Artist 22R and 24 Pro
The SPE51 Display Stand is a cutting-edge accessory. It can enhance your digital art workflow. This monitor stand is crafted with precision to meet the customized demands of artists. It has a modern and unique design. The stand is a stable and adjustable device for your tablet.
Durability is one of the crucial features of this display stand. And it offers a secure place for your artistic experience. The stand has a wide range of viewing angles. It also allows artists to achieve a suitable position while working. You can also choose an upright posture or a more reclined position.
XP-Pen SPE29 Display Stand for Artist 22/22E Pro
The SPE29 Display Stand for Artist 22/22E Pro is excellent. It is designed to complement the Artist 22 and 22E Pro drawing tablets. This stand is crafted with precision and accuracy. It can be a perfect adjustable stand for your tablets. This artist stand has a modern design to ensure optimal workspace comfort.
The stand has adjustable angles and height settings. It also allows artists to personalize their working position. This stand offers a comfortable design experience. Moreover, the SPE29 Display Stand is constructed with quality materials to ensure stability and durability. It is a worthwhile investment for artists looking for a reliable stand.
Conclusion
Choosing the perfect drawing tablet for your artwork experience can be challenging. But we have discussed the top 6 drawing tablet stands. These can enhance your creative workspace. We have the best digital artist stands. Thus, follow our above guide to explore the trending drawing stands.
Good Luck!
About Us
Originated from 2005, XPPen is now one of the top brands under HANVON UGEE, integrated with digital drawing products, content and service as a globally notable digital brand of digital art innovation.
Learn more
KNOWLEDGE
ROUNDUPS
ANIMALS
TIPS
FOCUSED
PLANTS
OTHERS
INTERVIEW
BEGINNER
Join Our Newsletter Today
Stay in the loop with our latest artistic innovations and special offers