Best Graphic Drawing Tablet for Android Phone/Tablet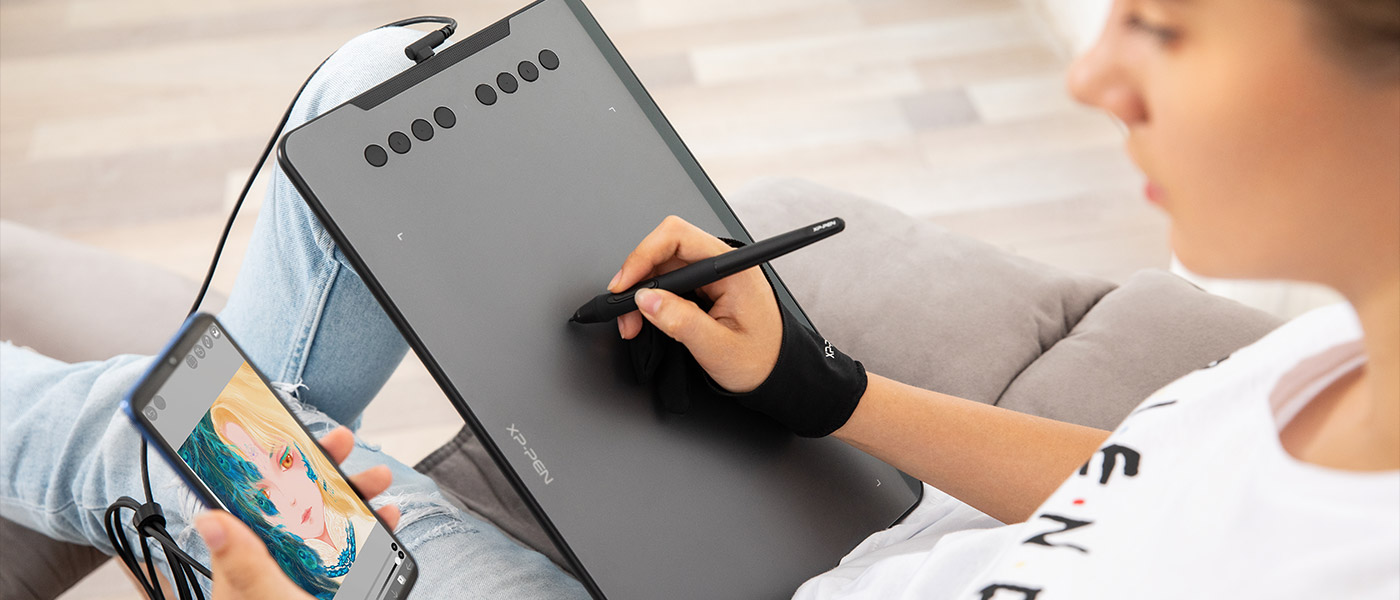 Difference between the Android drawing tablet and a graphics tablet?
tablets, smartphones, and digital notebooks have opened up a whole new way of interacting with digital devices.
A normal graphics tablet is a plastic pad that comes with a pen stylus. They're designed for artists to draw directly onto a computer. the type of Pen Displays are more expensive than graphic tablets. Here, you draw with a stylus on the screen itself. This gives a better experience and is more practical.
graphics tablets are pressure sensitive. The tablet is mapped to your PC or Mac screen for position, but also works on the angle of the pen, the pressure applied, and when available, individual pens can be recognized as separate tools, ie airbrush, pencil and paintbrush.
graphic tablet ( like Wacom, XPPen ....) are imo still king when it comes to the most natural feel of drawing on a digital device. a graphics tablet could make your work a good deal easier and a lot more fun. A stylus offers a more natural way to draw, paint and retouch than a mouse could ever provide.
graphics tablets can be different from the more common kind of standalone Android drawing tablet, like the Samsung Galaxy Tab or Lenovo Smart Tab series tablet, which look and feel like large smartphones.
graphics tablets are specifically designed as drawing surfaces, and many of them don't have display screens at all. The simplest versions are large, black touchpad surfaces that work more like a laptop trackpad. Users wield a stylus to draw on their surfaces like a piece of digital paper.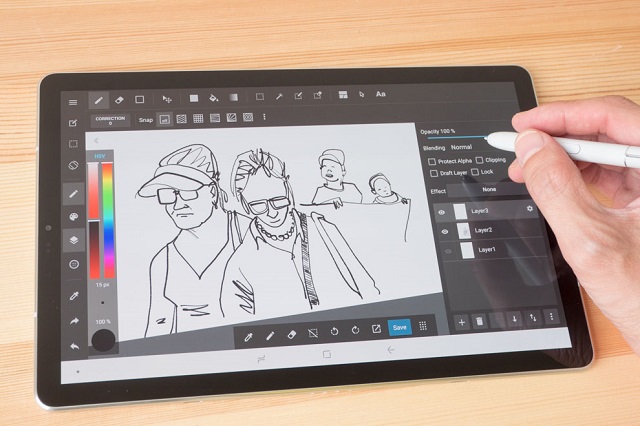 the biggest difference between a drawing tablet and a graphics tablet, is that an Android drawing tablet is standalone, while a graphics tablet is basically just an accessory.
The Android drawing tablet comes equipped with a screen, the software support, and even the stylus in some cases, which means you can work on it directly. You can also use it for other purposes such as browsing the internet.
Whereas, the graphics tablet needs to plugged into a computer for you to use it, and while some professionals recommend a graphics tablet for more accurate sketching, it offers little to no portability. but the drawing experience is better than android drawing tablet especially the pen display monitor such as wacom cntiq or xp-pen artist. also there are more windows /mac os digital art programs to select than Android OS.
XPPEN Drawing Tablets Compatible and working on Android Devices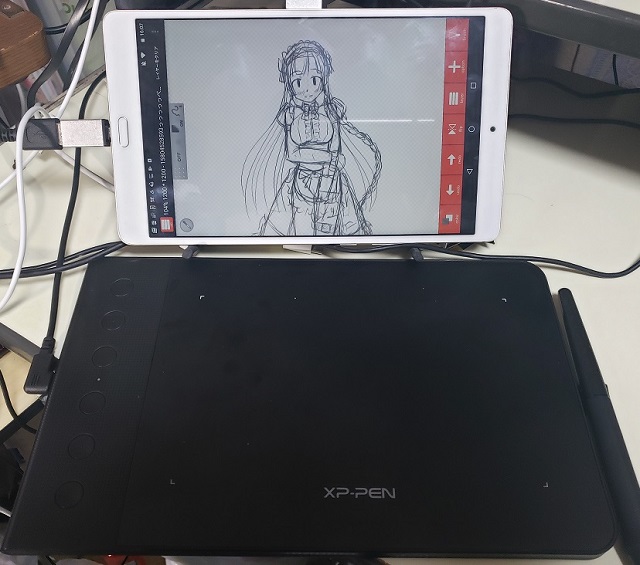 XPPen is one of the leading manufacturer of graphics tablets, interactive pen displays, and other intuitive interface devices. the stylus pens of XPPen are battery-free, super lightweight; Provides best pressure sensitivity. It's like using a real pencil.
XPPen itself has different types ( from non-screen to built in screen ) for different purpose of draw. perfect for beginner and professional digital artists looking for a reliable graphics tablet that will last for years.
Still drawing by finger with your smartphone ? you can now sketch and draw with your XPPen drawing tablet whenever and wherever your creative inspiration hits. some of the xppen Star/Deco models ( below have a list of the models ) is now compatible with select Android smartphones and tablets using Android OS ( needs version 6.0 or later).
Being able to connect to an Android system is an interesting feature. That means you can use it without a computer or laptop. On a travel, you just take your phone and graphic tablet, then you can enjoy digital drawing.
If you do want to draw on an Android device with a tablet, now you can.
How to connect XPPen graphic tablet to Android
In order to connect your XP-Pen drawing tablet with your Android device, you need a special adapter called a USB OTG connector.
your phone or tablet should have OTG function. OTG is short for USB On-The-Go. With a USB OTG cable to connect your phone to a graphics tablet, you can use your smartphone as a computer.
The easiest way to know whether your phone or tablet supports USB OTG is to look at the package box the phone comes in, or the manufacturer's website. You'll see a logo , or USB OTG listed in the specifications.
Normally, the OTG function has already been enabled by default on your phone or tablet. But some devices need you to enable it.
To enable the OTG function, please go to Settings> Storage or Connectivity> find the OTG connection or USB and enable it.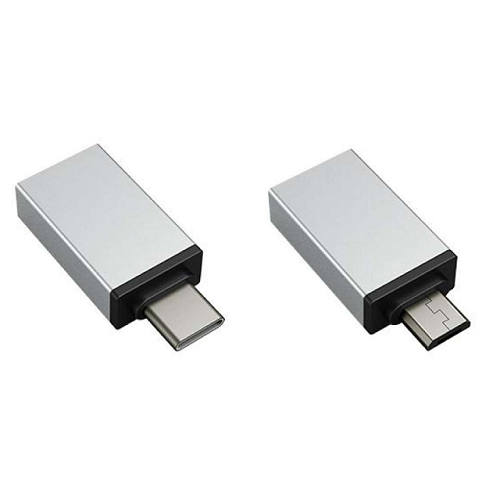 XPPEN offers two types of OTG adapters for graphics tablet in the package. They are USB type C to USB adapter and Micro USB to USB adapter.
Choose the right OTG adapter, depending on the USB port type of your phone or tablet. and then Connect the pen tablet to your phone or tablet .After it enters OTG Mode, you can cooperate the phone by using the digital pen on tablet.
No driver installation is required. It's plug and play. When the pen hovers over the active area, a cursor will appear on the screen.
Because there is no driver for Android, there's also no customisation for any of the shortcut buttons and pressure sensitivity.
Normally, OTG Mode has already been enabled by default on your phone or tablet. Once XP-Pen drawing tablet is connected to your phone or tablet, it will enter OTG Mode automatically.
Under OTG Mode, the pen pressure is determined by the drawing application itself.
Disable the rotate screen function and make sure the Android smartphone or tablet remain vertical.
Under OTG Mode, the pen pressure is determined by the drawing application itself.
When the drawing application has pen pressure, so does the digital pen. When it doesn't have pen pressure function, so doesn't the digital pen.
Therefore, it's better to get a drawing application with pen pressure function.
Best Android Drawing applications
With the best drawing apps ready to go on a mobile device, artists and creatives can quickly move through changes and iterations to create their best work yet.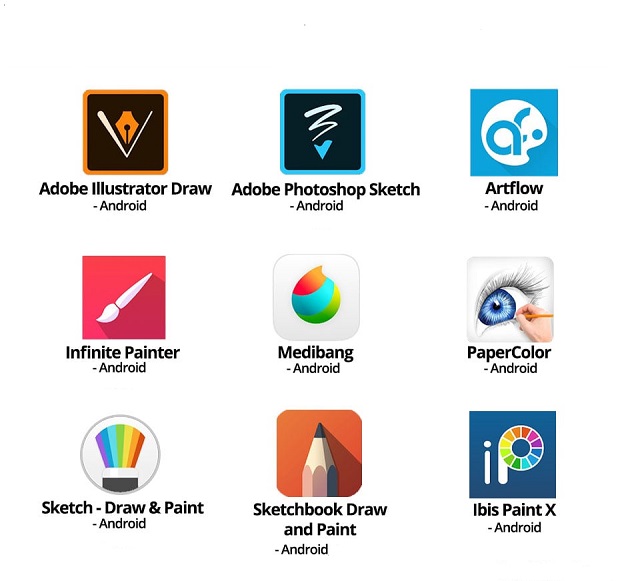 1. Sketchbook
SketchBook is a free sketching, painting, and illustration software for all platforms and devices which is also available for Android. intended for expressive drawing and concept sketching. From quick conceptual sketches to fully finished artwork.
2. ibisPaint
ibisPaint is an incredibly popular application for anyone who enjoys drawing manga and anime. What's interesting about this application is that it is also a social media platform. This allows you to show off your skills to other artists.
3. MediBang Paint
MediBang Paint is a FREE digital painting and comic creation app for Android tablets and smartphones. includes numerous brushes, backgrounds, textures, and comic book fonts for user to use to make their ideas come to life.
there are also other android drawing software such as Illustrator Draw , Photoshoop Sketch , Infinite Painter, ArtFlow , PaperColor.... you can download and have a try.
List of XPPen Tablets works on Android
If you're looking for a pen tablet compatible with Android devices that you can draw or sketch on. The following XP-PEN graphics tablets support connections with Android phones and tablets:
1. XPPEN Star G640S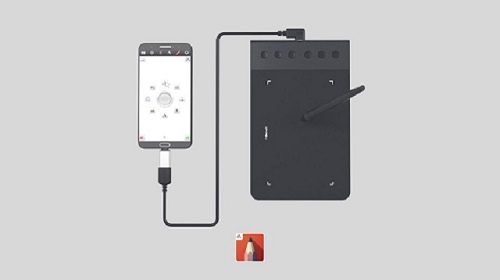 this tablet is compact designed with a 6.5*4 inch (165.1*101.6mm) active area, big enough for beginners' drawing needs and compact as possible for you to carry arou.
Star G640S is compatible with the three main systems: Windows, macOS, & Android, giving you more freedom while drawing. It comes in with a passive stylus whose pen pressure is designed to 8192 level. No need to charge. No need to replace battery.
2. XPPEN Star G960S / Star G960S Plus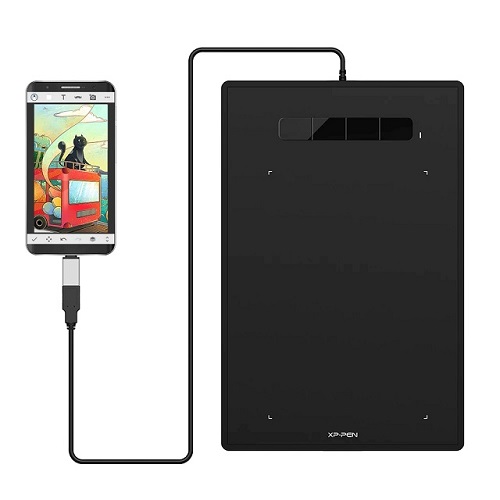 XPPen Star G960S & Star G960S Plus is a budget-friendly drawing tablet with 9 x 6 inches working area.
the drawing pad can supports styluses with up to 8,192 levels of pressure sensitivity and is perfect for artistry design or unique brush effects or sketching and drawing.
3. XPPEN Deco 01 V2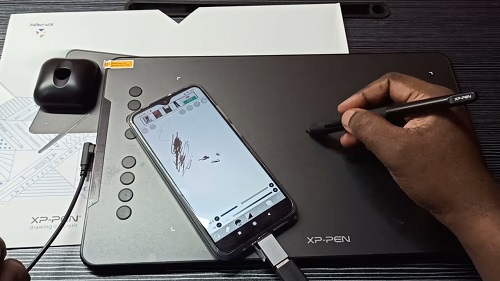 The 10 x 6.25 inches active drawing space of XPPen Deco 01 V2 provides users with larger space to draw. It also brings users a more enjoyable experience of the tablet and increases productivity.
you will get the fast and accurate tracking as well as support for pressure and tilt sensitivity.
4. XPPEN Deco Pro Series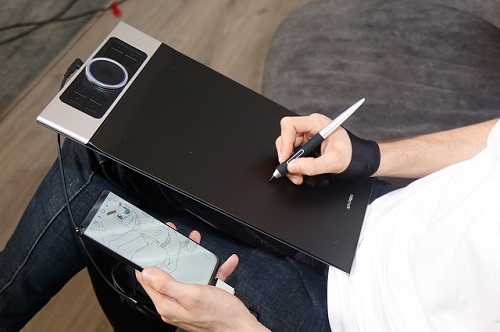 The build quality of the tablet is pretty good. The Deco Pro has a aluminum case which makes the device feel premium.
The Deco Pro provides a comprehensively capable drawing experience, you'll be enjoying something pretty damn close to a premium drawing tablet experience.
5. XPPEN Deco mini4 / Deco mini7 / Deco mini7W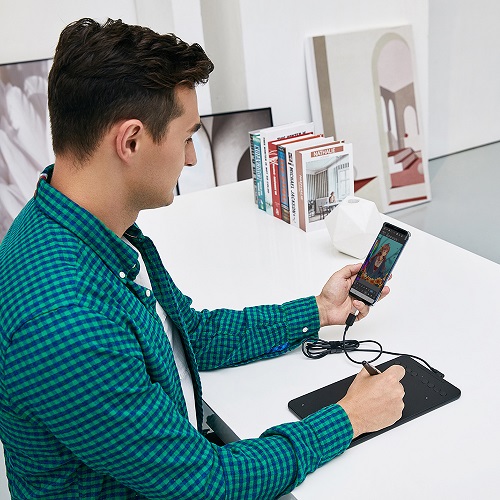 XPPEN Deco Mini7 / Deco Mini7w come with eight customizable ExpressKeys ( deco mini4 is six ) that put your favorite shortcuts like undo or copy/paste at your fingertips when used with your Mac/PC.
XPPEN Deco mini series is compact and minimalistic design. It won't take much space on your desk with a compact body. You can place it anywhere, such as on your lap, while drawing.
6. XPPEN Deco Fun Series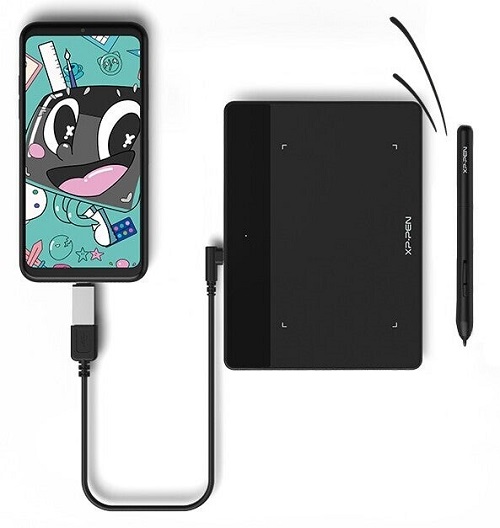 XPPen Deco Fun series are available in three XS/S/L sizes and four colors: classic black, space blue, apple green, and carmine red, to meet your personal preference. Pick your favorite and enjoy Deco Fun!
it works with Chromebook and is a economic solution for Drawing, writing,taking notes and E-Learning/Online Classes.
7. XPPen Artist (2nd Generation) series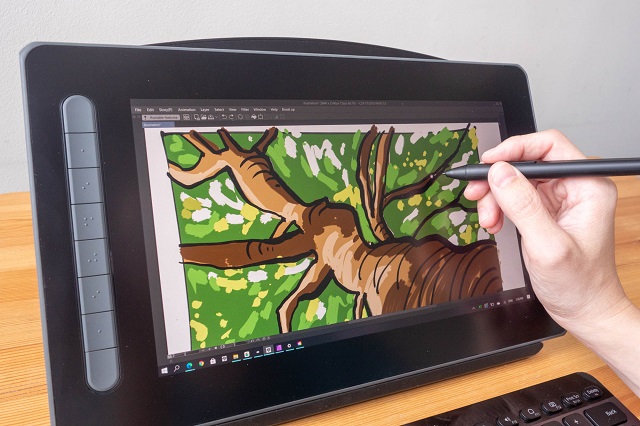 If you don't mind adding an external display, XP-Pen has another option. The company's new $200~$400 XPPen Artist (2nd Generation) display drawing tablet is its cheapest yet to have Android support. it only need a single usb-c cable to connect to your android smartphone or tablet but it also needs to be connected to a power outlet.
The XPPen Artist (2nd Generation) has a 10,1", 11,9" 13,3" or 15.4" 1080p fully laminated display with a matte surface that feels more like paper than the average glass screen. and it covers more than 90% of the Adobe RGB color gamut.
The XPPen Artist (2nd Generation) has support for Windows and macOS, of course, but this device also works with Android phones. it will let you more portable to drawing on the go than ever before.
List of non-compatible Android Devices
Not all Android devices can support the XP-PEN tablet. Currently, the following Android Phones/Tablets cannot work properly with XPPen tablets:
Nexus 6/Google
Galaxy S6/Samsung
Galaxy S7 edge/Samsung
Galaxy S7/Samsung
Galaxy Tab S2/Samsung
Galaxy S8/Samsung
Galaxy Note 4/Samsung USB micro-B
Galaxy Note 8/Samsung USB Type-C
Galaxy Note 9/Samsung USB Type-C