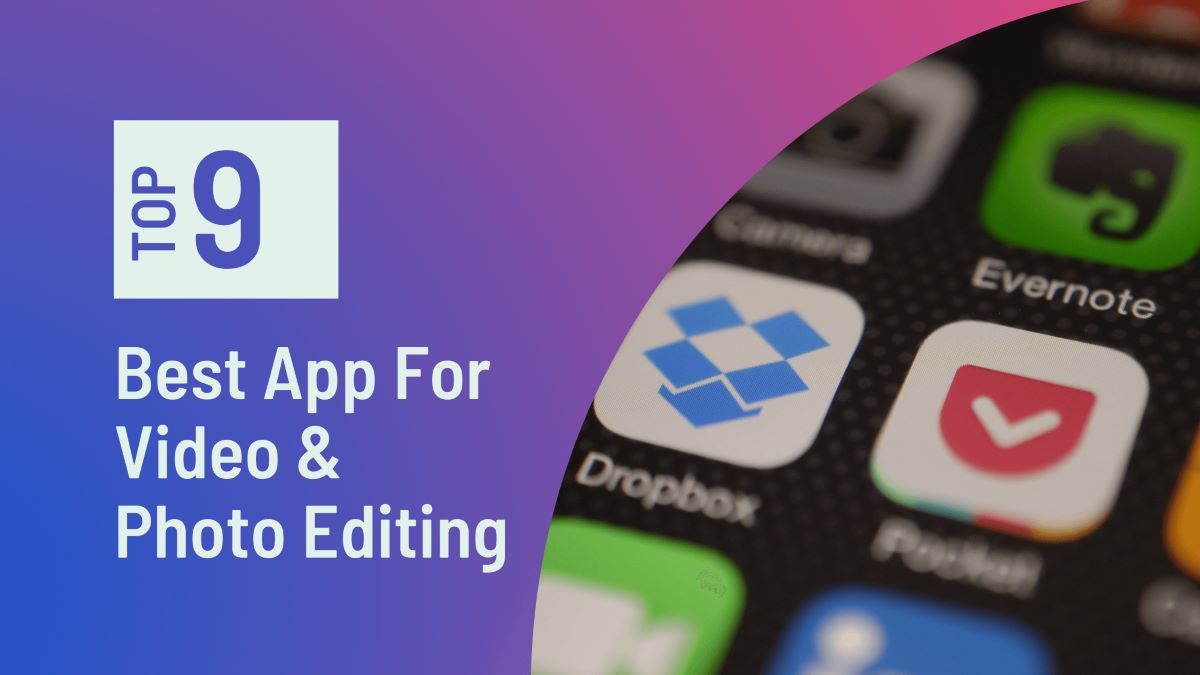 10 Best Amazing App For Photo and Video Editing Via Mobile Phone
TIPS
XPPen
2023-08-23 15:28:43
6 min read
There are an ever growing number of Android video editors available on the Play Store today. And unless you know exactly what your requirements are, it can become overwhelming to zero in and figure out which is the best video editor for Android. Lucky for you we have done all the hard work for you. So simply put - check out this article to know more about these amazing video editor apps.
In this article, we bring you the top ten best video editing apps for Android to give you a starting point when it comes to editing your clips. The article is split into two sections - ones that are free and some which come at a cost.
Here are the ones we'll be covering:
1. Filmr
2. Quik
3. FilmoraGo
4. Kinemaster
5. Viva Video
6. WeVideo
7. Video Show
8. Magisto
9. InShot
10. Power Director
1. Filmr
Filmr is a very easy to use video editing application that caters to both the beginner and advanced user. Regardless of your level, you will be able to create something cool with an intuitive interface. There are lots of customisation options that were made after listening to feedback from our users. You can add transition effects , filters and other elements such as text or audio in order to change the aesthetics of your video for a more professional look.
Key Features:
- No limit on the number of images/videos you can import
- Smooth and unique transitions between videos
- Multiple fonts to make your text stand out
- Switch video format with ease: horizontal (16:9 and 4:5), vertical (4:3), stories (9:16), and square (1:1)
- 20 million+ royalty free music library
- Exclusive filters and effects to transform videos
2. Quik
Quik, one of the best free video editing apps on Android and iOS, has been created by GoPro. With Quik, it only takes a few taps to create some truly stunning videos. Video transitions are handled automatically and then fine-tuned according to your liking. Furthermore, applying beat-synced themes is a breeze and allows for gorgeous, shareable edits with ease.
Key Features:
- Add up to 75 photos and video clips from your gallery, cloud storage, or GoPro Plus
- Compatible with motion photos
- Unlimited back-up at 100% quality
- GPS Stickers to showcase GoPro video's speed
- AI-powered face, movement, and sound detection for the perfect frame. Open to manual corrections
- 23+ themes for any occasion
- Record, trim or rotate videos, add text overlays, change video speed
- Videos in various dimensions – square, portrait, or cinema
- 100+ free songs for background or add your own
- HD 1080p export
- QuikStories – works with the GoPro App and compiles excellent videos with media shot within the last 72 hours.
- The PRO version automatically backs up your GoPro footage
3. FilmoraGo
A pretty powerful video editing application, FilmoraGo is also one of the best free video editing apps for Android phones. It features many different presets and effects to help you edit your videos seamlessly. You can easily share your videos with your friends on Youtube, Instagram, Facebook, Whatsapp right from the platform.
Key Features:
- Import from social networking sites like Instagram and Facebook
- Extensive library of licensed songs
- Lip sync your videos
- Make videos in various dimensions – square, cinema
- Reverse, trim or rotate videos, add text overlays, play with speed
- Multiple Fast or Slow motions in the same video
- Change motion and timeline of title, can add multiple titles
- Supports many international languages like German, Italian, Turkish, Japanese, Korean, Arabic, Russian, French, Spanish, etc
4. KineMaster
KineMaster is an incredibly powerful Android video editing app. With more than 2500 free-to-use transitions, effects, and tracks, KineMaster captivates users with a huge toolchain that is both beautifully designed and easy to use. Every aspect of your video can be pivoted in the app instantly to give it a unique personality that's all your own!
- In-built graphics, fonts, stickers, transitions, clips, and more to beautify your video
- Multiple layers of video, stickers, images, text, etc
- It includes a keyframe animation tool to add motion to layers
- Voice overs, voice changers, sound effects, background music
- Create beautiful effects with a blending mode
- Share on YouTube, Facebook, Dropbox, etc
5. VivaVideo
VivaVideo is one of the most feature-rich video editing apps. Not only can you trim your footage, rotate a video clip, and upload it to social media directly from within the app, but there are hundreds of categories within its special effects library that lets you edit individual clips in whatever way you see fit or add a unique spin to them by layering several different effects on top of each other for some truly unique and unpredictable results. VivaVideo features over 700 Stickers & Effects, 150 Animated Transitions/Animated Overlays and 60 Music Tracks out of the box to help your creativity really shine through.

- Professional music video maker with songs and effects
- Make videos from pictures and songs easily
- Several video editing effects: blur background, slow down videos, speed up videos, etc
- Combine several video clips to make one video
- Can cut, edit, merge, paste while editing a video
- Export videos at your desired resolution like 720p, 1080p, 4K, etc
6. WeVideo
Wevideo makes it easy for Android users to get started making quality videos. If you're looking for a new way to capture memories, Wevideo is a great app for working from your Android device and getting that fresh footage sent directly to YouTube or the cloud. You can even use the app on its own through your camera's lens if you don't have any additional equipment handy. Since we utilize the staid LP format in an innovative manner, you may want to know that LPs came first. Of course, video formats like Mini-DV came later as developers worked tirelessly towards developing a more sophisticated platform that could be used across multiple devices like smartphones, tablets and even laptops.

Key Features:
- Create stunning videos with exceptional video themes and video filters
- With selected upgrades, you can publish up to 4K Ultra High Definition video
- Use the blurred background to enhance your vertical videos
- Add your own music or use its royalty-free library for a custom soundtrack
- Publish and upload to YouTube, Dropbox, Instagram, Facebook, etc
7. VideoShow
VideoShow provides excellent video editing features. It is an easy to use and practical video editing app for both art directors and beginners. With the help of this video cutter, you can reverse, blur, duplicate, edit, merge, trim clips/videos etc.

VideoShow offers excellent video editing features. It is an easy and practical app for both aspiring and professional artists. With the help of this video cutter, you can reverse, blur, duplicate, edit, merge, trim, split, collage clips or videos.
Key Features:
- Create artistic subtitles with a variety of text fonts and styles
- Reduce video size directly in the app
- Easy and practical for professionals as well as beginners
- One can easily shoot videos through the app and edit them
- Can extract audio from existing videos
- Doodle on video (only in VIP version)
8. Magisto
Magisto is an app that lets you edit your movies into great movies. This works by letting you select what parts of your movie to keep, and what to cut out. It also offers several filters, such as having a green screen effect or fading out the sound at the end. In addition to this, it can add music and fantastic effects, make your videos look professional worth sharing with friends and family alike!

Key Features:
- Share your video content on social networking platforms with a single tap
- Pick royalty-free music divided by genre, mood and category
- Add music directly from your device
- Combine clips, photos, stickers, music, texts, filters, etc. to make a fabulous video
- Turn every video into a story with the app's intelligent AI
9. InShot
InShot Video Editor. Making a video is no easy feat, especially when you're itching to be creative and wind up making 50 edits before you find that perfect balance of clip length, music, transitions and effects. It can be frustrating for sure but luckily there are tools like InShot!
Key Features:
- Video Splitter, Video Trimmer and Video Cutter
- Merge and join clips from two different videos
- Powerful pro video editor for Instagram, YouTube, TikTok, Musical.ly, etc
- Loads of unique filters and colorful backgrounds
- Supports multiple formats/ratios
- Adjust music volume with a fade-in and fade-out feature
10. PowerDirector
PowerDirector is an Android video editing tool that lets you create videos in 4K quality, edit them using multiple timelines, and share them on YouTube, Instagram or Facebook. It also helps enhance the quality of your videos by adding music and transitions, applying special effects such as image filters and emojis, and adding text to the surface of your video.
Key Features:
- Export videos with up to 4K resolution
- Video Stabilizer to fix shaky footage
- Chroma key to edit green screen background
- Add glitch and transition effects to make the video look futuristic
- Overlay clips to produce double exposure effects
- Multiple blending modes and multi-timeline interface
Final Verdict
Now that you've read the list of the top 10 android video editors of 2022, go ahead and download a few apps that fit your requirements to try. If you're interested in learning how to edit videos on your android, don't forget to check out our blog on creating cool edits in less than 5 minutes!
About Us
Originated from 2005, XPPen is now one of the top brands under HANVON UGEE, integrated with digital drawing products, content and service as a globally notable digital brand of digital art innovation.
Learn more
KNOWLEDGE
ROUNDUPS
ANIMALS
TIPS
FOCUSED
PLANTS
BEGINNER
OTHERS
INTERVIEW
Join Our Newsletter Today
Stay in the loop with our latest artistic innovations and special offers