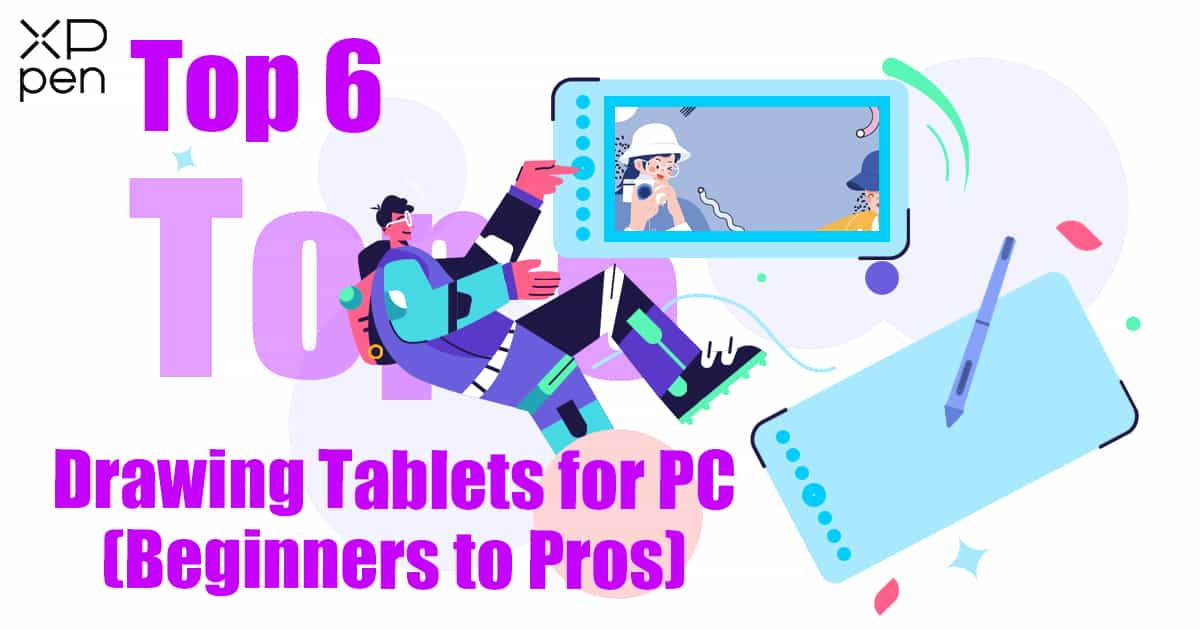 Top 6 Drawing Tablets for PC in 2023 (Beginners to Pros)
ROUNDUPS
XPPen
2023-09-11 09:09:45
7 min read
Choosing the best drawing tablet for beginners and professionals on PC can be as intricate as selecting the perfect brushstroke for a masterpiece. In this guide, we'll embark on a journey to compare and contrast a selection of top-notch tablets, each designed to cater to distinct needs. From entry-level options to high-end wonders, we'll help you navigate the vast landscape of digital drawing tools.
In this article, we will guide you in choosing the best drawing tablets perfect for beginners and seasoned professionals.
Should you get a drawing tablet for your PC?
A drawing tablet provides better artistic results and a more comfortable drawing experience than using a mouse. The stylus feels like a real brush and can create lines of different thicknesses depending on how hard you press or tilt it.
It also works with many software programs, like Photoshop, Illustrator, and Autodesk Sketchbook. This means you can use the drawing tablet with the software you are already familiar with.
Plus, a drawing tablet is more ergonomic than using a mouse for a long time.
Do you need a drawing tablet with a screen?
Whether you need to buy a drawing tablet with a screen depends on your needs and preferences. Drawing tablets with screens are usually more expensive but more professional.
If you're a beginner, we recommend starting with a drawing tablet without a screen. It's cheaper, more portable, and easier to learn. If you have more advanced needs, you can buy a drawing tablet with a screen.
How to choose the best drawing tablets for your PC?
You need to consider several factors in choosing the best drawing tablets for your PC. Here are some of them:
1. Compatibility
First, you need to confirm the operating system and version number of your computer so that you get the drawing tablet compatible with it.
2. Needs
Do you want a drawing tablet for professional needs or just as a hobby? If you are just out of interest and do not have high requirements for professionalism, I recommend you buy a drawing tablet with average performance.
3. Budget
The price of a drawing tablet varies depending on the brand, model, function, and performance. It generally ranges from $50 to $500. Setting a budget can narrow down your options.
4. Work Area
A large work area is a good choice if you often need to do a lot of detailed drawing. Also kinder to your eyes. When the professional requirements are not very high, you can choose according to your workspace or personal preferences.
5. Pressure Sensitivity
Pressure sensitivity is a drawing tablet feature that allows you to draw different thicknesses of lines depending on how hard you press the pen. Most of them have a pressure sensitivity from 2,048 to 8,192 levels, which should meet the needs of most users.
However, if you want to achieve a more accurate drawing effect, you need to choose a drawing tablet with higher pressure sensitivity, XPPen Artist Pro 16 (Gen 2)with a pressure sensitivity of 16,384 is the first drawing tablet in the world to reach such a level, which can meet your needs.
6. Accuracy
The higher the precision of the tip of the drawing pen, the more accurately the tablet can recognize the position of the tip and the more accurately the line is drawn.
7. Tilt Function
Tilt support allows you to change the angle of your pen to create different effects. This can be useful for shading and blending.
8. Resolution
The higher the resolution, the more details of the pen tip movement can be recognized by the drawing tablet, and the smoother the lines.
9. Software Compatibility
Determine if the tablet is compatible with the drawing software you are used to, such as Photoshop, Illustrator, and many more.
10. Brand and Reviews
You can search for reviews of drawing tablet brands on your browser or on social media. Second, compare the customer service of these brands.
XPPen is a trusted brand by beginners and professionals for their digital drawing tablets and digital art accessories.
Best 3 drawing tablets for beginners on PC
If you are a beginner and don't have high requirements for drawing precision, then I recommend you buy a drawing tablet without a screen. Because it is more portable and cheaper. Next, I will recommend three basic drawing tablets with good reviews, and I hope they can be helpful to you.
TOP1: XPPen Deco 01 V2
Deco 01 V2is a drawing tablet with a 10 x 6.25-inch working area. But with only 8 mm thickness, you can take it anywhere without the burden of lugging around a heavy tablet!
The stylus supports up to 60-degree angled brush effects for smoother, more natural lines and strokes. The stylus has no battery and no charging is required! The stylus is true-to-life with 8,192 levels of pressure sensitivity, giving it the intelligence to modify, navigate, and create with a full pallet of brushes and pens.
The most important thing is that it only costs $50.99, which is a very cost-effective drawing tablet.
TOP2: XPPen Deco MW
Deco MW is equipped with an X3 chip stylus with a pressure sensitivity of 8192 and a tilt angle of 60 degrees, giving you the real feeling of traditional pen and paper. And with a Bluetooth v5.0 chip, you are not limited by cables and can use it more freely.
The Deco MW graphics tablet is equipped with a large-capacity lithium battery (1000mAh/3.7V), with a battery life of more than 10 hours.This drawing tablet features eight shortcut keys that can be customized to suit any desired combination of shortcut keys without the need for a computer keyboard.
TOP3: XPPen Star G960S Plus
XPPen Star G960S Plus features a 9x6-inch work area, giving you more room to create. Compared to high-end tablet stylus, the affordable PH2 stylus also has an eraser on the end. It is modeled on the traditional pencil and adapted to the user's habits.
With no settings or toggle buttons, you can instantly modify or delete unwanted markers. Star G960S Plus supports connection with Android tablets and mobile phones and works with most software, such as ibis Paint X, FlipaClip, Medibang, Autodesk Sketchbook, Zenbrush, Artrage, etc. In addition, it has four customizable shortcut keys.
The battery-free stylus requires no batteries or charging, allowing for long hours of uninterrupted drawing. The pressure sensitivity reaches 8,192 levels, allowing you to draw thick and thin lines at will. The stylus also supports a tilt function of up to 60 degrees, which can achieve a natural and smooth tilting brush effect.
Pro Tip: You can refer to this article to understand what LPI is.
Best 3 drawing tablet with screen for professionals on PC
Professionals tend to pay more attention to the sensitivity and accuracy of drawing displays, so the price will be more expensive. Here are the 3 with better performance that I carefully selected.
TOP1: XPPen Artist Pro 16 (Gen 2)
XPPen has been focusing on making drawing tablets for 18 years. The newly launched product Artist Pro 16 (Gen 2) is a drawing tablet with a screen that is designed for professional artists.
It has a 16-inch screen with a resolution of 2,560x1,600. The supporting X3 Pro Smart Chip Stylus is the world's first stylus with a pressure sensitivity of 16k.
In addition, it is compatible with Windows 7 (or later), macOS 10.10 (or later), Android (USB3.1 DP1.2), Chrome OS 88 (or later), and Linux and supports popular digital art software such as Adobe Photoshop, Illustrator, SAI, and Blender 3D, etc.
You can get a preferred working posture by spreading the built-in foldable stand. Even better news, it's only $539.99.
TOP2: XPPen Artist 24
XPPen Artist 24 Drawing Display has a 23.8-inch screen with a resolution of 1920x1080. Artist 24 (FHD) features a 132% sRGB color gamut and a contrast ratio of up to 3000:1 for natural color transitions, superb color accuracy, and saturation.
The battery-free P05R stylus lets you focus more on creating without interrupting charging. The pressure sensitivity is 8,192 levels, which accurately locates every light and heavy brush stroke to ensure smooth and delicate lines. And with 60° tilt recognition, just tilt the pen to add shading to your creations.
At the same time, the bracket is adjustable, and the adjustable angle can be realized from 16° to 90° with just a slight push. More than just a graphics display, the Artist 24 (FHD) can project games, videos, and more onto this massive 23.8-inch screen for an expansive, immersive viewing experience. It's also cheap at $455.99.
TOP3: XPPen Artist Pro 14 (Gen 2)
Artist Pro 14 (Gen 2) has a screen resolution of 1920 x 1200 and a working area of 526.85 x 296.35mm. The pressure sensitivity reaches 16384. The initial response rate of only 90ms*.
The optimized display reduces potentially harmful blue light emissions for greater eye comfort. Artist Pro 14 (Gen 2) supports tablet mode: turn off the screen and get a tablet. It is the most cost-effective product among the three.
| | | | | | |
| --- | --- | --- | --- | --- | --- |
| | Work Area(mm) | Display Resolution | Pressure sensitivity | Tilt | Price |
| | 298.94 x 186.8 | 2560 x 1440 | 8192 | 60° | $455.99 |
| Artist Pro 16 (Gen 2) | 344.68 × 215.4 | 2560 x 1600 | 16384 | 60° | $539.99 |
| Artist Pro 14 (Gen 2) | 526.85 x 296.3 | 1920 x 1200 | 16384 | 60° | $377.99 |
FAQs about choosing drawing tablets for PC
Q1: What's the best drawing tablet for beginners?
For beginners, we recommend Deco 01 V2, because it is an affordable tool that meets the essential needs of beginners.
Q2: Do standalone drawing tablets exist?
Yes, standalone drawing tablets do exist. Standalone drawing tablets have their own screen and computer inside, so you can use them anywhere without connecting to a computer. They are good for artists and designers who need a portable and powerful drawing tablet. The Samsung Galaxy Tab S8 Ultra features a large 14.6-inch Super AMOLED display with a resolution of 2960 x 1848. And powered by the fastest mobile processor, the Qualcomm Snapdragon 8 Gen 1 processor. It comes with the pressure-sensitive stylus S Pen, which supports the second generation of Wacom EMR technology, allowing you to draw more precisely.
Q3: Is a drawing tablet better than a mouse?
Whether a drawing tablet is better than a mouse depends on the tasks you are doing. Drawing tablets are specifically designed for tasks that involve graphic design, digital art, and precise cursor control, while mice are more general-purpose input devices.
Q4: Should I get a drawing tablet for graphic design?
Getting a drawing tablet for graphic design can be a good choice if you're involved in tasks that require higher precision.
Conclusion
Now that you learned how to choose the best drawing tablets, we hope that these factors will come into your mind when you decide to start your digital drawing journey or when you plan to upgrade your current setup.
What's your priority when choosing a drawing tablet? Share your thoughts with us in the comments!
About Us
Originated from 2005, XPPen is now one of the top brands under HANVON UGEE, integrated with digital drawing products, content and service as a globally notable digital brand of digital art innovation.
Learn more
ANIMALS
TIPS
KNOWLEDGE
ROUNDUPS
FOCUSED
BEGINNER
PLANTS
OTHERS
INTERVIEW
Join Our Newsletter Today
Stay in the loop with our latest artistic innovations and special offers