Top 10 Best Vector Graphic Design & Digital Drawing Software: Free and Paid
TIPS
XPPen
2023-09-20 16:57:33
12 min read
In today's digital age, the demand for graphic design is immense. The cyber world, in particular, witnesses a vast volume of graphic activities. Numerous individuals are venturing into businesses centered around graphic design.

From product packaging and glossy magazines to innovative websites and state-of-the-art apps, captivating visuals and sleek designs fuel today's market. To make standalone graphics or elements for broader projects, robust graphic design software is essential to ensure your concepts shine. Utilize the preferred software in the creative sector for art, design, and teamwork to actualize your visions. Operate flexibly, choosing your location and timing, and instantly share your work with team members and clients.
Computer graphics software is defined as a single or set of applications that allow users to visually modify images or models on a computer. Computer graphics can be segmented into two main types: raster and vector graphics, each having 2D and 3D variations.
Raster graphics consist of a matrix or grid of colored pixels or dots. Common file formats for raster graphics include .jpg, .png, and .tiff. Examples of raster graphics software are Photoshop, Corel Painter, Affinity Photo, GIMP, Krita, Clip Studio Paint, Medibang Paint, Sketchbook, and more.
The ideal graphic design software varies based on one's specialization, which is inherently influenced by individual passion and skill.
There isn't a singular "best" graphic design software; the choice depends on specific needs. Multiple tools are often required. For instance, InDesign is optimal for layouts and text-heavy designs, Illustrator excels in drawings, logos, and infographics, Photoshop is the choice for photo edits or pixel-based illustrations, and Acrobat is suited for prepress tasks. The list goes on.
In the realm of graphic design, vector graphics are predominantly utilized. However, for raster images, photographs and certain gradient designs, raster graphics are more appropriate.
Graphic design editor for vector art
Navigating through the realm of visuals has been made effortless with Vector graphics. With precision and elegance, vector graphics software empowers you to edit, sketch, and alter images, diagrams, and figures.
Vector graphics software provides users the capability to employ mathematical instructions to craft digital images. It facilitates the creation of high-resolution illustrations. Using vector graphics ensures that you can develop programs without sacrificing image quality.
Did you realize the vast applications of vector graphics? They span from graphic design to page composition, and with freehand drawing, users can produce high-definition visuals using this vector art technique. Among its myriad applications, it's predominantly used in printing industries, 3-D imagery, and CAD technology. Moreover, graphic designers can produce accurate, scalable, and multi-layered visuals utilizing this vector graphics method.
What is vector graphics?
Vector graphics refer to the design and formation of digital visuals through a sequence of commands or mathematical expressions, which dictate the positioning of lines and shapes in a two-dimensional or three-dimensional space. [Read more: How to get into graphic design]
To put it simply, vector graphics are composed of paths defined by starting and ending points, complemented by additional points, curves, and angles. These paths can take the form of straight lines, triangles, wavy shapes, or rectangles. With these paths, one can craft either basic or intricate illustrations.
Vector-based visuals can be enlarged without any degradation in quality since they aren't constructed from pixels. The boundaries of objects in vector graphics are always crisp and clear. For non-linear art visuals, such as digitized photos or scanned artworks, raster graphics are suitable. Raster graphics rely on pixels and utilize bitmaps to retain data. However, for resizing images without quality loss, vector graphics are the optimal choice.
What are the benefits of vector graphics software?
When it comes to design, the primary benefits of vector art programs include:
Ideal for intricate illustrations;

High Quality;

Expandable vector images;

Suitable for animations and slideshows;

Visually appealing graphics;

File size determined by intricacy;

Effortless image creation;

Absence of image warping;

Easy to modify;

Consumes minimal storage—results in a compact file size.
In the marketplace, you'll encounter diverse kinds of vector programs. These can range from commercial to open-source, complimentary, or web-based. If you're in pursuit of free and open-source vector software, then it's safe to say you've arrived at the right destination.
10 best vector drawing softwares for graphic design
1. Adobe Illustrator CC
Illustrator is one of the best software for vector graphics, setting the industry benchmark. It's the primary choice for graphic professionals. Today, Illustrator sets the bar for all vector graphic art programs, boasting a comprehensive set of tools like pencil, pen, curve, bristle brushes, scatter art, and calligraphy.
If your aim is to create logos, sketches, typography, icons, or intricate illustrations for videos or mobile, Illustrator is your go-to. It allows for pixel-perfect shapes ensuring flawless alignment.
For flat and simple logo designs, Adobe Illustrator or other vector-based software is recommended. For projects like logos, book covers, posters with minimal text, Illustrator (and Photoshop) is sufficient.
Designing is expedited with Illustrator, and its unique plugins can transform a basic webpage into a visually appealing one. While some plugins cater to older versions, newer ones like Creative Cloud enhance its capabilities.
However, Adobe now offers Illustrator only through the Creative Cloud suite, which can be pricey. We've compared the best Adobe Illustrator alternatives for you. Despite its robust features, regular updates, and compatibility with both Mac and Windows, the price might deter occasional users.
Key features include an impressive touch-type tool, user-friendly free transform tool, intuitive user interface, in-panel editing, and excellent scalability.
Using an XPPen drawing pad with the right Illustrator brush settings, I could mimic my hand-drawn style faster than with the pen tool. Once accustomed to the tablet, sketching directly in Illustrator becomes second nature.
2. Corel DRAW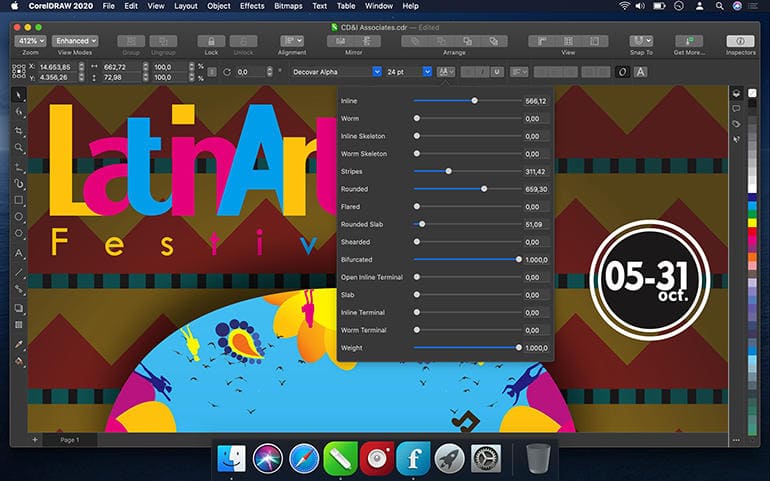 Consider CorelDraw, a renowned vector graphics editor that stands out as a top industry-standard tool. Its user-friendly interface and innovative features make it unparalleled among vector editors. While Corel Draw is suitable for vector illustrations and, to some extent, logo designs, it's a versatile software combining robust vector tools with dynamic page layout capabilities.
It offers basic geometric shape tools, advanced interconnected line and curve tools, and even vector-based brush strokes that emulate traditional painting. The LiveSketch tool effortlessly transforms freehand sketches into precise vector graphics. Filters and effects can be applied to both vector and bitmap images, with a non-destructive layer approach for flexibility.
While in the past, CorelDraw might have lagged behind competitors like Illustrator, it has evolved into a formidable vector editing tool. Its drawing and layout tools are both intuitive and potent. Previous issues have been addressed, and its multilingual support, especially for right-to-left languages, is commendable.
The CorelDRAW Graphics Suite is more than just one application; it's a comprehensive bundle. CorelDRAW isn't just about vector drawing; it also offers desktop publishing, allowing for multi-page project designs. The CorelDRAW Graphics Suite remains contemporary and its availability for both Apple and Windows users is a significant advantage.
3. Affinity Designer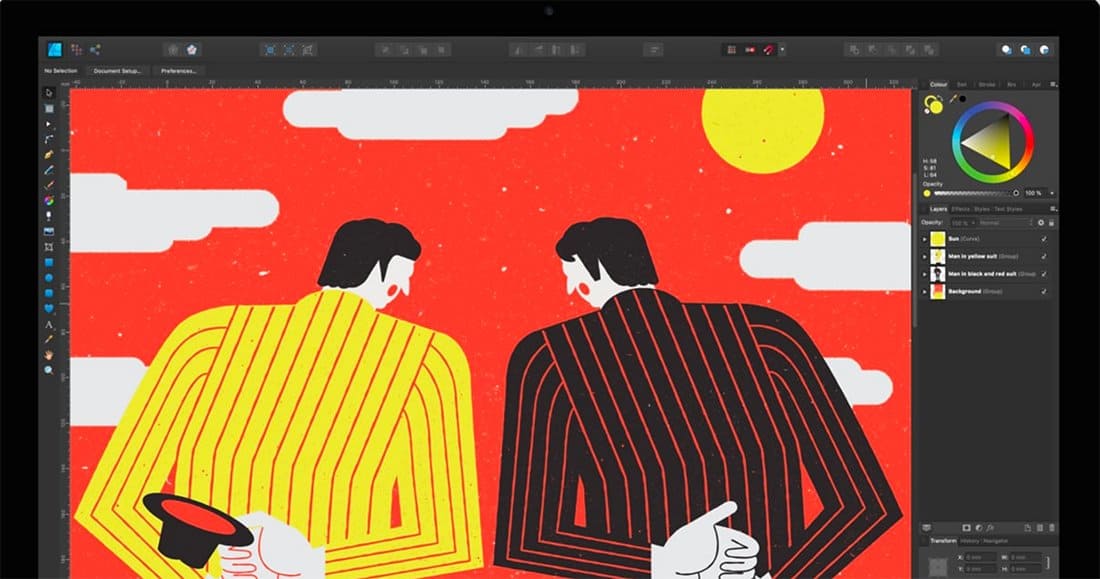 Affinity Designer emerges as a cost-effective and appealing option for designers who may not require the extensive – and pricey – functionalities that Adobe Illustrator provides. It's particularly apt for those embarking on their design journey. The software boasts seamless performance, enhancing your design process and allowing for uninhibited creative expression. Experience real-time transformations with your artwork moving and zooming at 60fps; witness live updates in gradients, effects, adjustments, and curve modifications.
Tailored for professional designers and their unique workflows, Affinity Designer is versatile, catering to a broad spectrum of design needs such as web, branding, concept art, typography, and even intricate patterns for products like ceramics, wallpapers, or textiles.
With Affinity Designer, you have the flexibility to operate in both vector and raster environments, effortlessly toggling between the two. The software is universally compatible, facilitating creation on any device and supporting unlimited artboards. It offers sophisticated color management, allowing work in RGB, CMYK, Greyscale, or LAB color modes with a depth of up to 32-bits per channel.
The program houses an extensive toolkit, designed to ensure precision and efficiency. Its grids and guides are fully adaptable, giving you control over spacing, subdivisions, gutters, and angles. A standout feature of Affinity Designer is its floating-point accuracy, enabling you to zoom into your artwork by an astounding million per cent or more.
Available for both macOS and Windows, Affinity Designer also offers an iPad graphic design application, mirroring the capabilities of its desktop counterpart
4. Inkscape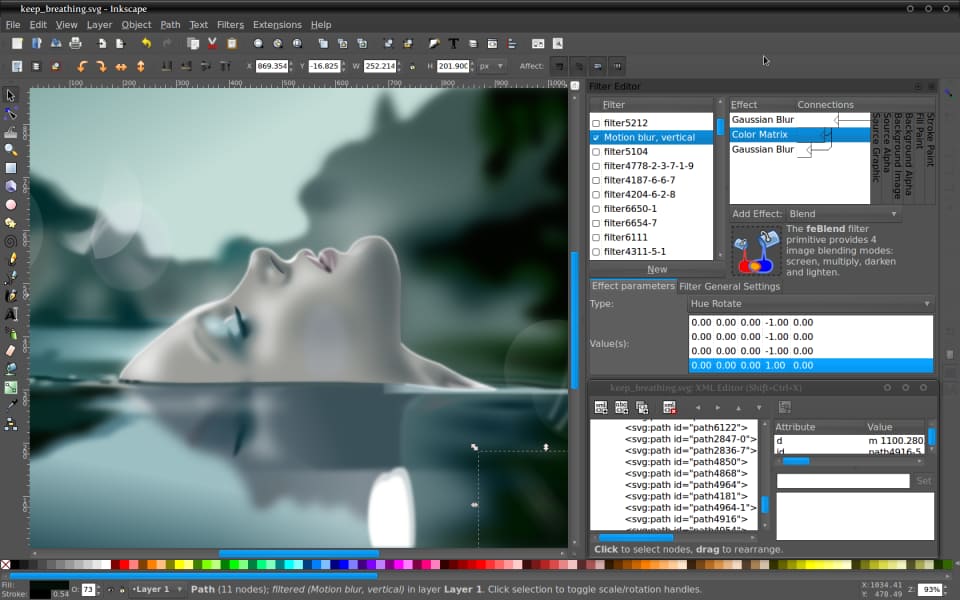 Inkscape stands out as the top free software tailored for enthusiasts of vector art and graphic designers who prefer the SVG file format. Being a GPL licensed application (akin to GIMP), it's available for Windows, Linux, and Apple Mac. Additionally, you can access its source code and adapt it to any Linux version you're using.
This vector design application boasts wide file compatibility, comprehensive text handling, and both Bezier and Spiro curve options. Its extension framework facilitates the easy addition of new features, and there are some truly impressive ones on offer, including enhanced drawing and path tools.
Regardless of whether you're a seasoned professional or someone aiming to craft vector graphics for a personal blog, Inkscape offers a user-friendly experience for sketching, coloring, and illustrating. With the integration of the Ghostscript extension, .eps files become easily accessible. Comparing Inkscape and Illustrator can highlight their differences. Noteworthy features in Inkscape include: Direct source code editing; Shortcut keys for screen pixel movement; On-canvas clone editing; Gradient adjustments; and One-click paint-bucket filling.
This proficient editor excels in SVG integration, accommodating many advanced features often missing in other tools – features like alpha blending, cloned entities, and markers.
Its comprehensive support for various color modes positions it as a formidable contender to Illustrator for both print and digital design. While its interface might be more streamlined than Illustrator's, it doesn't compromise on facilitating intricate designs. A standout feature is its capability to trace bitmap graphics, coupled with support for variable stroke widths and direct importing of Illustrator files.
Inkscape offers an array of filters and a supportive community, fostering designer growth. Its user-friendly nature is complemented by an active community ready to assist. Personally, I've managed to achieve in Inkscape everything I previously did in Adobe Illustrator.
However, a point of contention is its performance; even on high-end PCs, it can lag during intricate rendering tasks. And of course you need an inkscape tablet. It's also worth noting that free graphic tools like Inkscape and Gimp either lack or offer limited CMYK color support.
5. Gravit Designer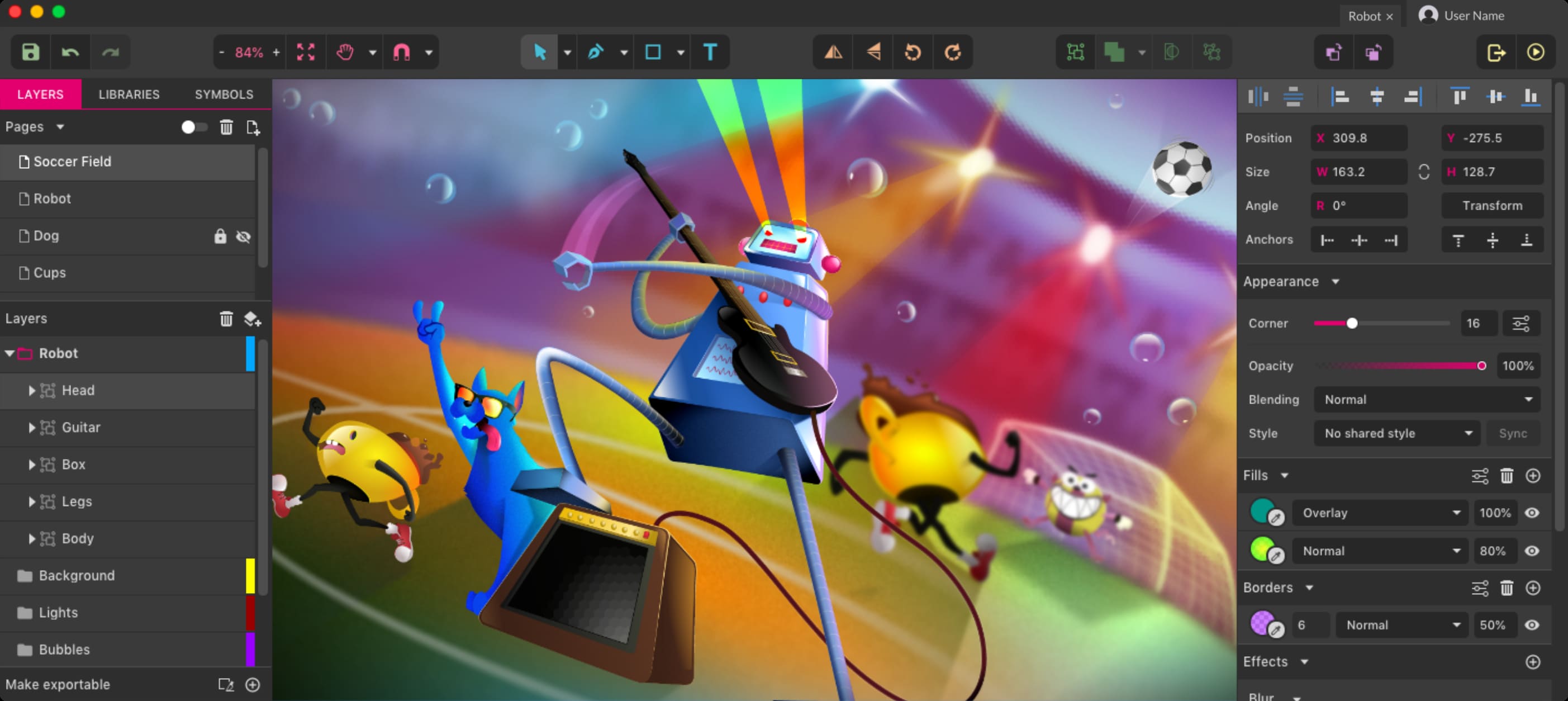 Gravit Designer, from the creators of Corel Draw, is a comprehensive vector design application. This free graphic design tool is perfect for crafting vector-based designs. Within this platform, users can design logos, modify photos, and produce illustrations and animations. However, the free plan of Gravit doesn't offer an offline mode. The software can be tailored to fit the user's preferences. The Gravit Pro version, which is a premium offering, comes with enhanced features such as advanced exporting capabilities, an offline mode, expanded color spaces, and more.
The online edition of Gravit Designer is an HTML-driven graphic design tool that ensures top-tier vector graphics.
Dashboard: Navigating the dashboard is straightforward, allowing users to effortlessly toggle between tabs or instantly change to dark themes. The dashboard also facilitates easy adjustments to document dimensions.
Pages: Gravit's pages seamlessly merge artboards with canvas settings.
Tools and Effects: The software provides a range of tools, like the Bezigon, Lasso, and Pen tools. Additionally, it supports the addition of multiple fills to a single element.
Portability: Gravit Designer ensures complete cross-platform compatibility, covering Windows, Mac, Linux, and Chrome OS, ensuring designers can work effectively from any device.
The software boasts a contemporary, fully adjustable user interface that's both interactive and user-friendly.
Gravit Designer simplifies the process of crafting social media content for platforms such as Instagram and Facebook.
It offers natural flexibility through web and desktop versions of the software.

It supports multiple file formats for export as well as import.

It allows editing of scalable vector graphics.

Its Pro version offers unlimited cloud storage.
However,
There is not a lot of information present about the software from official resources.

A real-time collaboration feature is absent.

Designers can't run prototypes on smartphones to find out how would they look.

Fonts need an active internet connection to work.
6. Xara Designer PRO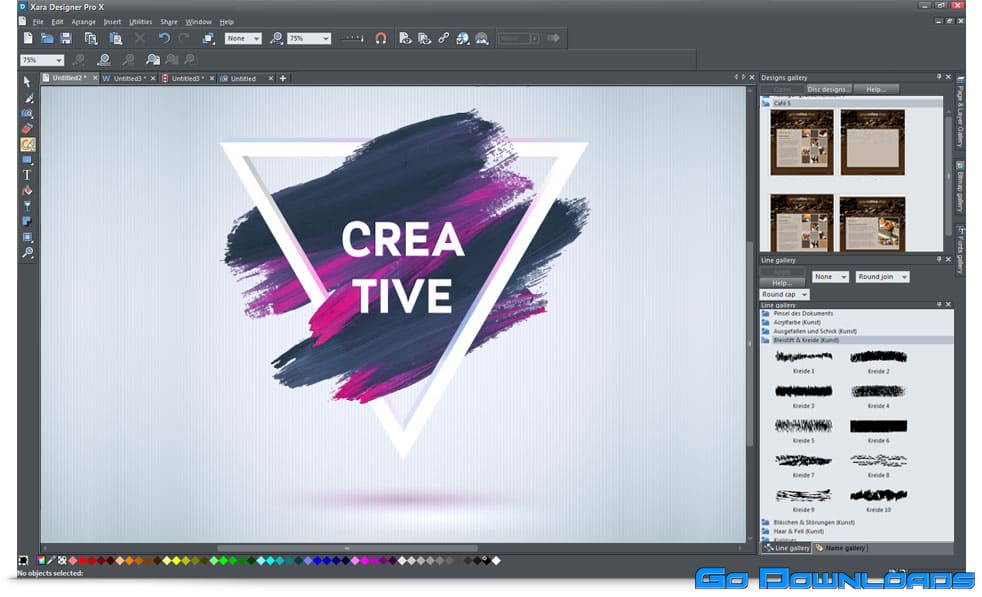 Xara Designer PRO X, commonly referred to as Xara, is a sophisticated yet user-friendly graphic design software exclusive to Windows. Designed to work with both bitmaps and vectors, Xara Designer is versatile enough to manage desktop publishing (DTP), graphic design, illustration, and photo creating and editing tasks all within one platform.
This graphic design application offers an extensive range of template layouts, design components, and access to over a million stock photos, ensuring a swift start to your projects. When working with vectors, whether drawing shapes, lines, or curves, there's no compromise in quality even when enlarging. The software allows for the creation of bespoke design elements that can be incorporated into any project. Features like gradients, outlines, and transparency add a unique flair to your creations.
Boasting a plethora of functionalities, Xara stands out as an exceptional graphic design software, all while being reasonably priced.
Pros:
User-friendly interface.

Intuitive drag and drop capability.

Anti-aliasing functions for efficient editing.

Zoom capabilities exceeding 25,000%.

Seamless integration with Dropbox and Google Drive for file synchronization.

Full compatibility for importing and exporting Adobe PSD files, inclusive of layer support, alpha channels, 16-bit color, and CMYK layer transitions.

Comprehensive toolkit including drawing, 3D extrusion, text management, blends, page arrangement, real-time effects, transparency and feathering, as well as shadows and contours.
Cons:
Only available for Windows.

Its advanced features are sometimes hard to use.

The masking feature is cumbersome and difficult to understand.
7. Sketch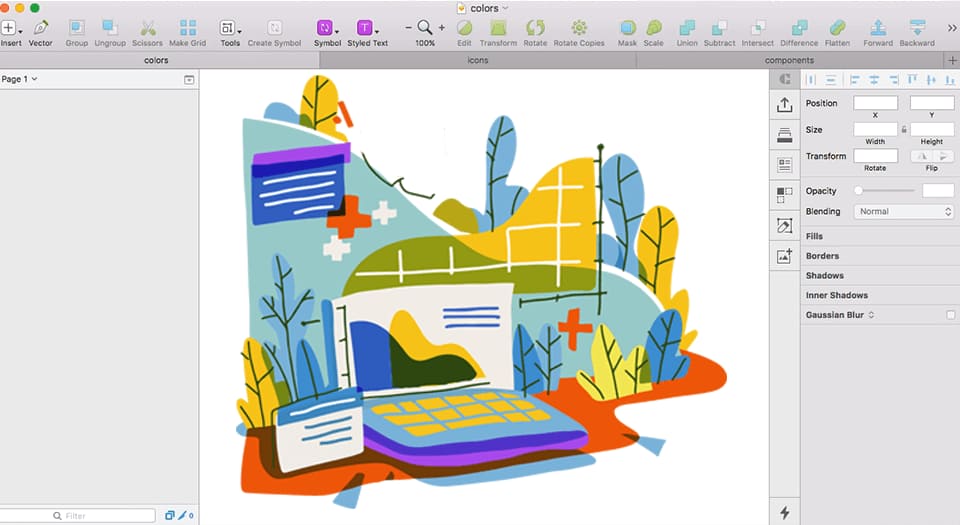 Sketch is an exclusive Mac vector graphic design tool primarily centered on digital design. These digital designs cater to the development of websites, apps, and user interfaces. Unlike Photoshop, Sketch isn't tailored for photo manipulation or print tasks.
Within Sketch, designers can collaboratively craft prototypes directly on the platform. The software boasts a smart layout feature, allowing components to adaptively resize based on content. It offers hundreds of plugins, facilitating precise vector editing and design tasks down to the exact pixel.
This software is also adept at crafting digital icons. However, Sketch falls short when it comes to print design or detailed illustrations.
Primarily, Sketch zeroes in on screen design, especially in crafting icons and interface components for websites and apps. Given its exclusivity to the Apple Mac platform, it's particularly beneficial for designers focusing on iPhone, iPad, and macOS app designs.
While Sketch can serve broader purposes, its forte lies in sculpting refined user interfaces.
8. Serif DrawPlus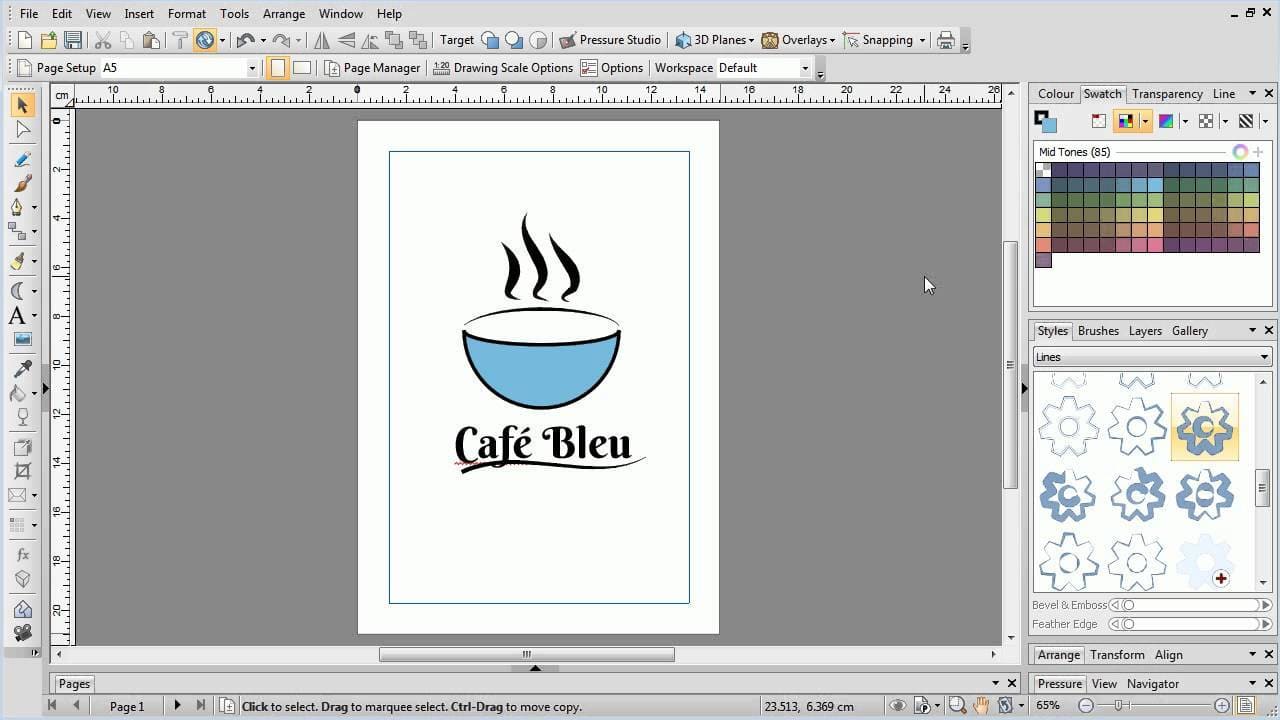 Serif DrawPlus stands out as a 2D vector graphics and animation tool. From crafting banner ads to designing rollover-graphic web-buttons, embedding them with HTML is seamless.
A standout feature of this software is its intuitive and interactive interface. Serif DrawPlus is equipped with a diverse set of tools, empowering designers to produce logos, animations, posters, and more. However, it's exclusive to Windows users.
The software boasts authentic brushes that merge the realism of natural brushes with the precision of vector editing. It presents a rich palette of painting methods, including charcoal, pastel, watercolor, and spray-brushes, enabling users to enhance images or craft original pieces.
With DrawPlus, adding a 3D dimension to your artwork is simple. By integrating surface and lighting effects, your designs are elevated to a lifelike state.
9. Vectr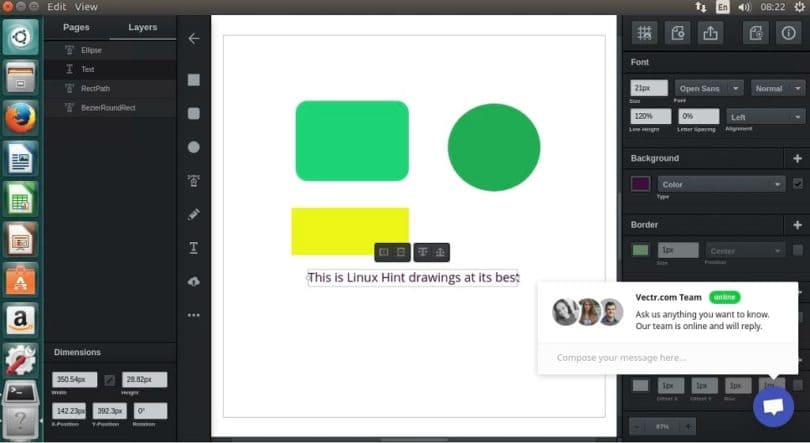 Vectr is a complimentary vector graphics editor that's both intuitive and potent. Catering to bloggers, digital marketers, and website designers, it's ideal for crafting business cards, logos, posters, brochures, and more.
Offered as both a web-based application and a standalone desktop software, Vectr is a cost-free tool for producing 2D vector graphics. Equipped with all the expected vector functionalities, coupled with a plethora of options for filters, shadows, and fonts, it's adaptable for routine design endeavors.
A standout feature is its live collaboration and synchronization capabilities. These features essentially allow real-time design viewing, facilitating collaborative efforts and instant feedback.
Pros:
Ideal for vector novices.

User-centric interface.
Cons:
A restricted range of templates.

Primarily suited for basic tasks and smaller projects.
10. SVG-Edit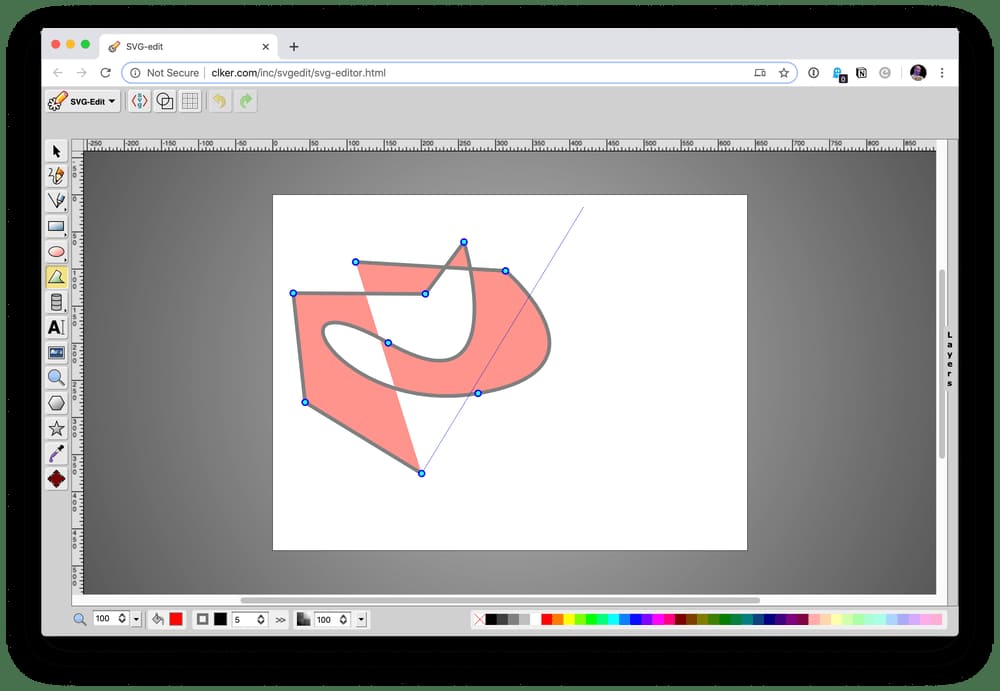 SVG-edit stands as a pioneer among browser-based vector editors, with its roots tracing back to the mid-2000s. It operates exclusively within the browser without any server-side capabilities, meaning you'd need to integrate your own features to save your work directly within the app.
This tool is a cross-browser JavaScript graphic design solution. SVG-Edit is built on two primary interfaces: svgcanvas.js and svg-editor.js. Together, these components synergize to produce efficient vector graphics.
From its inception as a somewhat basic vector drawing software, SVG-edit has seen consistent enhancements in its functionality over the years.
With SVG-edit, users can craft standard shapes like lines, rectangles, circles, polygons, and freehand drawings. It also supports paths, layers, gradients, and offers the ability to view and modify SVG source. You can export your creations to formats like PNG, JPEG, BMP, WEBP, and more. The editor presents a diverse set of tools, including shaping instruments, path tools, a text editor, and hand drawing utilities.
Furthermore, being an open-source platform, SVG-edit is always evolving with new features. Yet, it maintains a user-friendly nature, boasting an intuitive interface. It facilitates exports in both raster and vector formats.
About Us
Originated from 2005, XPPen is now one of the top brands under HANVON UGEE, integrated with digital drawing products, content and service as a globally notable digital brand of digital art innovation.
Learn more
KNOWLEDGE
ROUNDUPS
ANIMALS
TIPS
FOCUSED
PLANTS
BEGINNER
OTHERS
INTERVIEW
Join Our Newsletter Today
Stay in the loop with our latest artistic innovations and special offers