Drawing Tablet for Painting and Sketching in Krita
FOCUSED
XPPen
2023-08-22 18:07:10
12 min read
If you've ever tried to learn how to draw in Krita, probably you've heard about graphics tablets and that you can't really draw digitally without one.

Drawing tablets and PCs were the main tool of illustrators, digital painters, and animators for years.
Almost all digital artist these days uses a graphics tablet to pipe pen input into PC digital art applications.
If you're a digital artist, you're probably using Krita to create your work. But what if you want to use a drawing tablet instead of a mouse? Can you use Krita on a drawing tablet?
What does Krita do?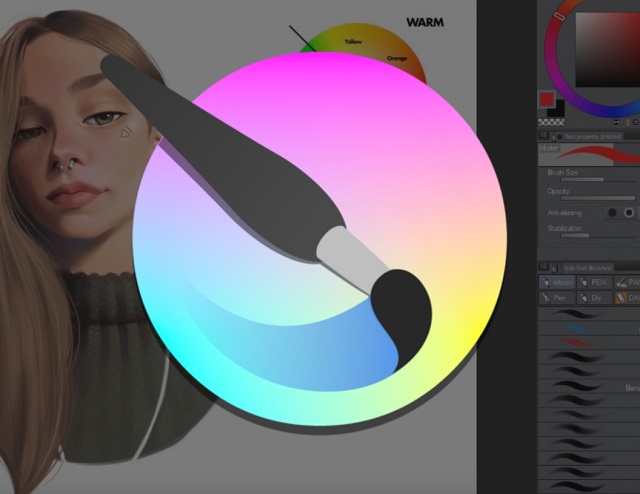 Krita is a full-featured sketching and digital painting application for creating art from start to finish, suitable for concept art, texture, matte painting, illustrations and comics.
Krita is not Photosop, Clip Studio Paint, Paint Tool SAI or Corel Painter copy, but unique creative tool for digital artists. It supports bitmap (main) and vector graphics and wide range of color profiles.
The application supports full color management and it can handle HDR image editing and proofing. CMYK is supported natively and is ready for professional production (Gimp lacks of CMYK Support).
Krita runs on all popular operating systems; Windows, Apple Mac OSX and Linux. It's written in C++, based on KDE Framworks and Qt, supports Python scripting extensions.
It has an intuitive, non-intrusive UI design. It is optimized for multi-core CPUs and uses OpenGL for canvas acceleration and display enhancements.
Krita is primarily designed for free-hand drawing purpose. It has an extensive, highly-customizable brush engine and a sophisticated layer system.
Krita comes with strong layer management system, supporting many layer types e.g. Paint, Vector, Filter, File, Group … You can combine, rearrange, add, delete layers, move objects between layers and choose from three different layer views.
Mask(s) can be applied to any layer for non-destructive transformations e.g. transparency, resize, color filter. More filters can be applied to layer simultaneously and any filter can be switched on or off at any time.
The Krita's Assistant Tool enables you to make the shape you want. You can choose from various drawing assitant toll like perspective, ellipse, fisheye, point, … Multiple assistants can be used at the same time when drawing.
Krita supports various file formats including PSD (Photoshop file format ). It supports loading and saving raster layers, blending modes, layerstyles, layer groups, and transparency masks from PSD.
You can now do proper frame-by-frame animation in Krita. Multiple layers, all sorts of playback speeds, onion skinning, on top of all of Krita's existing paint tools: It's enough to make any animator's fingers itch!
Krita is used by comic book artists, illustrators, concept artists, matte and texture painters and in the digital VFX industry. Krita is free drawing software, licensed under the GNU Public License, version 2 or later.
Does Krita work with drawing tablets?
The answer is yes! You can use Krita with a drawing tablet, and it can be a great way to create digital art.
Krita does support graphic tablets and maps pressure, stroke speed, and other things to its advanced brush engine properties.
Any drawing tablet connected to a computer that runs on Windows, Linux or Mac OS X operating systems is completely compatible with Krita. even the microsoft surface pro.
However, Krita is not compatible with Android and iPad OS tablets, such as the samsung galaxy tab and iPad Pro. because krita is not available on the Apple or Android app store.
Drawing tablets are simply input devices, like a mouse or a keyboard. Their compatibility is entirely related to the operating system, not to their price, brand name or any other characteristic.
Types Of Drawing Tablets
A drawing tablet can be used to draw on the computer like a pencil would. It does not matter if you decide to buy a drawing tablet from Wacom, XPPen or any other companies, they all work the same way.
When you boil it all down, there are only two types of drawing tablets. The first option is a trackpad type tablet, while the other is a screen-type tablet. Each is valuable in its own right, but it's important to consider which best suits your style.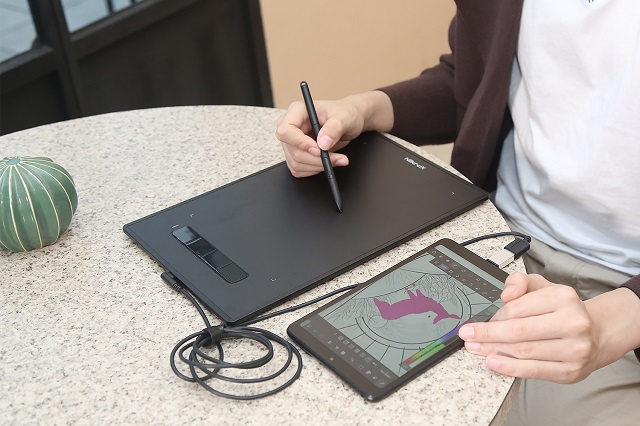 Trackpad type tablets do not have a screen. Only a pad, pen, and even a few express keys on certain models. This type of tablet replaces your mouse and makes adjustments on your actual computer screen. This is a common drawing tablet amongst artists as it's simple and lets you use your actual computer monitor.
The screenless tablet requires the user to have great hand-eye coordination or at least enough patience to develop it overtime. Like any new skill, there will always be a bit of a learning curve at the beginning and you will inevitably have to spend a lot of time practising the basics. However, once you get the hang of it, it's all smooth sailing.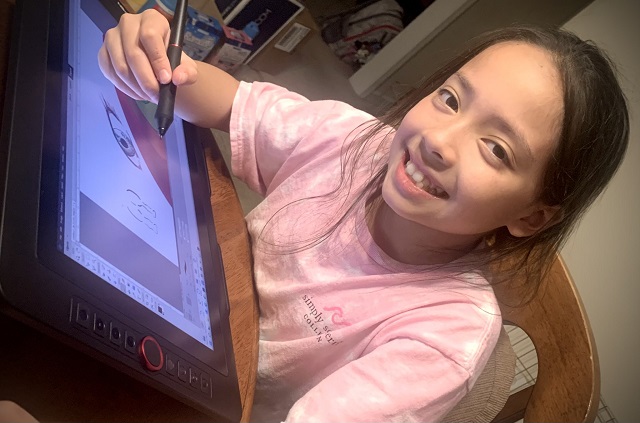 The second type of tablet is the screen type. The screen tablets typically connect to your computer via USB and HDMI to display your screen on the tablet. From there, you can use the drawing tablet to directly draw onto your image as if you're painting. This is a preferable option for anyone who does illustrations.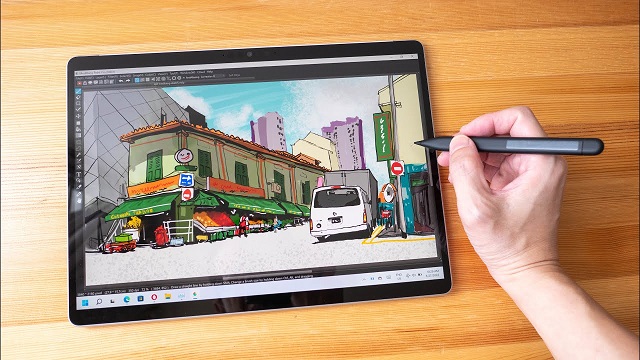 Standalone drawing tablets work virtually the same way as tablets that have a screen. The main difference is that standalone drawing tablets do not need to be connected to a computer, they have everything you need in one package.
The most famous device that belongs to this category is the iPad Pro (iOS), samsung galaxy tab (Android) and microsoft surface pro (windows).
But the stylus is an accessory that is sold separately. It does not come inside the box with the product. So you will need to buy the stylus separately.
This type of tablets are light and portable, but can be a fully capable artist's workstation - perfect for international travel.
Drawing tablets without screens can cost as little as $50. Those with screens tend to cost ≥ $200. standalone drawing tablet is one of the most expensive tablets with a retail price of ≥ 800. So Any screenless tablet would do the job for a beginner.
Which type of tablet you choose depends on your budget and the features you are looking for.
Here's a guide on everything you need to look for when buying a new drawing tablet: https://www.xp-pen.com/blog/how-to-choose-graphic-drawing-tablet-pen-display-monitor.html
Advantages of drawing tablet works with Krita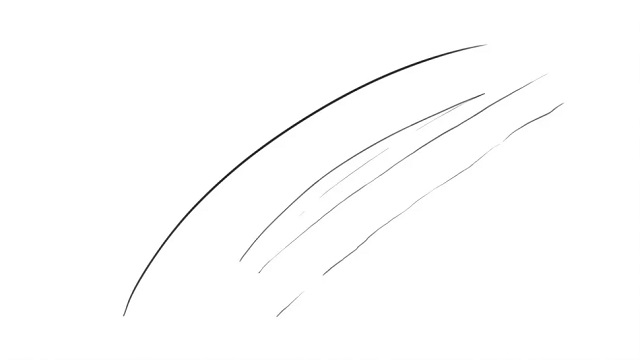 The pen tablet is a very good complement when working in digital painting and illustration. It made the transfer from traditional art to digital art so seamless and actually exciting.
If a standard mouse causes you pain or discomfort though, or if you suffer from a repetitive strain injury (RSI), it can be an unpleasant experience. The drawing tablet offers a different experience that just may be the answer to your problems.
The stylus pen is a fine ergonomic mouse alternative to reduce strain from desk work. It allows us to better control the details when trying to work in krita, it is much more accurate and natural than using the mouse.
Rather than having to continually change brush sizes, a tablet uses pen pressure. Just like when you are drawing on paper, the harder you press will alter the look of the brush stroke.
With a properly installed tablet and stylus, Krita can use information like pressure sensitivity, allowing you to make strokes that get bigger or smaller depending on the pressure you put on them, to create richer and more interesting strokes.
With drawing tablets that have hotkeys functionality, this is another great addition to your workflow in Krita. By mapping your favorite shortcuts to different buttons on your tablet, you can speed up those mundane parts of drawing. For example, you could map a hotkey to undo and redo, so you don't have to use a keyboard shortcut.
Tablets are way faster than mouse for drawing, obviously. You'll work twice as fast. in addition,you get so much more precision with a drawing tablet compared to a mouse...
Drawing Tablet setup in Krita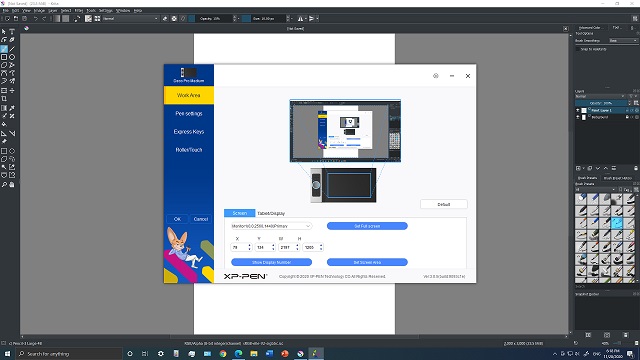 Krita isn't much fun without a pressure sensitive tablet. If the tablet has been properly configured, Krita works with drawing tablet well.
You can modify how the pressure affects what you are drawing in two ways. You can modify the global pressure curve of the application or you can set up different pressure curves for different brushes.
If you have never used a graphic tablet before, it can seem a little tricky to get it set up properly. For more info on how to configure drawing tablet or any other pen pressure tablets out in the market, head over to Krita community forum.
Drawing in Krita with graphic tablet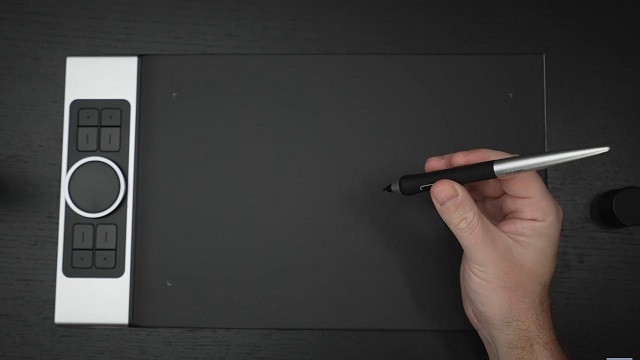 I have a XPPen Deco Pro MW bluetooth graphic tablet which features 11 x 6 inches large active area, slim & sleek design, And it even support connect to android smartphones and tablets.
The tablet itself is just 7mm thick and feels like a solid slab when placed on the table. The bottom panel is made of metal with two extra-large and grippy rubberized feet, while the pressure-sensitive front surface area is plastic. There is almost no flex in the tablet and is extremely comfortable to use for extended periods of time.
It can connects via bluetooth 5.0 and is virtually lag-free. Plus, as a bonus, It offers 10 hours of use and can be charged within a few hours with its USB-C.
The PA1 Battery-free Stylus Pen works nicely in Krita on Windows OS laptop. Once set up, it does provide a very natural feel when sketching, painting and writing in krita.
Tilt recognition and 8,192 levels of pressure come into play the more you use it. Its incredibly responsive and lag-free, it does truly feel like drawing on paper.
The ergonomic rubber shape allows you to grip it firmly without causing discomfort to your wrist or fingers, even if you're using it for long periods. Plus, the pen doesn't require batteries!
My pen has two buttons and my tablet has 8 buttons + 2 wheels (Mechanic Wheel + Virtual Wheel). The hotkeys are great for increasing productivity.
After installing the drivers, I was happy to find out that the software actually allowed me to remap most of the side buttons on the tablet itself, as well as the pen buttons. Additionally, to my surprise, the software also has software profiles.
Everything worked just fine, I just had to set up the buttons and the pressure curve. You can also set up it for lefties by just rotating it in the tablet manager software.
The tablet can be configured several different ways - multiple display, restricted to single display, and customized drawing area. I have used all configurations without any problem.
XPPen also has Linux/ubuntu drivers at the their official driver download page and I find them acceptable ,but things are missing, like pen tilt function.
I'm seconding XPPen Deco Pro screenless drawing tablet. Very reasonable price, and I'm pretty impressed with the quality and performance. It will allow you to try drawing without paying much.
If you really want a screen, you can have a look at XPPen artist series which have 10.1", 11.6" , 13.3", 15.6", 22" and 24" models. If you get one you can even choose a drawing software for free cost from 3 options available: Artrage 6, openCanvas, and Cartoon Animator 4.
I personally don't think the so called bonus software are that attractive. Anyway, you can always opt for free drawing software like Medibang Paint Pro and Krita.
I also grabbed the 15.6" XPPen Artist 15.6 Pro. It is one of the most popular display tablets that the company has released to date.
The Artist 15.6 Pro allows artists to draw and perform actions directly on screen. It's moderately priced, and is a good choice for art students and pros on tight budgets.
It is very important for a drawing tablet to have a color-accurate screen. XPPen Artist 15.6 Pro uses an IPS panel, delivering 120 percent of the sRGB color gamut, a resolution of 1920x1080 pixels and full viewing angle of 178 degrees. The screen quality is excellent, much better than I expected, especially given the budget price range.
The Artist 15.6 Pro uses a laminated display. There's no air gap between the drawing surface the the LCD beneath. But the glass of the drawing surface still has some thickness so from the side, you can still see the gap.
But when drawing as you normally would, the lines will appear directly beneath the pen tip. Calibration is available to further increase the accuracy of the line and pen tip if there's a need to do so.
The matte protective film has a texture that really nice to draw on. There's this very tactile feel when drawing.
The tablet have 8 customizable buttons and one red roller wheel! The roller is so so cool! Its great for (zoom in and zoom out) or whatever you want.
The PA2 is the most comfortable and responsive pen I've ever used—something XPPen excels at. it works well with Krita. The pen supports tilt sensitivity. When you hover the pen, the shape of the cursor will follow the direction the pen is pointing to.
So I have had this product for a full year now and it is honestly something that I would definitely recommend to any artist just starting out making any digital illustrations or just art in general.
If you want to use krita with a portable standalone drawing tablet, then Microsoft surface pro maybe your best choice. it runs on windows 11 os. The newest version is surface pro 9.
The 13-inch PixelSense Flow touchscreen looks great and has a 3:2 aspect ratio; support for HDR and a 120Hz refresh rate (you can choose between 60Hz, Dynamic switching, or 120Hz) are cherries on top.
The resolution is 2880 x 1920 at 267 PPI so all the visuals look sharp and detailed. Colour support is said to be 100% sRGB, 77% Adobe RGB, 78% P3. Maximum brightness is up to 450 nits.
Surface Pro 9 supports Slim Pen 2 stylus with Microsoft Pen Protocol. Battery life of Slim Pen 2 is up to 15 hours. The pen supports palm rejection, tilt and up to 4096 levels of pressure sensitivity.
Build quality is solid and the pen is comfortable to hold with its matte textured surface. On the side is a button for right-click and at the back an eraser button. Both buttons have very limited customisation.
Drawing on the screen is a similar experience to that on the iPad Pro – pressure and tilt affect your stroke as you'd expect. The level of pressure sensitivity is the same as the Apple Pencil – 4,096 levels – but half that of XPPen's pens (8,192).
My Drawing Tablet is Not Working Properly with Krita, What Should I Do?
Sometimes Krita may display unusual behavior due to version incompatibility. Since Krita is updated frequently and drawing tablet drivers are also constantly changing, driver conflicts may randomly arise.
Driver conflicts may cause Krita to be completely unresponsive to the drawing tablet, may affect the stylus tracking and, more commonly, may disable the pen pressure, which is a crucial feature.
There is an easy way to fix this:
Simply go to your drawing tablet manufacturer's website and download the latest driver recommended to your specific device. Once this is done, install the driver, restart your computer, and try opening Krita once again. This will almost surely fix the issue.
Krita Still Does Not Work Properly After the Installation of New Drivers, What Should I Do?
In very rare occasions, more recent drivers can have bugs. Since they have not been used for too long, companies did not have enough time to receive user complains and start working on patches.
This may lead to Krita issues even when your drawing tablet is already running on the latest available driver.
There are two ways to fix this issue:
Try installing a slightly older version of your drawing tablet's driver. This driver does not have to be from the exact drawing tablet you are currently using, but must be from the same series.
Try to install an older version of Krita. Incompatibilities work both ways, sometimes the problem can be originated in the drawing tablet's driver, other times Krita itself is the culprit.
Conclusion
Krita is arguably the best free drawing program out there. It has vibrant colors to choose from and has a wonderful compatibility with third-party brushes and tools. other free famous options are Gimp, Firealpaca, Medibang Paint Pro, Sketchbook, MyPaint, and Artweaver.
Drawing tablets are great computer drawing aids that many digital artists wouldn't be able to live without—myself included!
It's important to get familiar with how your drawing tablet works before you start using it for work. Spend some time playing around with it, experimenting with different brush sizes and pressure sensitivities. The more comfortable you are with your drawing tablet, the better your results will be.
The XPPen Deco Line is a perfect started line from a solid brand. They may take a while to get used to, but aren't too expensive, and are guaranteed to last. They also work perfectly with Krita. Once you're used to them, upgrading should be easier.
I have seen many artists use regular tablets and make great art, they are very talented. The tablets are useful but it takes someone eager to learn and talent to shine work on these machines.
whether or not you need a graphics tablet for Krita depends on how you plan on using the software. If you're a casual user, chances are you don't need one. However, if you rely on Krita for professional purposes or do a lot of digital art, a graphics tablet can be a valuable addition to your workflow.
If you want to learn how to use Krita on a drawing tablet, there are plenty of tutorials available online. Just do a search for "Krita + drawing tablet + tutorial" and you'll find plenty of helpful resources.
About Us
Originated from 2005, XPPen is now one of the top brands under HANVON UGEE, integrated with digital drawing products, content and service as a globally notable digital brand of digital art innovation.
Learn more
KNOWLEDGE
ROUNDUPS
ANIMALS
TIPS
FOCUSED
PLANTS
BEGINNER
OTHERS
INTERVIEW
Join Our Newsletter Today
Stay in the loop with our latest artistic innovations and special offers