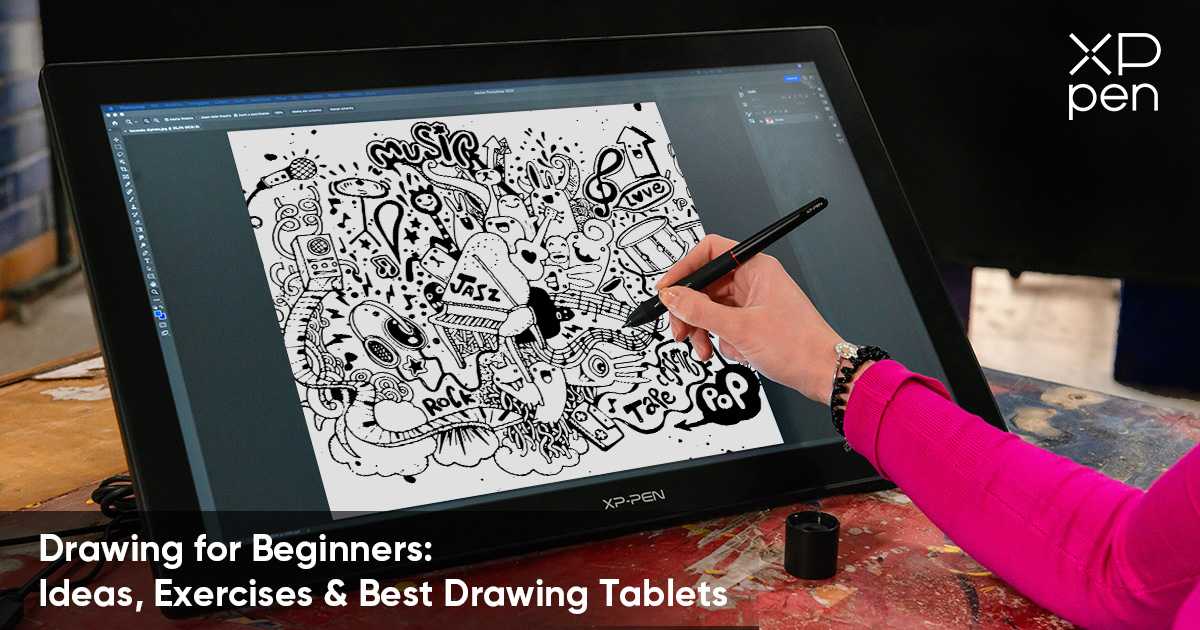 Drawing for Beginners: Ideas, Exercises & Best Drawing Tablets
BEGINNER
XPPen
2023-08-21 17:59:53
10 min read
Want to quickly improve your drawing skills as a budding artist? We got you covered! Whether you're an aspiring traditional artist or a digital creative, expand your horizons and take inspiration to enhance your skills in drawing with this blog. Learn cool drawing ideas, flex your sketching prowess, and choose the best drawing tablet to reach your fullest potential!
Drawing ideas for beginners
Deciding what to draw can be a challenge. Sometimes, you can be at a loss for drawing ideas and you're looking for some inspiration to start drawing. You can get some inspiration for your drawings from different activities you do day-to-day, your hobbies, and other interests, and even random things you can see around you. Observe everything around you because it can strike you with inspiration and motivate you to start drawing. You can start with a simple sketch and put your ideas on the drawing tablet first. By taking it one step at a time, you don't have to worry too much about the details or pursue perfection. If you are a beginner, you can start with simple drawings, such as geometric shapes, balloons, lines, doodles, etc.
Drawing exercises for beginners
To help you get started on digital painting, you can do several drawing exercises to hone your drawing skills. Regular exercises can effectively and steadily help improve skills in drawing exercises for beginners. Some drawing exercises for beginners are listed below. Beginners can effectively improve their skills by insisting on practicing for 30 minutes a day.
Parallel lines exercise

Parallel lines exercise is a good way to practice drawing lines steadily. You can draw lines from one end of your drawing tablet to the other in parallel lines exercise. Please draw with your entire arm, not just your wrist. By doing so, you will be able to better control the flow. Don't worry too much about mistakes and bad lines for now! It's more important that you try doing it until you get better. Try as many times as you can to get parallel, straight lines.
Crosshatching exercise

Crosshatching is a helpful drawing exercise for beginners. It is a drawing technique used to add texture and create ranges of values to a drawing. You can fill your drawing tablet with hatches in crosshatching exercises. Place these lines in random directions and use them to create a shadow effect on your drawing. Many artists typically use this drawing technique in portraits, landscape drawings and sketches. Depending on the direction of the lines and the spacing between them, crosshatching can be used to create different effects. Close-spaced lines will produce darker tones. Wider-spaced lines will produce lighter tones.
Doodles and textures exercise

You can draw whatever you like and create whatever you want if you're doing doodles and texture exercises. You can try beginner-friendly doodles with edgy, fluid, jagged, or furry themes and a variety of textures. Let your stylus dictate the action, and try not to think too much. The flow of random lines can be very relaxing and creative. If you're hitting a block in creative drawing, this method is a great exercise to get you out of it.
Mandala exercise

A mandala is an intricate abstract design, originally from Hindu and Buddhist tantrism, which consists of a series of circular patterns, symbols, and forms.
Mandala is a form of diagram used as an instrument of meditation and is typically included in the performance of sacred rites. In spirituality, a mandala basically represents the universe that serves as a "receptacle for the gods and as a collection point of universal forces," and by humans entering the mandala and going towards its center, we undergo the process of disintegration and reintegration.
A mandala usually has a recognizable central point from which a series of symbols, shapes, and forms emanate. Mandalas come in both geometric and organic forms. They can also contain recognizable images that have meaning to the person who created them.
A good way to practice drawing different kinds of lines is to practice drawing a mandala. The exercise process involves straight short lines, straight long lines, short curves, and long curves. Short lines usually require force from your wrist. Long lines require the strength of your forearms. With consistent practice, you will be able to create these lines smoothly and evenly.
Blind contour drawing exercise

Blind contour drawing is an exercise that you can use to see all the details of your subject and really look at it while drawing. Its primary goal is to shift your attention to what you're actually seeing rather than what you think you're seeing (when you're relying on your memory to draw your subject). Think about how you would typically draw: a huge part of it depends on your recollection of the subject, and blind contour drawing aims for artists to draw as you look at your subject.
In the blind contour drawing exercise, you can fix your eyes on the outline of the model or object and then track the edge of the object with your eyes. At the same time, you draw the contour slowly. Draw steady and continuous lines without lifting the smart chip stylus or looking at the drawing tablet. The blind contour drawing exercise helps improve beginners' drawings because it causes them to use both senses of sight and touch.
Control pen pressure

Pen pressure or pen sensitivity refers to the way the drawing tablet for beginners determines how thin or thick the lines you draw on the tablet will be. It depends on how much force is exerted on the smart chip stylus. One of the trickier things about adapting to digital painting is how your smart chip stylus reacts to pressure to increase the thickness of your brush. Pressure sensitivity adjustment is essential for every artist because you need to have precise control of your stylus to create strokes that vary in width.
During the practice, you should use a smart chip stylus that has a size set to pen pressure and start making lines that vary in thickness. Then you should draw a line next to it, and reverse the thick and thin parts.
How to choose the right drawing tablet?
Drawing tablets for beginners enable you to write, draw, share, and upload digital art with ease. If you've been stuck in a rut with drawing for a while, the right device may re-inspire you. The quality and design of drawing tablets on the market vary. How do you choose the right one?
Tablet size
Larger tablets have more screen space to work with. Smaller tablets are easier to carry around. If portability is your main concern, then a small drawing tablet for beginners will be a better choice. In addition, the smaller the active area, the less movement your hand needs to make to manipulate the cursor on the screen. This can mean less arm fatigue.
Resolution
Resolution is the number of lines per inch (LPI) of the drawing tablet for beginners and the number of lines it can detect from the stylus. The resolution of a drawing tablet is measured in LPI. Typically, an LPI higher than 2000 is considered good. The higher the LPI, the more detail the user can add to the drawing. Larger drawing tablets usually have higher resolution than smaller ones. However, the differences between drawing tablets of the same size are often small.
Connectivity
A quality drawing tablet for beginners should come with convenient connection options to help it connect easily to a laptop or desktop computer. Most modern computers use HDMI or USB cables for connection. Less expensive drawing tablets come with a USB cable for connecting to your computer. When you go into the higher price range, you can choose to connect wirelessly via Bluetooth with the help of a Bluetooth receiver.
Controls
Most drawing tablets enable you to customize the buttons on your digital tablet and stylus to perform certain actions. This can save a lot of time when you need to switch back and forth frequently between drawing tasks. It helps you achieve efficient drawings.
Pen pressure sensitivity
Drawing tablets for beginners have a pressure sensitivity level of 300 to 3,000. As you press harder on the stylus, the greater the pressure level recognized, and the thicker the line. Using higher pressure levels helps you distinguish the thickness of lines more finely which is essential when working with high-resolution drawings. Styluses for drawing tablets typically have three pressure sensitivity ranges: 2048, 4096, and 8192. A minimum of 2048 levels of pressure sensitivity (pressure sensitivity scaled up at 512 intervals) is sufficient.
Drawing tablet stylus
You should make sure the tablet you purchase has a comfortable stylus that fits well in your hand. The drawing tablet stylus should be easy to grab and hold. It won't slip, even if you're drawing for hours. In addition, the quality of the stylus will directly affect the efficiency and effectiveness of your drawing.
Endurance time
If you plan to travel with your drawing tablet, make sure it has a battery life of at least 3–4 hours. Battery life will vary depending on different factors, such as how you use the tablet, how long the battery last, etc.
Price
Drawing tablets can range in price from $30 to over $2500. It all depends on what you want. The average price of a tablet without a screen is about $75. And the average price of a high-quality, screened drawing tablet can be up to $850. While price is a consideration when purchasing a drawing tablet, it should not be the main deciding factor for beginners. Quality should be your priority in choosing your drawing tablet.
Drawing tablets for beginners
Most artists mistakenly regard digital art as a competitor of traditional media. Many people still believe that drawing tablets are only intended for use by graphic designers, architects, animators, and others engaged in client-based work. In fact, the drawing tablet is suitable for anyone, including beginners.
Are you wondering what the best drawing tablet for beginners is? Below, I've listed three great XPPen drawing tablets for beginners.
Feature comparison of 3 excellent drawing tablets
| Product Name | Price | Resolution | Stylus Type | Pressure Levels | Tilt | Express Keys | Compatible Systems | Drawing Area |
| --- | --- | --- | --- | --- | --- | --- | --- | --- |
| Deco L | $62.99 | 5080 LPI | X3 Elite | 8192 | 60° | 8 | Windows 7(or later), Mac OS X 10.10 (or later),Android 6.0(or later), Chrome OS 88 (or later),Linux | 10"x 6" |
| Deco MW | $62.99 | 5080 LPI | X3 Elite | 8192 | 60° | 8 | Windows 7 (or later), Mac OS X 10.10 (or later), Android 6.0 (or later), Chrome OS 88 (or later),Linux | 8 " x 5 " |
| Deco mini7W | $39.99 | 5080LPI | Battery-free stylus | 8192 | 60° | 8 | Windows 7 (or later), Linux (Detailed versions), Mac OS X 10.10 (or later), Android 6.0 (or later), and Chrome OS 88 (or later) | 7 " x 4.37 " |
1. Deco L
Long endurance
With a large-capacity lithium battery (1000 mAh/3.7 volts), Deco L supports you for up to 10 hours of drawing. With the help of a Bluetooth v5.0 chip, the Deco L drawing tablet lets you create without the constraints of cables. It gives you the freedom to use the tablet wherever inspiration strikes.
High-quality stylus
Deco L makes great success in the stylus drawing experience with the new X3 chip. It gives you the real feel of traditional pen and paper. Deco L achieves outstanding stability and accuracy.

Excellent compatibility
This drawing tablet for beginners supports Windows, Android, Mac, Chrome OS, and Linux systems. Besides, Deco L works well with most art software. You can easily use this drawing tablet with Photoshop, Illustrator, FireAlpaca, Blender, SAI, GIMP, Krita, MediBang Paint, and more.
Stylish design
Deco L has a stylish design. Deco L is available in four vibrant colors. Warm and eye-catching, these color schemes are playful and vibrant.
2.Deco MW
Bluetooth v5.0 chip
Deco MW supports Bluetooth 5.0 wireless connections. Bluetooth 5.0 is the most recent version of the wireless communication standard. Equipped with a Bluetooth v5.0 chip, this drawing tablet is more convenient to carry.
High precision
Deco MW provides you with more precise positioning. It will not let you miss any stroke in the process of creation. The quality of drawing tablets on the market varies. These products may have problems with broken lines or lags during the drawing process. With Deco MW, you can avoid these problems completely.

Stable performance
The stable performance of a drawing tablet can keep you smooth in your creation. The no-spring part and anti-interference function of Deco MW guarantee stable performance.
3. Deco mini7W
Portable and powerful
The size of the Deco mini7W is only 260.2 x 162.2 x 9.3 mm. You can carry it anywhere. It supports connections with Android tablets and mobile phones. With this ultra-affordable drawing tablet, you can capture inspiration at any time. The Deco mini7W has a super-long battery life. Its work time is more than 10 hours, and its standby time is more than 15 days.
Smooth drawing experience
A good drawing tablet helps you design beautiful digital artwork easily. With the help of Deco mini7W, you can customize your shortcut keys for a smooth drawing experience. Besides, the Deco mini7Wh has up to 8,192 pressure sensitivity levels. The drawing tablet stylus creates natural-looking lines of various widths easily.

Wireless technology
Drawing creativity shouldn't be limited by wires. The wireless technology of Deco mini7W allows you to create both quickly and freely.
Cost-effective
This product costs only $39.99. Deco mini7W is your best choice to do drawing exercises for beginners at a low price. Whether you are a student or a regular worker, this product will not be a big burden on your finances.
Drawing displays for beginners
XPPen drawing displays are also friendly to beginners. The following three drawing displays are on the recommended list.
Feature comparison of 3 excellent drawing displays
| Product Name | Price | Display Resolution | Stylus Type | Pressure Levels | Tilt | Accuracy | Compatible Systems | Drawing Area |
| --- | --- | --- | --- | --- | --- | --- | --- | --- |
| Artist Pro 14 (Gen 2) | $377.99 | 1920 X 1200 | X3 Pro Smart Chip Stylus | 16384 levels | 60° | ±0.4 mm (center),±0.8 mm (corner) | Windows 7 (or later), macOS 10.10 (or later), Android (USB3.1 DP1.2), Chrome OS 88 (or later), Linux | 14-inch |
| Artist Pro 16 | $449.99 | 1920 x 1080 | X3 Pro Smart Chip Stylus | 16384 levels | 60° | ±0.5mm (center), ±1mm (corner) | Windows 7 (or later), macOS 10.10 (or later), Android (USB3.1 DP1.2), Chrome OS 88 (or later), Linux | 15.4-inch |
| Artist Display 24 Pro | $899.99 | 2560 x 1440 | Battery-free Stylus | 8192 levels | 60° | ±0.01 inch (center) | Windows 7 (or later), Chrome OS 88 (or later), Linux (Detailed versions) and Mac OS X 10.10 (or later) | 23.8-inch |
1. Artist Pro 14 (Gen 2)
Artist Pro 14 is a drawing display has powerful functions. This product comes with the X3 Pro Smart Chip Stylus. This is the industry's first 16K ultra-sensitive digital pen, breaking through the industry's highest 8192-level limit. It has an initial response rate down to 90ms* and a 20%* increase in accuracy. It achieves high precision and efficiency. 99% sRGB wide color gamut coverage ensures color accuracy. In addition, Artist Pro 14 (Gen 2) features a German TUV eye protection-certified screen with an anti-glare finish. This product is the most cost-effective one among drawing displays for beginners.
2. Artist Pro 16
Equipped with a perfect pen display and X3 Elite Plus stylus, Artist Pro 16 helps you create outstanding artwork efficiently and smoothly. The X3 Elite Plus stylus features an ergonomic 9mm profile and a sleek gray metal casing. In addition, high precision, high stability, high compatibility, and perfect convenience are all features of Artist Pro 16.
3. Artist Display 24 Pro
Create in 2K QHD (2560 X 1440), the Artist Display 24 Pro has an amazing resolution, helping you get the ultimate creative experience. With accurate colors and deeper contrast, Artist Display 24 Pro helps you get dynamic and realistic images. In addition, whether it is an iMac, Mac Book Pro, or Windows computer, this drawing display can be easily connected because of its convenient USB-C to USB-C connection.
Conclusion
Drawing is a wonderful journey of self-expression and creativity. With the ideas and exercises discussed in this blog, along with the right drawing tablet, beginners can confidently embark on their artistic endeavors. Remember, practice and patience are crucial, and there are no mistakes in art, only opportunities to grow. So, pick up your tools and let your imagination soar as you begin your fulfilling journey into the world of drawing.
Related Posts
About Us
Originated from 2005, XPPen is now one of the top brands under HANVON UGEE, integrated with digital drawing products, content and service as a globally notable digital brand of digital art innovation.
Learn more
ANIMALS
TIPS
KNOWLEDGE
ROUNDUPS
FOCUSED
BEGINNER
PLANTS
OTHERS
INTERVIEW
Join Our Newsletter Today
Stay in the loop with our latest artistic innovations and special offers