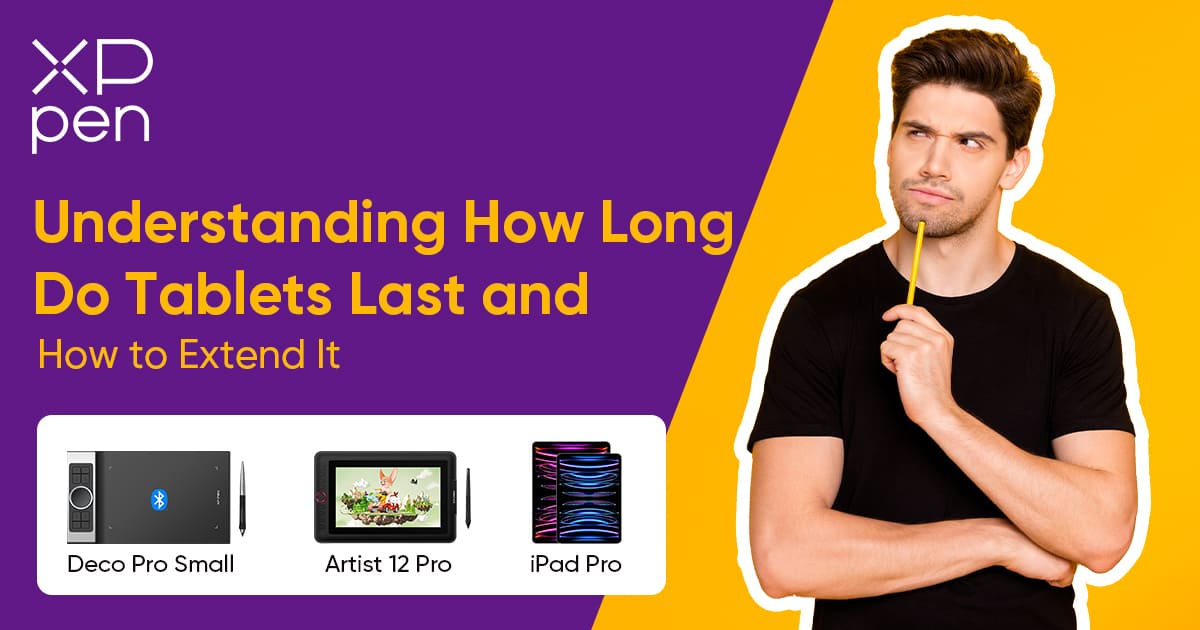 Understanding How Long Do Tablets Last and How to Extend It
TIPS
XPPen
2023-11-16 15:41:32
5 min read
Many of us ask the same question when we purchase a new drawing device: "How long do tablets last?" You probably have to, and you're not alone in wondering this, as it plays a significant role in planning your finances and device choice.
Unfortunately, there is no simple answer to this, as this question has many variables.
Simply put, it depends on your device. There are many variations of drawing tablets, with their own strengths and weaknesses that impact their expected lifespan.
In this blog post, we will understand and answer the question: how long does a tablet last?
What is the physical lifespan of a tablet's hardware?
Generally speaking, the physical lifespan of a tablet is expected to be as little as two years and up to 10 years, depending on the usage. A daily driver tablet will accumulate wear and tear much faster than a seldom-used counterpart.
It also depends on the model and type of drawing tablet. Typically, drawing tablets with screens will wear faster than screenless models. This is due to the screen being the most vulnerable part of your device. Drawing tablets are typically constructed with very durable materials, but a screen has limitations.
In later sections, We'll go into detail on the lifespan of different types of drawing tablets.
How many years is a tablet's software supported?
The next factor in calculating how long tablets last is from a software perspective.
Each drawing tablet manufacturer will have different software update schedules and timelines. For example, Android tablets typically only receive three years on average, while XPPen tablets receive 4 to 5 years.
The software lifespan of a drawing tablet is an important aspect to consider, as no matter how well you care for your device, it will eventually become outdated and unable to perform.
This limitation is due to the software and apps the drawing tablet may use becoming unsupported by the operating system or OS. Software limitations are not uncommon and is the same reason you'll find an old iPhone or Samsung unable to download most apps.
It becomes unrealistic for manufacturers and software providers to support a growing list of devices, especially when many of them may be from previous generations with very few active users.
That's why it's always best to consider the age when calculating how long your tablet will last.
The Different Types Of Tablets
There are three different types of drawing tablets, each with their own unique characteristics that affect their lifespans. Let's go over them now:
Drawing Tablets Without A Screen
First up, drawing tablets without a screen. It's easy to understand what this type of drawing tablet may or may not feature. This particular type of tablet will typically have a surface that responds to either a specific device or anything that touches it to transfer those inputs to an external screen.
They're generally more affordable as the omitted screen makes the device smaller and easier to produce. This smaller profile and lack of screen also comes with the added benefits of being more portable and, notably, having a longer lifespan.
So, when you ask how long does a tablet last, in regards to a drawing tablet without a screen, you can safely assume you will have up to 5 years of daily use from them. Don't be surprised if your device also lasts much longer than this, with many drawing tablets without screens lasting up to 10 years, scaling with use.
If you're looking for examples of drawing tablets without a screen, there are some excellent options from XPPen! The first is the Deco Pro (Gen2), this model is designed to be immersive, feeling almost exactly like paper. In combination with it's great build-quality, with 10 hours of battery, this device is built to last.

Another, more affordable option is the Deco 01 V2, a feature-filled, high quality device that has awards for the best budget friendly drawing tablet without a screen - safe to say, it wont let you down.

Drawing Tablets With A Screen
The next type of device we will discuss is drawing tablets with screens. These devices typically operate very similarly to those without a screen, and are extremely beginner friendly.
The main point of difference is that when you draw with this tablet, your image will be exactly where your drawing apparatus is, rather than input to an external screen.
As we previously mentioned, the screen is often the weak point of drawing tablets, as it limits the device's durability. Due to this, drawing tablets with screens generally last three years of daily use, but can be extended to 5 years with adequate care and protection equipment. They are typically more expensive than screenless options.
If you're interested in protection equipment, you can find paper-like screen protectors from XPPen that will extend your device's lifespan significantly. Carry-cases and other protective equipment can be critical in safeguarding your device from physical wear and damage, you can browse the full list here.
However, they are regarded as the superior choice when drawing from a tablet, as many deem the downsides overall worth it. The benefit of having direct input is something some cannot go without.
Examples of drawing tablets with a screen are the XPPen: Artist Pro 16TP - this device is an affordable, high-quality drawing tablet with a screen that will last you years. As well as the Artist Pro 14 (Gen 2), which is another great example, that although costs more, offers significantly more in terms of useability and features.

Standalone Tablets
The final drawing tablet is the standalone tablet. These are multi-use devices that can be used as a drawing tablet, among many other things. They are a generalized piece of tech, and with that comes downsides.
Although they can be used for a variety of applications, this comes at a cost, as you can describe them as a jack of all trades but master of none.
Standalone tablets have a lifespan similar to drawing tablets with screens; however, they generally don't make it as long due to their multi-functioning nature. They see more use and, as such, have a reduced lifespan.
Standalone Tablets are often the most expensive drawing tablet option, and you can expect your device to last you an average of 3 years.
An example of a standalone tablet is the Apple iPad.
The Signs You Need A New Tablet
When asking yourself how long do tablets last, you may be in a position where your drawing tablet is coming to the end of its lifespan.
If you think this might be you, this section is for you. Let's go over the typical signs that you need a new drawing tablet:
Unsupported Software
As we previously mentioned, there will come a time when your device's software is no longer supported, with the exact time depending on your device. It will usually be a slow process, with app-by-app and use-by-use being limited as they update beyond your drawing tablet's capabilities.
Once this has happened, it's definitely time to replace your drawing tablet.
Physical Damage
Physical damage can occur in many ways and is a heartbreaking experience to encounter. Whether you dropped your device, spilled your coffee on it, or something worse - physical damage to your device can be the end. Your device will typically not operate the same unless appropriately repaired.
Battery Issues
Another frustrating sign that your drawing tablet may be approaching the end of its lifespan is the battery starting to fail. You'll notice it will not last as long as well as other issues with turning on and glitches.
If your device starts encountering battery issues within a short span of purchasing it, it could be defective. If so, it's best to take advantage of the device's warranty policy. For example, the XPPen warranty policy will replace the faulty parts free of charge for up to 18 months after purchase.
Other Signs You Need To Replace Your Drawing Tablet:
Poor Touch Response

Slow Performance

Overheating

Screen Freezes

App Crashes

Lack of Storage
Conclusion
Overall, the lifespan of your drawing tablet comes down to you and how you use it. If you look after your device, it will more than likely last you many years to come. Certain factors will determine the issues you will encounter; as mentioned, screens are often the weak point of drawing tablets, as well as the software support duration.
So, to answer the question of how long do tablets last, you're looking at, on average, between 3-5 years of daily use.
About Us
Originated from 2005, XPPen is now one of the top brands under HANVON UGEE, integrated with digital drawing products, content and service as a globally notable digital brand of digital art innovation.
Learn more
KNOWLEDGE
ROUNDUPS
ANIMALS
TIPS
FOCUSED
PLANTS
OTHERS
INTERVIEW
BEGINNER
Join Our Newsletter Today
Stay in the loop with our latest artistic innovations and special offers