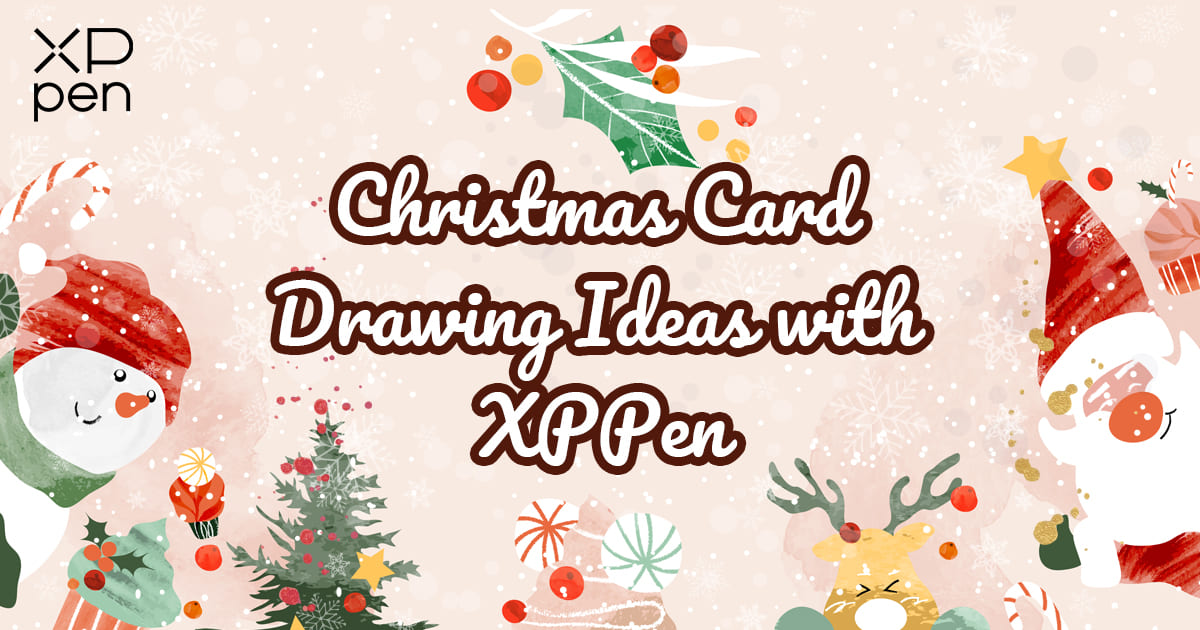 Christmas Card Drawing Ideas with XPPen - DIY Xmas Card!
OTHERS
XPPen
2023-10-18 18:08:57
6 min read
Christmas, a festival of joy, love, and warmth, brings the opportunity to express affection through personalized greetings. Hand-drawn Christmas cards, with their unique touch, make the holiday wishes more heartfelt and memorable. For drawing tablet users, creating detailed and vibrant cards becomes a delightful endeavor.
This article delves into a plethora of Christmas card drawing ideas, ranging from the simple and cute to the advanced and intricate, aiming to inspire your festive creations.
Why Hand-Drawn Christmas Cards?
Hand-drawn cards have a unique charm and personal touch that make them stand out. In this article, we explore creative hand-drawn Christmas card ideas that are sure to leave a lasting impression on your loved ones.
Personalized Hand-drawn Christmas Messages
Handwritten messages add a personal and heartfelt touch to your cards. Experiment with different fonts, sizes, and styles to convey your Christmas wishes in a way that reflects your personality. Add decorative elements like stars, holly, or snowflakes to enhance the festive vibe.
Unique Hand-drawn Christmas Card Layouts
A creative layout can make your card memorable. Experiment with different compositions, perspectives, and framing to design cards that are visually striking and harmonious. Use elements like borders, backgrounds, and focal points to guide the viewer's eye and create a sense of balance.
Creative Hand-drawn Christmas Card Embellishments
Embellishments can add a decorative and artistic flair to your cards. Draw intricate patterns, festive motifs, and decorative borders to enhance the visual appeal of your cards. Use colors, textures, and shading to add depth and dimension to your embellishments. Add details that will give the Christmas vibe.
Simple & Easy Christmas Card Ideas Drawing
Drawing doesn't always have to be complicated to be beautiful. Simple and easy drawings can convey the spirit of Christmas just as effectively, if not more so.
Check out these various simple and easy Christmas card ideas for drawing.
Minimalist Christmas Tree Drawings
A simple Christmas tree can be the centerpiece of your card. Explore different styles, such as abstract, geometric, or whimsical, to find the one that resonates with you the most. Experiment with colors, ornaments, and lights to create a tree that is uniquely yours.
With the use of some simple lines or circles, you can easily create a Christmas tree that is both creative and aesthetically pleasing.
Simple Snowflake Designs
Integrating snowflake elements into your Christmas cards can imbue them with a winter ambiance, adding a touch of the serene and festive spirit of the season.
Each snowflake is unique, and so is every drawing of one. Learn the basics of drawing a snowflake and then let your imagination run wild. Play with symmetry, size, and detail to create a snowflake that sparkles with originality.
Easy Santa Claus Sketches
Santa Claus represents happiness and the spirit of giving, and sketching him can be a lot of fun! Begin with simple shapes and slowly bring in more details like his beard, hat, and sack full of presents. And remember, adding a sparkle to his eye will make him appear even more cheerful!
Easy Christmas Bell Drawings
Bells are a big part of Christmas pictures and decorations. Drawing them can be simple and enjoyable! Begin with the basic outline and then bring it to life by adding parts like the ringer, the ribbon, the shiny light reflections, and even add a mistletoe or some wreath to add some pizzazz! Try out different views and arrangements to give your bell your creative twist!
Quick and Easy Christmas Ball Drawings
The Christmas ball is a traditional decoration and a symbol of the holiday season. Try out different designs, patterns, and reflections on the surface of the ball.
Whether it's a simple one-color ball or one decorated with detailed patterns, there are so many possibilities! Add ribbons, shadows, and highlights to make your drawing look more real and three-dimensional.
Cute Christmas Card Ideas Drawing
Cute drawings can add a playful and charming touch to your Christmas cards, making them a hit among recipients of all ages. Here, we delve into various cute Christmas card drawing ideas that are sure to bring smiles and warmth.
Cute Santa Claus Sketches
Santa Claus, the jolly bringer of gifts, can be drawn in cute and charming styles as well. Experiment with different facial expressions, body shapes, and accessories to create Santa sketches that are bursting with cuteness and joy.
Whether it's a chubby Santa with rosy cheeks or a playful Santa in a whimsical pose, cute Santa sketches can add a delightful touch to your Christmas cards.
Cute Little Reindeer Sketches
Reindeers are not just Santa's helpers; they are also cute subjects for drawing. Learn the basics of animal drawing and then add festive details like a red nose or a wreath of holly. Play with poses and expressions to give your reindeer personality.
Adorable Snowman Drawings
Snowmen, with their cheerful faces and colorful accessories, are a joy to draw on your Christmas card. Experiment with different poses, expressions, and accessories to create snowmen that radiate happiness and festivity. Add a snowy background or falling snowflakes to complete the winter wonderland scene.
Cute Penguin Sketches
Penguins, with their waddling walk and tuxedo-like appearance, are irresistibly cute. Draw penguins engaged in festive activities, like decorating a Christmas tree or wrapping gifts, to add a playful touch to your cards. Experiment with different expressions, accessories, ice-related elements, and compositions to create scenes brimming with cuteness and joy.
Charming Christmas Elf Drawings
Elves, with their pointy ears and colorful outfits, are synonymous with Christmas magic. Sketch elves busily preparing gifts or spreading Christmas cheer to create enchanting scenes. Play with proportions, colors, and details to bring these magical creatures to life on your cards.
Advanced Christmas Card Drawing Ideas
For those who love a challenge and want to showcase their drawing skills, here are some advanced Christmas card drawing ideas that are sure to captivate and impress.
Detailed Christmas Landscape Drawings
Landscape drawings allow you to create immersive and picturesque scenes. Depict snowy mountains, cozy cabins, and twinkling stars to transport the viewer to a magical winter wonderland. Use perspective, composition, and detailing to create landscapes that are rich and atmopheric.
Complex Christmas Pattern Designs
Patterns can add a sophisticated and artistic touch to your cards. Design intricate patterns featuring festive motifs like bells, candles, and holly to create cards that are visually stunning and elegant. Experiment with symmetry, repetition, and variation to create patterns that are harmonious and dynamic.
Intricate Christmas Character Sketches
Detailed character drawings can bring the magic of Christmas to life. Create intricate sketches of beloved Christmas characters like Santa Claus, Mrs. Claus, and the Nutcracker. Use shading, detailing, and expression to make your characters feel lifelike and expressive.
Bonus Tip: Drawing Tablet Tips for Christmas Cards
Drawing tablets, with their precision and versatility, are the ideal partners in creating your personalized Christmas cards. Here are some essential tips to kickstart your drawing journey:
If you're a pro digital artist creating Christmas cards, XPPen Artist Pro 14 (Gen 2) is your holiday secret weapon. It's super precise, with 16,000 pressure levels, letting you make detailed designs that look real. Plus, the screen shows your art in beautiful colors and sharpness.
You won't have any annoying delays or strange effects while drawing, thanks to its smooth performance. The stylus is comfy to hold, even for long art sessions. 🎅This Christmas, give your cards a pro touch with it!

If you're a beginner looking to craft unique and heartfelt Christmas cards, the Deco Mini7 is your perfect introduction to digital art. Its pressure-sensitive stylus makes drawing easy, while a hassle-free setup ensures you're ready to create in no time.


🎨Experiment with popular art software, perfect your holiday designs, and add a personal touch to your greetings. Beyond Christmas, this versatile tablet is handy for everyday tasks. Affordable and user-friendly, it's an ideal gift for aspiring artists.
Start your artistic journey today and make this holiday season extra special!🎄
Conclusion
Drawing tablets, especially those from XPPen, unlock a realm of creative possibilities for crafting personalized Christmas cards.
Whether you are inclined towards simple, cute, easy, or advanced drawings, there is an idea to spark your creativity.
So, embrace your artistic spirit, grab your XPPen drawing tablet, and begin sketching your distinctive Christmas card creations.
Don't forget to share your artistic masterpieces with us and spread festive joy and cheer!
About Us
Originated from 2005, XPPen is now one of the top brands under HANVON UGEE, integrated with digital drawing products, content and service as a globally notable digital brand of digital art innovation.
Learn more
KNOWLEDGE
ROUNDUPS
ANIMALS
TIPS
FOCUSED
PLANTS
OTHERS
INTERVIEW
BEGINNER
Join Our Newsletter Today
Stay in the loop with our latest artistic innovations and special offers