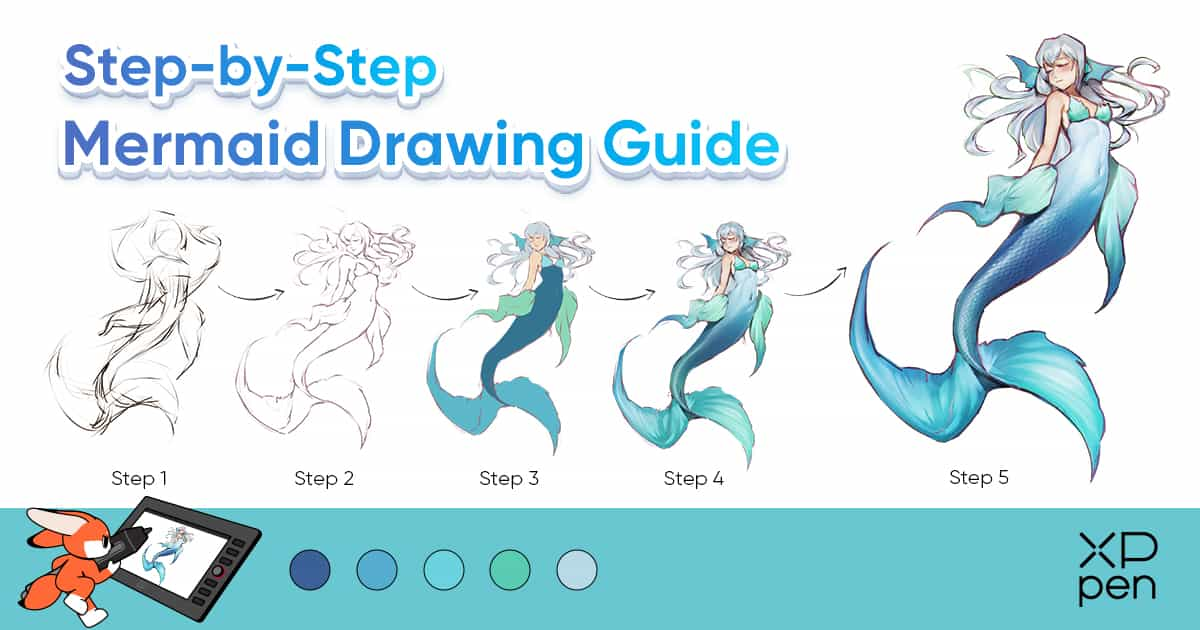 Step-by-Step Mermaid Drawing Guide
ANIMALS
XPPen
2023-09-20 15:46:48
5 min read
Mermaids have captivated human imagination for centuries with their mystical allure and ethereal beauty. If you've ever been intrigued by these mythical creatures and wish to bring them to life on paper, you're in the right place.
Are you looking for a step-by-step mermaid drawing guide? Each person's drawing skill varies, and the appropriate tutorials vary accordingly. In this blog, we will introduce you to step-by-step tutorials on how to draw an easy and realistic mermaid. Whether you're a novice at drawing or more experienced, you can learn a trick or two in this step-by-step tutorial.
Tools needed for mermaid drawing
While a simple pen and paper can capture the basic essence of a mermaid's appearance, digital painting excels at capturing intricate details and vibrant colors. If your aim is to create a truly realistic mermaid, the best approach is to utilize digital tools. Drawing on a computer requires specific tools to do it. Here's a comprehensive list of what you'll need:
1. Computer
First, prepare a computer with enough processing power and memory to run graphic design software smoothly.Having a computer with good RAM and graphics card would be helpful to run programs.
2. Drawing Tablet
A good drawing tablet usually has high-pressure sensitivity and resolution. There are many brands on the market that specialize in drawing tablets, and XPPen is one of them. We have been focusing on this field for 18 years, has made major breakthroughs in technology, and launched the world's first X3 Pro Smart chip stylus with a pressure sensitivity of 16,384.
If you need a good drawing tablet for your daily painting, We would recommend you start with XPPen Artist Pro 16 (Gen 2). It is specially developed for professional artists, with a screen of 16-inch and a resolution of 2560x1600. This drawing tablet is also compatible with most systems and digital art software.
3. Digital Art Software
Then, choose a digital art software that suits your preferences and skill level. Here are some popular options:
Adobe Photoshop: A versatile software used by many artists for its wide range of features.

Corel Painter: Known for its natural media brushes and realistic painting effects.

Clip Studio Paint: Offers a range of tools for both illustration and comic creation.
4. Stylus Pen
A drawing tablet needs to be used in conjunction with a stylus. A good stylus will allow you to draw more precisely and thus make your mermaid more realistic.
Stylus performance is generally determined by pressure sensitivity and tilt capabilities. The higher its level of pressure sensitivity and the higher its recognizable tilt, the more precise and vivid the drawing will be. Also, for convenience, it's better to get a battery-free stylus.
5. Professional Video Tutorials
Creating a mermaid drawing can be easier when you follow a professional video tutorial. So, check out our video tutorial to learn how to draw a realistic mermaid.
Our video tutorial helps you follow the engaging process, enhances your skills, and shows you interesting tricks you can do to draw a mermaid.
How to draw an easy mermaid?
Mermaids are mythical creatures that are often portrayed with the upper body of a human with a fish tail. Capturing the ethereal beauty and grace of a mermaid requires attention to detail and a vivid imagination. Follow this tutorial to draw a simple yet beautiful mermaid in just 8 steps.
Draw a motion

Determine the state orientation

First, use the stylus to draw an oval on the top of the drawing board for the mermaid's head. Then determine the state orientation of the mermaid.

Draw limbs and tail fin

Simply draw the mermaid's limbs and tail fin with a few thick strokes.

Draw torso

Use the geometric figures in the picture to describe the mermaid's torso.

Outline the tail

Use a few strokes to outline the mermaid's tail.

Outline arms

Sketch the outline of the mermaid's arm, and then, add an outline of an ear to its left side.

Add hair

Now, let's give the mermaid a softer look by adding her signature beautiful long hair.

Detail Drawing

It's time to add the shell bra, seaweed tail, and butterfly fins to your mermaid. This step requires everyone to master the drawing of lines and understand the structure of the mermaid, but don't worry, just follow the picture below.

Coloring

You can color the mermaid you like. Here are two samples.
How to draw a realistic mermaid
Drawing a realistic mermaid demands precision and creativity. From mastering body proportions to creating captivating underwater scenes, let's dive into the art of realistic mermaid drawing. In this guide, we'll explore the essential steps and techniques to bring this mythical creature to life on paper.
Draw a sketch

To begin, we'll sketch the initial contours of our mermaid. Imagine its form as a harmonious blend of various geometric shapes coming together. These foundational shapes will serve as the building blocks for our masterpiece.

Line Draft

At this stage, the mermaid's identity may not be apparent yet. Now, we add charming eyes and a delicate mouth, and its actual image starts to emerge.

Coloring

Now, it's time to infuse our mermaid with a vibrant palette of colors. A mesmerizing transformation unfolds as we carefully distribute these hues across its body. Picture our mermaid with lustrous, silver tresses cascading down, catching the light with an ethereal shimmer. The graceful curves of its emerald-green fins come alive, reflecting the depths of the ocean it calls home.

Separate light and dark parts

Moving forward, we delve into the art of shading to bring depth and dimension to our masterpiece. Begin by creating a new layer and selecting Blend Mode>Multiply. With the guidance of the light source, carefully apply dark shadows to add richness and realism.

Then, hide the sketch layer to illuminate the opposite side using Blend Mode>Screen. Witness the captivating interplay between light and shadow that emerges, showcasing the striking contrast within our artwork.

Rich color changes

To unveil the mesmerizing color transformation, conceal the dark layer momentarily, allowing the vibrant hues to take center stage. Enhance the visual impact by applying a gradient ramp to the colors, infusing our artwork with a heightened sense of vividness and dynamism. Watch as the mermaid's form comes alive, radiating with an intensified brilliance that captivates the eye.

Enhancing Contrast

Now, let us bring back the previously concealed dark layer to illuminate the lighter areas, further accentuating the intricate details of our color palette.

Refinement

Now, we had to go a step further to seamlessly blend all the layers we had carefully created. This process allowed us to reveal the intricate details of every part of the body, from flowing hair to soft skin, from captivating tails to elegant fins.

Next, we turned our attention to refining the finer details. We retouch the lines with precision and care, ensuring that each stroke accentuates the mermaid's unique facial expression and captures the subtle changes in light that play on its shape. This attention to detail takes our artwork to new heights, infusing it with a mesmerizingly realistic quality.
Conclusion
Congratulations! You've completed your step-by-step mermaid drawing guide. Drawing a mermaid is an incredibly creative and fulfilling journey that unleashes your artistic skills and imagination. Now, pick up your drawing tablet and start drawing your own mermaid!
With consistent practice and unwavering dedication, you'll be drawing enchanting mermaid art that truly captures the mystical essence of these legendary beings.
Share your mermaid drawings with us in the comments
About Us
Originated from 2005, XPPen is now one of the top brands under HANVON UGEE, integrated with digital drawing products, content and service as a globally notable digital brand of digital art innovation.
Learn more
KNOWLEDGE
ROUNDUPS
ANIMALS
TIPS
FOCUSED
PLANTS
BEGINNER
OTHERS
INTERVIEW
Join Our Newsletter Today
Stay in the loop with our latest artistic innovations and special offers