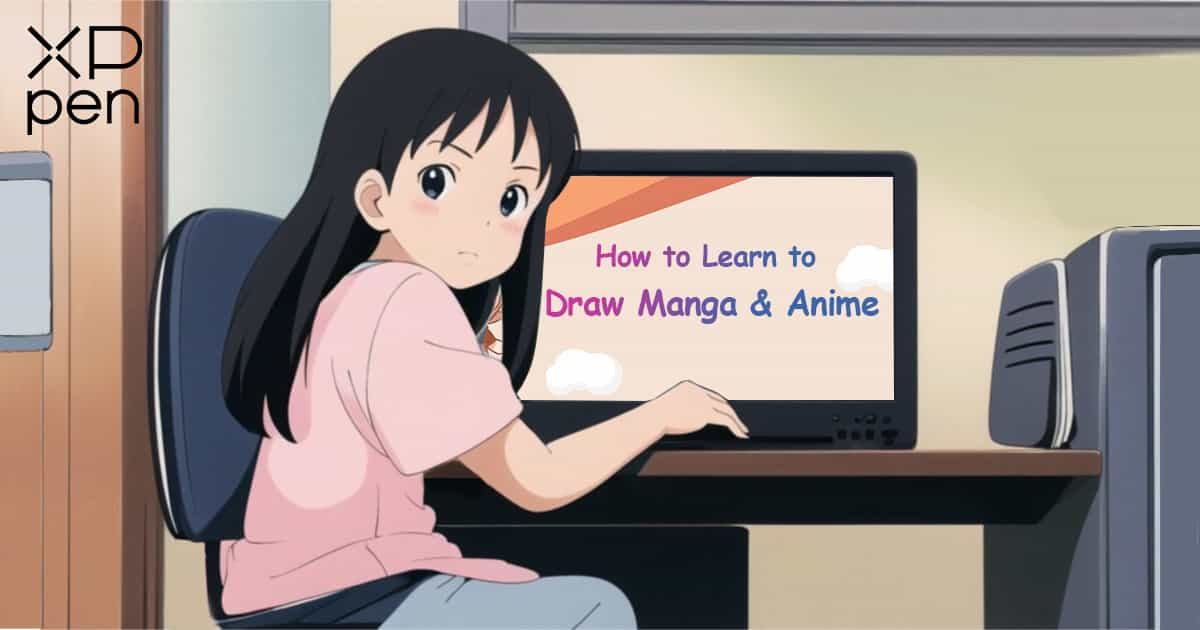 How to Learn to Draw Manga & Anime
BEGINNER
XPPen
2023-11-01 10:09:12
6 min read
"I really want to learn how to draw manga art but I have zero idea on where to start."

-From Reddit
Do you want to learn how to draw manga but you have no idea where to start? Manga and anime are the beloved Japanese pop culture influences that have been taking the world by storm. Classics like Astroboy and Voltes V and the crowd favorites such as One Piece, Naruto, Dragon Ball Z, Demon Slayer, Attack on Titan, and My Hero Academia, are just some examples of what anime has got to offer.
Many fans nowadays are not limited to reading manga, some also develop a strong interest in drawing manga. If you have no idea and are eager to create your own world in manga like manga professionals, look no further!
In this article, we will tell you the essential skills of learning manga drawing and a few methods to learn how to draw manga.
What do you need to learn to draw manga & anime?
Manga and anime are art forms that have captured the hearts of people worldwide with their unique storytelling and visually captivating characters. Learning to draw manga and animation is an exciting journey filled with creative exploration.
One Piece author Eiichiro Oda advised budding manga authors to "do their best without losing sight of what they want to draw."
In this process, you need to learn the general elements of drawing manga, such as basic drawing exercises, character creation methods, storytelling abilities, etc.
Whether you're a beginner eager to get started or an enthusiast looking to improve your skills, this section will guide you through the basics you need to draw manga and anime. Here are some of the things you need to learn:
1. Basics of drawing
The basics of drawing, such as understanding shape, proportion, and anatomy, form the basis of all works of art. A solid foundation ensures that your characters and scenes look well-constructed and visually appealing. Only if you practice these basic skills well can you better present your ideas in your works.
2. Manga and anime style
To draw comics like a cartoonist, you need to have your style. First of all, you should know what styles there are in the world and their representative authors and works. Then, find the style you like and want to draw.
3. Character design
Character design is a fundamental aspect of comic creation. Only by creating attractive characters will people be interested in your comics. For example, Marvel's Spider-Man, Sun Wukong in, Dragon Ball, and the blue cat in Doraemon. They not only represent a character, but their qualities have become the objects of praise that also made them iconic, unforgettable characters.
4. Facial expressions and emotions
Manga characters are known for their expressive faces. Practice drawing various emotions and facial expressions to make your characters come alive on the page. Facial expressions are a cornerstone of manga storytelling, allowing characters to convey a wide range of emotions and connect with readers on a deep emotional level.What makes manga and anime interesting is the variety of expressions and emotions drawn to depict the events of the story.
5. Dynamic poses and action
Dynamic poses and action sequences are key elements that inject energy, excitement, and storytelling into comics. Comics often feature dynamic action scenes and learning to draw characters in motion and exploring different poses can add energy and excitement to your artwork.
6. Inking and coloring
Inking and coloring is another key element of comic creation. Taking care of them can improve the visual quality of your work and enhance your storytelling. At the same time, they are also an important way to express your personality and artistic style.You can use a black-and-white style like classic manga or you can draw colored ones.
7. Storytelling and panel layout
Manga is a narrative art form, with storytelling at its core. First, you should understand how to plan the layout, pacing, and composition, and then add your inspiration to effectively convey your story. You can start by imitating successful works and analyzing their narrative structure, character development, and page layout. Try to understand why these works were successful and learn from them.
How to Learn to Draw Manga & Anime
Method 1: Learn through online tutorials
One of the methods to learn to draw manga is to watch online tutorials. Thanks to the development of network technology, we can find a variety of materials to learn online.
If you want to save your budget, you can go online and download some study materials. Whether it's a blog dedicated to teaching painting or a YouTube channel. Here are some helpful blog sites and channels, hoping to be helpful to you.
1. Online courses:Anime Art Academy, Skill Share
2. Blog: Manga University Blog, Anime Outline
3. YouTube channel:Draw like a Sir, Sycra, Sophie chan, markcrilley
Method 2: Take offline courses
Taking manga drawing courses offers a range of benefits for aspiring manga enthusiasts. The manga drawing training class can provide a systematic learning course and at the same time, you can get professional feedback and guidance from your teacher. If you have enough budget and time, we suggest you take relevant courses.
You can google "manga drawing classes" to find a class near you. You can also visit some art schools or ask through their official websites whether you can take classes.
Method 3: Learn through books
Learning to draw comics through books is a popular way of learning. Because it can provide systematic education. These books are generally written by professional comic artists or educators, who have rich theoretical and practical experience and can provide us with valuable insights and experiences.
Here are some recommended books for learning to draw manga:
"Manga for the Beginner" by Christopher Hart: This book is an excellent starting point for beginners. It covers the basics of manga art, including character design, expressions, and action scenes.

"Mastering Manga" by Mark Crilley: Mark Crilley is a renowned manga artist and teacher. His book offers step-by-step tutorials on drawing manga characters, from anatomy to different styles and expressions.

"How to Draw Manga" by Katy Coope: This book provides clear instructions and practical exercises for beginners to learn manga drawing techniques, including character creation and storytelling.

"Manga Drawing for Beginners" by Danica Davidson and Melanie Westin: Geared towards newcomers, this book breaks down the essentials of manga art, covering topics like proportions, inking, and coloring.
Method 4: Attend Conventions and Workshops
Manga conventions and workshops provide opportunities to connect with fellow manga enthusiasts, attend panels, and learn from experienced artists. Consider participating in local or virtual events to network and gain insights about the industry.
Video tutorial - How to draw manga
Bonus: Choose the best drawing tablets for you
Choosing the right drawing tablet is a crucial decision for any manga artist, whether you're a beginner or a seasoned pro. The tablet you choose can greatly influence your drawing experience and the quality of your manga art.
To help you make the best choice, here are some factors to consider when selecting the best drawing tablet for your needs. Also, XPPen provides the best drawing tablets in this article.
For drawing manga and anime, the XPPen Artist 24 Drawing Display is your best choice. It has a 23.8-inch screen with a resolution of 1920x1080. Artist 24 (FHD) features a 132% sRGB color gamut and a contrast ratio of up to 3000:1 for natural color transitions, superb color accuracy, and saturation.
The battery-free P05R stylus lets you focus more on creating without interrupting charging. The pressure sensitivity is 8192 levels, which accurately locates every light and heavy brush stroke to ensure smooth and delicate lines. And with 60° tilt recognition, just tilt the pen to add shading to your creations.
At the same time, the bracket is adjustable, and the adjustable angle can be realized from 16° to 90° with just a slight push. More than just a graphics display, the Artist 24 (FHD) can project games, videos, and more onto this massive 23.8-inch screen for an expansive, immersive viewing experience. It's also cheap at $455.99.

Frequently asked questions
Q1: Can anyone learn to draw manga?
Yes, anyone can learn to draw manga if they want to. People with drawing talent can quickly learn to draw manga. Don't worry if you don't have any talent or foundation in drawing. As long as you master the basic skills and spend time practicing, everyone can draw manga well.
Q2: Is it easy to learn to draw manga?
Whether it is easy or difficult to learn to draw manga depends on the individual's foundation and effort. If you have some drawing experience before, drawing manga will be easier. If you never painted any style of drawing before, it can be difficult. But as long as you find the right learning method and keep practicing, drawing manga will become easier and easier for you.
Q3: How long does it take to learn to draw manga?
The time it takes to learn to draw manga varies from person to person and depends on a variety of factors. Generally, it is related to everyone's painting skill level, learning ability, and length of practice. Typically, it takes two to three years to learn how to draw anime well. If you are already good at other types of painting, the learning time may be shortened to half a year.
To sum up
Learning how to draw manga and anime is achievable and worthwhile.You need to choose the right learning resources, learn professional skills like drawing basics, character design, and storytelling, plus practice hard. And learning to draw manga is a relatively long process that requires constant persistence, you can also leave messages in the comment area to learn together and supervise each other.
If you have other good learning resources, you can share them with everyone in the comments.
About Us
Originated from 2005, XPPen is now one of the top brands under HANVON UGEE, integrated with digital drawing products, content and service as a globally notable digital brand of digital art innovation.
Learn more
KNOWLEDGE
ROUNDUPS
ANIMALS
TIPS
FOCUSED
PLANTS
OTHERS
INTERVIEW
BEGINNER
Join Our Newsletter Today
Stay in the loop with our latest artistic innovations and special offers