6 Best drawing tablets for graphic design, digital art and illustration
ROUNDUPS
XPPen
2023-08-22 15:13:11
8 min read
Graphic design is a craft where professionals create visual content to communicate messages. By applying visual hierarchy and page layout techniques, designers use typography and pictures to meet users' specific needs and focus on the logic of displaying elements in interactive designs, to optimize the user experience.
graphic designers need more than just talent or skill to create visual art. To produce compelling visuals, graphic designers use simple and sophisticated graphic design tools that capture the ever-shifting shapes and colors in their mind.
A graphic designers would always require some essential tools up to the mark that could be worked in best manner to create best designs and graphics. Tools help us create the things we need, like, or dream about.
The tools for graphic designers play an essential role in easing things for them. It makes them create unique designs in no time. Below are some best tablets for graphic design.
Computer for graphic design
The first thing you're going to need as a graphic designer is a very good PC or laptop with the latest and most advanced features.
If you are in the visual industry, Apple has the best tool for design enthusiasts. The iMac and MacBook are famous for its high-quality tools and can eventually help you set your mark in the creative industry.
However, if Apple products are too pricy for you, Any decent computer that can adequately handle graphics software and reliably connect to the cloud can sustain your life as a modern-day graphics designer.
Graphic design applications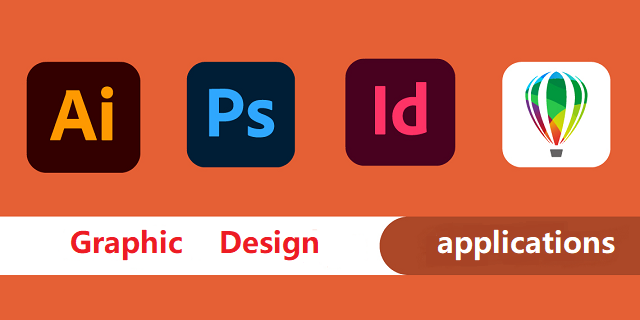 This is the largest and arguably most important part of a digital artist's tool stack.
Whether installed to run from a desktop computer or offered as a cloud-based service, these software applications enable graphic designers to create, edit, store, and manage their creative output: photos, images, videos, presentations, brochures, and other visual formats.
The Adobe Creative Cloud sets the standard for this tool type, providing a full suite of applications for creating and manipulating raster graphics (Photoshop), vector images (Illustrator), videos (After Effects, Premiere Pro), and different desktop publishing formats such as posters, magazines, brochures, and ebooks (InDesign).
Paid alternatives to specific applications in Adobe's subscription service include Serif's Affinity Designer (vector) and Affinity Photo (raster), CorelDRAW (vector), and the macOS-exclusive Sketch (vector).
Free tools with similar capabilities include GIMP (GNU Image Manipulation Program) for authoring and manipulating raster images and Inkscape for creating and editing vector graphics.
You can eventually bring out creative skills using Graphic design apps for editing, web design and video editing. As designers, you can focus on creating the best designs.
Is a graphic tablet necessary for graphic design?
Oftentimes, graphic designers will be toying with text, lines, and shapes, which do not require heavy use of hand-drawn graphics. As a result, it is not a necessary purchase, but it could make some of the more tedious tasks a little easier.
Drawing tablets provide more precision than standard mice while working with graphic design which is why it's a necessary tool for graphic designer professionals. It's much more natural than using a mouse to illustrate, paint or retouch photos .
Compared to the mouse, using a graphics tablet is similar to using a pen for writing or drawing. so It's More Natural. and the mouse can be get your hand cramped if used for a long time.
Since graphics tablet allows you to point at any point of the screen very fast, it cannot just make you draw or retouch comfortably, but faster as well.
mouse does not have pressure pressure & tilt sensitivity. You'll absolutely need pressure & tilt sensitivity if you want your lines and brush strokes to have life and fluidity in them in them. with the drawing pad, Pressure controlled width, and opacity are amazeballs.
Connecting to your computer, the drawing tablet is compatible with the most used applications in the design world, such as Adobe Photoshop, Adobe Illustrator, Corel Painter, Krita, Gimp, Inkscape, CorelDraw, Corel Painter, among others.
Once you get a graphics tablet and get used to it, you'll can't imagine using the mouse for any sort of drawing & editing anymore (unless for very simple stuff maybe).
How can I go about selecting a graphics tablet?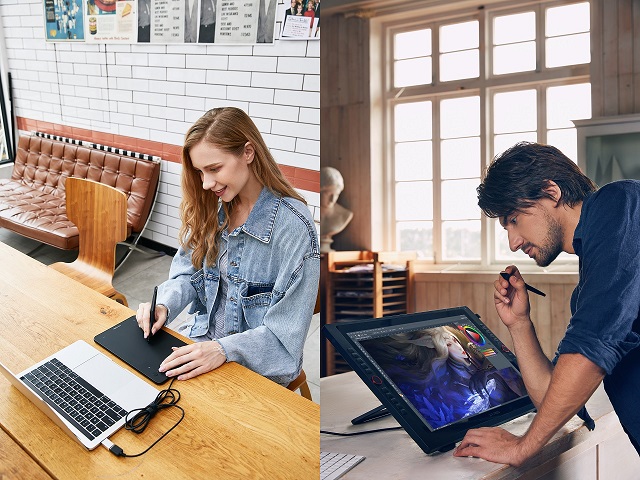 While all tablets have similar advantages, not all tablets are produced equal.
The price of a drawing tablet will vary greatly—flat tablets (without a screen) are much less expensive than those with a monitor. Furthermore, some are more precise and have a wider drawing area, while others are small and have simple specifications.
So, the first decision you would make is whether you want a plain graphics device (without a screen), a pen monitor (with a screen), or a tablet computer (iPad Pro or Samsung Galaxy Tab).
Also… developing hand-eye coordination while drawing on normal tablet, shouldn't take too long. It is probably matter of days to get used to it.
Which drawing tablet is best for graphic design?
Depends what you want to do and what you need. Wacom is a well-known brand that specialises in drawing tablets except they are expensive. I highly recommend Wacom Intuos series. If you have more budget, Intuos Pro or Cintiq is much better.
If you're looking cheaper alternative, XPPen is good. XPPen is very cheap and can get you the same quality of graphic tablet for a cheaper price. XPPen's digital pens are battery-free, super lightweight.
XPPen is a fairly known brand now. They are a growing company thanks to the success they've had. A lot of people are opting to buy XP-Pen over wacom due to the price and this has grown XPPen fairly quickly. Wacom still owns the pro market. Functionality wise you won't notice a difference.
6 Best drawing tablets for graphic design
I believe when a person should prefer a tablet that appears to be in middle range that covers major of features from superior range but also gets under a certain cost.
If you never had a drawing tablet before, you could start with a small tablet similar to XPPen Deco Mini7 . Then see if you need anything bigger.
XPPen Deco series is great, but if you have more budget, you can try Artist series drawing tablets with screen, because XPPen is great investation, will last forever until you become a professional.
1. XPPen Deco Mini7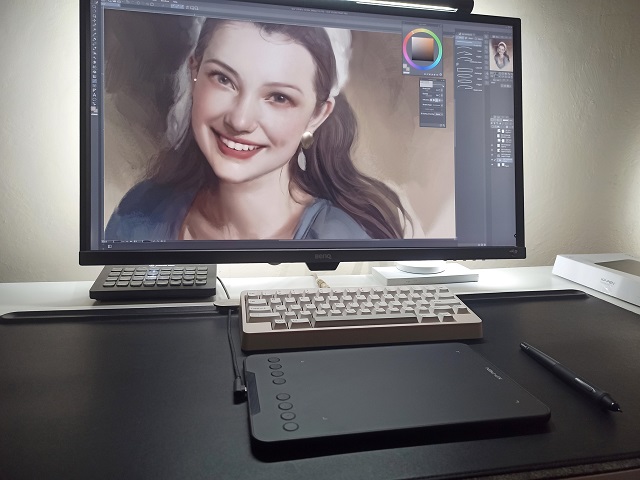 For a designer with a tight budget, this XPPen Deco Mini7 small drawing board may be your best choice. It is compatible with Windows, Mac OS, Chrome OS, Android, and Linux systems.
You just have to connect the USB cable to the port of your PC and start using the pen as if it were the mouse pointer.
Its active area is 7 x 4.37 inches, it has 8 Hot Keys that have a preset configuration to speed your workflow.
Comes with a battery-free stylus which provides 8192 levels of pen pressure sensitivity, 60 degrees of tilt brush delivers more natural lines and strokes. The P05D Stylus has an ergonomic design with a silicone grip and is extremely lightweight, being comfortable for any designer.
This graphic tablet shares the same characteristics that the XPPen Deco 01 V2 A4 version have, but the only difference is that the drawing area is smaller, making it light enough to take it everywhere.
2. XPPen Deco Pro MW / SW Bluetooth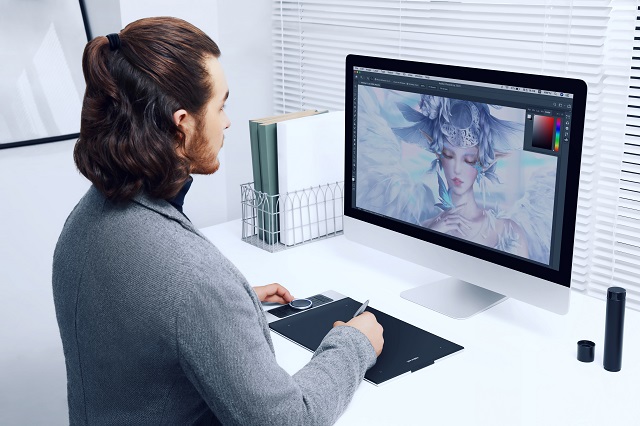 if you'd prefer a Bluetooth connection for wireless use, we recommend the XPPen Deco Pro MW / SW , which typically costs around $30 more than normal Deco Pro M / S Version.
Featuring a stylish and lustrous design, the graphics tablet is available in two different sizes - Small ( 9 x 5 inches )and Medium ( 11 x 6 inches )- with or without Bluetooth connectivity.
The eight shortcut keys and a double wheel design give you access to your most used commands and resources. Use the outer mechanic wheel to zoom in /out of your canvas, adjust brush size, etc, while the inner virtual wheel can be used as a trackpad or mouse.
Its pen has a pressure level of 8192 and a natural tilt support of up to 60 degrees so you can enjoy a more fluid and more natural drawing with accuracy and precision.
It also brings several elements to make your work more professional, such as 8 extra Pen Nibs, a drawing glove (two fingers), a pen holder and the manual for any questions you may have.
With a large surface and a high sensitivity stylus, the XPPEN Deco Pro MW / SW is shown as one of the best graphic tablets of the moment.
3. XPPen Artist Pro 16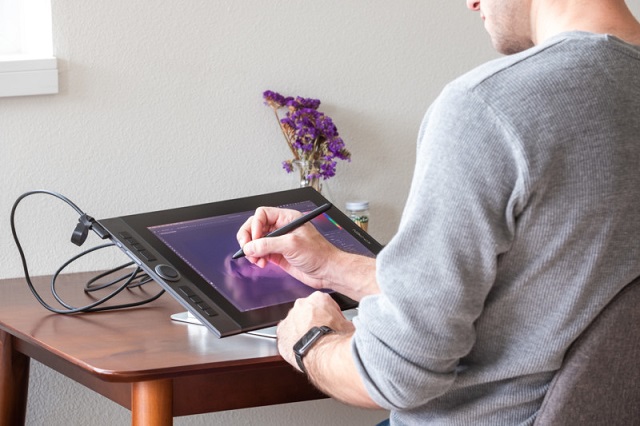 The XPPen Artist Pro 16 drawing tablet offers you 15.4 inch fully laminated screen with FHD 1920×1080 resolution allow you to draw directly on your graphic tablet screen.
99% Adobe RGB superb color space can ensure accurate colors when proofing and printing.
The super-responsive stylus equip a X3 Smart Chip which giving you the precision and control you desire. It have the Faster response and low activation force recognizes even the lightest pen strokes.
Made of high‑quality aluminum alloy material, hard and durable, has long service life, and easy to carry.
With its 8 custom keys and Multi-function wheel, your productivity will surely be increased.
If you have a creative idea you can use this drawing tablet at the same moment, and this drawing tablet offers you a great value for the money.
4. XPPen Artist 22 (2nd Generation)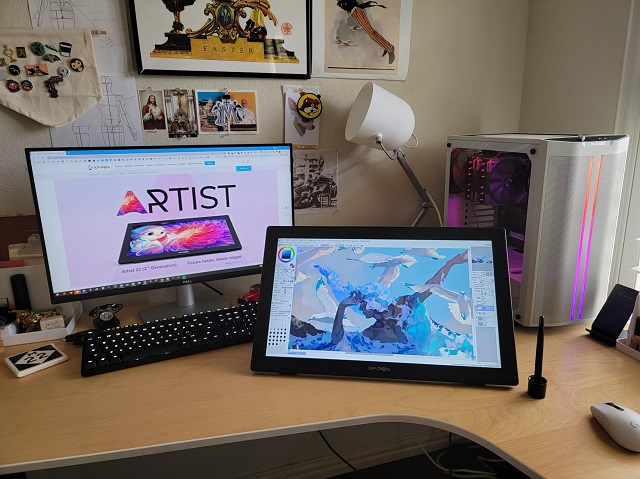 If you are a digital artist or graphic designer and you are looking for the best drawing tablet then you need to go for the XPPen Artist 22 (2nd Generation) .
Its 21.5-inch FHD large screen supports a wide range of colors, up to 90% Adobe RGB, allowing your illustrations to be much more colorful and crisp.
The battery-free stylus of this Artist 22 (2nd Generation) display tablet Features 8192 pressure levels and 60 degrees tilt sensitivity, achieving greater precision when drawing.
It has a support that adapts to the position and angle in which you draw, helping you to have greater comfort when drawing.
This graphic monitor works in any creative software as All Adobe Suite, Corel Suite, Autodesk Sketchbook, and more.
It allows you to work without space restrictions in your project thanks to its large size, giving you greater freedom to illustrate and edit images while enjoying the sharpness of colors captured on screen.
5. XPPen Artist 24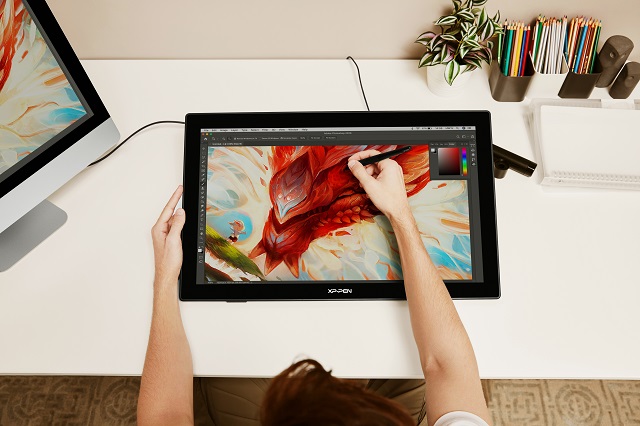 If you are looking for the best screen resolution on a graphic tablet consider buying the XPPen Artist 24 as it offers you a 2560×1440 QHD display and an active drawing area of 23.8 inches giving you an extraordinary drawing experience.
It also covers 127% of the sRGB color gamut displaying 16.7 million colors giving you great color accuracy.
XPPen Artist 24 also comes with a battery-free stylus pen with 8,192 levels of pressure sensitivity and 60 degrees of tilt action giving you a very satisfying drawing experience.
Built of durable, scratch resistant materials, Artist 24 attaches easily to your Mac or PC with HDMI and USB cables ( also supports a USB-C to USB-C connection ) and offers a truly natural experience to help take your creative ideas to the next level.
6. iPad Pro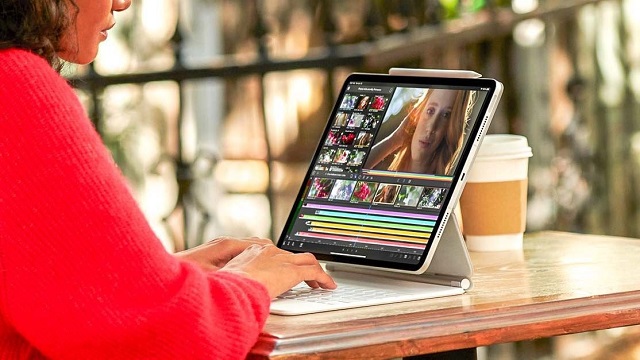 A tablet that is used for everyday use and also for graphic design. By having your operating system (iOS) , RAM, ROM, and CPU, you can use it without the need for a computer.
It is totally light, aviliable in 11 inches and 12.9 inchess two sizes, and its portability allows you to make designs, edit photos and do any task from the place you prefer.
The iPad Pro for design is a great option, its ProMotion screen from edge to edge and the use of the Apple Pencil will allow you to carry out professional projects for up to 10 hours in a row.
Being also a standalone tablet, you can perform countless tasks outside graphic design, from surfing the internet to watching a movie.
when you want to save your projects in storage, you can do it quietly thanks to the large available space they bring, from 64 GB to 1TB.
Conclusion
You should find the right tablet for you from this list! Whether you're looking for a graphics tablet, pen display, or regular tablet.
Graphic design is a competitive and challenging field. Practitioners looking to future-proof their careers need to keep their design skills sharp and their knowledge of tools always updated.
Whether you have been a graphic designer for some time or have just found your way into this exciting field, these graphic design tablets can help you achieve your creative potential.
We hope that with our recommendations, you'll be able to get your creative juices flowing start your work of art in no time!
About Us
Originated from 2005, XPPen is now one of the top brands under HANVON UGEE, integrated with digital drawing products, content and service as a globally notable digital brand of digital art innovation.
Learn more
KNOWLEDGE
ROUNDUPS
ANIMALS
TIPS
FOCUSED
PLANTS
BEGINNER
OTHERS
INTERVIEW
Join Our Newsletter Today
Stay in the loop with our latest artistic innovations and special offers