Drawing Tablet vs. iPad / iPad Pro? Which One is Better for Artists?
TIPS
XPPen
2023-09-25 14:57:38
10 min read
People entering the world of digital art for the first time often ask if they should first invest in a drawing tablet or an iPad Pro.
Drawing tablets have existed for quite some time, but do they still hold superiority over Apple's blockbuster devices?
For those who are novice digital artists, or traditional artists eager to explore the digital realm, selecting the appropriate equipment is crucial.
It's not a black-and-white answer and strongly depends on your budget, how serious you are about digital art, and what your style is.
Both pen tablets and iPads allow for a natural drawing experience thanks to accurate style and vivid screens with little delay.
In this article, we explore the advantages and disadvantages of iPads and drawing tablets. Our insights are grounded in my personal experiences as a graphic designer and digital illustrator. I aspire to assist you in making an informed decision.
What are iPads?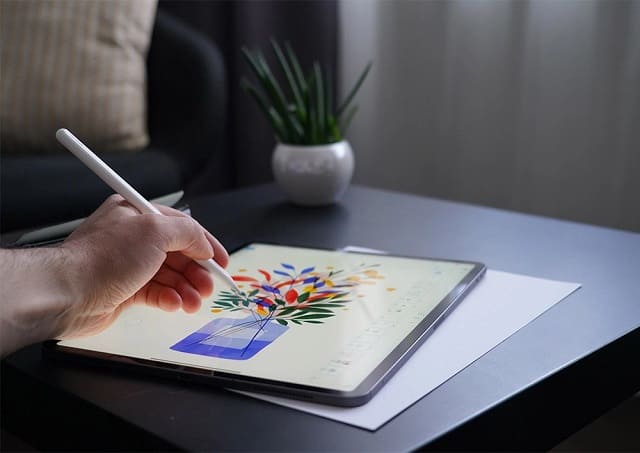 iPads provide everyday functionality, enabling you to handle daily tasks with their robust hardware. This means you can relish a wealth of video and gaming content wherever you are. If you are a technology novice or simply desire a device that is uncomplicated to configure with a myriad of features, an iPad is an excellent option.
Nonetheless, iPads aren't solely for those seeking entertainment. Advanced technology has empowered Apple to produce devices that are ideal for both professional and recreational activities.
iPad vs. drawing tablet? iPads have a reputation for facilitating the creation of top-quality, print-ready illustrations on the move. A few initial acquisitions are all that's needed: the iPad, an Apple Pencil, and appropriate design software. Then, you are fully equipped to showcase your creative works most optimally.
Your iPad can serve as a sketchbook, allowing you to erase, undo, resize, or even share your creations with others.
What are drawing tablets?

Should you require a device offering more artistic flexibility, an iPad may constrain your choices. Contemporary artists need the proper tools to craft captivating and reflective artworks.
Drawing tablets mimic physical paper through their impressive accuracy and pressure sensitivity. A combination of high responsiveness, adequate pressure sensitivity, and accurate colors makes drawing tablets worthy alternatives to the physical canvas, paintbrush, and paint.
High-end models have displays built into the tablet itself, while less expensive tablets have no screen and require you to look at your computer screen while drawing on the tablet. If you have no experience with this, it takes some time to get used to.
Because drawing tablets are designed for drawing alone, they include many features to help artists work, including shortcut buttons and color-rich displays.
Can an iPad replace a drawing tablet? Drawing Tablet vs. ipad
1. Portability
Having an iPad offers notable advantages, one of which is its ability to operate independently without needing a connection to a computer. This ensures you have a standalone drawing tool at your disposal wherever you are.
The most significant iPad Pro, boasting a 12.9" screen, epitomizes portability. It can conveniently be placed in a backpack, allowing you to venture to a park or café and continue sketching while savoring your preferred coffee.
The iPad also offers impressive battery life, providing several hours of drawing time without the need for charging, making it an ideal, lightweight, portable digital sketchbook.
A drawing tablet requires a connection to another device, like a desktop or laptop, implying it cannot operate independently. Consequently, utilizing a drawing tablet can be challenging while traveling.
Drawing monitor models, such as the XPPen Artist series, necessitate a connection to a computer to reflect the display as they are merely screens, devoid of processing power or battery.
2. Functionality
Your iPad Pro isn't limited to just drawing; it's also a versatile all-in-one device, allowing you to engage in a variety of activities beyond art creation, such as browsing the internet, gaming, and watching movies, among others.
It proves to be handy in numerous other life situations, like managing emails, posting pictures on social media, editing videos, and much more!
While drawing tablets excel at producing artwork, they fall short when it comes to serving general purposes.
3. Size
The Apple iPad is available in various sizes. The iPad Mini, being the smallest version, features a 7.9-inch screen, while the iPad Pro, the largest in the lineup, boasts a 12.9-inch screen. For those accustomed to drawing on expansive surfaces, even the 12.9-inch display of the iPad Pro might feel restrictive.
Drawing tablets offer a diverse range of sizes, extending up to 32 inches, providing you with a plethora of options. Choosing a large drawing tablet is practical for those who value abundant creative space. The advantage of employing a large drawing tablet lies in the capability to craft with enhanced detail.
4. Stylus and Pencil sensitivity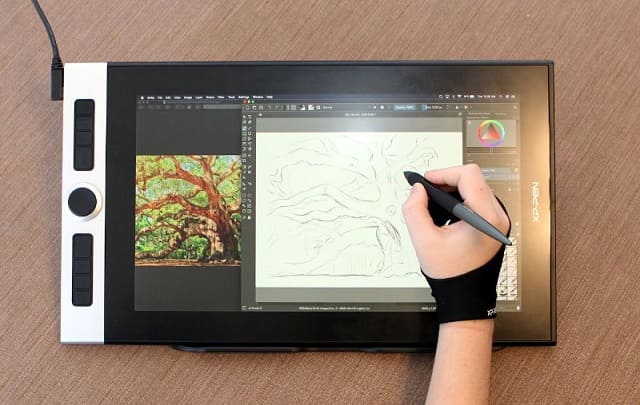 Typically purchasing a drawing tablet nets you a pen in the purchase, so you don't need to buy one separately. the pen tips are removable.
Now most stylus of drawing tablets are passive and don't have a battery – they don't need charging which uses electromagnetic waves from the tablet to transfer energy and data.
The stylus you use with your drawing tablet supports sensitivity levels, which are how many levels of pressure they can distinguish. The more sensitivity levels, the finer your control over the pressure of your pen strokes.
Frankly, there is no universally agreed-upon standard regarding the number of sensitivity levels a stylus should possess. There is also a lack of consensus among artists about what amount is considered satisfactory. Some artists find 2048 levels of sensitivity to be sufficient.
Concurrently, the drawing tablet from XP-Pen boasts an impressive 16K level of sensitivity, and some artists have adapted to this standard and will accept nothing below it.
The Apple Pencil is very thin and looks like a real pencil in terms of shape and size. it has a battery and needs to charge, also the Apple Pencils are sold separately adding to the cost.
There isn't much difference between the first- and second-generation Apple Pencil when it comes to sensitivity (the latter only works on the iPad Pro lineup).
5. Software
The iPad doesn't operate on the standard Apple OS software, but solely on software tailored for the iPad tablets.
Numerous exceptional apps are available for the iPad, such as Ibis Paint, Procreate, and more. Choices are abundant, be it for painting, drawing, or crafting unique designs.
However, you might still find certain programs missing, especially those from Adobe Creative Cloud, which are often regarded as industry standards.
Even though Adobe has offered its Photoshop Sketch and Illustrator Draw versions for iPad, those are still not the same programs as their desktop versions.
The main problem is that these applications, albeit powerful, aren't meant for work in a production environment.
The average professional drawing tablet can be paired with a Windows PC or a Mac to run high-end graphics software for anything from architecture to fashion design to animation.
They support every single drawing and modeling software whether it is Photoshop, Krita, or Sketchbook for making digital art or Full-fledged 3D modeling apps such as Maya, Zbrush, 3ds Max, or Cinema 4D.
An iPad can help with some parts of the workflow, but it's more for doing fun artwork than producing anything serious.
6. Programmable buttons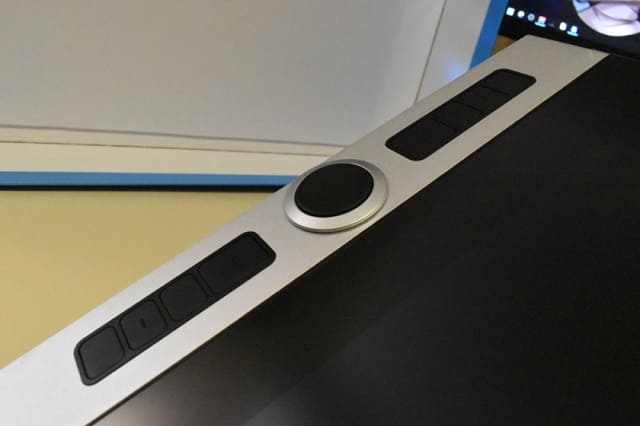 The majority of professional drawing tablets, regardless of their size or cost, are equipped with a range of programmable features that users can tailor to execute various functions. One button can be assigned to perform the 'undo' function, while another can switch between brushes, and so forth. This feature is fundamental when operating a drawing tablet.
Regrettably, this fundamental feature is absent in the Apple iPad Pro. The extent of customization available is limited to a double tap on the Apple Pencil to toggle between tools. By default, it alternates between pen and eraser, but users have the option to modify it. Sadly, the customization options end there. If shortcut buttons are indispensable to your workflow, this limitation can significantly impede your process.
7. Price tag
Even the cheapest iPad costs more than most XPPen and other pen display tablets. Investing in your digital art career is beneficial, but it might not be suitable for everyone, particularly in the beginning stages.
Non-display drawing tablets offer highly affordable basic models, ideal for newcomers or seasoned artists in search of a cost-effective alternative. In the current times, they are usually wireless and equipped with an internal battery.
For a drawing tablet with a screen, Look into the market to match your budget. An XPPen Artist can be had for under $250 (specifically the 11,6" XPPen Artist 12 Pro).
If you already have a computer/laptop, buying a Digital pen tablet can be an easy and inexpensive investment in your creative career.
8. User experience
I use an iPad Pro small size of 12,9", an XPPen Innovator 16 medium size of 15.6", and an XPPen Artist 24 Pro large size of 23.8" screen drawing tablet. iPad Pro for sketching and drawing on the go and the big XP-Pen screen tablet and my PC for professional work.
I create extensive paintings and illustrations, and the iPad doesn't fully meet my needs. While the iPad is incredibly convenient for quickly jotting down sketches, my PC offers superior power. I frequently utilize various layer modes in Photoshop, which simply don't translate the same way in Procreate. Additionally, Procreate lacks smart objects and numerous other features (as of now?).
Spending my days at a desk means I prefer to distance myself from one as much as possible once I'm home, often opting to casually draw on my iPad while in bed or on the sofa.
The touch/gesture functionality is exceptionally beneficial for digital art. It allows for easy zooming in and out, panning, and free canvas rotation with a pinch. A two-finger tap enables undo, and a three-finger tap allows for redo. Procreate offers an array of additional gestures designed to optimize workflow speed.
Although desktop tablets are evolving to minimize clutter and reduce the necessity for multiple ports and cables, charging an iPad only requires a USB-C (or lightning, depending on your iPad) every so often.
The XPPen Artist 24 Pro is unparalleled. Possessing a large and color-accurate 2K display is crucial for me. The ability to avoid constant zooming and to draw more from the shoulder is revolutionary. The pressure sensitivity is impeccable, capturing my lightest strokes and promoting proper posture, essential for extended drawing sessions. The customizable controls are pivotal, boosting my productivity by a minimum of 50%.
Bonus Tips
Can I use an iPad / iPad Pro as a drawing tablet for Windows PC & Mac OS?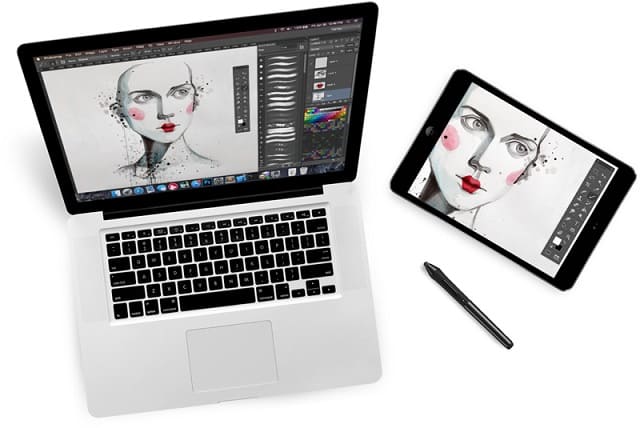 Maximize the potential of your iPad by transforming it into a drawing graphics tablet. A helper app is required to run on both devices, functioning over both USB (more stable) and WiFi. This is an excellent solution for occasional use, however, a purchase is necessary to access the service.
When considering converting your iPad into a professional graphics tablet for Mac or PC, five top choices are available — Astropad, Luna Display, Duet Display, Sidecar, and EasyCanvas.
This is ideal for individuals who already possess an iPad and an Apple Pencil. Utilizing your iPad as a drawing tablet is a cost-effective alternative to the more expensive XPPen / Xcencelabs drawing tablets.
However, XPPen / Xcencelabs drawing tablets still have superior handling and latency. You will likely experience noticeable latency issues while using your iPad as a drawing pad connected to your Windows PC or Mac with these five options.
1. Astropad
Astropad Studio software can transform an ‌iPad‌ into a drawing tool compatible with both Mac and Windows PCs. It is finely tuned for drawing with the Apple Pencil, allowing customization of the ‌iPad‌'s touch gestures to access various tools and shortcuts in Windows/Mac applications.
Pairing an ‌iPad‌ with a Windows PC/Mac is possible either over WiFi or through a USB connection. Astropad's unique feature is that it doesn't require the tablet to be set up as a secondary monitor; it only overlays the part of the main screen you wish to draw on, making it quick to set up and dismantle post-use.
2. Luna display
Astropad offers a mirroring feature for your primary display with efficient pen input. With the Luna Display hardware dongle, it can also serve as a secondary display.
This device, available in USB-C or Mini DisplayPort, connects to the user's computer port (compatible with Windows and Mac) and relays information to a specialized iPad app, Luna Display. Luna converts the iPad into a touch-enabled secondary display, either wired or wireless, that is highly compatible with the Apple Pencil.
3. Duet Display
Duet Display app has the ability to convert a tablet or smartphone into an additional monitor. It is a reliable solution for temporary or permanent setups and offers additional features like wireless connectivity and Apple Pencil support for the iPad, with the latter available for an additional charge.
Duet Display is versatile, supporting iPads from 2012 onwards and offering cross-platform functionality, allowing a Windows PC or a Mac to be the host with an iPad as the secondary display.
4. Sidecar
With the introduction of Catalina on Mac and iPadOS on the tablet, Apple now provides built-in secondary display capabilities through Sidecar, although it is limited to recent hardware models.
Sidecar is not compatible with any iPad models released before 2019. Sidecar can be activated in several ways from Catalina, with the most straightforward being through the AirPlay interface on the Mac. When utilizing Sidecar, the ‌Apple Pencil‌ acts as an alternative to a mouse for various on-screen controls, serving as a creative tool for art creation, photo editing, and more, combining the interactivity of the ‌Apple Pencil‌ with the power of the Mac.
5. EasyCanvas
EasyCanvas allows the iPad to function as a liquid crystal tablet, enabling direct drawing in Windows PC/Mac software like Photoshop and Clip Studio Paint.
Easy & Light's solution offers extended display capabilities, suitable for dual, triple, or higher monitor setups. It supports stable USB connections and convenient wireless connections via Wi-Fi. It fully accommodates "Palm Rejection," "Pen Pressure," and "Tilt" of the Apple Pencil, and a 120Hz refresh rate ensures smooth screen and stylus movement.
Conclusion
Drawing tablets are specialized tools designed to streamline professional digital art workflows, offering a range of professional tools to artists. In contrast, an iPad is a versatile tablet, enabling drawing with the Apple Pencil through various apps. For casual drawing enthusiasts, an iPad may suffice due to its multifunctionality.
However, professional-level aspirants might find more value in a dedicated drawing tablet. Ultimately, the choice between convenience and screen real estate is subjective, with no right or wrong answer—individuals should choose what aligns best with their needs and preferences.
About Us
Originated from 2005, XPPen is now one of the top brands under HANVON UGEE, integrated with digital drawing products, content and service as a globally notable digital brand of digital art innovation.
Learn more
KNOWLEDGE
ROUNDUPS
ANIMALS
TIPS
FOCUSED
PLANTS
BEGINNER
OTHERS
INTERVIEW
Join Our Newsletter Today
Stay in the loop with our latest artistic innovations and special offers