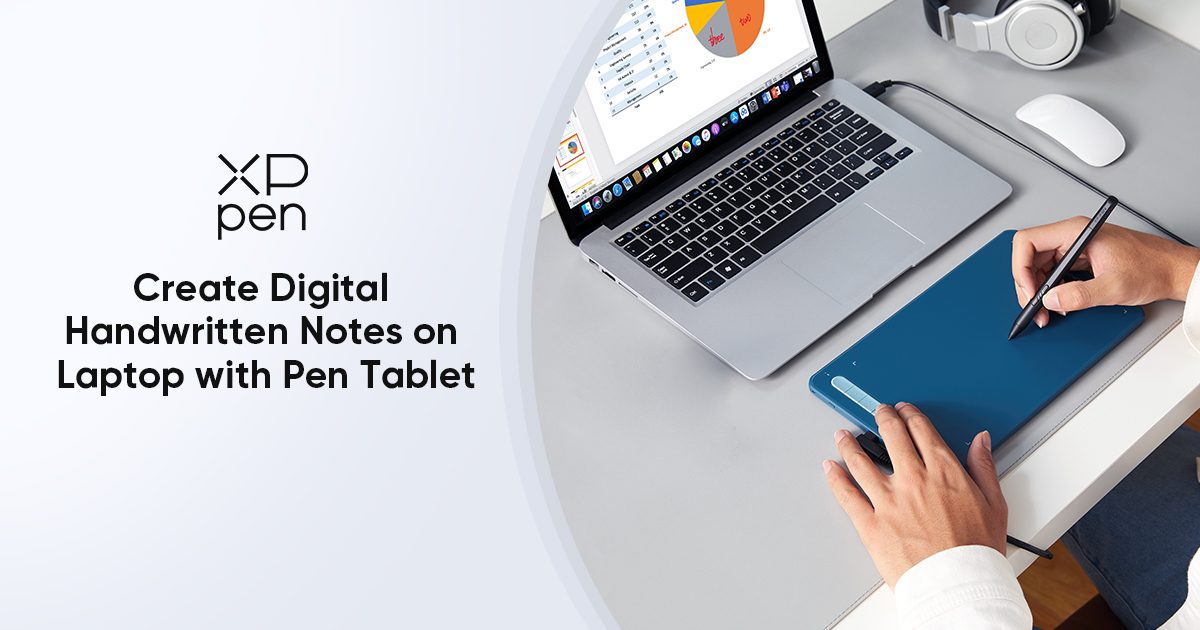 Create Digital Handwritten Notes on Laptop with Pen Tablet
TIPS
XPPen
2023-08-18 18:40:24
8 min read
People take notes for a variety of reasons. Some are for better memory and some are for records. Some people prefer to take notes in notebooks or on sticky notes, while others enjoy taking notes on computers or other digital smart tools like drawing tablets. Digital handwritten notes are gaining popularity nowadays as we integrate technology into our daily lives.
Digital handwritten notes are suitable for anyone
One of the great advantages of digital notes over paper notes is their easier handling and portability. Digital notes can be carried around without the need for a large notebook or binder. Digital handwritten notes improve the efficiency of note-taking for students and professionals alike. People who use digital notes more often are typically professionals, college students, freelancers, and people who like to keep a diary.

Benefits of digital handwritten notes
With many digital note-taking devices prevalent these days, many are encouraged to practice digital note-taking. Smartphones, tablets, laptops, and other devices make digital notetaking easier and more convenient.
1. Search for notes at any time
Digital handwritten notes can help you work efficiently. With digital handwritten notes, you are able to search and organize your notes easily. You may quickly keep track of different topics or projects by organizing digital handwritten notes into folders and sub-folders, which can help you work quickly and more efficiently. You can easily find the information you need by searching for specific keywords or phrases in digital handwritten notes.
2. Create personalized notes
Creating personalized notes improves your memory and recall better than monotonous notes. You can even design your digital handwritten notes. If you hate taking notes by typing and can't stand notes with no personality. With the help of the tablet, you can easily create, save and search your personalized digital handwritten notes at any time.
3. Improve efficiency
The best writing tablet allows you to take notes as quickly as you would on paper, without the need for typing. It is easier to organize, edit, and format digital handwritten notes. When you organize your notes, you can save time and you may use that to focus on other important things you need to work on. You may also use drawing tablets to add headings, bullet points, and other formats to your digital notes.
You may effortlessly share your digital handwritten notes with several people at once. Plus, digital notes can be synced across devices, so you can easily access and update notes from your smartphone, tablet, or computer.
4. Support multimedia integration
Digital handwritten notes seamlessly integrate different multimedia, videos, images, and audio recordings. Photos and videos can better convey complex ideas or concepts, which makes your notes more engaging and interesting.
Because they allow for a more unique design, digital handwritten notes can be more versatile than traditional notes. You may create attractive and useful notes by experimenting with different layouts, colors, and media types.

Recommended tools for creating powerful digital notes
1. Evernote
Evernote is a great digital handwriting note app for students and business professionals. Evernote is configured with advanced search options where you can easily and quickly find what you're looking for.
In addition, Evernote helps you sync and organize your notes, scan documents, create calendars and tasks, and more. Evernote supports view customization. You can import text, PDFs, recordings, or documents in digital notes to create personalized notes.
2. NoteLedge
NoteLedge is a digital notes tool specially developed for designers (interior designers, graphic designers, fashion designers, etc.) and content creators. It is designed to help designers speed up the work process. NoteLedge can make sketches and collages and supports adding annotations. You can export NoteLedge notes to PDF format with embedded multimedia content to easily share your thoughts with clients.
3. OneNote
OneNote is a useful note-taking tool for business professionals who are looking for a Microsoft solution. If you're typically working with Microsoft programs and you want to integrate a notetaking function, then go for OneNote. Both handwritten and typed notes work well with OneNote. OneNote has the function of uploading and annotating images, PPTs, and PDFs. You can take notes anywhere on a OneNote page just like you would on traditional paper. You can keep text, presentations, PDFs, links, and graphics all in one place. OneNote is intuitive and easy to use. It's free and has been well-received by many users.
4. Google Keep
Google Keep is popular for its simple design and options for documenting information. Google Keep can also be used as a reminder tool where you can set up Reminders and To-do list functions. You can create a different color note for each task and then jot down deadlines so that you won't miss any important to-do items.
5. Supernotes
Supernotes is a note-taking tool designed exclusively for freelancers. The application helps users rediscover lost notes and supplement them. In addition, you can share your own notes through a secure link. Supernotes is a powerful tool for taking notes and collaborating with your friends and colleagues. With Supernotes, you can easily create note cards with images, markdown, emoticons, LaTex, and more.
6. Day One
Day One supports uploading unlimited photos and videos while taking notes. Plus, you can also record audio notes with Day One. For those who prefer handwritten diaries, Day One is an excellent tool for digital handwritten notes. You can enable Day One's password protection function when writing a diary so that your privacy will not be compromised.
A user-friendly drawing tablet can help you better create digital handwritten notes. Let's learn about drawing tablets.
Learn more about drawing tablets
1. Main types
Drawing tablets are classified into two types: pen tablets and pen displays. Pen tablets are simple drawing tablets that must be connected to a PC with an on-screen monitor in order to be displayed. However, you can sketch right on the tablet screen using the drawing pen displays. The best tablet for writing supports Evernote, Google Keep, and other useful digital note-taking tools.
2. Purpose
The best tablet for writing is a useful device designed for digital art. Artists, architects, designers, and other professionals use these devices for several purposes such as creating digital art, digital handwriting notes, animations, illustrations, 3D modeling, and more. A drawing tablet usually consists of a touch-sensitive surface or screen that detects the movement of the user's pen or stylus and converts it into a digital signal.
3. Development prospects
The drawing tablet market has received significant attention from consumers and businesses across the globe. The global graphic tablet market witnessed significant growth in 2022, dominating the animation segment, and is expected to continue this trend from 2023 to 2028.
Create digital handwritten notes on your laptop with a pen tablet
1. Main ways to take digital notes
There are three main ways to take digital notes on a laptop. First is to use a note-taking application, such as Google Keep or OneNote mentioned above. Second is to use a word processing program, such as Microsoft Word or Google Docs. And third is to create a text file using a text editor, such as Notepad++ or Sublime Text.
If you hate typing notes, then using a drawing tablet for digital handwritten notes will be an excellent choice for you. The best tablet for writing and stylus helps you take notes faster and more accurately than with a traditional keyboard and mouse.
The pen tablet keeps everything organized and easily integrates with other programs such as Google Keep, Evernote, OneNote, NoteLedge, and more. You can use a drawing tablet to save digital files of handwriting notes or drawings. You can also save these files as PDF, image, and Word documents, or transcribe them as text files in Google Docs. This makes all your notes searchable.
2. Example for digital handwriting note: use OneNote and tablet in the classroom
Taking the classroom as an example, the pen tablet plays an important role in digitizing the way you write notes. When your professor provides slides during a lecture, you can download the slides and import them into OneNote. You can also use the pen tablet for math classes to jot down equations and calculations. You can use a pen tablet and OneNote to take notes while attending class.
The specific steps to use OneNote on the pen tablet are as follows:
Download OneNote on your device (desktop PC, laptop, Mac, etc.)

Connect the drawing tablet to your desktop PC, laptop, or Mac (At this point you will see exactly the same content on the drawing tablet as on the computer monitor)

Open OneNote

Insert a PDF file or related file to start taking notes in the class

Use the "draw" tool to handwrite your notes and then convert them to text

Format, organize, search, or share your notes
Replacing notes written on paper with digital handwriting notes can reduce paper usage and printing, which, in turn, helps the environment. And digital handwriting notes are more convenient for students. Having everything digitized and on the cloud means students can check, edit, and collaborate on the notes from any device and from anywhere. Choosing a high-quality pen tablet can also bring them paper-feel writing. Combining good writing experience and convenience, a digital handwritten note on a pen tablet is becoming more and more popular in the classroom.
Drawing tablets are recommended for digital handwritten notes
How to choose the best tablet for writing? You should first think about what you intend to create before choosing which drawing tablet to purchase. Size, express keys, pressure levels, and price are all factors, but your personal preferences will hugely impact your decision.
XPPen is one of the industry leaders when it comes to drawing tablets and drawing displays. Our products have been trusted by many users. Maintaining high quality is our constant requirement and goal. Check out these two XPPen drawing tablets to help you write legible digital notes today!

Deco MW ($69.99)
If you're looking for a low-cost drawing tablet, XPPen has come a long way in the previous decade or so. Deco MW is a wonderful low-cost choice, costing only $69.99. The drawing tablet is compatible with multiple systems, including Windows 7 (or later), Mac OS X 10.10 (or later), Android 6.0 (or later), Chrome OS 88 (or later), and Linux. You don't need to worry about compatibility issues.
The X3 smart chip stylus brings you a stable and accurate note-taking experience. It has 8192 levels of pen pressure and 60° tilt sensitivity to bring you a paper-like writing experience. The digital handwritten note-taking process with Deco MW is smooth and comfortable.
Deco MW has a simple and sophisticated design. It is available in four popular colors namely black, blue, green, and pink. It also supports Bluetooth connectivity. With the addition of Bluetooth connectivity, you can quickly connect this best tablet for writing to your computer.
The tablet's lightweight construction makes it convenient to use on your lap or desk, and you can personalize everything with its 8 shortcut keys based on your routines and interests.

Artist Pro 16 ($368.99)
Artist Pro 16 supports Mac OS X 10.10 (or later), Windows 7 (or later), Chrome OS 88 (or later), and Linux. It is also applicable to popular digital art software. They are Adobe Photoshop, GIMP, Krita, Illustrator, SAI, CDR, FireAlpaca, MediBang, and Blender3D.
With virtually no lag,60° Tilt, and 8,192 levels of pressure sensitivity in the X3 Elite Plus Stylus, the Artist Pro 16 is an excellent drawing tablet on the market for professional artists or amateurs. The X3 Elite Plus Stylus makes it simple to fine-tune details and brush strokes in any drawing application.
This best tablet for writing comes with eight shortcut keys for controlling canvas zooming and brush adjustment. These express keys can be customized in Artist Pro 16. A variety of tactile bumps on the keys help you rapidly recognize the correct shortcut, allowing you to speed up your workflow.
Conclusion
We hope that the 6 useful digital handwriting note tools we recommend are helpful. Have you started accepting digital handwritten notes now? Do you now understand how to use drawing tablets to create digital handwritten notes? Showcase your digital notes you created and share your experience with us in the comments!
Related Posts
About Us
Originated from 2005, XPPen is now one of the top brands under HANVON UGEE, integrated with digital drawing products, content and service as a globally notable digital brand of digital art innovation.
Learn more
ANIMALS
TIPS
KNOWLEDGE
ROUNDUPS
FOCUSED
BEGINNER
PLANTS
OTHERS
INTERVIEW
Join Our Newsletter Today
Stay in the loop with our latest artistic innovations and special offers