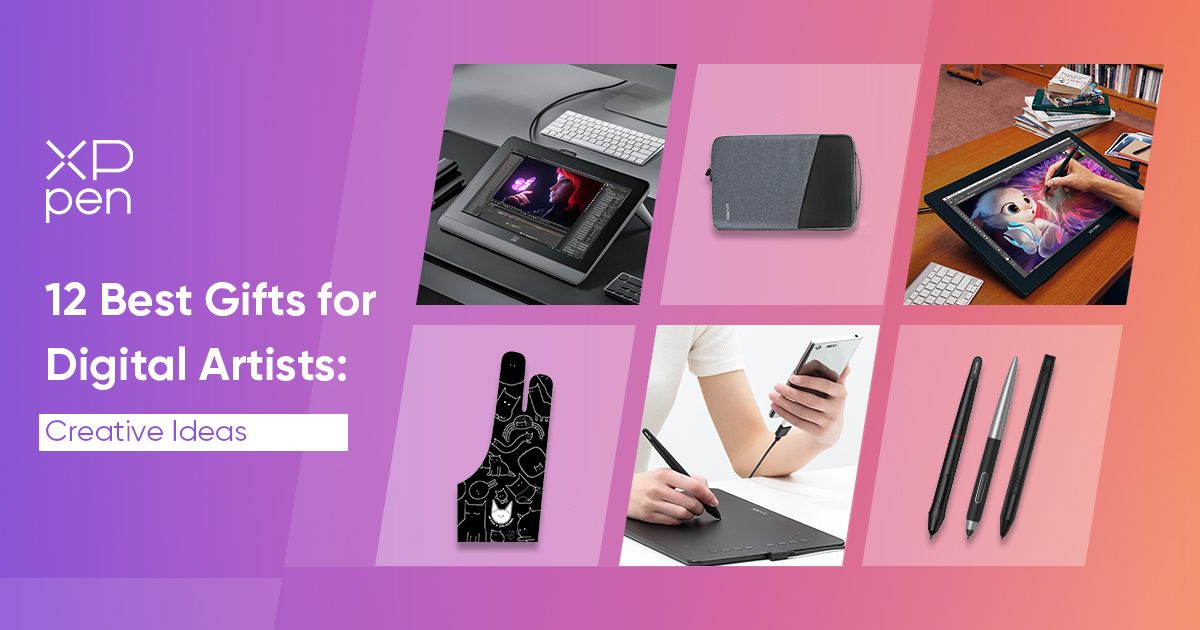 12 Best Gifts for Digital Artists: Creative Ideas in 2023
ROUNDUPS
XPPen
2023-08-11 14:52:43
6 min read
Looking to surprise your artsy friends and loved ones? We've got you covered!
From versatile drawing tablets to sleek graphic pens, the best gifts for digital artists are perfect for sparking their creative genius. Whether they are into digital drawing or graphic design, you can never go wrong with these awesome picks!
Checkout this curated list of 12 best gifts for digital artists in 2023:
1. Drawing Software
Many digital artists use drawing software application to do their day-to-day activities as a creative. It might be best to gift them with a subscription or buy their preferred program since most great drawing programs are paid. Some of the most popular drawing software include Adobe Photoshop, Procreate, and Clip Studio Paint, among others.
2. Digital Drawing Tablets
A drawing tablet is an essential tool for digital artists and choosing the best drawing tablet for digital artists as a gift is a great idea. It enables people to digitally draw and produce art, making it a crucial tool for any digital artist.
The best drawing tablet for digital artists is a gadget that allows them to use a pen to draw or paint on their computer, allowing artists to sketch detailed details.
Choosing the right brand is important too. Go for well-known brands like XPPen that have established their place as the industry's leaders in digital drawing tablets for guaranteed quality and superb performance.
Check out these excellent XPPen drawing tablets for artists in 2023:
| Product Name | Price | Resolution | Stylus Type | Pressure Levels | Tilt | Express Keys | Compatible Systems | Drawing Area |
| --- | --- | --- | --- | --- | --- | --- | --- | --- |
| Artist 22R Pro | $479.99 | 5080 LPI | Battery-free | 8192 | 60° | 20 | Windows 7 (or later), Chrome OS 88 (or later), Linux (Detailed versions), Mac OS X® 10.10 (or later) | 21.5-inch |
| Artist Pro 16TP | $629.99 | 5080 LPI | Battery-free | 8192 | 60° | / | Windows 7 (or later), macOS X 10.10 (or later), Chrome OS 88 (or later), Android (USB3.1 DP1.2) List of compatible Android devices | 15.6-inch |
| Deco MW | $69.99 | 5080 LPI | Battery-free | 8192 | 60° | 8 | Windows 7 (or later), Mac OS X 10.10 (or later), Android 6.0 (or later), Chrome OS 88 (or later), Linux | 8 x 5-inch |
| Deco Pro (Gen2) | $179.99 | 5080 LPI | X3 Pro Smart Chip Stylus | 16K | 60° | / | Windows 7 (or later), macOS 10.10 (or later), Android 6.0 (or later), Chrome OS 88 (or later), iOS (works only with certain apps), Linux (connected only via cable or Bluetooth Dongle) | 9″x 6″ |
Artist 22R Pro: The Artist 22R Pro offers a 21.5-inch display with 1080p quality, allowing you to draw, design, model, and create straight on the 22R Pro's surface. This drawing display includes 20 fast keys for quick work. This drawing display also comes with a protective film to help protect the screen.
Artist Pro 16TP: The XPPen Artist Pro 16TP's 4K resolution (3840 x 2160) opens up a whole new world of visual detail and clarity. It includes two full-featured USB-C ports and can connect USB-C to USB-C. It also has excellent color accuracy and a natural color transition.
Deco MW: This drawing display is inexpensive, yet it has tremendous features. Deco MW has an elegant yet simple design that comes in four popular colors: black, blue, green, and pink. The lightweight design of the tablet makes it easy to use on your lap or at your desk. With its eight shortcut keys, you may configure everything based on your routines and interests.
Deco Pro (Gen2): With its contemporary streamlined style of a charcoal gray work surface and a high-class metal rear panel, Deco Pro (Gen2) can complement your magnificent artwork. Because of its lightweight and portable design, you are able to easily carry this drawing tablet. It works with popular digital art programs like Adobe Photoshop, Illustrator, CDR, GIMP, SAI, Krita, MediBang, Toonboom, FireAlpaca, Maya, and Blender 3D, among others.
3. High-Quality Stylus
A good stylus is a wonderful present for digital artists since it allows them to sketch and create art with precision and accuracy.
It is easy to use, similar to the traditional pens and pencils used daily.
Gifting a best digital pen for your artist friends can help them improve their art and how they create things. A stylus is the best accessory that should be paired with drawing tablets. When choosing the best stylus to give, consider its compatibility, pressure sensitivity, tip material, responsiveness, as well as brand reputation.
Choose from a reliable brand like an XPPen stylus! Here are some of our recommended styluses for digital artists!
4. Monitors for Artists
Having a monitor with the best color accuracy and resolution is a great addition to a digital artist's arsenal. It's perfect for a gift! Choose the best monitor with a wide viewing angle, color accurate, and quality image. Apple Studio Display, LG Ultrafine 5K Display, and Apple iMac with 5K Display are great choices on the market.
5. Two-Finger Glove
What is an appropriate present for a digital artist? A two-finger glove is also a great gift for artists who work on digital projects. The digital artist glove allows the artist to move their hand across the screen without the edge of their hand or their ring and pinky fingers interfering with their work.
There are some XPPen two-finger gloves for your reference.
6. Art Books or Art Magazines
A book or lesson focusing on digital art techniques and advice can be an invaluable resource for digital artists wishing to advance their careers.
Consider gifting a subscription to an art magazine as a present since digital artists could find inspiration in more conventional creative genres. Look for periodicals that cover subjects like graphic design, digital art, and illustration.
7. Online Art Course
Many digital artists are always striving to improve their abilities and acquire new techniques. Giving them a membership to an art learning platform or an online art course might help them in improving their craft.
8. External Hard Drive
Digital artists frequently have huge files that require a lot of storage space. An external hard drive helps them to securely store and back up their work, ensuring that no vital files are lost. Choose an external hard drive with faster writing speeds for easier file transferring.
9. Desk Lamp
A good desk lamp is crucial for any digital artist who works at their computer for a long period of time. To reduce eye strain, choose a lamp with adjustable brightness and color temperature. High-quality desk lamps can be good gifts for digital artists.
10. Artist's Desk
An art desk is a terrific art gift option if the person you're shopping for doesn't have a studio or enough space to work on his or her craft. Any artist needs a dedicated workspace, so think about giving an artist's desk as a present. Choose one with a sizable work area and a lot of storage space.
11. Monitor Calibrator
A monitor calibrator guarantees that the artist's display's colors and brightness are accurate, which is critical for digital artwork. It enables them to achieve consistent and lifelike colors in their work.
12. 3D Printer
A 3D printer is a present for artists, particularly those who operate in the digital space. 3D printers come in a range of shapes and sizes, and you can even buy a 3D printer pen if you're looking for a gift for a young artist or someone who is new to 3D printing.
Conclusion
We hope you've found the perfect gifts for digital artists that reflect their unique individuality. These handpicked gifts mentioned above are bound to delight any digital artist, making their artistic journey even more rewarding.
Which gift are you planning to give? Share your thoughts with us in the comments!
Related Posts
About Us
Originated from 2005, XPPen is now one of the top brands under HANVON UGEE, integrated with digital drawing products, content and service as a globally notable digital brand of digital art innovation.
Learn more
KNOWLEDGE
ROUNDUPS
ANIMALS
TIPS
FOCUSED
PLANTS
BEGINNER
OTHERS
INTERVIEW
Join Our Newsletter Today
Stay in the loop with our latest artistic innovations and special offers